Ramkarpal Singh berdepan 3 bebas di Bukit Gelugor...
Calon DAP, Ramkarpal Singh Deo Karpal Singh sah merebut kerusi Parlimen Bukit Gelugor dengan tiga lagi calon.
Mereka ialah Naib Presiden Parti Cinta Malaysia (PCM), Datuk Huan Cheng Guan, Wan Abu Bucker Sidiq (Bebas) dan Muhamed Nabi Bux Mohamed Sathar (Bebas).
Pengurus Suruhanjaya Pilihan Raya (SPR) bagi Pilihan Raya Kecil (PRK) Bukit Gelugor, Kapten (B) Anuar Yahya mengumumkan demikian, sejurus tempoh menghantar borang pencalonan ditutup pada jam 10.00 pagi tadi.
PRK Parlimen Bukit Gelugor diadakan berikutan kematian Karpal Singh dalam kemalangan jalan raya berhampiran Gua Tempurung, Ipoh pada 17 April lepas.
Suruhanjaya Pilihan Raya menetapkan hari mengundi pada 25 Mei ini.
Pada PRU13 lalu, mendiang Karpal Singh yang mendapat 55,839 undi memenangi kerusi itu dengan majoriti 41,778 undi menewaskan calon BN Teh Beng Yeam, yang memungut 14,061 undi.
Ramkarpal panggil 'kawan-kawan' seperti bapanya
Panggilan "kawan-kawan" yang yang menjadi identiti ucapan mendiang Karpal Singh turut diucap oleh anaknya, Ramkarpal di depan penyokong Pakatan Rakyat tadi, sejurus diumum sah bertanding dalam PRK Bukit Gelugor.
"Kawan-kawan, kita, DAP, PAS dan PKR akan sedaya upaya mempertahan kemenangan di Bukit Gelugor ini untuk melengkapkan usaha rakyat di Putrajaya nanti," ujar Ramkarpal.
Penyokong Ramkarpal menyambut ucapan calon DAP itu dengan laungan "kawan-kawan" dan "I Am Karpal".
Ramkarpal merakamkan penghargaan kepada semua pendukung PAS dan PKR kerana turut memberi sokongan walaupun yang bertanding adalah calon DAP. -harakahdaily
PRK Bukit Gelugor hanya akan menambah badi kekalahan MCA, kata penganalisis
Bukit Gelugor by-election nomination: It's a 4-cornered fight...
Although the Bukit Gelugor by-election will see a four-cornered fight, the absence of Barisan Nasional has virtually guaranteed a victory for the DAP's Ramkarpal Singh Deo.
At the close of nomination today, Ramkarpal, the late Karpal Singh's third son, will face Parti Cinta Malaysia vice-president Datuk Huan Cheng Guan and independent candidates Mohd Nabi Bux Mohd Abd Sathar from Gombak Setia and Abu Backer Sidek Mohammad Zan from Kelana Jaya.
The Election Commission's returning officer Anuar Yahya announced the names of the four candidates at the nomination centre in Dewan Sri Pinang at 10.25am today.
Ramkarpal arrived at the nomination centre in Dewan Sri Pinang with some 500 supporters from his party and Pakatan Rakyat.
Among the three challenging the DAP, only Huan can be considered a more serious candidate.
Huan was the Batu Kawan MP until the 2008 general election and a Gerakan vice-president before he quit the party after a fallout with the Gerakan leadership. He then formed the PCM.
Huan also contested in the last general election, with hopes of winning back his old parliamentary seat but lost to the DAP's P. Kasthuriraani, who won by a 25,962 majority. Huan and another independent candidate A. Mohan both lost their deposits.
When Nabi Bux, 63, offered himself as a candidate in the by-election last Friday, he told pressmen that he was a PAS member from Selangor.
However, PAS deputy president Mohamad Sabu said Nabi was not a member.
Yesterday, PAS mouthpiece Harakah Daily also quoted party information chief Datuk Mahfuz Omar as saying that checks had revealed that Nabi Bux was actually an Umno member.
Newly established Penang Front Party, which had said it was BN-friendly, had told the press that they would field a candidate but no one turned up.
Polling will be on May 25.
The Bukit Gelugor seat fell vacant after Karpal was killed in an accident on the North-South Expressway near Kampar, Perak, on April 17.
The Bukit Gelugor parliamentary constituency has 82,431 voters, of whom 74.49% are Chinese while Malays, Indians and others make up the remaining 14.48%, 10.56% and 0.48% respectively.
Karpal won the seat, which was created 10 years ago, in the 2004, 2008, and 2013 general elections against MCA by 1,261; 21,015; and 42,706 votes respectively.
DAP also won three state seats in the parliamentary constituency – Seri Delima, Air Itam and Paya Terubong in the last general election.
Without BN fielding a candidate through MCA, there will be little excitement in the election campaign in Bukit Gelugor.
Lamenting BN's absence, DAP secretary-general Lim Guan Eng said there were bound to be winners and losers in any contest and the coalition should have contested.
"BN is treating this like a game. It thinks it is smart by staying out.
"It thinks that it is everywhere when it is neither here nor there, but I want to tell BN that it is getting nowhere... 'Jangan main-main' (don't play around)," he said at the nomination centre for the by-election in Dewan Sri Pinang today.
MCA announced on Saturday, about four hours after the DAP named Ramkarpal as the party's candidate to defend Karpal's parliamentary seat, that the party would not contest.
Initially, its secretary-general Datuk Seri Ong Ka Chuan said MCA was staying out of the by-election to focus on the constitutional crisis triggered by PAS's plan to introduce hudud but yesterday he said the party was not contesting because it had little chance of winning the seat.
Ong said MCA had been monitoring and assessing the situation in Bukit Gelugor since the general election last year and after Karpal's death last month, but the party rated its chances as low.
The party was put in a spot for using hudud as a reason for not contesting after PAS president Datuk Seri Hadi Awang announced yesterday that his party has postponed its tabling of two private member's bills to implement hudud in Kelantan.
He said he was leaving the matter to a special technical committee formed by Putrajaya and the Kelantan government to study the feasibility of introducing the Islamic penal code in the country. – tmi
Bukit Gelugor by-election will only spell humiliating defeat for MCA, say analysts
Parti Cari Makan' is BN proxy, says Azmin...
Although BN is not contesting in the Bukit Gelugor by-election, it has, however, appointed a proxy, PKR deputy president Azmin Ali said.

He was referring to Parti Cinta Malaysia (PCM), which he mockingly referred to as "Parti Cari Makan".

PCM vice-president Huan Cheng Guan is one of four candidates battling for the Parliament seat in Penang.

Azmin claimed that BN is using a proxy because the ruling coalition and its chief Prime Minister Najib Abdul Razak could not find a candidate.


"We are not asking him to find 10 people, just one and yet, he is not able to do it. Instead he appoints Parti Cinta Malaysia to contest," he told reporters after launching the PKR operations centre.

This morning, Huan (left) denied being a BN-appointed Independent candidate, saying he was contesting under his party logo.

Huan added that he was contesting with his own money and PCM might not even be able to afford numerous polling and counting agents.

He accused DAP of being more "BN-friendly" than him as it's secretary-general Lim Guan Eng was seen taking "selfies" with Najib and hugging BN leaders.

When he launched the operations centre, Azmin put a PKR t-shirt on DAP's candidate Ramkarpal Singh, as a sign of the solidarity between the parties.

Accompanying Azmin were DAP leaders and MPs Zairil Khir Johari (Bukit Bendera) and Liew Chin Tong, DAP assemblypersons Jagdeep Singh Deo (Dato Keramat) and RSN Rayer (Seri Delima) as well as PAS' Parit Buntar MP Mujahid Yusof Rawa.

Azmin urged his members not to be complacent although DAP is not contesting against BN.

He urged members to show solidarity and support to help Ramkarpal obtain a bigger majority.

"We hope that BN will repeat the same stand not to compete against DAP in Teluk Intan," he added.- mk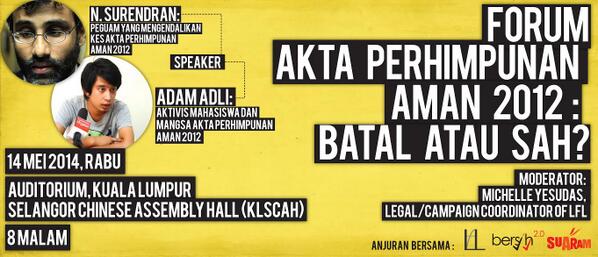 cheers.