Atok ni semua benda dia nak masuk campur,semua dia nak atuq. Skrg giliran PH pula yg dipengerusikan oleh Anwar pun Atok ni nak atoq ikut suka dia. Atok pula tak berparti. Lepaih tu Amanah-DAP dok wala' kat dia. Patutunya Mat Sabu dan Guan Eng duduk semeja dgn Anwar, bukan dok pi layan Atok...- f/bk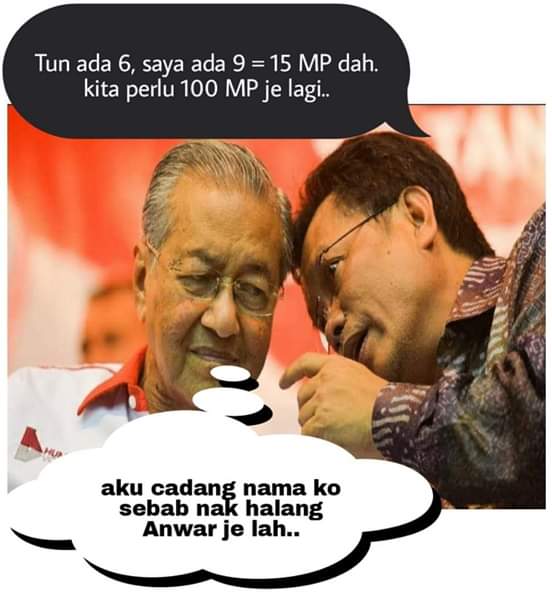 Alasan Mahathir lagi, Anwar tidak boleh jadi PM kerana Anwar pimpin parti berbilang kaum. Dia ingat orang lain nyanyuk macam dia kot. Kalau Anwar tak boleh jadi PM atas alasan pimpin parti Keadilan yang berbilang kaum, mengapa beliau mahu berjanji Anwar akan jadi PM selepas 6 bulan dia jadi PM kali ketiga? Adakah selepas 6 bulan itu Anwar akan jadi pemimpin parti Melayu?
Kalau alasan itu juga menjadi penyebab dia tidak mahu sokong Anwar, mengapa dia calonkan Shafie Apdal sebagai PM? Shafie Apdal adalah pemimpin parti Warisan, iaitu parti berbilang kaum di Sabah. Cuba lihat pimpinan dari Warisan, semua Melayu kah? Ini bukti menunjukkan Mahathir kini hilang arah dan kerap terlupa akibat faktor usianya. Tapi masih kemaruk nak jadi PM. Amanah dan DAP jangan terikut2 rentak Mahathir ini - Wfauzdin Ns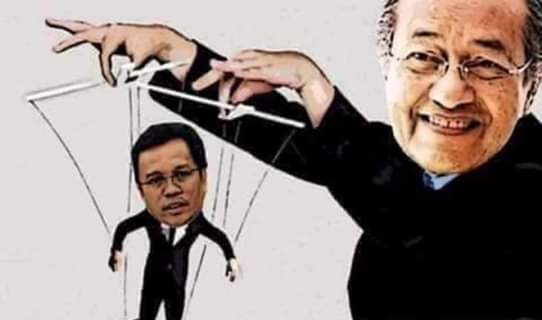 Apa rasionalnya Tun memilih Shafei yang kerusinya lebih sedikit daripada Amanah? Jika tidak mahu DAP, kenapa tidak pilih Amanah? Amanah lebih banyak kerusi dari Warisan. Amanah parti Islam dan didominasi Melayu. Kenapa Shafei, kenapa tidak Bang Mat?
Jika DAP setuju pilihan Mahathir, percayalah bahawa pengundi Cina tidak akan mengundi DAP lagi sebagaimana mereka tidak mahu mengundi MCA. Pengundi Cina bukan mcm pengundi Melayu yg mengundi kerana mahu Melayu menjadi wakil. Tak kisah Melayu itu penyamun atau penjual agama janji Melayu. Pengundi Cina menilai dari apa yg mereka akan dapat dari undian mereka lalu mereka tidak akan teragak² untuk menukar undi. Ini ditunjukkan dgn jelas oleh pengundi cina di PRK Tanjung Piai.
Jika Amanah setuju pilihan Mahathir kali ini, percayalah sokongan pengundi terhadap Amanah akan terjejas. Kerusi² Amanah seperti Kota Raja & Shah Alam dan kerusi² bandar akan beralih arah. Terdapat info bahawa sudah ada ahli Amanah yang mahu beralih sokongan & keahlian jika Amanah terus dilihat "melekat" di kaki Tun
Sesekali pemimpin Amanah and DAP perlu menjeling ke arah komen2 netizen di page2 pemimpin sendiri dan juga portal2 berita. Lihat sendiri penolakan rakyat terhadap Tun Mahathir.Tun adalah liabiliti kepada Amanah dan DAP. Kembali kepada perjuangan membela rakyat di dalam PH. Kita perkuatkan PH. Rakyat dahagakan perubahan dan pembaharuan. Tun tiada agenda ini. Begitu juga dengan Shafei. - Dr Ariff Kadir Al-Katami
On being a leader for the Malays and
a leader for Malaysians: An ironic story...
I begin this article by stating some of the things Datuk Seri Anwar Ibrahim is known for. But I'll have to say this is not according to chronology of events. Other than being famous (or should it be infamous?) as a firebrand student leader, Anwar is also known as a leader of ABIM. The Malaysian Islamic Youth Movement was initially characterized by its efforts to intensify Muslim youth activism through missionary and educational activities.
Anwar is also remembered for being instrumental in setting up a private education institution called Yayasan Anda, aimed at helping mostly poor Malay students unable to enter public institutions of higher learning to further their studies. And while in government (need we be reminded that it was the BN administration?), Anwar was a strong advocate of "sebutan baku" or the standard designation (pronunciation) of the Malay language.
Also during his stint in the cabinet, especially as education minister, Anwar was seen pushing for the "Malay agenda". Mahathir's coup in wooing Anwar to Umno in 1982 gave the party the Islamic image it needed to disrupt and thwart archrival PAS' onslaught to win the Malay heartland.
When he was sacked by Mahathir in 1998, the Reformasi movement which Anwar triggered was supported predominantly by the Malays. Based on such "Malayness", one would see Anwar as a Malay leader or rather a leader of the Malays. But not so apparently. Not in the eyes of Tun Dr Mahathir Mohamad.
In a recent interview with Malay daily Sinar Harian, the former prime minister was quoted as saying the Malay community cannot accept Anwar's leadership because of his "liberal political ideology". I can't help but recall when Anwar was in the Mahathir administration, the Islamization policy of the BN government was credited to Anwar. Matter of fact till today, Malays dubbed as "liberals" blame Anwar for "starting the rot" whenever Muslim zealots within our midst go a notch or two up in trying to impose their "Taliban" views on society.
Ironic isn't it that Anwar himself is now labeled liberal by the Malays who themselves are seen as liberals. And sadly, of late, liberalism is such a dirty word for many Malay Muslims. When Anwar first started in politics he was identified with Malay nationalism and Islamic policies. He is now the only Malay leader heading a multiracial party, PKR, and in the words of Mahathir, "is talking about multiculturalism and liberalism".
Thus, according to Mahathir, Anwar lacks Malay support and the former premier goes on to claim that as far as numbers in the Parliament are concerned, only the leader of a Malay party can obtain the crucial support of Malay MPs. Mahathir was, of course referring to the support needed by a leader to become prime minister.
To political analyst Dr Oh Ei Sun, in a recent interview with Sin Chew Daily, Mahathir "was actually stating the obvious, that Anwar heading a multiracial party and therefore is not acceptable as prime minister in the Malaysian socio-polity, at least at this point in time. But many mistakenly read that as Mahathir expressing his personal racist preference."
As Azlan Zainal, CEO at research outfit Ilham Center reminds us that in Malaysia's democratic system, a prime minister can be determined by majority support of Members of Parliament, unlike the republic system where presidential elections are decided directly by the people. If I may add, the Malaysian prime ministerial post has always been awarded to the leader of the party with the most number of seats in the Parliament and in the past that party has always been Umno. Therefore for years, we have had Umno presidents as our prime ministers.
"If we want to rate it fairly, anybody can be elected prime minister if he commands majority support in the House even though the support for his party is minority," says Azlan. However, there is an unwritten "law" that the prime minister must be a Malay Muslim.
Anyway, as for Anwar being labeled a "liberal" who is heading a non Malay-based party even though it is dominated by the Malays, Azlan says, "It is just a perception drummed up with much success by Umno/BN over a long period of time to thwart the opposition back then." - Mohsin Abdullah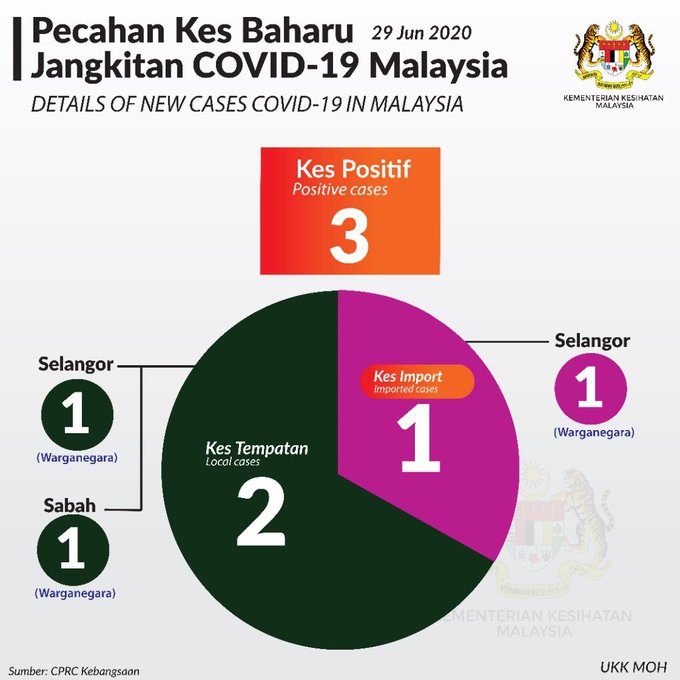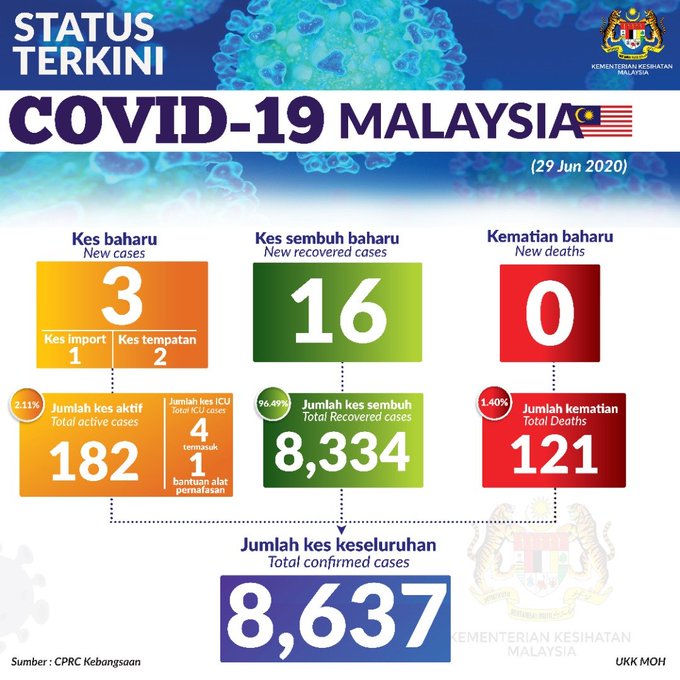 cheers
.