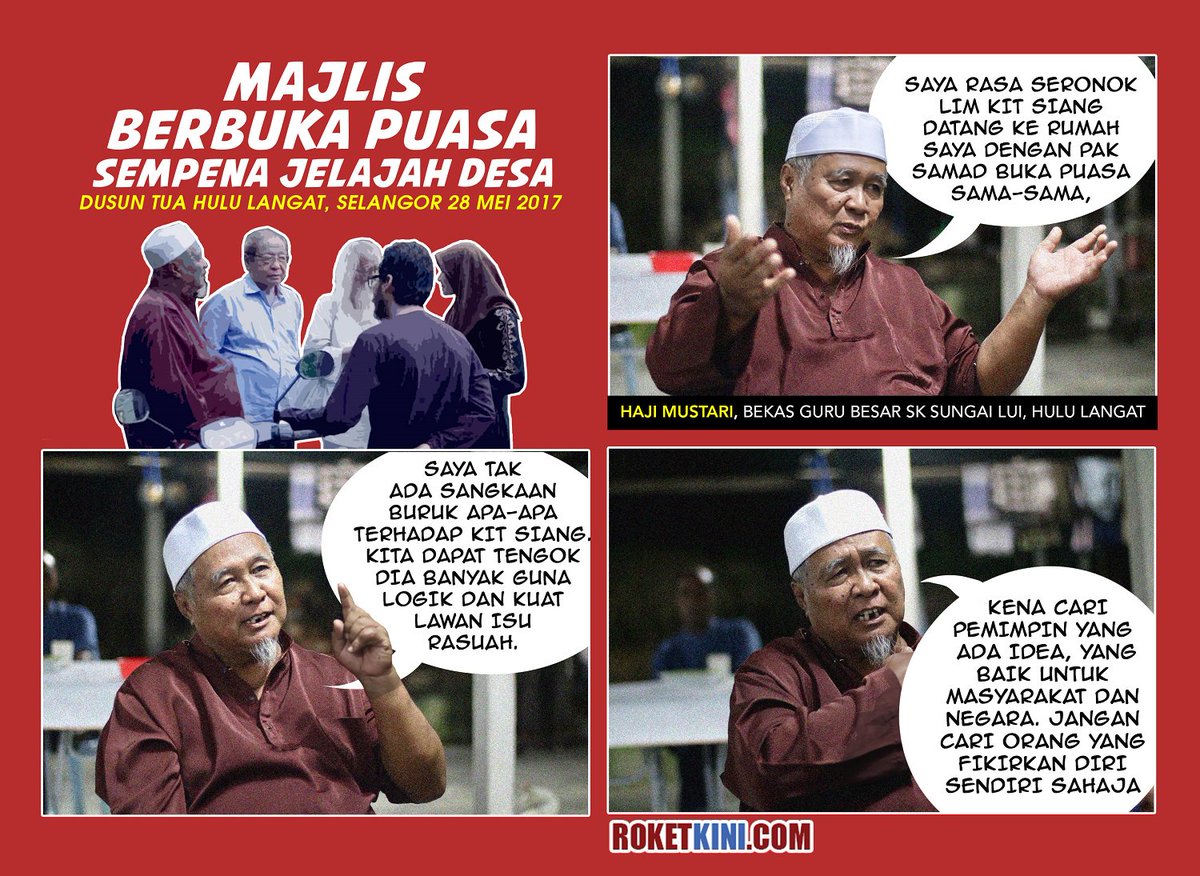 Cikgu jamu gulai lemak kuning
buka puasa dengan Kit Siang...
Perbahasan isu berbuka puasa dengan orang bukan Islam tiba-tiba menggamatkan Ramadan di Malaysia tahun ini meskipun perkara itu bukan menjadi kesalahan dari segi moral mahupun syarie.
Bagaimana pun, di saat ada kelompok fanatik mengecam orang bukan Islam meraikan penganut Islam menghadiri majlis berbuka puasa, lain pula yang berlaku di Kampung Jawa baru-baru ini.
Rombongan Jelajah Desa Dusun Tua bersama Ketua Parlimen DAP Lim Kit Siang dan Sasterawan Negara Datuk A Samad Said kelmarin 'disambut' dengan gulai ayam lemak kuning, sambal kentang dan sayur campur di majlis berbuka puasa di rumah Tuan Haji Mustari bin Ahmad, 59, bekas Guru Besar Sekolah Kebangsaan Sungai Lui, Hulu Langat.
Sebaik suara azan berkumandang, rombongan DAP, ahli keluarga dan penduduk kampung berjumlah sekitar 23 orang mula menjamah juadah yang disediakan.
Gembira dengan kehadiran rombongan DAP, Haji Mustari berkata ini kali pertama Lim Kit Siang dan Pak Samad bertamu ke rumahnya.
"Saya rasa seronok dia (Lim Kit Siang) datang (ke) rumah saya dengan Pak Samad buka puasa sama-sama," katanya kepada Roketkini.
Beliau turut berkongsi pandangan terhadap DAP khususnya Lim Kit Siang dan pentadbiran kerajaan negeri Pulau Pinang di sebalik segala tohmahan buruk ke atas DAP.
"Saya tak ada sangkaan (buruk) apa-apa (terhadap Lim Kit siang).
"Kita dapat tengok dia banyak guna logik dan kuat lawan isu rasuah," ujarnya.
Pun begitu, Haji Mustari mengakui pernah mempunyai persepsi negatif terhadap DAP sebelum terbentuknya kerjasama Pakatan Rakyat.
"Tapi bila DAP bekerjasama dalam Pakatan Rakyat (PR), barulah saya nampak keikhlasan (DAP). Apa yang PR buat adalah untuk rakyat.
"Dulu tak nampak, kita ingat DAP ni nak jadi PAP," katanya menambah apa yang dilakukan Perdana Menteri, Datuk Seri Najib Razak berkaitan hubungan eratnya dengan negara China mengundang kerisauan.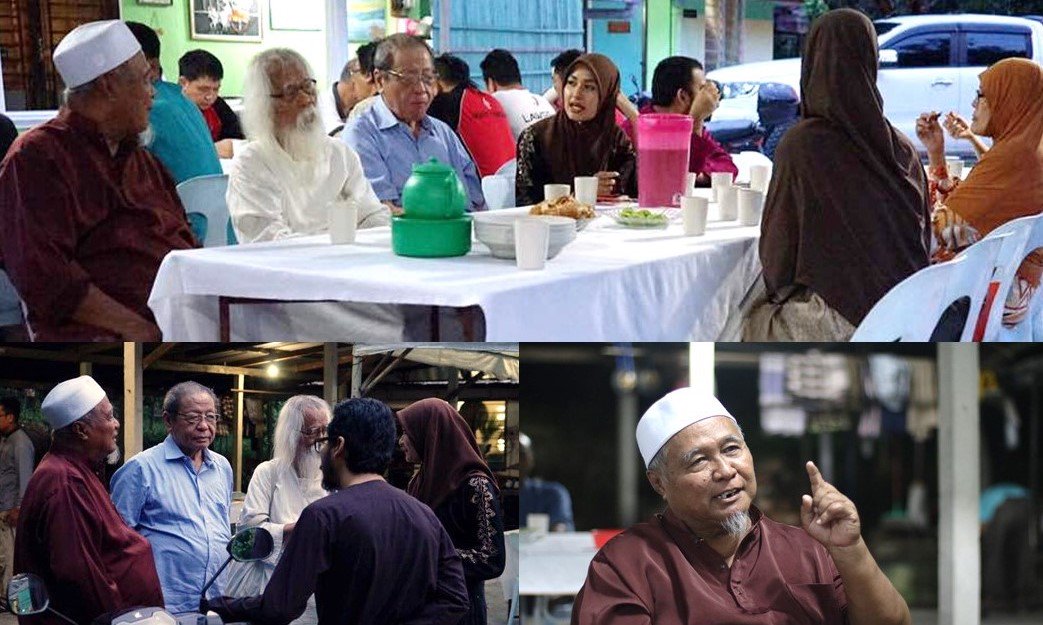 Perbualan Roketkini dengan Haji Mustari yang dipanggil 'cikgu' oleh penduduk kampung terus rancak, kami bertanya pandangannya terhadap PAS.
Beliau berkata, selepas berpisah dari komponen Pakatan Rakyat, PAS dilihat suka berbuat sesuka hati.
"PAS dulu dengan selepas Tok Guru Nik Aziz sudah jauh beza. PAS dah lain. PAS nampak sombong," katanya.
Masalah dengan PAS setelah berpisah dari PR bukan sekadar dapat dilihat daripada hubungan antara parti-parti politik semata-mata tetapi turut dizahirkan dengan sikap 'orang-orang PAS' yang disifatkan Haji Mustari sebagai 'fanatik dengan kumpulan'.
"Kalau dia (sekumpulan penyokong PAS) sedang berborak, kita datang, dia senyap.
"Macam baru-baru ni ada kematian, ada orang PAS kata tak payahlah datang sebab (arwah) tak pernah nampak datang masjid," luahnya kesal dengan perkara itu.
Perbualan Roketkini dengan Haji Mustari malam itu berjaya mencungkil lebih banyak ruang dan sudut pandang kalangan akar umbi yang bersama masyarakat di kawasan luar bandar.
Tambahnya, jika dahulu penduduk kampung yang berlainan ideologi politik boleh sama-sama hidup rukun damai di masjid, sikap fanatik perpuakan yang dibawa golongan tertentu kini telah menyebabkan perpecahan dalam kariah.
"Kena cari orang (pemimpin) yang ada idea, yang baik untuk masyarakat dan negara.
"Jangan cari orang yang fikirkan diri sendiri sahaja," kata Haji Mustari lagi. – Roketkini.com
How is she linked to Najib...
Two Umno MPs have denied involvement with an individual purportedly in charge of an American firm lobbying the administration of United States President Donald Trump on behalf of Putrajaya.
Earlier today, PKR's Rafizi Ramli accused Tan Sri Shahrir Samad and Datuk Nur Jazlan Mohamed of having links to Florence Goh, the president of an NGO called Care United Johor Baru.
Rafizi also claimed that Goh is the director of Godfrey Group Ltd, the US firm accused of lobbying on Putrajaya's behalf.
Shahrir said he is aware of the existence of the NGO and its activities to aid the elderly and children from low-income families due to his position as Johor Baru MP, and acknowledged meeting Goh.
"[But] I am not aware of her association, if any, with Godfrey Group and neither am I aware of Godfrey Group itself," Shahrir told Malay Mail Online when contacted.
Like Shahrir, Nur Jazlan said that he only knew Goh based on her capacity as leader of the charity group.
Nur Jazlan is the MP for Pulai, which is also in Johor.
"I don't know her personal activities," the deputy home minister told Malay Mail Online.
Rafizi based his allegation on Shahrir's advisory role in Care United Johor Baru and the two lawmakers' attendance at events organised by Goh and the NGO.
The PKR vice-president also demanded Shahrir state his involvement in alleged efforts to make Godfrey Group Ltd the middleman in dealing with Putrajaya's lobbying efforts in the US.
Shahrir today noted that Rafizi based his claim entirely on conjecture.
"Typical of Rafizi to make claims like this, without any proof, and without concern about damaging the reputation of people in his claims. PMO has already issued a denial of this," Shahrir said, referring to the Prime Minister's Office.
The Najib administration last week denied engaging any US firm to help lobby the Trump administration.
"Contrary to recent media reports and a registration statement, neither the Prime Minister's Office or Government of Malaysia has instructed, appointed or contracted in any form with the Godfrey Group Ltd, the 45 Group or Healy Baumgardner-Nardone," Datuk Seri Tengku Sariffuddin, press secretary to Prime Minister Datuk Seri Najib Razak, had said in a statement.
Baumgardner-Nardone is the head of the 45 Group who reportedly worked on the Trump presidential election campaign last year.
A US-based news website The Daily Beast previously reported that the firm was paid RM1.07 million for lobbying purposes by a Malaysian company called Godfrey Group Ltd. - malaymail
Return stolen SRC money to
pensioners to respect Ramadan...
Muslim recipients of funds suspected to be from state firm SRC International should return it in the spirit of Ramadan, said Parti Amanah Negara Parit Buntar MP Mujahid Rawa.
"In this holy month of Ramadan, I urge Umno division chiefs and BN parties which received funds from (Prime Minister) Najib Abdul Razak to return the funds because the money belongs to the Malaysian public," he said in statement.
"I urge my Muslim colleagues especially in Umno to return the SRC funds…if they cannot prove they are not recipients."
PKR vice-president Rafizi Ramli had earlier claimed Umno and BN received RM10.02 million from Najib, and that the funds originated from former 1MDB subsidiary SRC International.
He based his allegations on a purported leaked Malaysian Anti-Corruption Commission (MACC) document detailing SRC International's money trail, which was published on anonymous blog sprminsider.blogspot.com.
Access to the blog by users in Malaysia has been blocked by the Malaysian Communications and Multimedia Commission.
The beneficiaries listed by Rafizi are:
– RM170,000 to Bandar Tun Razak BN (July 22, 2014)
– RM1.5 million to Umno headquarters (July 22, 2014)
– RM1 million to Penang Umno (July 24, 2014)
– RM5 million to Umno headquarters (Aug 26, 2014)
– RM1 million to Sabah-based BN component Upko (Feb 17, 2015)
– RM50,000 to Padang Serai Umno chief Asmadi Talib (Feb 17, 2015)
– RM 1 million to Penang Umno (Feb 26, 2015)
– RM300,000 to Johor Bahru Umno (March 3, 2015)
Upko vice-president Marcus Mojigoh in response said it is normal for BN parties to receive funds from Najib to organise programmes.
"Najib never gave me a single sen," Marcus told Malaysiakini.
Penang Umno also rubbished Rafizi's allegations as "nonsense".
Mujahid said it is even doubly important for those who allegedly received the funds in February 2015 to return the money, following suspicion of Muslim pilgrim fund Tabung Haji's links.
According to MACC investigations, subsidiaries of Jho Low-linked firm Putrajaya Perdana Bhd had transferred RM140 million into SRC in December 2014.
The month before, Tabung Haji had injected RM193.5 million to acquire a 30 percent stake of Putrajaya Perdana."This raises question marks on whether the the funds transferred from SRC to Najib in Dec 2014 came from Tabung Haji, and the same funds reportedly used to pay BN parties and Umno individuals," Mujahid said.
SRC's money trail was detailed in the chart held up by attorney-general Mohamed Apandi Ali during a press conference to clear PM Najib of wrongdoing, in January 2016.
Putrajaya Perdana was previously acquired by 1MDB-linked businessman Jho Low's vehicle, Abu Dhabi Kuwait Malaysia Investment Corporation (ADKMIC), before being sold to then Sarawak chief minister Abdul Taib Mahmud's UBG Bhd in 2017.- mk
Bertaubatlah UMNO,pulangkan duit rakyat
Projek belum dapat kelulusan Jabatan Alam Sekitar
TETAPI dah mula kerja penambakan.
cheers.