Maaf cakaplah kalau saya kata isu RUU355 ini adalah sarkas politik tahap maksimum yang mendedahkan hipokrasi Umno-PAS. Sekali gus ia menyerlahkan pakatan gelap Presiden Umno,Mohd Najib Abdul Razak, dan pemimpin tertentu dalam PAS.

Babak pertama: Setelah bertindak macam orang kena sawan, Presiden PAS (Datuk Seri) Abdul Hadi Awang, pada 24 November tahun lalu, bentangkan rang undang-undang persendirian yang kemudiannya dikenali umum sebagai RUU355.
Macam-macam alasan, helah, pujuk raya dan ancaman mengiringi pembentangan RUU355, termasuklah tunjuk perasaan di Padang Merbuk, Kuala Lumpur, pada 18 Februari lalu oleh PAS dan sekutunya.
Babak kedua: Kerajaan Najib ambil alih RUU355 dengan janji akan kaji, pinda dan bentangkannya sebagai rang undang-undang kerajaan.
Dalam tempoh itu, jentera putar-belit Umno (pinjam ungkapan Jho Low) berkaitan RUU355 yang diketuai oleh Menteri Parlimen (Datuk Seri) Azalina Othman buat macam-macam kenyataan dan helah seolah-olah mereka lebih Islam dan lebih serius mengenai daripada PAS.

Tapi di belakang tabir Najib sembelit otak ditekan oleh parti-parti unit jagaan rapi (ICU) Barisan Nasional pusat seperti MCA, MIC, Gerakan dan PPP serta Barisan Nasional bebas Sawarak.
Babak ketiga: Setelah riuh-rendah satu negara dengan paluan gendang perang, tiba-tiba RUU355 jadi macam orang nak bersin tak jadi atau si suami yang tengah mimpi berahi tiba-tiba dikejutkan bini kerana ada kebangkitan luar biasa dalam selimut.
Kata pemimpin Wassatiyyah merangkap rakan seketiduran Abdul Hadi, RUU355 tak dibentangkan kerana "Dewan Tertinggi BN memutuskan kerajaan tidak akan mengambil alih pembentangan usul meminda Akta Mahkamah Syariah (Bidang Kuasa Jenayah) 1965 atau Akta 355 di parlimen."
Menurut perdana menteri transformasi, keputusan itu diambil selaras dengan dasar dan amalan BN yang menetapkan semua keputusan mesti dibuat secara konsensus. Abdul Hadi kena kentut.
Mana Najib nak berani bila MCA yang ada perjanjian adik-abang dengan Parti Komunis China (baca di sini) depan-depan dia kata, parti itu akan tolak RUU355.
Parti wad jagaan rapi ini nampaknya lebih berkuasa daripada parti jagoan "demi negara, bangsa dan agama" Umno dalam hal RUU355.
Mana menteri agama dan lebai-lebai Umno? Takkan setebal itu saja pegangan agama mereka sehingga dengan MCA, MIC, Gerakan dan PPP pun kecut testikel? Kecut buah zakar la tu!
Atau RUU355 sebenarnya, dari awal hingga akhir, adalah mainan politik Najib dan Hadi semata-mata. Sekadar melepas batuk di tangga dan ajak-ajak ayam.
Yang menjadi mangsa adalah orang Islam, khususnya ahli dan penyokong PAS yang betul-betul percaya bahawa Abdul Hadi dan Najib, dua sahabat sehati -sejiwa, baju sewarna, ikhlas membentangkan RUU355?
Soalnya sekarang, siapa pakat dengan siapa, siapa kelentong siapa dan apakah jenis quid pro quo di antara Najib dengan Hadi?
Yang pasti, sarkas politik ini belum berakhir. Kita tunggu dan tengok. - a.kadir jasin
Saya dah kata jangan percaya
Dari awal lagi saya dah kata pada PAS jangan percaya pada parti najib dan BN kerana mereka kaki penipu serta cakap berbelit-belit!!
Baru-baru ini timbalan perdana menteri mengesahkan kerajaan kleptokrasi membuat keputusan untuk membentangkan sendiri cadangan pindaan Akta 355 itu.
Konon kata Zahid Hamidi bahawa Perdana Menteri komited untuk menterjemahkan hasrat tersebut tanpa ganggu gugat kepentingan agama serta kaum lain di negara ini.
Apakah parti najib dan BN berani mengambil risiko untuk membentangkan RUU 355 di saat semua komponen BN telah memberi amaran bahawa mereka kemungkinan keluar dari gagasan BN sekiranya rang undang-undang ini dibentangkan oleh kerajaan kleptokrasi!!
Yang paling mulut celupar menentang keras pembentangan RUU 355 adalah parti MCA!! Tetapi yang menghairankan saya puak kaki bodek minda lemah otak udang UMNO tidak melabel MCA sebagai parti perkauman pulak?!
Yang selalu dipersalahkan oleh puak UMNO bangang ialah DAP!!
Sebenarnya yang menjaga orang-orang melayu serta kesucian agama islam secara terbaik mungkin di Pulau Pinang adalah parti DAP.
Saya tahulah kerana berasal dari Pulau Pinang.
Sekarang saya nak tanya Haji Hadi, Nik Abduh, Haji Hashim Jassin serta beberapa orang lagi tokoh ternama PAS; apa macam?!
Hj Hadi nak lihat apa lagi?! Nak lihat draf apa lagi?! Apa yang hj hadi awang kata PAS tak anggap itu muktamad?!
Perdana menteri paling korup sudah kata dewan tertinggi BN telah memutuskan kerajaan kleptokrasi tidak akan mengambil alih pembentangan usul meminda Akta Mahkamah Syariah (Bidang Kuasa Jenayah) 1965 atau Akta 355 di parlimen.
PAS sudah kena kelentong!! PAS sudah kena main!! Hakikatnya, PAS dengan umno macam air dengan minyak!! Mana boleh bersatu!!
Sudahlah Haji Hadi; insaflah dan baliklah ke pangkuan barisan pembangkang untuk tumbangkan kerajaan kleptokrasi yang tidak amanah pada keseluruhan bangsa, agama serta tanahair.
Jangan percaya lagi pada parti najib dan BN!! Jadikanlah ini sebagai satu ikhtibar serta pengajaran pada parti PAS yang sudah dikelentong oleh mereka!!
PAS adalah sebahagian daripada barisan pembangkang selama puluhan tahun; jadi lebih baik PAS balik ke pangkuan Pakatan Harapan yang lebih selari serta seragam dengan wadah perjuangan PAS kearah selamatkan malaysia demi kesejahteraan masa depan rakyat.
Janganlah biarkan diri PAS diperbodohkan secara berterusan oleh parti najib dan BN!!
Sesungguhnya, saya amat simpati dengan PAS serta beberapa orang tokoh pemimpinnya dalam isu RUU 355 ini. - Khairuddin Abu Hassan
PAS dakwa UMNO flip flop, Najib tertekan
of Hadi Again, And Zahid...
"Wasn't it just a few days ago that the DPM Zahid committed to ensure that the Govt introduce the bill in Parliament? Didnt he just get stabbed in the back ? Or he was betrayed by the you-know-who parties to fall on his face? Things are getting very bad for him."
Tonight's announcement will remove the obligation that would have existed for BN federal lawmakers to support the amendments were these tabled by the government.
Hadi's Bill may now fail to even surface in Parliament only able to table Bill last year after UMNO elevated it
Bill has been opposed by BN components
Umno used RUU355 to court PAS
Najib's announcement could also prompt changes to the political landscape in which PAS had been drifting away from other opposition parties and aligning itself with Umno, the only party to openly support the former's ambitions on Islamic laws.
If you want to do a deal with Najib first you have to read "Mentally Retarded 101", a book which JoLo and family have fully memorised by now.
It is getting closer to the elections. All the political parties have to tidy up their positions and their candidates lists.
Talk is that MIC is going to be sacrificed. Bro Kamalanathan, UMNO wants back Hulu Selangor. That is what I hear. Kamal may be sent off to Segamat or somewhere. Even the MIC seat in Cameron Highlands will be taken away. Talk is there is an Indian guy who works for Najib ("professor?") who wants to be president of the MIC. So there may be another Hadi Awang - RUU 355 situation in MIC soon. Semua akan kena liwat.
PAS itself just tergelincir and fell into the monsoon drain. Hadi Awang and Nik Abduh have joined the 'Tuanku Abdul Rahman Club'. They dont seem to care what happens to PAS.
There is also a revolt from Sarawak. The late Adenan Satem broke all the imaginary barriers when he practically said UMNO was 'stupid'. The entire Sarawak started saying that UMNO was stupid - and nothing happened to Sarawak. Abang Johari is turning out to be Adenan Satem kali dua.
And now the Sarawakians and the Sabahans are learning to talk to each other and work together.
So Najib has to be more careful about being indiscrete. The emperor has to put on some clothes.
So the net result is Hadi has been made a fool. I received this Malay Mail report from more than one person, including ex ABIM braders who said, "Aiya kena tipu lagi! Tu la chakap sombongg sangat mu puak Pah"
In other words, Hadi kena liwat lagi.
Anyway Hadi called Najib over this latest round of liwatting and suggested that Pas and UMNO kiss and make up. Here is their short conversation:
Hadi : Shall we have a third honeymoon? Shall we try Greece?
Najib : Whats wrong with the Vaseline ?
According to this chronology above, the RUU355 has been floated up to the Parliament FIVE TIMES.
It is obvious that Najib was just taking Hadi for a ride. I think Hadi was also in cahoots. They were never serious. It is just politics for these morons.
You must bear in mind that PAS is neither 'Islam' nor does the party represent islam. They are a quack political party, populated by semi educated types.
Money plays a large role in their devotions. Remember "no money no religion".
PAS kata UMNO takut MCA...
Pas brands BN "dancing to tune" of component parties
BN unanimously decided not to support RUU355
Najib announced govt would not table (Act 355)
said decision "in spirit of consensus" of BN Supreme Council
said bill would remain private member's bill by Hadi Awang
- T'gganu Pas said BN trying to please MCA
- "looks like BN scared of MCA"
- Why flip-flop?"
- "We are relooking and examining in entirety"
This is a very significant comment by Pas Terengganu - Hadi Awang's home state. Obviously PAS feels they have been seriously short changed by Najib.
The winner in all this is also DAP of course. Just days ago Najib was saying that Parti Pribumi and the new Pakatan Harapan will be dancing to the DAP's tune.
Now PAS is accusing UMNO / BN of dancing to the MCA's tune. MCA has only seven seats in Parliament.
PAS is not aware that there are two other states in Malaysia called Sabah and Sarawak who also do not support this RUU355.
Talk is that the DAP will contest a certain number of seats only - not enough to form a government all by themselves. Of course with just seven seats MCA cannot even form a Village Committee.
What Najib has done is actually destroy PAS. Just by using "cash is king".
Have a nice day folks. - ostb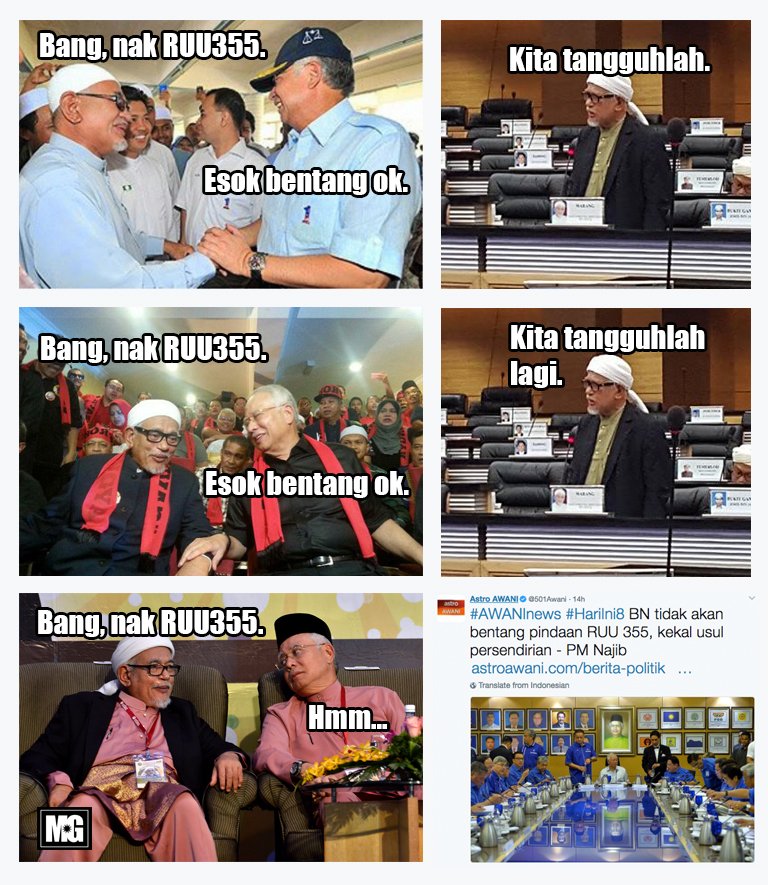 cheers.