Raja Petra "Kowtow" To
Jack Ma,
Removes Article After Lawsuit Threat...
Raja Petra Kamarudin (RPK), the owner of the Malaysia Today portal, has immediately removed an article titled "Jack Ma slaps Pakatan Harapan" upon receiving an official letter to cease and desist from Alibaba Group. The letter bearing Alibaba letterhead and dated March 28, 2019, was signed by Albert Liu, VP and Deputy General Counsel of the billion-dollar company.
According to the letter, the fugitive who currently residing in Manchester, England, has been accused of lying and defaming its chairman Jack Ma over a non-existent meeting between the billionaire and Malaysian Finance Minister Lim Guan Eng and his special adviser Tony Pua in Hong Kong. RPK was given until April 1 to respond, but the blogger had wasted no time in removing the article.
RPK, a well-known blogger who was also a mercenary of disgraced former Prime Minister Najib Razak, was threatened with legal action after he falsely claimed that Chinese billionaire Ma, whose net worth is at a staggering US$38.6 billion (Forbes), told Mr. Lim and Mr. Pua that China no longer trusts Malaysia because the government was said to not honour agreements.
The fugitive blogger wrote – "I have taken down that article and promise never to repeat that story." But the defiant RPK refused to kowtow to the Chinese billionaire without some spins and twists to claim credits. Raja Petra claimed to be honoured that Jack Ma had written to him, the second tycoon to do so after Robert Kuok – proving that he is too relevant that powerful people care about what he writes.
Sure, how difficult it is to defame and lie about powerful people and get letters of lawsuit. Try to write about British Prime Minister Theresa May bribing Germany Chancellor Angela Merkel or French President Emmanuel Macron and see whether you can still live happily in Manchester.
Alibaba Lawsuit Letter To RPK
Interestingly, RPK lectured Jack Ma that if the lawsuit goes to the court, the Chinese billionaire will need to prove he did not have any meeting with Lim Guan Eng and Tony Pua. But the blogger, who alleged the meeting took place, need not prove anything. Yet, Raja Petra had chosen to chicken out and retracts his article anyway.
Of course, this is not the first time the notorious blogger had written fake stories about the rich and powerful, and retracted his articles after being slapped with threats of lawsuits. As mercenary of Najib Razak, RPK was engaged last year, about three months before the May general election to tarnish the reputation of Robert Kuok, Malaysia's richest man.
Billionaire Kuok, whose current net worth is US$13.2 billion, was accused of trying to overthrow the Najib government, an act of treason and a serious threat to the national security. The tycoon was accused, without proof, of funding, then-opposition DAP (Democratic Action Party) in an effort to provoke racial conflicts between the ethnic Chinese and Malays in the country.
Nazri Aziz, former Tourism and Culture Minister, was also roped in to attack the 94-year-old Kuok. Nazri had challenged the "Sugar King" Kuok to contest in the coming general election. Mr. Nazri, known for this thuggish behaviour and poor upbringing, also called the Hong Kong-based tycoon a "coward with no testicles" – even demanded Kuok to surrender his Malaysian citizenship.
Najib Razak, then prime minister, had condemned Robert Kuok of being ungrateful for allegedly funding the opposition, arguing that it was the government who gave the billionaire the concession to trade sugar in the country. Hence, based on Najib's logic, Kuok must be forever be the slave of UMNO Malay nationalist party.
Amusingly, it would take a simple lawsuit from Kuok to silence the despicable trio Najib, Nazri and Raja Petra. The threat of the lawsuit saw RPK obediently removed three articles from his portal, Malaysia Today, in March 2018. It's both breathtaking and entertaining to read how RPK bragged that powerful Chinese tycoons care about what he writes.
With planeloads of money, both Jack Ma and Robert Kuok could hire truckloads of Queen's Counsel in UK to sue and bankrupt Raja Petra Kamarudin. If RPK dared not even fight Robert Kuok in a Malaysian Kangaroo (or British) court when Najib still walks the corridors of power, what chances are there to fight a billionaire three times richer like Jack Ma in a British court?
Last October, the same RPK was forced to eat humble pie after he mocked and insulted the sacred headgear of the Sikh community. He was shocked and terrified at the retaliation shown by the minority community in Britain, after the blogger launched his racist remark regarding their "turban" in an article published on Sept 26 – entitled "Amar Singh's Turban Must Be Too Tight".
The long and short of the article suggested that Mr. Amar, then the federal Commercial Crime Investigation Department (CCID) Director Commissioner, couldn't think straight because the blood didn't flow to the brain, an insult and ridicule that aren't only "racist" but a declaration of war against the entire Sikh community.
Raja Petra's article, written to defend Najib Razak after the seizure of RM117 million cash together with RM1 billion worth of 12,000 pieces of jewellery in the former premier's children luxury condominium, also suggested that the Singhs were untrustworthy – accusing that Amar Singh was as treacherous as Gandhi's bodyguards.
In his apology article to the Sikh community, Raja Petra admitted that police reports, not to mention threats, had been made against him. Of course, to save face, he wrote – "I was told a Sikh's turban is a very sacred item and they do not take too kindly to anyone making fun of it. For that I would like to sincerely apologise." - FT
Kecut teloq juga rupanya RPK
pujaan macai dan walaun...
Penulis blog Raja Petra Kamaruddin telah menarik keluar artikel berjudul "Jack Ma slash Pakatan Harapan" yang disiarkan pada Selasa selepas menerima notis rasmi daripada Alibaba Group Holding Ltd semalam.
Syarikat yang berpengkalan di China itu menerusi surat yang ditandatangani Timbalan Presidennya Albert Liu berkata,, Raja Petra berbohong dan merosakkan reputasi Pengerusi syarikat itu Jack Ma berhubung pertemuannya dengan Menteri Kewangan Lim Guan Eng dan Pegawai Khasnya Tony Pua di Hong Kong baru-baru ini.
Beliau memberi tempoh sehingga 1 April untuk Raja Petra memberikan jawaban atau akan berhadapan dengan tindakan undang-undang.
Dengan pantas Raja Petra menjawab, "Saya telah mengeluarkan artikel itu dan berjanji tidak akan mengulangi cerita itu."
Dalam artikel tersebut Raja Petra mendakwa, jutawan China itu memberitahu Lim dan Pua bahawa China tidak lagi mempercayai Malaysia kerana kerajaan dikatakan tidak menghormati perjanjian.
Beliau juga menambah dengan membuat kenyataan mengutuk aktivis peguam Datuk Ambiga Sreenevasan dan Clare Rewcastle-Brown dalam artikel barunya , merujuk kepada penyelesaian luar mahkamah antara editor Sarawak Report dan Presiden Pas Datuk Seri Abdul Hadi Awang.
Tulisan blogger Raja Petra antara rujukan utama parti2 UMNO/PAS di Malaysia dalam membuat tuduhan terhadap pemimpi2 kerajaan sekarang.
Raja Petra juga mempertahankan bekas Perdana Menteri Datuk Seri Mohd Najib Razak yang mendakwa menjadi mangsa ketidakadilan sistem perundangan negara. Hak-hak ini adalah selaras dengan prinsip asas undang-undang jenayah iaitu tidak bersalah sehingga terbukti bersalah (innocent until proven guilty).
Awal bulan ini, Perdana Menteri Tun Dr Mahathir Mohamad telah memanggil Raja Petra sebagai "pendusta" atas dakwaan rasuah projek Terowong bawah laut Pulau Pinang yang dikaitkan dengan Guan Eng ketika menjawat jawatan ketua menteri Pulau Pinang. - MD
Kini, lebih membanggakan kumpulan NAMA yang dianggotai Fazrina Ani, Fazyra Malik, Fara Dolhadi, dan Syamimi Mokhtar,telah mengumumkan bahawa mereka layak ke pusingan akhir AGT pada Khamis 4/04/2019 ini selepas mereka dipilih sebagai pilihan juri dalam pusingan separuh akhir suku ke-3 tempoh hari.
Kerana Allah dia lawan umno sampai mati syahid ibrahim libya. Kerana Allah dia putus hubungan dgn Dap dan Keadilan. Kerana Allah dia kini bersama Umno. Kerana Allah dia menipu tentang suara Nik Abduh. Kerana Allah dia kutip derma jihad kononnya nak saman Sarawak Report. Kerana Allah dia tarik balik saman shingga guna duit Datuk Rameli RM 1.4 Juta. Kerana Allah dia kata kalau Tun M jadi PM, negara akan hancur. Kerana Allah dia sokong Tun M jadi PM skrg. Semuanya kerana Allah. Jual nama Allah selagi boleh..

- f/bk
YB.Lain kali buat homework dulu sebelum tunjukkan kebodohan anda...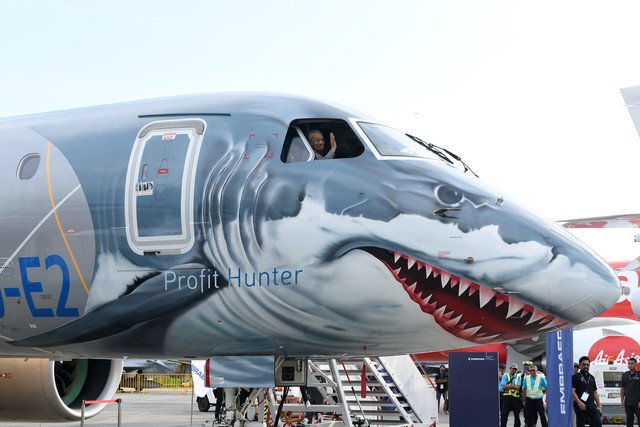 cheers.