1. It was disingenuous (hypocritical) of Permatang Pauh MP Nurul Izzah Anwar to tell Singapore's Straits Times that she was "broken hearted" at having to work with "a former dictator (Mahathir) who wreaked so much damage, not just on our lives but the system".
2. Perhaps not many would want to work with Mahathir, but those who do work with him, including the people, do so because they remember the state of the nation before Pakatan Harapan (PH) took over federal power last year.
3. Let us remind ourselves how we got to this situation, where a 93-year-old man had to come out of retirement to serve the nation once more. Who else could have kicked out Barisan Nasional and Najib Razak?
4. Anwar could not have done it on his own. The charismatic Anwar is best known for his oratory and his close ties with the Muslim brotherhood, but he can't even control the infighting in his party, PKR.
5. Lim Guan Eng could not have done it on his own, either. His party, DAP, has been demonised for decades by Umno and Malay extremists. In a way, Mahathir working with Lim as the finance minister goes some way in repairing the damage for which he is also partly responsible.
6. PAS under Abdul Hadi Awang has little hope of uniting Malaysians. Even if Nik Aziz were still alive, PAS would have gained little traction with the public. Today, PAS hopes to align itself with Umno, using race and religion, to conquer Putrajaya.
7. Even Umno's Oxford-educated Khairy Jamaluddin, a prime minister-hopeful, failed to recognise the signs of a failing party, a broken economy and a suffering people.
8. Remember, too, that it was Nurul Izzah who allegedly chased after Mahathir when he was in London. Together, they initiated the first steps to form PH and to use the PKR logo for GE14.

9. No one who is lazy or who leaves homework undone should ever attempt to work with Mahathir. Those who are close to him tell me that he is a workaholic. He starts his meetings on time. He goes through the list of items to be discussed with hardly a break. He conducts spot checks. He makes do with little sleep, and he can be a pain when he micro-manages.

10. In his earlier days, when he had a clinic in Alor Setar, Mahathir used to give free treatment for the poor. In the villages, the Malays adore him and many Felda townships welcomed PH canvassers during GE14 when previously they would have been turned away.
11. Neither should anyone forget that Mahathir was the architect of the modern Malaysia we inherited: from the tips of the skyscrapers dominating the Kuala Lumpur skyline to the depths of depravity of the Ketuanan Melayu ideology.
12. Many households in villages are the proud owners of Protons, but on the other hand, those who benefited from the AP system live a life of luxury that few of us can even dream of.
13. When Nurul Izzah said the "former dictator" had "wreaked damaged on Malaysians and on the system", she did not mention that her father was also part of the problem. Ask any Malaysian who was in school or university in the 1980s about Anwar's role in the Islamisation of Malaysia.
14. Today, a well-travelled, well-read and well-informed Mahathir has probably realised the mess he created through the imposition of race and religion. In order to preserve his legacy, he knows that he must put things right.
15. Mahathir is aware that ours is a complex nation because past policies have polarised people and forced them to live separate lives. Their children are sent to separate schools, they live in separate housing estates and work in separate fields. Most Malays join the civil service while the rest enter the private sector. Religion is not a unifying factor, and race-based parties compound the division.
16. When he came to power last May, Mahathir wrote to the Agong requesting the removal of Apandi Ali as attorney-general. Apandi was replaced by constitutional expert Tommy Thomas. Thomas was the unanimous choice of all PH leaders, and his appointment, it was hoped, would reassure the business world and the international community and show that PH means business and is serious about reforms.
17. Mahathir is also aware of how far Umno leaders have let things slide since he left office nearly two decades ago. He understands the fragility of the situation and knows that if he introduces a slew of reforms overnight and does too much in one go, he risks alienating Malay support.
18. Remember, too, that many Malays in the civil service are still loyal to Najib. They undermine the current administration. How can they be weeded out? They are not going to expose themselves. Nurul Izzah, of all people, should understand that.
19. Instead of giving up, she should have helped with the effort. She knows that if Najib were still in power, none of the changes made over the past 10 months would have happened. If Malaysians gave up as easily as that, we would never have achieved the success of May 9, 2018. Our work of rebuilding Malaysia is only half-finished. Democracy is not accomplished as soon as the election is over.
20. We still have a lot of work to do to unite Malaysians and to move past racism and religious intolerance. Giving up now because of one man who is in a hurry but who has to work with inadequate tools shows a lack of moral fibre. - MM
Akhiqnya PAS pikoi juga biawak hidup...
1. Sejarah politik negara terukir apabila PAS bersetuju berjuang bersama UMNO dalam Barisan Nasional atau BN; ia berlaku dalam tahun 1974 dahulu.
2. Tujuan utama Tun Razak yang memimpin UMNO dan BN ketika itu memujuk PAS untuk menganggotai BN ialah bagi menguatkan UMNO.
3. Malangnya nyawa PAS dalam BN tidak berkekalan apabila UMNO menendang mereka keluar dari BN pada tahun 1978.
4. Kata - kata Tuan Guru Nik Aziz ( Alfatihah ) ketika mengunjungi beliau di Rumah Kelantan di Jalan Stonor , Kuala Lumpur masih terpahat dalam ingatan.
"Ingat Encik Tamrin , UMNO bila lemah cari kita ( PAS ), bila kuat dia tendang kita".
5. Perjumpaan itu yang bertujuan mencari jalan agar PAS dan UMNO boleh bersama semula telah diaturkan oleh Sayuti Omar seorang sahabat dari Kelantan yang juga blogger atas nama MSO Melayu; ia adalah usaha saya sendiri.
6. Kini segala - gala nya sudah berubah.
7. Bagaikan orang yang hampir mati lemas , dia akan paut apa sahaja yang ada bagi menyelamatkan dirinya.
8. Itulah keadaannya hari ini sesudah UMNO / BN kalah teruk dalam pilihanraya umum yang lepas.
9. Kalau dulu UMNO kuat kerana didokong dan disokong oleh 13 parti komponen dalam BN tapi kini kedudukannya berbalik kepada asal seperti dizaman PERIKATAN dahulu iaitu hanya bersama MCA dan MIC saja.
10. Kebelakangan ini sudah ramai yang telah berhijrah dari UMNO ke PH; ini pasti melemahkan lagi parti tersebut.
11. Ibarat 'Tinggal Nyawa - Nyawa Ikan' sahaja kini UMNO TERPAKSA menebalkan muka melutut kepada musuh asalnya, PAS bagi tujuan mendapat bekalan oksigen.
12. Tidak boleh dinafikan tanpa sokongan PAS, UMNO pasti tidak akan menang di Pilihanraya Kecil Parlimen Cameron Highlands dan DUN Semenyih, baru-baru ini.
13. Kini Pilihanraya Kecil DUN Rantau dalam kawasan Parlimen Rembau , Negeri Sembilan akan berlangsung.
14. Selain dari menjalankan tugas - tugas Presiden UMNO Malaysia dan selaku Ketua Bahagian dan Pengerusi Perhubungan UMNO Negeri dan kini sebagai ADUN kawasan Rantau itu sendiri, beliau yang pernah menjawat jawatan Menteri Besar , akan bertanding semula di kawasan DUN tersebut pada 13 April nanti.
15. Dalam Pilihanraya umum yang lepas atas taktik kotor, Mat Hassan telah menang tanpa bertanding tetapi bagi calon kawasan Parlimen Rembau UMNO/ BN hanya kalah di DUN Rantau itu sendiri.
16. Tak pasti sama ada calun UMNO / BN Parlimen Rembau, Khairy Jamaluddin ketika itu telah disabotaj oleh Mat Hassan sendiri.
17. Dalam dunia politik seribu satu perkara boleh berlaku; di Kelantan dipanggil cah keting dan di sini ia disebut tikam belakang.
18. Itulah sebabnya tanpa berlengah Mat Hassan dalam keadaan terburu - buru mengumumkan perkahwinan UMNO dan PAS ( sila lihat video ).
19. Mengikut Timbalan Presiden PAS , Tuan Ibrahim Tuan Man , UMNOlah yang sebenarnya bersungguh - sungguh mahukan kerjasama itu.
20. Mat Hassan dan UMNO akan buat apa sahaja asalkan menang di Rantau bagi membuktikan beliau masih popular dan terus menolak PH.
21. Dengan tahap ketidak-kepuasan majoriti rakyat terhadap Kerajaan PH , tidaklah memeranjatkan jika sekiranya keputusan Pilihanraya Rantau memihak kepada BN sekali lagi.
22. Rakyat, pada bacaan saya boleh menunggu pemulihan ekonomi tetapi Perdana Menteri harus TUKAR SEGERA beberapa Menteri Besar dan Menteri yang tidak tahu menjaga perasaan rakyat.
23. Jika sekiranya Perdana Menteri masih mempertahankan mereka atas alasan memberi peluang maka gelombang akan bertukar kepada Tsunami.
24. Walaupun pernah dihina dan dikafirkan , UMNO TERPAKSA BERPAUT kepada PAS.
25. Bagi PAS pula buat ketika ini terpaksa memikul UMNO seperti MEMIKUL BIAWAK HIDUP walaupun peperangan PAS menentang Assobiah harus diketepikan.
26. Apakah PAS kini SUDAH BOLEH menerima Perlembagaan dan undang - undang penjajah kafir seperti yang dilaungkan Hadi dalam AMANAT nya sendiri, hanya ahli PAS sahaja yang boleh menentukannya.
27. Tidak mustahil Hadi akan mengeluarkan AMANAT baru bagi menghalalkan Perlembagaan dan undang - undang kafir itu.
28. Apa pun yang penting PERISTIWA PAS DI TENDANG UMNO DIHARAPKAN TIDAK AKAN BERLAKU LAGI.
29. Hanya masa yang akan menentukan bila masa PAS akan menghumbankan biawak hidup yang dipikul itu ke lubang buaya. - Tamrin Tun Ghafar
Untuk macai2 dan walaun2 yang blur tentang SPV(tabung Haji)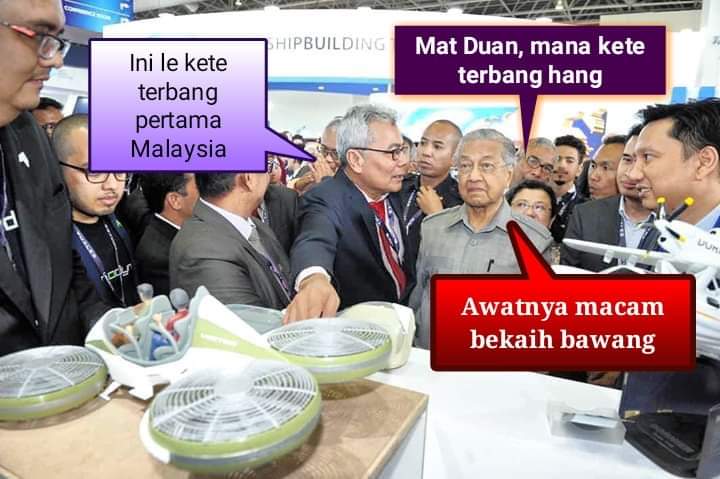 cheers.