UiTM VC - Prof Dr Mohd Azraai Kassim
UiTM Defends UM Students...
In a surprise twist, Universiti Teknologi Mara (UiTM) becomes the first public university that came to the defence of six students of Universiti Malaya (UM), after the undergraduates were intimidated, bullied, assaulted and beaten by a pack of UMNO gangsters unleashed by former Prime Minister Najib Razak on March 21.
Six students of University Malaya were just trying to exercise their constitutional right to assembly and freedom of expression. Their peaceful mini demonstration, however, took a dramatic turn when a big cut-out of a caricature of the former premier as a clown was seen as an insult, so much so Najib's gangsters immediately launched their assault on the students.
Western countries may be puzzled and baffled on how a former Malaysian leader could be offended by such pettiness. Leaders such as Barack Obama and Donald Trump had seen worst caricatures. But we're talking about Najib Razak, the crook who still wanted to be worshipped and praised, even after his corrupt regime was brought down about 10 months ago.
Najib is the same sissy who was deeply "traumatised" after dance producer Bilqis Hijjas dropped a few yellow balloons at a 2015 event attended by him and his spendthrift wife, Rosmah Mansor. The words "Free Media", "Democracy", "Justice" on the yellow balloons were seen as insulting for Mr. Najib, leading to Bilqis being charged in court.
Amusingly, despite the Najib regime in control of judicial system, Magistrates' Court found the prosecution of Bilqis Hijjas to be too ridiculous and silly that the lower court had thrown out the case – twice (in 2016 and 2017) – only for judges of High Court instructed to reject the acquittals. The High Court finally freed the dancer last year after a change of government.
Attacked by Lokman and UMNO Gangsters
The assault on the university students was so bad that Minister of Education, Dr Maszlee Malik, had condemned Najib's thuggish supporters as "thugs, extremist and terrorist". UMNO supreme council member Lokman Noor Adam, who happens to be Najib's strongest supporter and loudest cheerleader, had snatched the caricature and furiously tore it into pieces like a mad man.
One of Najib's thugs had even held University Malaya Association of New Youth president Wong Yan Ke in a reverse chokehold and grabbed his hair and hit him. The gangsters' attack was well recorded by Malaysiakini journalists. As their hooliganism was exposed, Lokman flashed the racial card, claiming that the students deserved the beatings for "insulting the Malays".
For a short while, it appeared the victims of the attacks could only huff and puff about the injustice in the country, despite the change of government last May. The Royal Malaysia Police under the leadership of Inspector-General of Police (IGP) Mohamad Fuzi Harun seems to have thrown their support behind Najib's gangsters, extremists and terrorists.
Instead of arresting and charging the UMNO thugs, the police have instead questioned the university students for the possibility of provoking Najib. Exactly what type of grass the police force has been smoking lately? They were paid by taxpayers' to protect the victims, not defending the gangsters who charged toward six students holding placards and caricature.
Adding salt to the injury, Home Minister Muhyiddin Yassin appears to be sleeping on the job, or at least pretending to be clueless about the assaults on the university students. After all, why should the racist minister, famously known as "Malay first, Malaysian second", gives a damn about the naughty undergraduates, all of whom are of Chinese ethnicity?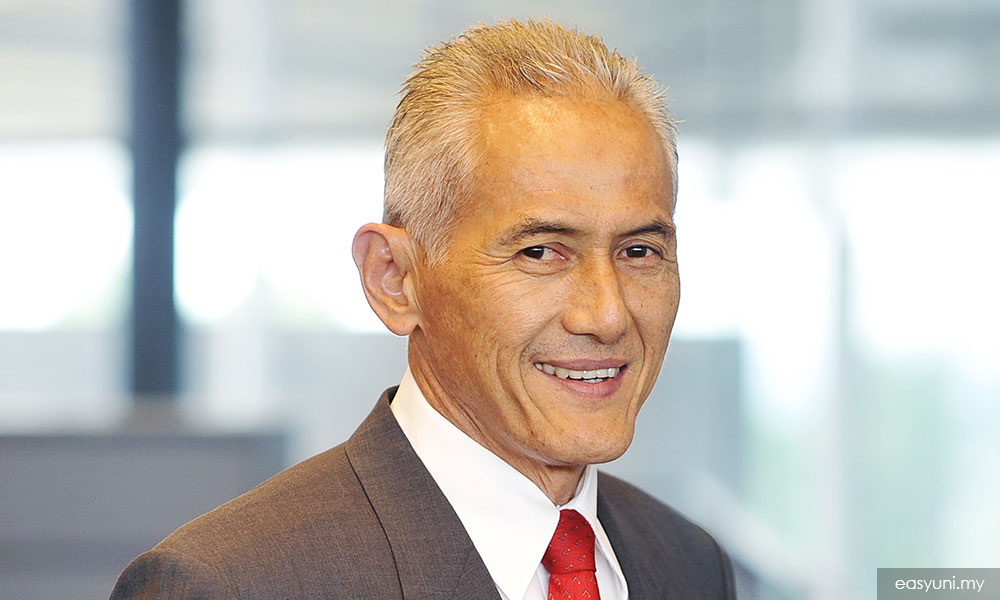 University Malaya VC, Abdul Rahim Hashim
But the worse soon emerged as even the vice-chancellor of University Malaya, Abdul Rahim Hashim, sided with the UMNO gangsters instead of protecting his own students. The disgraced Abdul Rahim agreed that the students were wrong to use the clown caricature of Najib Razak as it was considered "provocation". Perhaps he should be sacked for having "IQ of a carrot".
Understandably, Abdul Rahim Hashim was appointed Universiti Malaya vice-chancellor on Oct 31, 2017, under the old corrupt Barisan Nasional coalition government. He is supposed to serve until Oct 31, 2020. Clearly, he was one of 17,000 political appointees of the previous Najib regime who perhaps believe that his old boss could make a comeback as prime minister again.
Even if the caricature was provocative, which is not for many people who despise the corrupt Najib, there was nothing wrong. Placards and banners are supposed to be provocative in any rally or demonstration to send its message across. To effectively criticise certain individuals or policies, images and words that carry provocative and hilarious messages are normal around the world.
Yesterday (March 24), Maszlee said all public university administrators should have condemned the attack against the students, criticising those that responded vaguely to the incident. The Education Minister who experienced similar students' protest against him previously, was clearly not impressed with the vice-chancellor of University Malaya's loyalty for the crooked Najib.
But all is not lost. UiTM, the flagship institution of the Universiti Teknologi Mara System, the largest system of higher education in Malaysia whose policy is to admit only Malay and Bumiputera (sons of soils) students, refuses to subscribe to Mr. Gangster Lokman's twisted racism that the Chinese students of University Malaya deserved to be bashed for insulting a Malay (Najib Razak).
As a powerful university that educates over 175,000 students, the vice-chancellor of UiTM, Prof Dr Mohd Azraai Kassim has today thrown the much needed support for the six bullied UM undergraduates. Appointed as the new vice-chancellor of UiTM last month, Prof Dr Mohd Azraai said his university wholly rejected attempts to silence students' freedom of expression, especially through the use of physical violence.
Iconic Clown Caricature Of Najib Razak
He said – "Violence is not only beyond social norms and democracy, but it is also against the values of the Malay-Muslim community that is rich in civility and manners, not to mention violating the country's laws. For UiTM, violence is never the way to resolve differences of opinions or ideology, and has no place on any of our campuses."
Agreed with Education Minister Maszlee, Prof Azraai said not only UiTM firmly rejected such violence, he also urges the authorities to fully investigate and take the appropriate action against those involved in the attack on the students. Essentially, UiTM has openly questioned not only the police's professionalism, but also ridiculed Lokman's, and Najib for the matter, pathetic and poor upbringing.
Najib and his cheer-lady Lokman must have underestimated the impact of their gangsterism on the students, considering the crowd size and ethnicity. As a university with 21 affiliated colleges and 13 branch campuses set up across the country offering 312 programmes, UiTM's support for the UM students obviously broke the racial barriers when comes to freedom of expression.
Perhaps Najib and his minions have forgotten that the guy who created the clown caricature was a Malay named Fahmi Reza. And like dance producer Bilqis Hijjas, Mr. Fahmi's famous and influential caricature was feared by Najib. The graphic designer was prosecuted and convicted by a corrupt judge, but was freed last October thanks to the collapse of Najib regime.
The voice of support from UiTM is particularly important because the Malay largest institution of higher learning is sending a message to the UMNO party that violence and thuggery cannot be easily legitimized using racial card. UiTM's support, instead of elegant silence, for the Chinese students of UM speaks volumes about its utmost disgust of excessive racism and extremism displayed by UMNO. - FT
BossMu cuba jual aset negara
Wakil Pekan yang dikenali dengan gelar "Bossmu", Najib Razak kontoi dan hilang aura sebagai boss di parlimen hari ini apabila terkena bedilan wakil Bagan yang juga Menteri Kewangan, Lim Guan Eng. Menteri Kewangan itu mendedahkan rahsia bagaimana wakil Pekan telah menjual pejabat konsul di Hong Kong tanpa mengadakan tendar (jualan) terbuka dengan harga yang jauh lebih rendah daripada nilai sepatutnya.
Kata Guan Eng, tawaran penjualan pejabat itu yang dibuat Najib dibatalkan kemudian dilakukan jualan secara terbuka dengan harga jauh lebih tinggi. Harga yang disebut melalui jualan secara runding dibuat Najib bernilai RM1.1 billion sahaja berbanding dengan nilai jualan terbuka dibuat oleh kerajaan PH sebanyak RM1.6 billion. Bezanya sebanyak RM500 juta.
Bila menerima pendedahan itu wakil Pekan bangun bertanya soal Terowong di Pulau Pinang apakah ianya dibuat secara tander terbuka, dan minta menyebutnya. Guan Eng tidak melayan Pekan sebaliknya bertanya "bossmu" apakah hendak jawaban atau tidak pendedahan mengenai pejabat konsul dibuat tadi.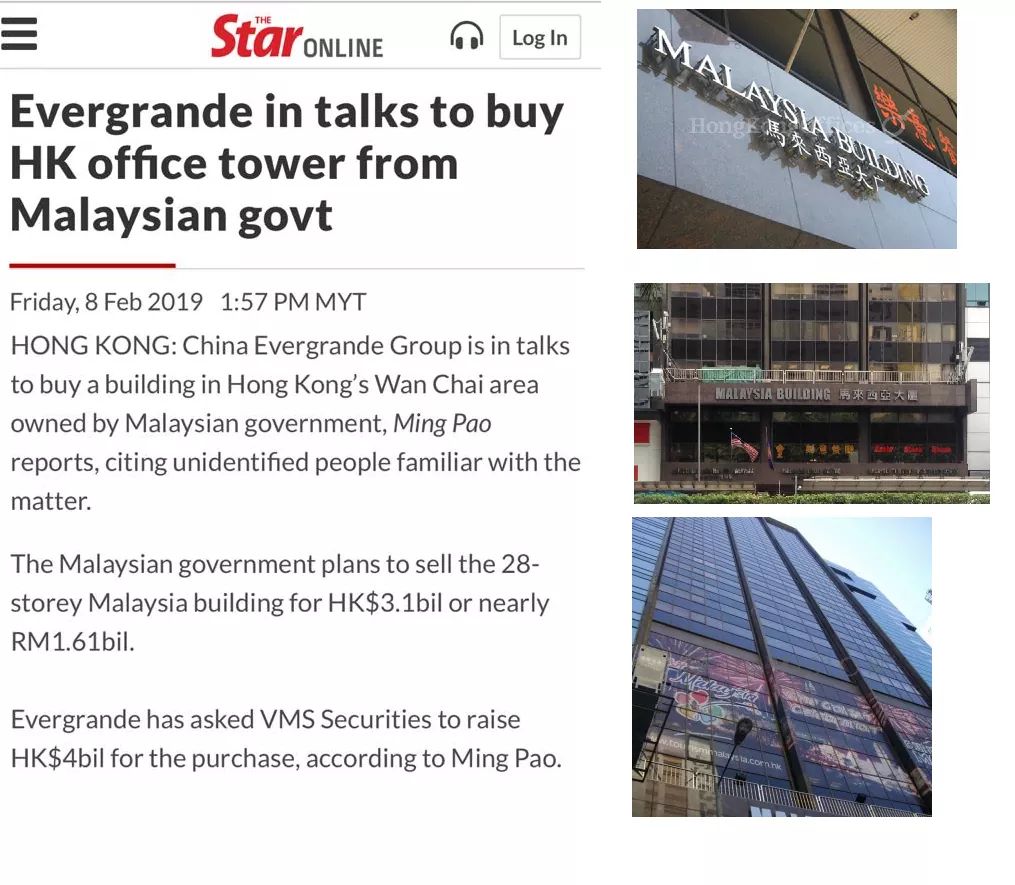 Media Hong Kong Ming Pao melaporkan bahawa kerajaan PH dalam proses mencari pembeli untuk bangunan 28 tingkat di Hong Kong yang diberi nama "Malaysia Building" yang kini milik kerajaan Malaysia. Syarikat tersenarai bernama China Evergrande Group dilaporkan sebagai salah satu pembeli dengan harga HK$3.1bil (RM1.6 bilion). "Malaysia Building" yang tingginya 28 tingkat di 50 Gloucester Road di daerah Wanchai, Hong Kong sudah lama milik kerajaan Malaysia...
Sebanyak tiga kali Guan Eng bertanya dan meminta Najib apakah hendak menjawab atau mengaku mengenai pejabat konsul di Hong Kong itu. Najib tidak menjawab sampai sudah, dan menyerahkan kepada rakan-rakannya untuk terus menjerit-jerit marahkan Guan Eng dan melaung-laungkan perkataan terowong beramai-ramai. wakil Pam juga ikut sama berkolaborasi dengan wakil Umno.
Satu masa apabila tidak tahan dengan asakan Guan Eng dan beberapa wakil kerajaan lain, yang meminta Najib menjawab, baru Najib baru, tetapi bukan menjawab berhubung pendedahan Guan Eng itu, tetapi melaung dengan berkata; jawab terowong dahulu?
Laungan berupa cabaran Najib disambut oleh wakil kerajaan (Tanjung) yang juga Ketua Menteri Pulau Pinang yang mencelah bertanyakan wakil Bagan secara menyindir pembangkang; apakah mereka yang tidak percaya projek terowong itu tidak adalah tendar adalah orang bodoh?
Hari ini keberanian dan aura bossmu kontoi di parlimen. Dan mereka yang percaya pembinaan terowong di Pulau Pinang itu tanpa tendar adalah mereka yang BODOH. - MSO
Bapa Nurul Izzah yang juga Presiden KEADILAN, Anwar Ibrahim berkata, kenyataan anak sulungnya kepada media asing itu telah dibuat sebelum ini namun baharu dilaporkan baru-baru ini.
"Saya faham konteksnya. Sudah lama dan itu dibesarkan The Straits Times Singapura, kita nak gaduh pasal apa," kata Ahli Parlimen Permatang Pauh itu kepada pemberita di lobi Parlimen, hari ini.
Jumaat lalu, Nurul Izzah dalam wawancara The Straits Times, Singapura, Jumaat lalu menyifatkan Dr Mahathir sebagai bekas diktator dan mengakui sukar bekerja dengan Pengerusi PH itu.
Dalam pada itu, Pakatan Harapan (PH) tidak menyifatkan Dr Mahathir Mohamad sebagai diktator sebaliknya konsisten memilih dan menyokong Perdana Menteri. Anwar berkata, perkara itu jelas berdasarkan muafakat yang dicapai PH untuk memberi ruang dan menyokong segala usaha Dr Mahathir.
"Bagi kita tidak (bukan diktator). Secara konsistem, kita pilih Dr Mahathir dan kita sokong dia sebagai Perdana Menteri.
"Jadi kita beri ruang, tapi pendirian kita termasuk saya dan keluarga untuk memberi sokongan dan ruang kepada Dr Mahathir sebagai pemimpin dan Perdana Menteri," katanya.
Penjelasan ini memberi faham kepada kita, kenapa sekarang baru diperbesarkan? Dan Izzah sendiri juga menyebut perkataan itu pernah digunakan lama sebelum ini.
Wawancara,The Straits Times,Singapore
Apa yang dapat diselami kenapa ia sengaja dibesar-besarkan kini, sudah pasti ada orang yang ingin menangguk di air keruh. Apabila Azmin "mencengengkan" Izzah, maka jelas siapa yang menjadi penghasut dan mahu kenyataan lama Izzah itu diperluaskan.
Kalau Azmin ikhlas nak perbetulkan Nurul Izzah bukan itu bahasa dan caranya. Orang Melayu yang beradat ada banyak bahasa yang terpilih.
Benar seperti kata Anwar, sebagai Menteri Hal Ehwal Ekonomi, Azmin perlu menggembirakan rakyat dengan segala perancangan dan pembangunan ekonominya. Bukan membangkit perkara remeh yang boleh mengecilkan hati pihak lain.
Apa lagi jangan cuba memberi harapan kepada kartelnya kononnya dia akan ganti Mahathir selepas ini.
Kita perlu hormat konsensus apa diputuskan PH. Dalam konsesus itu tidak ada nama Azmin sebagai PM selepas Mahathir. Ini kena faham. Dan kena faham juga tidak sesiapa boleh melanggari konsensus itu kecuali majlis presiden. Sesiapa pun tidak boleh melangkaui keputusan majlis presiden.
Tambah Anwar, Presiden Pas, Abdul Hadi Awang tidak perlu membodek menyifatkan Dr. Mahathir bukan diktator sebaliknya tegas.
"Abdul Hadi ini memang ikut rentak dan gendang, bukan ikut pandangan dia. Pas nak kipas tak payahlah," katanya. - f/bk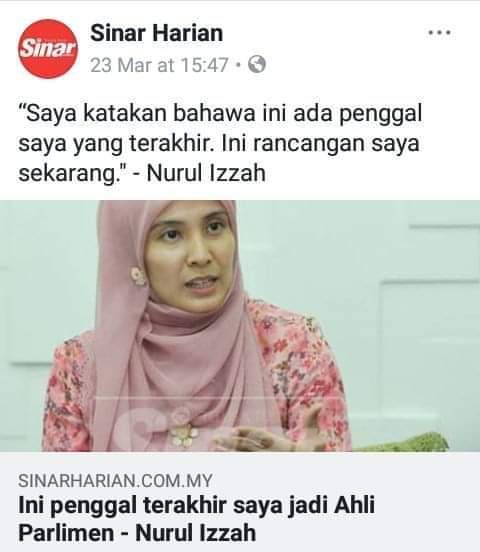 cheers.