After just over nine months in power – replacing the Barisan Nasional (BN) that had ruled the country for 61 years – the Pakatan Harapan (PH) has actually made a pretty good progress for itself and the country.
First of all, as the Prime Minister Tun Dr Mahathir Mohamad, reflected recently, Malaysia is no longer a kleptocracy. But he also lamented that having chosen the democratic ways, both the leaders and people must learn to accept the good and the not-so-good aspects of democracy.
Secondly the problems facing the people are being attended to in a more systematic and transparent manner with a longer-term view of making "shared prosperity" the basis for sustainable wealth creation and distribution.
He and his cabinet members and coalition leaders admitted openly that many of the expectations of the people are yet to be met and some electoral promises may have to be modified to make them realistic and implementable.
They acknowledged that the support of some segments of the people has declined as was seen in the Cameron Highlands and Semenyih by-elections in which the PH failed to wrest the former and lost the latter.
Democracy, as he put it, is a double-edged sword. It can hurt its bearer as much as it can protect him. The ministers and party leaders may be using the democratic space to advance the interest of the people but to the people it appears that they are fighting with each other.
So the Prime Minister's advice is from now on they should think harder before they talk, look before they leap and discuss with the cabinet and the PH on important matters.
"What difference does it make whether they black or white shoes?" he asked.
"Yes, cigarette smoking causes cancer but how do we know whether the smokers are three metres away from the restaurants?" And, in jest, he quipped that flying cars would not generate too many votes.
"And what is Malaysia Baru? Is it exclusively about the election manifesto?" asked the Prime Minister.
If the promises were unrealistic and the actions taken thereafter had caused hardship to the people and the put the country at the risk of default, the government must be willing to backtrack. This does not mean the government will overlook corrupt practices in the award and implementation of the Barisan Nasional (BN) era projects and contracts.
It is for this reason that the government had reversed its decision on the MRT and LRT projects, reconsidering the ECRL and putting on hold plans to disband several BN era departments and programmes.
Justice for the People
The people are right in wanting justice served on the former Prime Minister, Mohd Najib Abdul Razak. They are becoming impatient with the seemingly protracted courts cases against him and his co-conspirators. The longer Najib is allowed the freedom to make mockery of the law, the greater is the risk of the people seeing justice as favouring the rich and the powerful. Or worse still he is not guilty.
The spirit of the separation of power among the Executive (Government), the Legislative (Parliament) and the Judiciary (Judges) does not mean that each operates in a vacuum. Certainly they have to consider each other's interest because in the final analysis they are collectively and severally responsible and answerable to the people.
Although the Prime Minister had said that he was surprised at the response to Najib's "Malu Apa Bossku" campaign, I personally see this street-peddling stunt as nothing more than the last meal of a death row convict. Najib knows his time is running out and he has to make the best use of it. In fact with each passing day that he is allowed to make mockery of the people, the worse it becomes for Umno and the BN.
In nine months after the last May 9 defeat, Umno has had three presidents – Najib, Ahmad Zahid Hamidi and now Mohamad Hassan in the acting capacity. If they can they don't want Najib to meddle in their affairs. His "Malu Apa Bossku" is not about enhancing Umno's tattered image but to promote himself among the kapcai-riding Malay youth.
Still the law must be allowed to run its course. The PH government cannot not do to Najib what he did to his enemies and to the institutions of the state. Najib has no qualm about perverting the laws to his advantage.
One Year Approaching
As the one-year milestone approaches, the PH will be subjected to greater scrutiny by the people, the press and investors. To pass this public relations and confidence test, the PH has to improve its story-telling. It may even have to consider rearranging or even firing some cast members.
The plot and narrative must be understood and believed by the people and the cast must be respected. There is no role for clowns and comic characters. Ministers, Menteris Besar and Chief Ministers must engage in self-examination and, where necessary, self-criticism.
Don't rush to blame the press and the people if the flying car story flew past their heads and the government is seen as inept, arrogant and aloof. Moving ahead, the PH must work hard and smart to fulfill the aspirations of the people and to prove to them that it is not a one-term government. It is here to stay. - a.kadirjasin.
Bila broker penyamun bertemu broker
kartel agaknya pelan apa yang sedang diatur...
Kenyataan terbaharu ayahanda besar kartel berkenaan sindirannya memuji Pemangku Presiden Umno, Mohamad Hasan dan memperlekehkan calon Pakatan Harapan DUN Rantau, Dr Streram Sinnasamy sesungguhnya amat-amat dikesali.
Setelah mesyuarat memutuskan bahawa Dr Streram dipilih bagi menggalas cabaran Pakatan Harapan berdepan orang nombor satu dalam Umno, ramalan bahawa kartel akan mensabotaj pencalonannya ternyata menjadi kenyataan.
Sudah menjadi rahsia umum betapa kartel cukup tidak senang dengan keupayaan dan kemampuan pasukan presiden menghadapi sesuatu pilihan raya hingga tergamak menasbotaj mana-mana calon yang bukan daripada golongan mereka.
Rentetan kekalahan setelah berakhirnya PRK Semenyih yang jelas jentera kempen pilihan raya didominasi kartel melalui institut chap ayamnya kini cuba dieksport ke Rantau pula.
Dengan sistem dan strategi yang cukup lemah ditambah pula dengan tiada koordinasi antara Bilik Gerakan Utama (BGU) dengan jentera di lapangan menjadikan satu lagi 'kubur bersejarah' berjaya dilakar geng kartel di negeri kubu kuat mereka sendiri.
Cukup kelakar, geng kartel yang kecewa setelah nama Dr Streram diumumkan secara rasmi tiba-tiba dengan tak semena-mena semacam ada 'seruan' supaya mengangkat Tok Mat kononnya sudah 'menang' PRK dalam bentuk sindiran ke atas calon Pakatan Harapan dari parti sendiri.
Satu demi satu ucapan tahniah berkokok di media sosial yang jelas dijolok oleh anak ternakan boboi hingga mendapat perhatian beberapa pemimpin mereka awal pagi tadi.
Dan kemuncaknya apabila ayahanda besar mereka rupanya mengadakan perbincangan terbuka bersama beberapa pemimpin Umno yang bermasalah di Dewan Rakyat, secara tidak langsung ini menguatkan lagi dakwaan bahawa kartel akan mencari jalan supaya calon Pakatan Harapan dipastikan kalah di Rantau dengan majoriti lebih besar berbanding kekalahan 459 undi buat Tok Mat pada PRU 14 jika mengikut keputusan parlimen Rembau.
Tidak lain tidak bukan cuma satu, Dr Streram bukan calon pilihan mereka dan calon mereka seperti calon ketua cabang kartel Melayu yang memperolehi undi tercorot atau ketua cabang kartel sekarang tidak diumumkan sebagai calon.
Inilah rupa busuk hati kartel sebenar, jika boleh dikorek pasti akan tersebar bau hanyir mencucuk hidung akibat dendam kesumat pasca pemilihan parti yang menyaksikan mereka cuma mampu 'menguasai' sayap wanita dan srikandi yang tidak dipertandingkan.
Cabaran Pakatan Harapan kini jelas setelah semboyan kedua dibunyikan ayahanda kartel mereka sendiri beberapa jam lalu, bahawa geng mereka akan berusaha memastikan Dr Streram kalah di tangan Tok Mat walau apa pun kos yang terpaksa dikeluarkannya.
Namun dana berkenaan bukannya untuk kegunaan jentera kempen tetapi akan digunakan bagi memastikan wujud unsur-unsur sabotaj termasuk membocorkan rahsia dan maklumat sulit bagi memudahkan calon Umno yang disokong secara terbuka oleh ayahanda kartel tadi menang bergaya.
Misi mereka di Rantau kini jelas: bila kalah di Semenyih, tidak mungkin pihak lain boleh menang kecuali calon yang mereka restui walaupun dari parti sendiri! - f/bk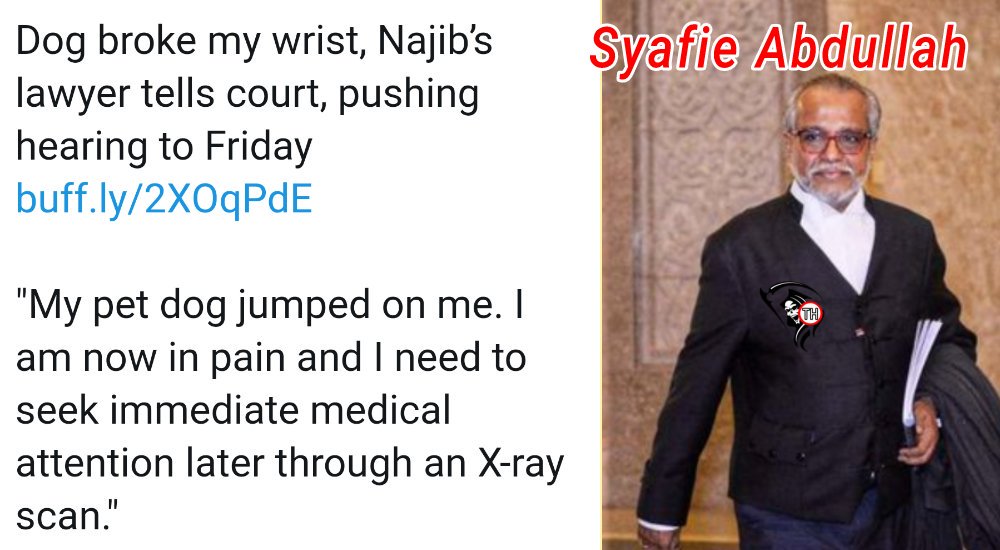 The dog ate my homework? Najib's SRC trial postponed
Al-kisah peguam Najib yg (kononnya) digigit anjing. Buat permohonan di Mahkamah KL utk tangguh kes rasuah SRC Najib atas sbb tangan patah digigit anjing. Tup tup tup... tiba2 muncul membela balu CEO Cradle yg didakwa membunuh suaminya, di mahkamah Shah Alam, pada hari yg sama. Jangan pulak Jumaat ni tak hadir dengan alasan kakinya terseliur kerana tersepak anjing sudahlah... - f/bk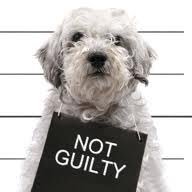 Bos tangguh court, anjing yang salah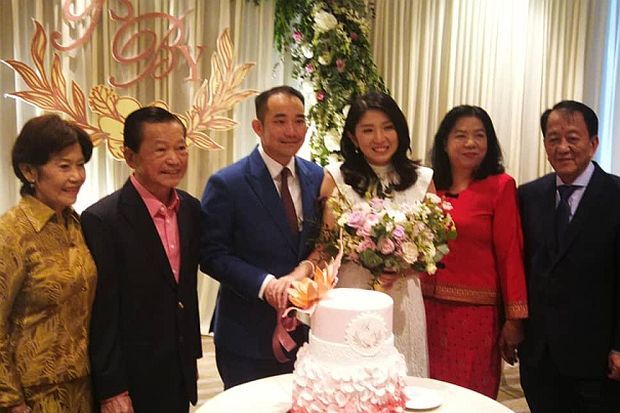 Menteri Yeo Bee Yin kahwin...
cheers.