Malaysia's fundamentalist-based Parti Islam se-Malaysia, or PAS, has quietly paid RM1.423 million (US$350,000) in expenses to get out of a libel suit it filed against the crusading the Sarawak Report and its editor Clare Rewcastle Brown.
The confidential out-of-court settlement was signed on Jan. 24, agreeing that Sarawak Report's legal bills in a London court would be paid to allow Abdul Hadi Awang, the PAS leader, to withdraw from the case without facing cross-examination by Brown's lawyers.
Rewcastle Brown and Sarawak Report played a pivotal role with scores of articles over a three-year period that exposed the details of the government-backed investment fund 1Malaysia Development Bhd scandal, in which billions of US dollars disappeared overseas into US real estate, paintings, airplanes, gambling debts and other assets controlled by now-disgraced former Prime Minister Najib Razak, his wife and his allies. Najib has since been arrested along with his wife and top officials of the United Malays National Organization in the wake of the May 9, 2018 election that brought the Pakatan Harapan coalition headed by now-Prime Minister Mahathir Mohamad to power.
Hadi filed the defamation suit in a London court in April of 2017 over a report that he had received money from UMNO in exchange for an agreement with Najib to align with the government in the coming election, which Pakatan Harapan coalition won in a landslide. Disgust over corruption in UMNO that was publicized by Sarawak Report were instrumental in the election defeat.
Rewcastle Brown refused a demand from Hadi's lawyers to withdraw the article alleging the payment, leading to the defamation suit. The payment by PAS and the agreement on the part of Hadi to withdraw from the case constitutes a major embarrassment for PAS because it appears to be an admission that the story was true.
The Sarawak Report said it was approached with an offer for an out-of-court settlement by a PAS intermediary late last year. Extensive negotiations with the intermediary followed. Eventually, Hadi and his advisors in PAS agreed on terms that included the payment, at which point the intermediary, a lawyer and another PAS supporter visited SR's KL lawyer on January 24th to finalize the terms. The PAS representatives offered to make the payment in cash, which Rewcastle Brown's representatives wisely refused.
Sarawak Report said it had agreed to a request by Hadi's lawyers that the payment would remain confidential. According to a statement by Rewcastle Brown's lawyers, the agreement "did not oblige Sarawak Report to provide any of the remedies sought in Hadi's claim, such as keeping silent on the subject of UMNO payments to PAS or anything else, since Sarawak Report had refused to apologize for its remarks or to surrender its commitment to fair reporting in the public interest.
In a Feb. 28 statement on the Sarawak Report website, Rewcastle Brown said she had decided to publicize the settlement and display the check paid in escrow to her Malaysia-based lawyer, Americk Sidhu, because "PAS has sought to spin and deceive over the matter. In the process senior PAS officials have referred to lying in the political interests of the party as permissible under a surprising interpretation of Sharia law. It has been implied that Sarawak Report backed out of the case, lied and said things it never claimed."
Hadi's representatives in PAS, she wrote, "have repeatedly broken the obligation imposed on Hadi to keep confidentiality about the terms of the settlement, by not only speaking about those terms but also misleading Malaysians by stating that no payment was made to Sarawak Report in settlement of the claim. It was."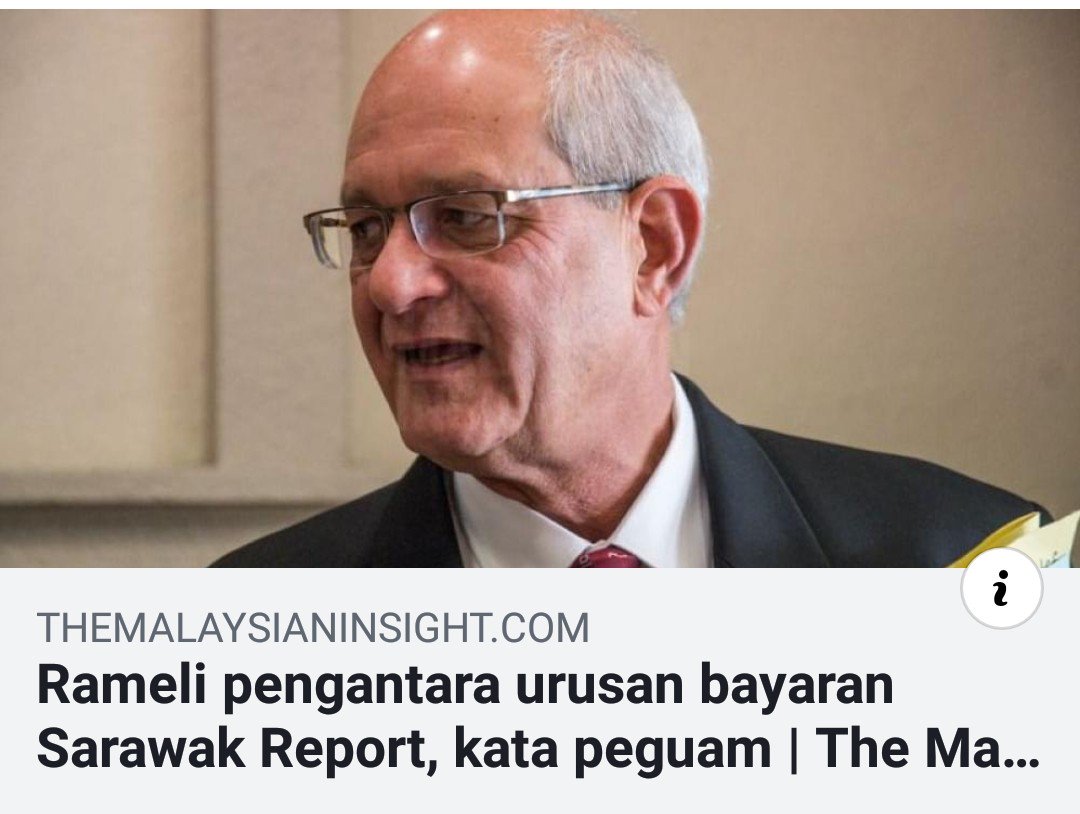 PAS secretary general Takiyuddin Hassan, according to the story, denied a query over the payment, saying neither Hadi nor the party had paid any costs. Takiyuddin was quoted on the Malaysiakini news portal as saying: "In other words, the claimant Hadi does not make any payment of costs to the defendant to settle the case out of court. It should also be clarified that PAS does not make any payment for any part of this case, because PAS was not a party to the suit."
Takiyuddin later announced that he would call a press conference at which he said he would provide documents to prove that Sarawak Report had received no payment to settle the case.
Because of statements by Takiyuddin and others, Rewcastle Brown wrote, in a statement vetted by lawyers in Kuala Lumpur and London: "Sarawak Report therefore is entitled to consider itself released from confidentiality also, in order to be able to tell the truth to the Malaysian people who are being misled. There are no documents 'proving Sarawak Report was not paid', to the contrary there is copious evidence showing we were paid by agents of Hadi Awang to allow him to withdraw his claim.
In addition to printing a copy of the check to Americk Sidhu, Rewcastle Brown printed a letter Malayan Banking Bhd showing that Sarawak Report, in compliance with international money-laundering rules, explained the export from Malaysia of the equivalent of £260,000 pounds sterling (RM1.422, 980.00) from Malaysia back to London. Attached to this letter was a copy of the confidential settlement and the court order. - Asia Sentinel
Bayaran ini yang dinafikan oleh Takiyuddin pada awalnya, dan disambut oleh walaun2 PAS sampai bermaki hamun dlm komen. Kini jelas,PAS membayar kepada Clare untuk penyelesaian luar mahkamah...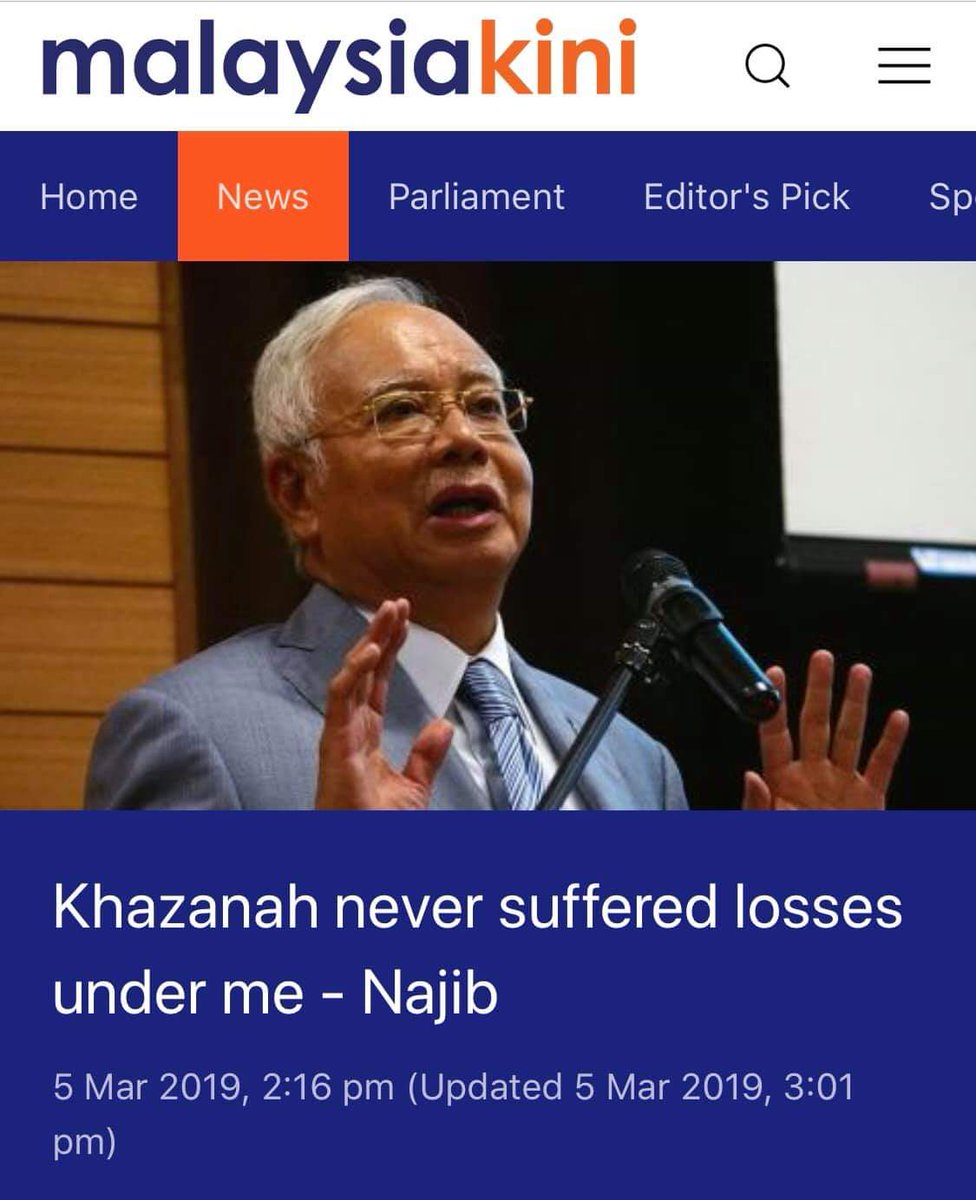 Once upon a time in the Dewan Rakyat...
Pekan (MO1) : "I completely dispute your malicious claim that Khazanah has deviated from its agenda under my rule! This is all Pakatan Harapan is good at, spreading lies and slander about Barisan Nasional! That was how you won the election, by spreading lies about me, my wife and 1MDB. I left you a solid economy, and in the space of two months, you increased the national debt to RM1 trillion and....."
Gombak (Azmin] : "What is your point, Pekan?"
Pekan (in a whiny tone) : "You are lying about Khazanah deviating from its agenda when I was the Prime Minister. My time as Prime Minister coincided with the golden era for Malaysia. We had....."
Gombak : "You want an example, Pekan?"
Pekan : "Ok, ok, give me an example! As I was saying, the whole world looked up to Malaysia when I was the Prime Minister and Donald Trump even....."
Gombak : "Since you were Prime Minister, you would have known that Khazanah invested RM80 million in a failed online lingerie business. Is investing in the underwear business part of the agenda?"
Pekan : "What? What's that?"
Gombak : "I repeat - since you were Prime Minister, you would have had knowledge that Khazanah lost RM80 million in a failed online lingerie business under your administration. Did you know that? Just answer 'yes' or 'no'."
Pekan : "Errrrr.....ermmm....." (looking around the Opposition bench for help and wringing his hands.)
Gombak : "I'm asking you again - do you know that Khazanah lost RM80 million on an online bra and panties business when you were Prime Minister, or do you not know? 'Yes', or 'no'?
Pekan : "I didn't know. Nobody told me. How can you expect me to know everything? It's impossible. No, I wasn't aware. I wasn't involved in the decision making. My approval wasn't required. I'm shocked. I'm innocent." - #penyamun
UMNO-PAS bersekedudukan, dapat
2 orang anak,Cameron dan Semenyih...
UMNO dan Pas sudah pun bersekedudukan dan telah menghasilkan dua "cahaya mata" iaitu Parlimen Cameron Highlands di Pahang dan Dewan Undangan Negeri Semenyih di Selangor. Jadi tidak mengejutkan kalau MCA dan MIC mengambil keputusan untuk keluar pintu belakang dengan tujuan mencari pasangan baru.
Sama ada Umno dan Pas berkahwin secara sah atau sekadar bersekedudukan, MCA dan MIC tidak ada tempat lagi di dalam rumah bernama Barisan Nasional (BN) itu. Malah nama BN tidak sesuai lagi digunakan oleh Umno dan Pas kerana gabungan mereka bukan berasakan kepelbagaian bangsa dan agama tetapi berupa kesepakatan di antara Melayu nasionalis dan Melayu agama.
Gabungan mereka lebih merupakan parti perkauman agama. Umno parti perkauman kerana ia mewakili hanya orang Melayu dan Pas pula parti yang berasaskan Islam. Soalnya, apakah maslahat (muslihat) yang akan mereka guna untuk menghalalkan gabungan mereka dan menyamak najis yang mereka campakkan ke arah satu sama lain selama ini?
Pas pernah menuduh Umno assabiyah dan Abdul Hadi sendiri mengeluarkan amanat yang mengatakan, lebih kurang, bahawa darah orang Umno sah ditumpahkan dan orang Pas yang terbunuh melawan Umno adalah syahid. Kelebihan Abdul Hadi berbanding pemimpin Pas sebelum beliau adalah kesediaan menggunakan apa saja maslahat demi menghalalkan tindak-tanduknya. Dia banyak maslahat dan banyak akal.
Umno pula memerlukan suntikan keagamaan dan cap Islam setelah tenggelam dalam kekayaan dunia dan hanyut dalam arus kehidupan hedonis untuk sekian lama.
Pada zaman bekas Perdana Menteri, Mohd Najib Abdul Razak, Umno telah membina jambatan yang menghubungkannya dengan Pas atas dasar "cash is king". Ia telah "mengkorupsikan" pemimpin tertentu PAS dengan memperkenalkan mereka kepada gaya hidup mewah melalui sogokan yang dikatakan bernilai hingga RM90 juta.
Malam ni sapa yang kena liwat?...
Pekung Makin Gatal
Hal itu terbongkar dan menjadi sahih apabila Pas dan para sahabatnya baru-baru ini membayar RM1.4 juta kepada Ketua Pengarang Sarawak Report, Claire Brown, supaya menggugurkan kes saman malu di mahkamah sivil London.
Kesenangan dunia yang ditawarkan oleh Umno itu akhirnya memerangkap Pas. Pas sedang hilang akal - lebih kurang macam orang yang seleweng agama akhirnya jadi gila isim - gila dan insane. Dua kali gila. Pas yang lantang meneriakkan slogan Darul Islam dan Hudud tetapi pergi ke negara kafir untuk menggunakan undang-undang kafir bagi menutup pekung di dadanya.
Kesudahannya pekung makin terdedah dan berjuta duit ahli habis dibelanjakan untuk saman Sarawak Report. Bila Sawarak Report lawan balik, Pas upah Claire Brown supaya selesai luar mahkamah. Soalnya bolehkah orang Melayu/Islam mempercayai dua buah parti - yang sebuah memperalatkan bangsa Melayu dan sebuah lagi memperalatkan agama Islam - untuk membela mereka?
Setelah kalah pilihan raya umum 9 Mei lalu dan diceraikan oleh parti-parti sekutu BN, Umno hilang keyakinan dan dalam kesunyian. Mencari pasangan baru bukan mudah apabila ahlinya sendiri keluar parti dan banyak pemimpinnya dihadapkan ke mahkamah kerana rasuah.
Tiba-tiba, macam orang Utara kata, dok tak dok mai Pas. Pas tidak macam Umno. Menikah cerai perkara biasa dalam amalan politiknya. Kalau janda, kita bolehlah sifatkan Pas sebagai seorang janda yang banyak pengalaman bernikah cerai dan boleh memadu cinta berahi dengan sesiapa saja.
Pas asalnya dari Umno. Kemudian keluar Umno. Antara 1974 dan 1977 menikah balik dengan Umno dan duduk di dalam rumah besar BN. Kemudian pada tahun 1977 kena cerai apabila Perdana Menteri masa itu, Almarhum Tun Hussein Onn menuduhnya curang. Lepas itu Pas bernikah cerai dengan macam-macam parti termasuklah dengan parti yang paling dibencinya sekarang, iaitu DAP.
Jadi ada jugalah baiknya kalau Umno mengahwini atau bersekedudukan dengan Pas. Setidak-tidaknya bolehlah ia merasai kenikmatan berdua-duaan dengan sebuah parti yang sangat banyak pengalaman dalam hal nikah cerai politik.
Dan adalah menjadi kesilapan besar bagi Pakatan Harapan (PH) jika ia memandang ringan perkongsian Umno-Pas ini apatah lagi pada ketika semakin ramai rakyat jelata yang mengundinya 9 Mei lalu tidak puas hati dengan prestasinya. Cameron Highlands dan Semenyih sudah lebih daripada cukup untuk memberi amaran "defcon" tahap paling tinggi kepada para pemimpin PH. - A.Kadir Jasin
Jebon jawab ulamak - Sokong PH berdosa pasai
sokong UMNO dah jadi halal dan wajib...
Pemimpin Amanah Hanipa Maidin menempelak pandangan seorang ulama yang berkata gerak kerja parti politiknya dalam mengalahkan PH di Cameron Highlands dan Semenyih mendapat ganjaran pahala dari Allah SWT.
Tanpa menamakan ulama dan parti terbabit, MP Sepang itu dipercayai merujuk kepada kenyataan Ketua Dewan Ulama PAS Pahang Mokhtar Senik.
"Ada seorang yang dipanggil "ulama" oleh parti ehem ( ehemmmm..) dilapor media berkata parti ehem dapat pahala dengan gerak kerja mengalahkan PH di Cameron Highland dan Semenyih. Mafhum mukhalafahnya ( makna sebaliknya ) ialah sokong PH mungkin berdosa kot.
"Tak tahulah jika "difatwa" jatuhkan kerajaan kleptokrat dulu dikira dosa besar. Dan istiqamah "hembus oksigen" pada rejim kleptokrat mungkin pahala besar.
"Tak arif pula kita lingguk bahasa orang suci muci ini. Ya lah kita ni kan sekadar jebon je," kata Hanipa yang juga timbalan menteri di JPM pada suatu hantaran di Facebook hari ini.
Malam tadi, Mokhtar menyenaraikan beberapa manfaat yang diperolehi parti itu dengan menangnya calon BN di Cameron Highlands dan Semenyih.
Katanya antara faedah yang diperoleh PAS ialah mereka mendapat pahala dengan gerak kerja mengalahkan PH.
Menurut anggota Jawatankuasa Pusat PAS itu mengalahkan PH adalah sebahagian daripada amalan mencegah kemungkaran yang tarafnya sama penting dengan menegakkan kebaikan.
"Tidakkah anda nampak? PAS dapat menunaikan kewajibannya kepada Allah, iaitu menentang kemungkaran.
"Dengan menunaikan tanggungjawab itu bermakna PAS dapat pahala, petugas PAS dapat pahala, para penderma PAS dapat pahala," katanya dalam satu hantaran di media sosial. - f/bk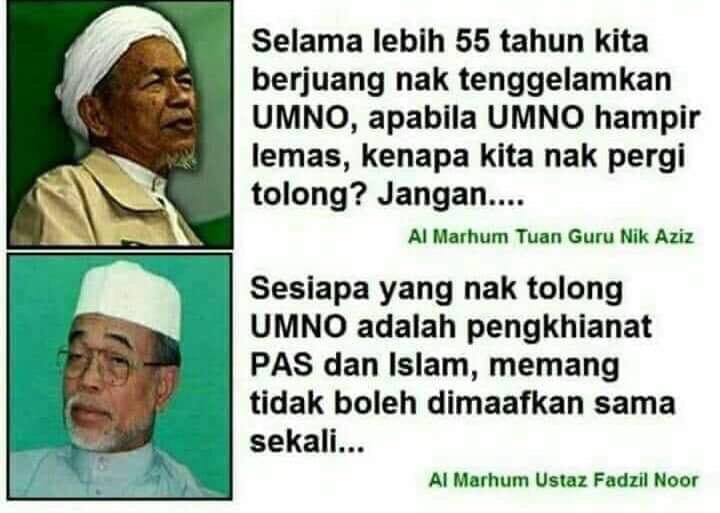 cheers.