The Federal Court has set aside a stay order on the trial of former prime minister Najib Abdul Razak over the money laundering charges involving SRC International Sdn Bhd. The Kuala Lumpur High Court will have to set a date for the highly anticipated trial which should have begun on Feb 11, but was delayed pending the disposal of several appeals by the accused.
Today, a seven-member Federal Court bench, led by Chief Justice Richard Malanjum, unanimously ruled that the stay order issued by the Court of Appeal last week was invalid.
"We are of the view that the (Court of Appeal) had no jurisdiction (to do so)," said Malanjum, who read out the decision.
The decision was made after the judges heard submissions from both Najib's counsel Harvinderjit Singh and Attorney-General Tommy Thomas. After Malanjum read the decision, Harvinderjit made an oral application to the Federal Court for a stay order on the proceeding until next Thursday, citing Section 80 of the Courts Judicature Act.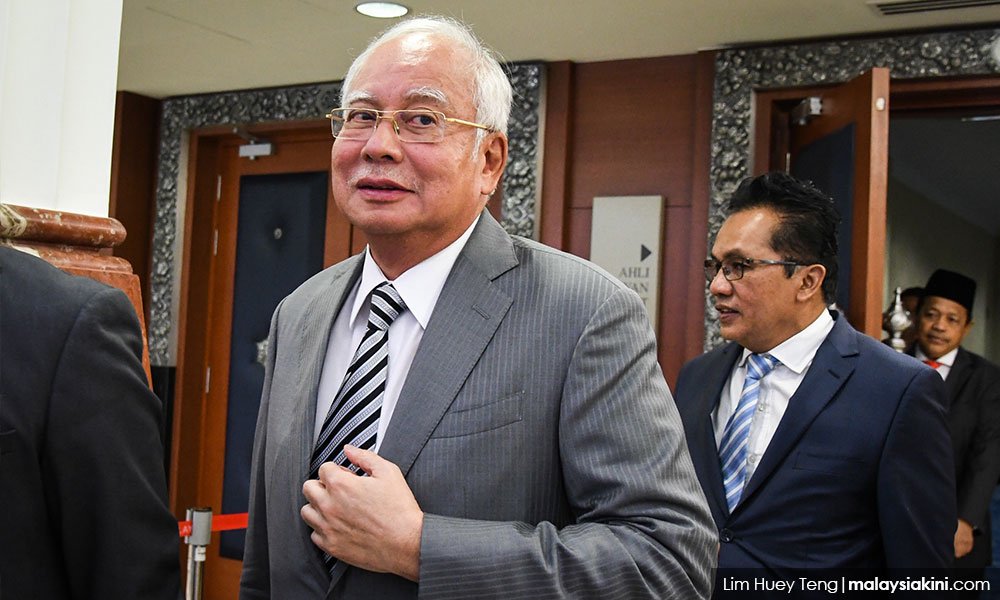 The lawyer said he applied for a stay until the date, which had been fixed for another hearing on appeals by both the prosecution and defence counsels over Court of Appeal's decisions on four matters pertaining to the case. However, this application was dismissed by Malanjum, saying that there was no basis for the application.
Meanwhile, veteran lawyer V Sithambaram, who is a member of the prosecution team, told reporters outside the court that they would be writing to the Kuala Lumpur High Court as soon as possible to set a date for the SRC trial's case management. The High Court would decide on the trial dates during the case management.

"Now the stay at Court of Appeal has been set aside. So it means there is no impediment for the trial to start.

"The order of the (federal) court is for us to contact the High Court registry for the purpose of fixing a case management date, and fixing trial dates, so we will be doing it immediately," he said.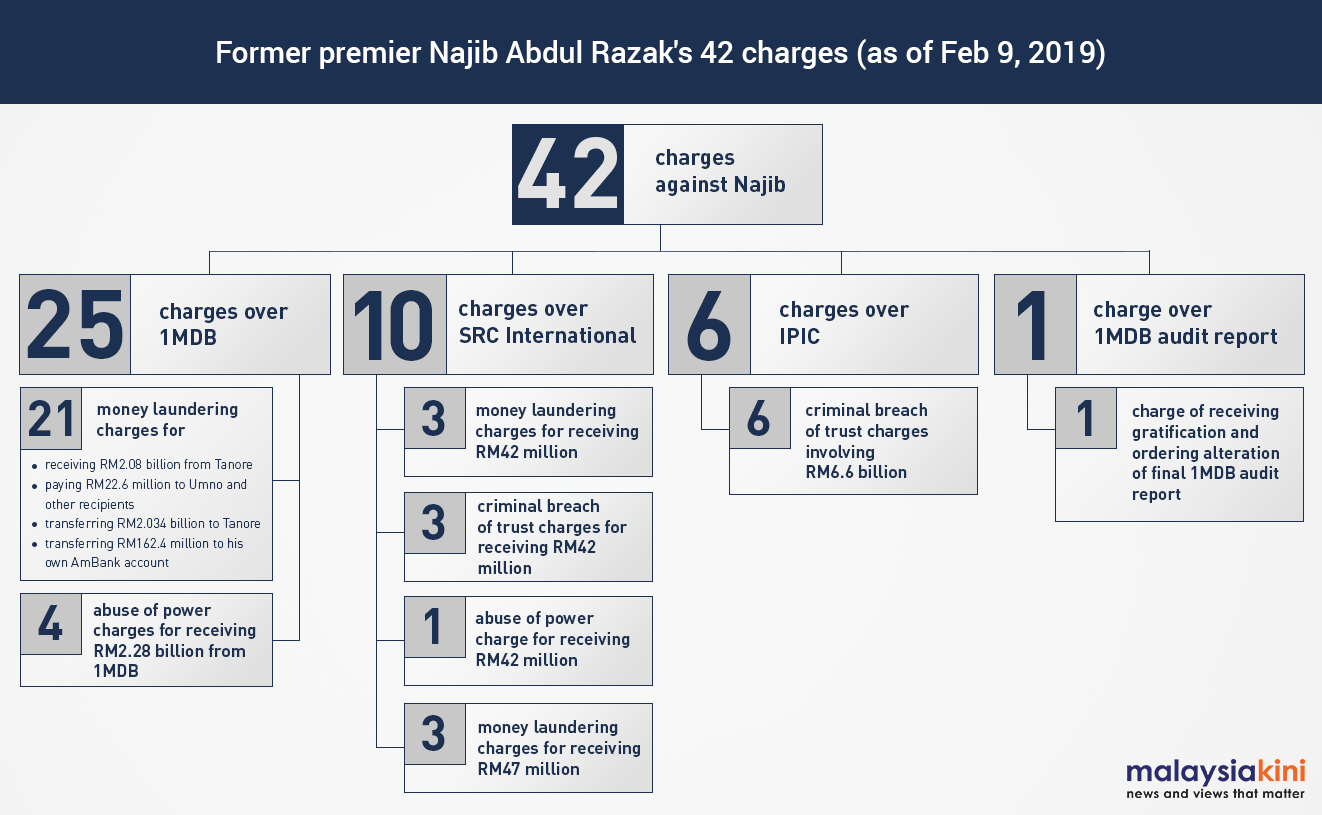 He said that April 3 had been previously set for the trial's case management, but the prosecution plans to request for an earlier date as "the case had been dragged for long". The case management date could be as early as tomorrow or Friday, said Sithambaram.
However, when asked if it is possible for the trial to start by this week, he replied in the negative saying that it would be too short to issue subpoena to witnesses, among others. Last week, a three-member Court of Appeal in Kuala Lumpur allowed an application by Harvinderjit to stay the SRC International hearing.
Harvinderjit made the application after the apellate court dismissed Najib's three out of four appeals, namely to have a gag order against the media from discussing his case, wanting more documents to the case, and questioning the transfer of the case from the Sessions Court to the High Court. Following the stay order, the Attorney-General's Chambers had also filed their appeal with the Federal Court to seek for it to be lifted. - mk
Kalau semalam bossmu, Najib Razaik dibedal oleh Guan Eng berhubung penjualan bangunan menempatkan pejabat konsul Malaysia di Hong Kong, kini beberapa wakil rakyat pembangkang termasuk juga seorang wakil Pam menjadi kontoi apabila ditempelak oleh Mujahid Yusuf dengan jawaban bertulius.
Semalam beberapa wakil pembangkang bangun mengasak Mujahid mendedahkan siapa CEO syarikat PSV, yang diberikan kuasa menjaga sesetengah aset Tabung Haji. Mereka curigai kepada kerajaan PH yang kononya telah menyerahkan penjagaan aset orang Islam itu kepada kafir Cina Guan Eng.
Dalam jawaban bertulis hari ini Mujahid menyatakan, tiadak ada CEO PSV seperti yang dituduh itu, aset Tabung Haji dijaga oleh syarikat milik MOF yang diperbadankan atau Prokhas Sdn Bhd.
Manakala Prokhas ini juga menguruskan beberapa SPV lain dimana anggota jemaahnya terdiri daripada pegawai MOF berpengalama. Daripada lima pegawai disenaraikan seorang pun tidak ada Cin, atau India, apa lagi orang daripada parti Umno dan Pam.
Mereka ialah:
1. Ketua Setiausaha Perbendaharaan Ahmad Badri Mohd Zahir (pengerusi)
2. Setiausaha Bahagian Syarikat Pelaburan Kerajaan Rashidah Mohd Sies
3. Pengarah Pelaburan Hartanah Bumiputera Bhd Mohd Shukri Hussin
4. Timbalan Setiausaha Fiskal Dan Ekonomi Mohd Hassan Ahmad
5. Ketua Seksyen Bahagian Fiskal Dan Ekonomi Imri Dolhadi Ab Wahab
Jawaban Mujhaid itu bagaikan lontaran "chewing gum" ke muka mereka yang ragu-ragu dengan menteri di Jabatan Perdana Menteri itu.
Lain kali kalau benci dan cari isu untuk buruk dan huduhkan orang lain biarlah berhati-hati dan berfakta. "Hadih" Abduh jangan dipakai sangat.- MSO
Perangai olamak yg bernama Hadi...
Pagi tadi tengok video berita.. wartawan ramai ramai serbu untuk tanya soalan kat Hj Hadi.. mcm mcm la wartawan tanya, pasal hubungan PAS-UMNO.. pasal Tuduhan dia ada pemimpin Amanah dan kaitannya dengan tuduhan dia pada DAP..depa minta respon Haji Hadi..
Bukan dia nak jawab soalan wartawan.. Dia siap kata kat wartawan.. cuma saya nak komen satu jer.. Dia kata, Tun Mahathir bukan Diktator.. Kata dia Tun Mahathir dipilih oleh rakyat, oleh PH..dia bukan Diktator.. tak pasal pasal, dia komen benda lain, padehal wartawan tak tanya soalan tu pun.. lepas dia jawab dia belah sambil menyengih mcm kambing..
Entah mcm ni perangai Ulama'.. Lain kali kalau org tanya baru jawab..bila cakap pun jangan lah membohong.. Komen Nurul Izzah dalam laporan media Singapura adalah tentang Pemerintahan lama dan sejarah dulu.. Bukan pasal kedudukan Tun Mahathir hari ni.. yg ko tolong jawab bagi pihak orang lain tu pasai apa.. Kalau ikut Haji Hadi ni,dia lagi teruk apa yg dia tak kata dan hina Tun sebelum PRU 14..masa kempen PRU 14.. tapi memang kerja dia nak menghasut..
Pelik aku.. kalau ada perbezaan pendapat dalam PH, dia ni mesti akan datang mencelah.. Dulu menipu fitnah cerita undi tak percaya..Dia ni pakai Jubah Ulama ker atau pakai Jubah Iblis.. kerja menghasut dan melagakan orang..Akhlak takda langsung.. buruk betul perangai dia.. betul lah Mahfuz kata, dia ucap Tahniah sebab UMNO berjaya ubah perangai dia jadi mcm tu.. jadi ashabiyah perkauman mcm tu.. - Ipohmali
cheers.