Berhubung pendedahan bahawa pembayaran RM1.4 juta itu dibuat melalui akaun Pengerusi KTMB, Datuk Seri Rameli Musa dan bukannya PAS, Dr Mahathir berkata beliau tidak menyalahkan Rameli mengenai perkara itu. PAS ini, ada orang yang simpati dengan dia. Dia ada masalah, yang mereka nak tolong, mereka tolonglah. Kita tidak marahkan Rameli tetapi kita marah dengan cara PAS. Mereka bohong, tidak cerita benda betul. katanya.
Malaysia's ruling coalition lost a state constituency in a by-election, in a sign of waning popularity of Prime Minister Mahathir Mohamad's alliance.
Mahathir's Pakatan Harapan coalition, or Alliance of Hope, lost a seat in the Semenyih constituency in Selangor state by 1,914 votes.
It had won the seat in May 2018 but a by-election had to be called following the death of the lawmaker in January.
The constituency was won by Barisan Nasional – Malaysia's grand old party that was ousted in a national election last year after over 60 years in power.
The loss is a blow for Mahathir's coalition, which has been facing criticism of failing to deliver promised reforms quickly and protecting Islam and rights of the majority ethnic Malays.
In the national election last year, Mahathir's coalition won overwhelming support from ethnic Chinese and Indian minorities, but it secured the votes of only 30 per cent of Malay voters, according to estimates by independent polling firm Merdeka Centre.
Polls published since have showed the coalition has been losing support among the Malays, some of whom fear that affirmative-action policies favouring them in business, education and housing could be taken away.
Meanwhile, former prime minister Najib Razak – who used to lead the Barisan Nasional alliance – has been getting more popular on social media.
Najib has been trying to shed the image of a wealthy, elite politician and elicit public sympathy ahead of corruption trials due this year.
He has denied any wrongdoing and has pled not guilty. - scmp
In mid-February the country was a buzzed with news that seven former Umno MPs had crossed over to Tun Mahathir's party, Parti Pribumi Bersatu, uninvited. The immediate reaction was one of indignation, as Malaysians are wary of these "turncoats" believing them to be nothing more than opportunists seeking protection against ongoing investigations by the Malaysian Anti-Corruption Commission (MACC).
With the new addition the power balance within Pakatan Harapan (PH) has altered dramatically and the demise of Umno, once the most dominant political party in Malaysia, is not only assured but hastened. The significance of the event was minimised by the aborted and much-anticipated corruption trial of former Prime Minister, Najib Razak.
That is the nature of things in the country today and I attribute it to the popularity and extent of social media where news becomes stale in a matter of minutes or perhaps seconds.
The significance of Tuesday, February 12 event was lost in transition largely due to it being overshadowed by something larger than life – the court trial of an irrefutable kleptocrat who had amassed billions via a dishonest money laundering scheme – the 1MDB.
The power equilibrium in PH has tilted in favour of Tun M's party, Bersatu. The party is now on track to achieve its ultimate aim – to be the most powerful partner or perhaps on par with Parti Keadilan Rakyat (PKR) and the Democratic Action Party (DAP) within the ruling coalition. And this is done before the "old man" hands over the premiership to his "anointed" successor – Anwar Ibrahim.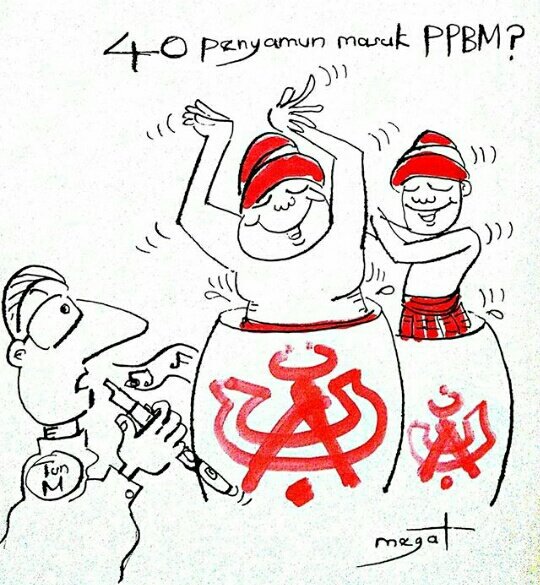 The power dynamics prevalent within PH presently is rather obvious. It is safe to assume that the strength of the coalition rests on the shoulders of one man. And that man is none other than Tun Mahathir. Love or loathe the guy, Mahathir is here to stay. He may be well past his prime but his influence is eternal.
A regime change would not have happened without Mahathir's effort in splitting Umno apart and ensuring a smooth power transition. On May 9 the balance of power in parliament was this: PKR 47 seats, DAP 42 seats, Bersatu 13 seats and Amanah 11.
With barely a third of seats of what PKR or DAP had, Bersatu wrested many important cabinet posts – the Prime Minister, Home Minister and Education portfolios. And over in Perak Bersatu with only one state assemblyman, Ahmad Faisal Azumu, was given the most coveted post of Menteri Besar.
To ensure Bersatu's survival in the mid-term what would be your plan of action?
First is of course the neutralisation of an irritating political nemesis – Umno. Bersatu is largely made up of ex-Umno members who were kicked or forced out of the party during Najib's presidency. If Umno is not dealt decisively it will remain a threat to Bersatu's survival.
The similarity in Umno's and Bersatu's ideology is nothing strange as both are from the same mold. And the simplest way to destroy Umno is to encourage defection of its elected members namely, members of parliament and state assemblymen. The implosion of Sabah Umno is a result of this political maneuvering. Defection by Bersatu's party members, supporters and voters to Umno is a threat Bersatu is wary but, fortunately, this has yet to happen.
Second, you need to ensure that Bersatu remains influential after Mahathir exits the political scene. This is a must and not something fictional. Mahathir will be 95 next year and if he remains till GE 15 he will be 98. There is no certainly of him returning to bolster Bersatu as he did in GE 14.
So the only way for the party to remain relevant in PH is to increase its number in parliament and state assemblies. Politics, essentially, is a numbers game, especially in parliament where it matters most.
Numbers may not be too important when you have someone of Mahathir's stature in the forefront of Malaysian politics. But it will come into play once he is gone. With the inclusion of the seven Umno lawmakers, Bersatu now has 22 MPs. If more were to crossover a definitive change is expected in the country's political landscape. - Fathol Zaman Bukhari,Ipoh Echo
Post Mortem report on #PRK Semenyih.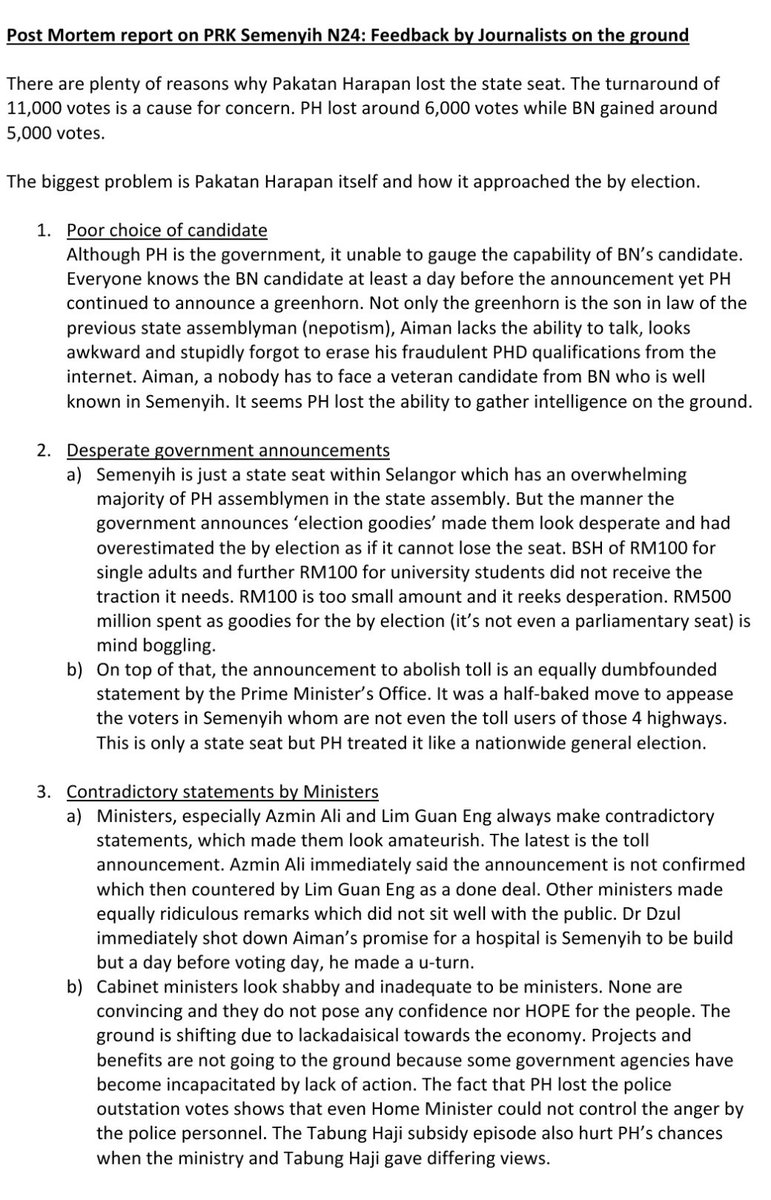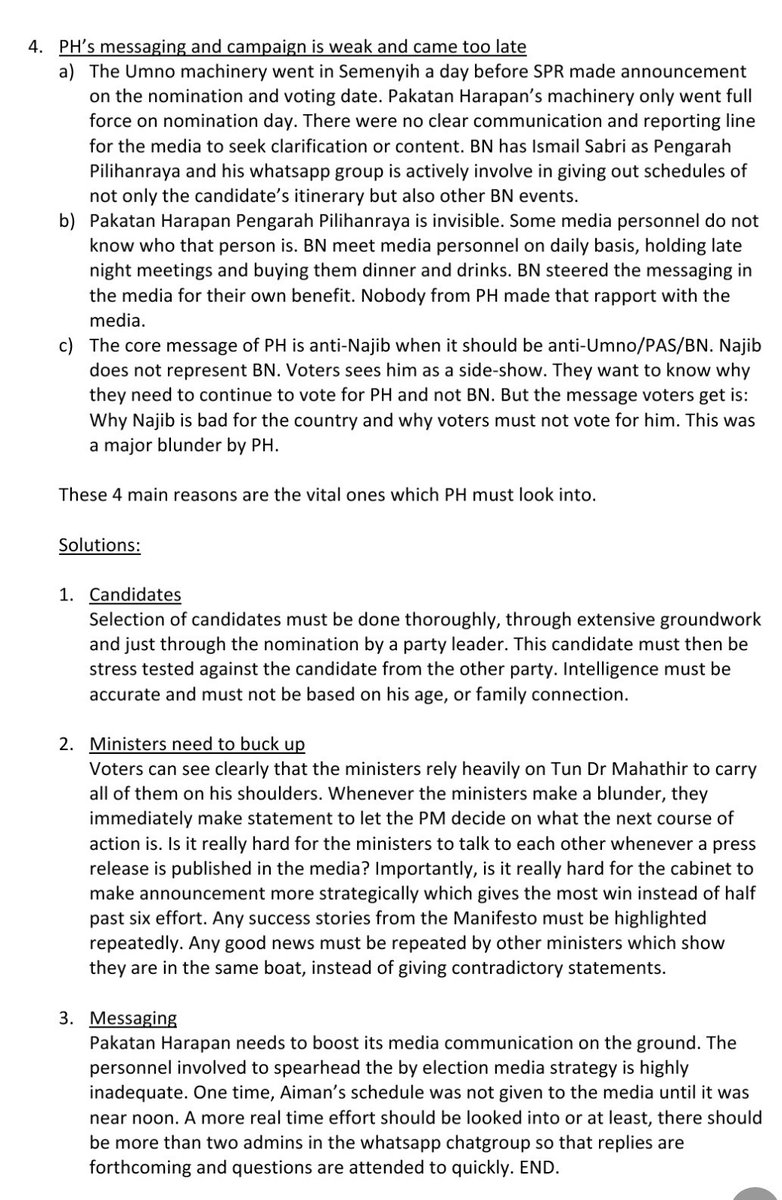 Point 1, 3 and 4c so damn on point, totally agree.
No idea who wrote this...
Apa nak kisah PH kalah kat Semenyih..?
PH kan hebat. Kempen guna TV1,2,3. PH x perlu cytroop. Cytroop mnyusahkan. PH x perlu undi perokok. Golongan perokok musuh negara. Menteri pun sanggup kalah pru sbb benci ke perokok.
Apa nk kisah PH kalah kt Semenyih..?
Kita dh jd kerajaan. Semua dh jd Menteri, Pegawai2 Menteri, EXCO, YB. kita dh xperlu pnyokong bawahan. Penjilat2 dh ramai disekeliling kita. Dh ada tukang ampu yg tolong bukak pintu kereta. Kita kena nikmati kemenangan ini semaksimumnya. Suara2 bising pnyokong umpama langau taik xperlu diambil kira. Mnyusahkan jer... Kita kan dh ada geng2 UMNO yg baru salin kulit lps depa kalah aritu...
Apa nk kisah kalah kt Semenyih...?
Kita ada baki 4 tahun lg nk smpi next pru. Lama lg. Rilek laaa... Dh nk smpi next pru lg nti kita buat janji baru. Masa tu baru kita turun cari pnyokong2 kita yg dlu balik. Masa ni nk jawab wasap xda masa. Nk angkat kol sibuk. Tgh berdebat dlm dewan. Ye laaa kita kan Menteri, EXCO, YB... Pnyokong2 bawahan kita kan bodo mcm walaun lembu. Kita kan dh jd Menteri, EXCO, YB. Xkn kita bg arahan pnyokong kita x buat...? Apa standard kita bls panggilan, wasap pnyokong kita... Kita kena bezakan taraf kita dgn pnyokong2 bawahan....
Apa nk kisah PH kalah kt Semenyih...?
Life must go on beb... - Harrr355, f/bk
Kak Mah nak tumpang lalu...
cheers.