Ahad 8 Dec 2013, satu kejadian merusuh telah berlaku di Singapore selepas berlakunya satu kemalangan pada jam 9:23pm.

Dikatakan dalam kemalangan tersebut, sebuah bas telah terlanggar seorang pekerja asing dari Bangladesh di persimpangan Race Course Road. Dalam kemalangan itu pekerja Bangladesh tersebut dikatakan meninggal dunia.
Mangsa dikenali sebagai
Sakthivel Kumaravelu 33 tahun,
seorang buruh binaan yang bekerja dengan

Heng Hup Soon, selama dua tahun. Sementara itu pemandu bas adalah warganegara Singapura yang kini sedang menerima rawatan di hospital.
Sejurus kemalangan itu berlaku, seramai 400 orang pekerja asing tel
ah mencetuskan huru hara dan memusnahkan harta benda awam, termasuk kereta persendirian, sebuah bas, membakar sebuah ambulance dan 5 buah kereta polis dirosak dan diterbalikkan.
Seramai 18 orang yang dipercayai terlibat dalam rusuhan telah ditahan.
Polis Singapore menahan pekerja asing yang terlibat dengan rusuhan tersebut. Difahamkan juga bahawa lebih kurang 10 pegawai polis cedera dalam rusuhan tersebut.-f/bk
Bangla sudah mula tunjuk belang di negara Singapore dan mungkin akan berlaku di Malaysia. Kita terlalu sangat bagi muka pada haram jadah ini dan kini mereka ini dah berani berniaga,buka kedai sana sini,jadi kontaraktor dan sebagainya. Melayu,Cina dan India dah lupa kot ini negara kita, kenapa bagi peluang pada golongan haramjadah ini... Mungkin kerana pihak pemerintah tagih akan sokongan mereka untuk kekal berkuasa...depa tinggal cara haram, dapat MyKad palsu, permit kerja palsu dan gomen buat 'dont know saja' entah2 depa dak mengundi dalam PRU sudah, sapa nak tau, walaupun di nafi oleh Jibby, tapi yang urus semua ini orang2 depa dengan bantuan XXX dan XXX... dari dulu,kini dan selama2nya...
Fatal accident sparks angry night riot in Little India,Singapore...
An estimated 400 people rioted in Little India late Sunday night after an accident with a bus led to one person's death, according to the police.

The riot saw ten officers injured, and damage to five police vehicles, one ambulance and several private vehicles, said police in a statement in the wee hours of the morning Monday.

27 subjects have been arrested, with police appealing for more information from eyewitnesses. During the chaos that ensued, at least two police vehicles were overturned and an ambulance set on fire, which sent clouds of black smoke billowing across the night sky.
In one shocking video, a man can be seen trying to smash the windscreen of the private bus that was involved in the accident with a plastic dustbin.

Deputy Prime Minister and Minister of Home Affairs Teo Chee Hean said, "This is a serious incident which has resulted in injuries and damage to public property. The situation is now under control. Police will spare no efforts to apprehend the subjects involved in the riots."
The riot broke out after a fatal traffic accident occurred at 9:23 Sunday night between a private bus and an Indian construction worker who was crossing the junction of Race Course Road and Hampshire Road, police said.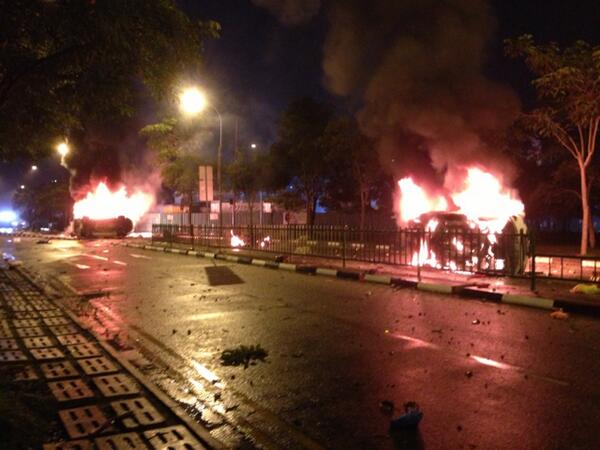 The crash victim has been identified Sakthivel Kumaravelu, a 33-year-old construction worker who has been working with Heng Hup Soon, a scaffolding company, for about two years. Meanwhile, the driver of the bus, identified as a Singaporean, is not under arrest but receiving treatment in hospital.

First responders from SCDF who arrived at the scene saw Kumaravelu, who was pronounced dead on the scene, trapped under a bus. During efforts to extricate him from under the bus, projectiles such as bottles started to be thrown at the personnel as tensions escalated.


Rioters then began attacking the bus, smashing the front windscreen and windows. Photos on social media showed an ambulance and police cars were set on fire and overturned.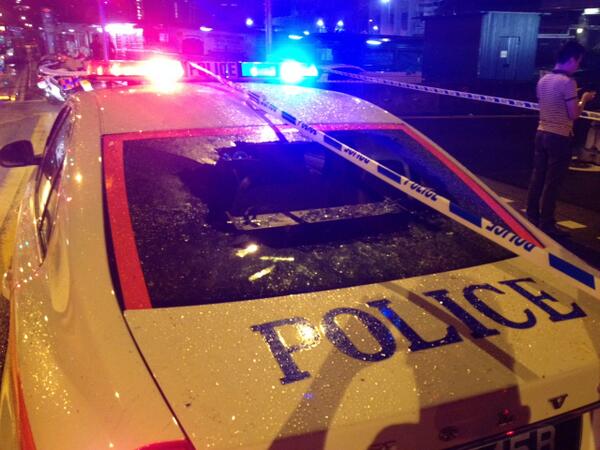 To control the two-hour riot, police said they

activated resources from Special Operations Command and Gurkha Contingent to the scene.

In total, 300 police were deployed but no shots were fired from any weapon, lethal or non-lethal, throughout the incident, police said.



Little India is a popular hangout and meeting place, especially on Sunday night, with Singapore's sizeable workforce of foreign labour from South Asia.
The Straits Times earlier reported that the rioting by mainly foreign workers started after a bus hit a Bangladeshi worker, but this was later denied by the Bangladesh High Commissioner Monday morning.
"In some press and media reports there has been unsubstantiated news reporting which says that a Bangladeshi worker was hit by a bus that escalated the riot incident," said Mahbub Uz Zaman in a statement.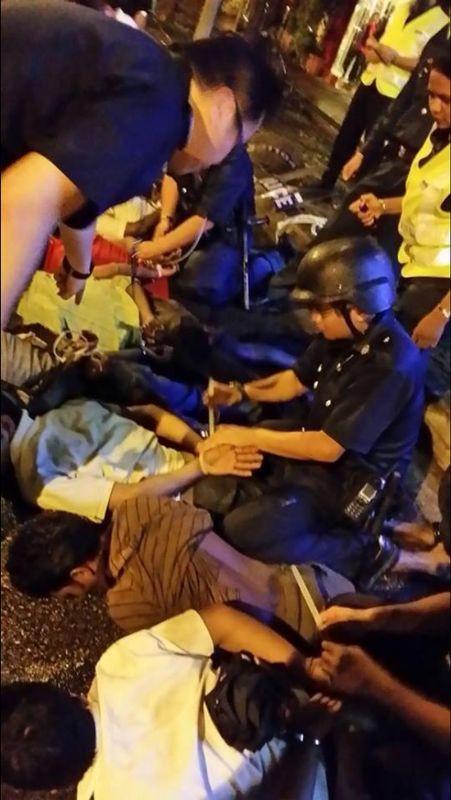 "I want to categorically state that as per available information the news reports that appeared on a section of media and news involving a Bangladeshi worker is not based on facts."

A total of 18 people, including four SCDF personnel, were sent to Tan Tock Seng Hospital for treatment.
The riot raised concerns among people in Singapore about safety in the city state and how such incidents could be prevented.- sg.news.yahoo news
cheers.