Penguasaan Bahasa Melayu Peguam Negara, Tommy Thomas yang dikatakan lemah terus menjadi topik perbincangan.
Dalam hantaran Twitter petang ini, Anggota Majlis Tertinggi PKR Latheefa Koya menyindir PAS yang memperlekehkan Thomas.
"Aku nak tanya PAS masa 2010 melantik Tommy mewakili kerajaan Kelantan bagi memfailkan tuntutan royalti petroleum di mahkamah, Tommy cakap bahasa apa ya?" katanya yang juga adalah pengasas Lawyers For Liberty
Latheefa mengulas kenyataan Ahli Majlis Syura Ulama PAS, Datuk Khairuddin Aman Razali yang mendakwa Menteri Kewangan Lim Guan Eng dan Thomas membuktikan Pakatan Harapan meminggirkan bahasa Melayu.
Beliau merujuk kepada penggunaan bahasa Cina oleh Lim dalam kenyataan medianya dan Thomas yang memohon kelulusan mahkamah untuk melakukan pendakwaan terhadap bekas perdana menteri Datuk Seri Najib Razak dalam bahasa Inggeris.
Khairuddin berkata, kerajaan HARAPAN mesti menunjukkan kesungguhan mempertahankan kedudukan bahasa Melayu sebagai bahasa rasmi negara.
Menurutnya, mereka tidak seharusnya memberi isyarat yang salah kepada rakyat bahawa HARAPAN telah meruntuhkan tonggak asas bernegara yang telah dipersetujui oleh semua kaum.
Selepas Najib didakwa pada hari Rabu, Thomas terpaksa mengalihkan sidang akhbarnya ke lokasi lain selepas penyokong bekas perdana menteri itu menuntut agar beliau bercakap dalam bahasa Melayu.
Thomas juga pernah mewakili kerajaan negeri Terengganu yang diketuai PAS ketika memfailkan tuntutan mahkamah terhadap syarikat minyak negara Petronas dan kerajaan persekutuan pada bulan Mac 2001 kerana melanggar kontrak berhubung pemberhentian bayaran secara tunai untuk royalti minyak kepada kerajaan negeri.
Terdahulu, bekas penasihat sosio-budaya kepada kerajaan Tan Sri Rais Yatim berkata, Thomas harus mengasah kemahiran berbahasa Melayu dan mula bertutur dalam bahasa itu dalam urusan melibatkan kerajaan dan mahkamah.
Katanya, perkara itu perlu berdasarkan peruntukan Perkara 152(1)(a) Perlembagaan Persekutuan yang menyatakan keperluan menggunakan bahasa Melayu semasa melaksanakan urusan rasmi kerajaan. - mk
Meet The "Najib Razak Cases" Judge...
There is much controversy over the High Court Judge Datuk Indera Mohd Sofian Abd Razak who is presiding over the Najib corruption trial.
The issue of the judge not only being born in Kuala Lipis - the same birthplace of Najib - but his brother is a long time UMNO stalwart in Pahang has raised alarm bells.
Here are some news reports and other info I have clipped together.
The Bilqis Hijjas yellow balloons case.
Folks, who is this High Court judge Datuk Indera Mohd Sofian Abd Razak? Here is some old news.
Recall that young woman who released yellow coloured balloons at some event where Moron was attending? The AG filed a criminal case against the girl. The magistrate's court threw out the stupid case. Then the AG appealed the case and guess what happened?
"High Court judge Datuk Indera Mohd Sofian Abd Razak today reversed Bilqis Hijjas' acquittal and sent her case back to a lower court for her trial to continue"
KL Oct 3, 2017 — Bilqis Hijjas (yellow balloons) ordered to enter defence
- High Court judge Datuk Indera Mohd Sofian Abd Razak reversed acquittal
sent her case back to lower court for trial to continue
- throwing balloons insulting and may cause breach of peace," he said
- judge ruled magistrate had erred to acquit Bilqis
respondent be called to enter her defence
- Mohd Sofian said Free Media, Democracy, Justice on balloons used during Bersih
"Wordings associated with Bersih, against present administration," he said
So this is the SECOND TIME the same judge is presiding over a criminal case involving Najib. Is this fair? And since this is the same judge who threw out the acquittal of the "releasing yellow balloons" case I am sure Najib must be very happy this same judge is presiding over his case again.
Is this fair? Can the same judge preside over TWO cases involving the same person Najib Razak? Is this the Malaysian system of justice?
And after this, if there are other cases involving Najib Razak, will the same judge also preside over those cases as well? If not, why not?
If the same judge can preside over TWO cases involving Najib, then he can also preside over THREE, FOUR, FIVE cases??
Or maybe they can just make him the Najib Razak judge?
Meaning every time there is a case filed against Najib, then Datuk Indera Mohd Sofian Abd Razak shall preside. Banyak cantik. This is our Malaysian legal system.
The question is "How many times can or should the same judge preside over cases involving the same party?"
Judge Sofian Abd Razak set bail at RM1 mil for all 4 charges
Justice Sofian granted application for gag order...
Justice Sofian born in Kuala Lipis, also birthplace of Najib.
Justice Sofian younger brother Mohd Sofi Abd Razak
happens to be UMNO ADUN for Benta (N5) Pahang
Najib was former supreme head
Mohd Sofi UMNO State Executive Councillor for Pahang
Justice Sofian exceptionally lenient to Najib
few retired Judges feel Sofian should recuse himself
Chi_f Just_ce of Malaya assigns judges to hear cases
Chi_f's wife is teacher active in Girl Guide Movement
very close to Rosmah, Najib's wife
So, one can now see the personalities involved in this trial.
1. The judge is Kuala Lipis born - a shared identity with Najib who was also born in Kuala Lipis.
2. His brother is a long time Pahang UMNO/BN stalwart and State ADUN and Pahang Exco member - Najib's home State.
3. The judge also presided over the ridiculously stupid "yellow balloons" case where he ruled (in favour of Najib).
4. The Chi_f Just_ce appoints judges to preside over cases. In this case the wife of the Ch_ef Just_ce is said to be a close friend of Rosmah Mansor through her Girl Guides affiliation.
I think the Malaysian public will feel uneasy about all these "relationships".
Granted you cannot prove any 'conspiracy' or 'collusion' between the judge, the Ch_ef Just_ce, the wife etc but as the Bar Council says 'justice must not only be done but must be seen to be done'.
Its like this folks.
Here is the plot from an old Tamil Movie.
The name of the old Tamil Movie is "Ini Macam Pun Boleh Kah?" (this Tamil is spoken in the Buntong New Village.)
The movie plot goes like this :
1. The Gang Boss is charged in Court.
2. A judge has been appointed to hear the case.
3. The judge's own brother is the Gang Boss' trusted lieutenant
3. The judge has already ruled (in favor of the Gang Boss) in another case.
Tamil movie boleh lah. Tapi janganlah kisah Malaysian judiciary pun macam Tamil movie. - ostb
Najib sues 3 top officials involved in 1MDB corruption probe
In evening in Taiwan! From Taiwan with Love...
Bapak sehari selepas kena tahan.. Dia enjoy kat Taiwan.. pastu buat muka sedih kat sini. Kata akaun kena freeze macam mana boleh enjoy kat Taiwan pulak ni..? Yang Najib tak habis habis jual nama Tuhan kononnya dia kena zalim.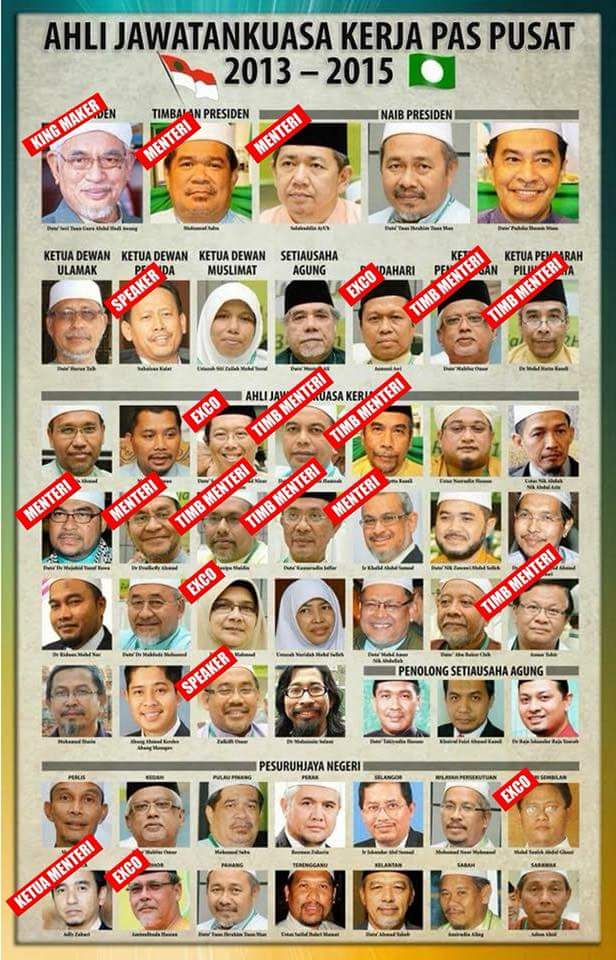 cheers.