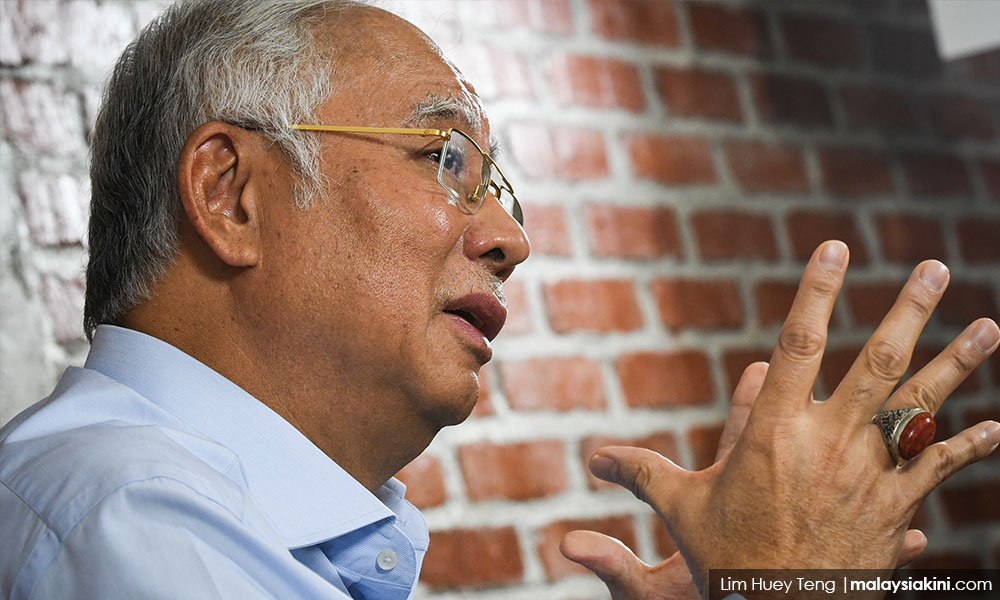 Bekas perdana menteri Datuk Seri Najib Razak perlu berhenti 'berlakon seolah-olah' menjadi mangsa' dalam perbicaraan kes SRC International, kata Anggota Majlis Tertinggi PKR, Latheefa Koya.
"Hello Najib, ini bukan seperti zaman kamu dulu yang mana kamu boleh pilih Peguam Negara (AG) yang akan membersihkan kamu.
"Hentikanlah berlakon seolah-olah menjadi mangsa," katanya pada hantaran Twitter bagi mengulas akuan bersumpah yang difailkan Najib terhadap Peguam Negara Tommy Thomas.
Najib dalam samannya terhadap Thomas memetik artikel yang ditulis AG, terbit di Malaysiakini dua tahun lalu sebagai sebab beliau percaya Thomas akan bersikap prejudis jika terus mengetuai pendakwaan terhadap kes rasuah bekas perdana menteri itu.
Najib berkata artikel berjudul "Grand Larceny in 1MDB" itu merumuskan wang telah masuk ke akaunnya.
Kata putus penghakiman
"Pendirian Thomas jelas tidak menyukai saya dalam artikel itu dan melahirkan kebimbangan kepada saya Thomas tetap akan mencari jalan mengenakan satu pertuduhan ke atas saya dengan apa alasan sekalipun," kata Najib.
Ketika dihubungi, Latheefa bagaimanapun memaklumkan tindakan Thomas mengetuai pendakwaan dalam kes ini tidak akan memberi kata putus penghakiman dan oleh demikian isu prejudis yang didakwa Najib tidak wujud.
"Keadaannya bukanlah AG akan memutuskan Najib bersalah atau tidak. Beliau (Thomas) masih perlu mengemukakan kesemua bukti, menunjukkan dokumen (dalam mahkamah) dan lain-lain lagi.
"Najib kata AG tidak suka dia. Tapi isu sama ada AG suka dia atau tidak tidak timbul dalam kes ini," peguam pengasas NGO Lawyers For Liberty itu memberitahu Malaysiakini.
Najib melalui peguamnya Tan Sri Muhammad Shafee Abdullah juga memohon Thomas diketepikan daripada mengetuai pasukan pendakwaan terhadapnya.
Pada Jumaat lalu dilaporkan Najib memfailkan tiga saman berasingan terhadap Thomas, Ketua Pesuruhjaya SPRM Datuk Seri Mohd Shukri Abdull dan Pengarah Jabatan Siasatan Jenayah Bukit AMan Datuk Amar Singh.
Saman berkenaan difailkan pada 30 Jun lalu. - mk
Sahabat Najib Pecah Rahsia Ahli UMNO Telan Duit Tapi Tak Bantu Najib
Sampai Terpaksa Buat Tabung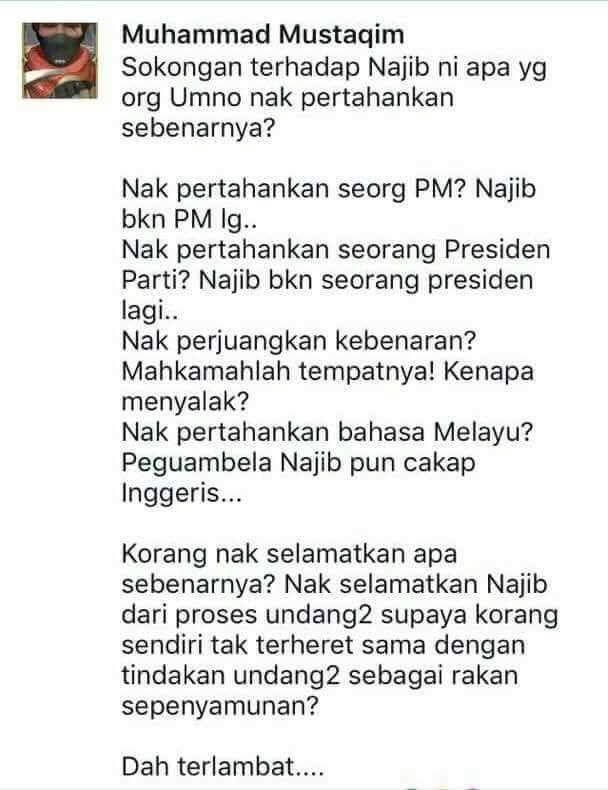 Guano ni ada khidmat seks hotel di Kota Serambi Mekah...
PAS masih tak sedaq diri lagi rupanya...
Sekali imbas, Pas nampaknya semakin menyedari bahawa keegoan mereka untuk menjadikan pentandingan tiga penjuru dalam pilihanraya sebenarnya adalah strategi yang memakan diri sendiri.
Dengan keyakinan bahawa pertandingan tiga penjuru dapat menjadikan mereka sebagai "king maker" dan BN atau Pakatan Harapan akan mencari mereka untuk membentuk kerajaan, sebaliknya apa yang berlaku ialah Pas kecundang di semua kerusi campuran dan hanya kekal sebagai parti yang mampu bernafas di Kelantan dan Terengganu sahaja.
Barangkali tidak kurang sedihnya juga bagi Pas bila mana Amanah yang baru ditubuhkan dan pernah diramalkan akan berkubur selepas PRU14, tetapi sekarang satu demi satu pemimpinnya dilantik sebagai menteri mahupun timbalan menteri.
Manalah tak sedih...sekian lama berjuang tapi masih tak mampu menjadi sebahagian daripada kerajaan, namun Amanah yang selalu diperlekeh pula yang akhirnya tampil dengan cemerlang dan meraih kejayaan.
Lantaran itu, menjelang pilihanraya kecil Sungai Kandis tidak lama lagi berikutan kematian Adunnya, Shuhaimi Shafie, Pas dengan segera menyatakan keinginan untuk berlawan satu lawan satu dengan Pakatan Harapan yang diwakili oleh PKR.
Kata Setiausaha Agung Pas, Takiyuddin Hassan, parti itu hanya akan menyertai pilihanraya kecil itu jika ia pertandingan satu lawan satu.
"Kalau pertandingan tiga penjuru, mungkin kita akan pertimbang balik kerana kita tidak mahu perpecahan undi dan mengulangi kesilapan dalam pilihanraya yang lalu," katanya lagi.
Bermakna, jika BN masuk bertanding dan PKR yang pasti meletakkan calonnya berikutan kerusi itu milik mereka, Pas dengan sendirinya akan menarik diri. Ehhh....sudah tidak mahu jadi "king maker" lagi ke?
Walaupun sudah terlambat, Pas sekurang-kurangnya sedar mereka sudah melakukan kesilapan besar sebelum ini.
Jika tidak dan kiranya mereka setuju berunding elok-elok dari segi pembahagian kerusi dengan Pakatan Harapan dalam pilihanraya umum lalu, pasti hari ini kita akan melihat beberapa pemimpin Pas sudah pun berjawatan menteri dan timbalan menteri bersama-sama dengan PKR, DAP, Bersatu dan juga Amanah.
Atau pun kiranya Pas setuju bekerjasama dengan UMNO dan BN, tidak mustahil hari ini parti itu sudah pun membentuk kerajaan campuran bersama pemimpin kleptokrasi, Najib Razak.
Apa pun, segala-galanya sudah terlambat bagi Pas.
Namun demikian, melihat sikap Pas yang berharap BN akan menarik diri di Sungai Kandis dan mereka yang mahu berlawan dengan Pakatan Harapan, ia dengan sendirinya menunjukkan parti itu masih dengan keegoaan yang tersendiri.
Dalam pilihanraya 9 Mei lalu, bagi kerusi DUN Sungai Kandis, PKR mendapat 23,998 undi, BN mendapat 11,518 undi, Pas 7,573 undi dan PRM dengan 76 undi.
Berdasarkan itu, Pas tidak sepatutnya mengharapkan BN tidak meletakkan calonnya, sebaliknya merekalah sebagai parti yang mendapat undi ketiga yang sepatutnya menarik diri.
Jika ingin melihat pertandingan satu lawan satu, ia sepatutnya antara BN berlawan dengan Pakatan Harapan, bukannya Pas dengan Pakatan Harapan.
Di mana logiknya parti nombor tiga dari segi perolehan undi mahu parti nombor dua menarik diri?
Pas masih belum sedar diri lagi rupanya? - SH
Jho Low – The Fugitive Neither Singapore Nor Malaysia Interested To Arrest...
The U.S. Department of Justice acknowledges lawsuits filed to seize assets that it said were the result of US$4.5 billion that was misappropriated from 1MDB (1Malaysia Development Bhd), a fund set up by disgraceful ex-prime minister Najib Razak himself in 2009, represents the largest action brought under the Kleptocracy Asset Recovery Initiative.
Mr. Najib, who was the Chairman of 1MDB, has denied any involvement in the scandal although he was caught with his hand in the cookie jar – a whopping US$681 million in his private banking accounts. Instead, Mr. Najib has claimed that the money was donations from Saudi royal family, a claim that could not be substantiated.
Najib's wife, Rosmah Mansor, was also exposed to have had purchased a 22-carat pink diamond necklace – worth a stunning US$27.3 million – using money siphoned from 1MDB. According to U.S.-DOJ investigations, Jho Low had arranged for jewellery designer Lorraine Schwartz (also known as "Jewish Queen of Oscar Bling") for the pink diamond on June 2, 2013.
Other 1MDB-linked assets which were reported to have been seized by the U.S.-DOJ so far include Jho Low's Bombardier Global 5000 jet in Singapore, jewellery worth millions of dollars gifted to celebrities Australian Miranda Kerr, Taiwanese Elvia Hsiao, and several properties in New York, artwork, film rights and a US$107 million interest in EMI Music Publishing.
After his stunning defeat in the 14th general election on May 9th, Najib has since been arrested and charged. However, his 3 (three) criminal breach of trust (CBT) under Section 409 of the Penal Code were in connection with the transfer of RM42 million to his private bank account from former 1MDB subsidiary SRC International Sdn Bhd.
The authorities have yet to charge Najib over 1MDB's US$681 million (RM2.6 billion) thievery. That's what his fanatic fans have been whining and bitching – that Najib is innocent. The missing piece of the puzzle is Jho Low (full name: Low Taek Jho). He is believed to be the architect of the heist of the century. The fact that he is still able to evade and humiliate the authorities means he's a genius.
According to a latest report from South China Morning Post, the fugitive Jho Low and his family were able to slip out of Hong Kong to Macau last week because neither Malaysia nor Singapore formally requested for his arrest. The Hong Kong newspaper reported that Low and his entourage were "hiding in plain sight" by occupying multiple rooms at the upscale Pacific Place Apartments.
Renting several units on the 32nd, 34th and 36th floors of Pacific Place Apartments in Admiralty on Hong Kong Island, it would cost Mr. Low HK$84,000 (RM43,267) a month for a 1,220 sq ft one-bedroom apartment while a three-bedroom unit of more than 2,650 sq ft goes for HK$230,000 (RM118,469) a month. To the billionaire fugitive, that was chicken feed though.
According to sources, the Najib's partner-in-crime was still in Macau as of Saturday (July 7). Prior to moving to Macau, the fugitive was in Hong Kong for a couple of months. Rumours have been circulating that Jho Low has been spending time in Macau, just a 55-minute ferry ride from Hong Kong. And if the plan goes smooth, he may be able to stay there – untouchable.
The Government of the Macau Special Administrative Region allows citizens of specific countries to travel to Macau for tourism or business purposes for periods ranging from 180 days to 14 days without having to obtain a visa. In the case of Malaysian Jho Low, whose passport has been cancelled on June 15, his stay in the city of casino is limited to 30 days.
Currently, Hong Kong has extradition agreements with 18 countries, including Malaysia and Singapore. Strategically, Low's only option is to make an asylum request with Macau immigration since the world gaming capital has no extradition treaty with Malaysia. However, that option is not entirely true because neither Malaysia nor Singapore is interested to arrest him.
Previously, Malaysian Inspector-General of Police (IGP) Mohamad Fuzi Harun said that Mr. Low, who is wanted for questioning in relation to 1MDB scandal, had given the Malaysian police the slip in Hong Kong and escaped to Macau. It was suspected that there could be moles inside the police force who had alerted Low. Low also reportedly holds a passport from St Kitts and Nevis.
So, the police chief Mr. Fuzi, and his boss Home Affairs Minister Muhyiddin Yassin for that matter, has to urgently answer two immediate questions. First, has the police force, well known as one of the most corrupted institutions, been infiltrated and under Jho Low's payroll. Second, why wasn't there a formal request to Hong Kong authorities to arrest Mr. Low?
The source said – "Hong Kong police have no obligation to arrest, even if he is on an Interpol Red Notice." Hence, in the same breath, Singapore has to answer why didn't the government of Lee Hsien Loong request formally to arrest Jho Low? Sure, Singapore claims that they had requested Interpol to publish "red notice" on Jho Low as far back as 2016.
Singapore proudly said it does not tolerate the use of its financial system as a refuge or conduit for illicit funds. And the red dot prides itself as a more efficient country than its neighbouring Malaysia. It's hard to believe that Singapore authorities do not know that on top of Interpol "Red Notice", they have to also put in a formal request to arrest the fugitive Jho Low.
In other words, if neither Malaysian nor Singaporean authorities wake up and put in a formal request, Jho Low and his family of crooks can continue playing hide and seek with them, without seeking "sanctuary" in Macau. With his "informants" within the Royal Malaysia Police, Mr. Low will always be one step ahead of the authorities.
However, to be on the safe side, Jho Low should try to become a permanent resident of the Macau SAR although getting one is quite difficult. If successful and based on Malaysian Prime Minister Mahathir's logic of harbouring Islamist extremist preacher Zakir Naik, as long as Jho Low behaves in Macau, he can't be extradited back to Malaysia for his theft (*grin*).
Like it or not, Jho Low is extremely clever. Macau is a very safe haven for him. Thanks to "one country, two systems"; both Hong Kong and Macau have autonomous police and judicial systems. Fugitive offenders in Macau cannot be extradited to Hong Kong and vice versa simply because even both autonomous territories of China do not have any treaty to do so.
Heck, going by the rule of law, even Beijing cannot demand Macau to surrender Jho Low if the Macau SAR chooses to protect the Malaysian fugitive. Granting safe passage to Jho Low is considered internal affairs of Macau. Still, it's mind-boggling why the new government of Mahathir has been so reckless, so much so that it looks like they deliberately refused to bring the notorious fugitive home. - ft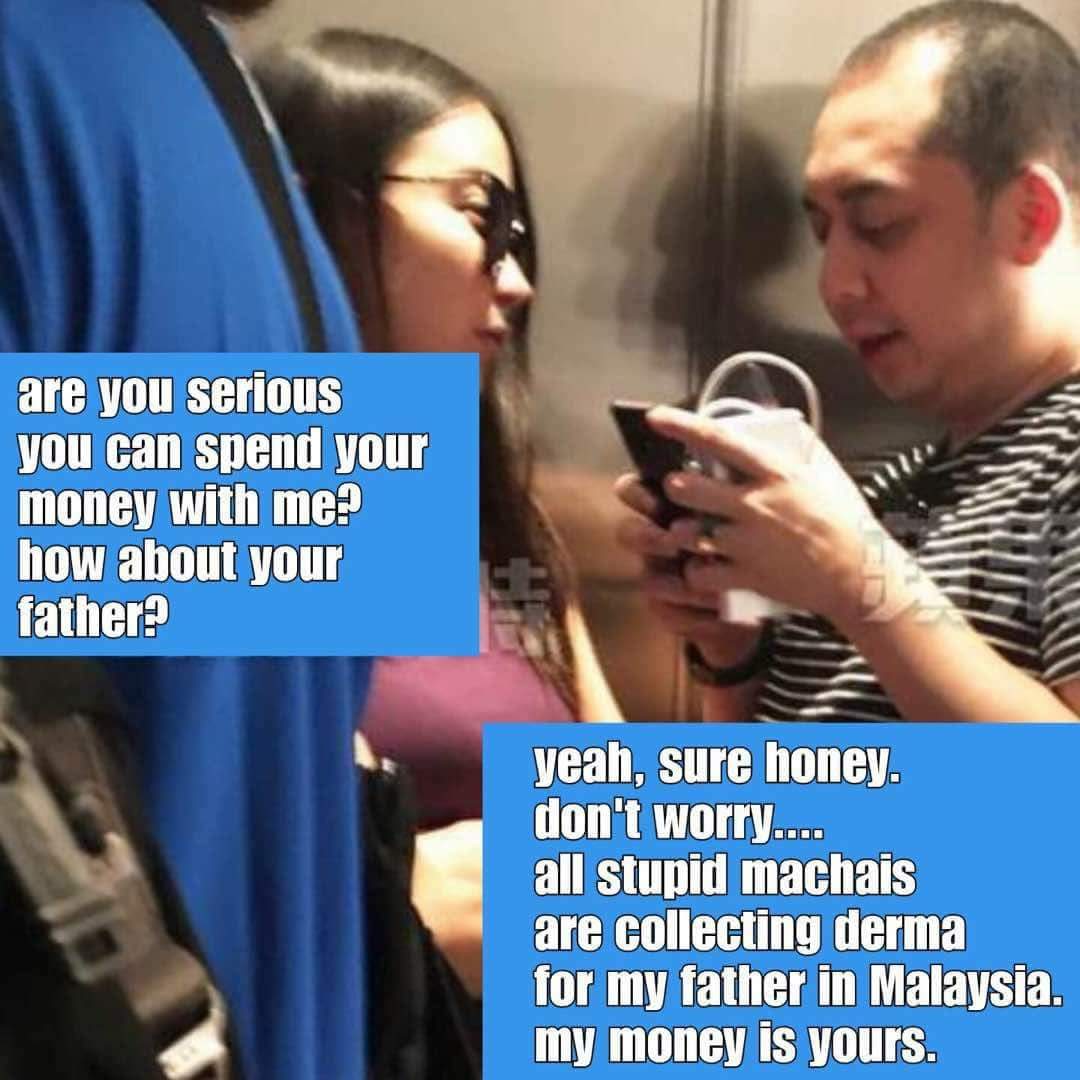 The Nazif-Celia Zhang rendezvous,
a cover-up to meet Jho Low?...
Kit Sian asks Najib's son point blank - so what were you doing ini Taiwan on such a whirlwind one day trip,surely it's not just for a quick "wine and pleasure" with Celia?
Much ink has been spilled over the trip of Datuk Seri Najib Razak's son Mohd Nazifuddin Mohd Najib to Taiwan and his rendezvous with Taiwanese actress Celia Zhang on a day after Najib was charged in court in Kuala Lumpur on four counts of corruption.
The Malay Mail Online, for instance, carried an article : "Report: Najib's son seen gallivanting with Taiwan actress after ex-PM freed on bail", based on Taiwan's Apple Daily video report spotting Nazifuddin "dining and drinking wine" with an actress in Taiwan at a steak restaurant in the Breeze Xinyi mall near Taiwan capital's iconic tower Taipei 101 a day after his father was charged for corruption in Kuala Lumpur over RM42 million from a former 1MDB unit.
The portal said the two were seen drinking glass after glass of red wine in a relaxed atmosphere during an allegedly mirthful meal that lasted three hours, claiming that two bottles of red wine were opened.
It also said the duo were subsequently seen taking a taxi to a massage parlour, before having a candlelight dinner and spending two hours at a bar.
Apple Daily claimed that the two then took another taxi ride to the Grand Hyatt hotel at around 1am, and Nazifuddin went up to rest and Celia then left.
According to Apple Daily, Nazifuddin wrote a Facebook post at 9.58pm the same night to back his father who was charged with corruption, noting that this allegedly took place while he was having a candlelight dinner with the actress.
The Apple Daily report came with a video clip showing brief footage and photos of the duo together, also reporting that Nazifuddin was seen together with the actress after he alighted from the plane yesterday in his trip to Taiwan.
Nazifuddin returned to Kuala Lumpur the next morning.
However, despite much ink being spilled over Nazifuddin's Taiwan visit a day after Najib's four corruption charges in Kuala Lumpur, the most important question seemed to have been missed, i.e. what was Nazifuddin doing in Taiwan and what was his most important agenda in his quick one-day to Taiwan – as very few would believe that the whole purpose of Nazifuddin's quick one-day trip to Taiwan as just to have a rendezvour of wine and food with Celia!
Only Nazifuddin can answer this question. Will he do so? - LKS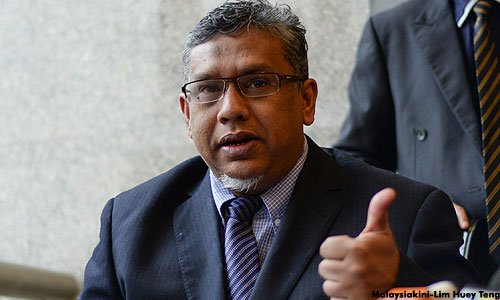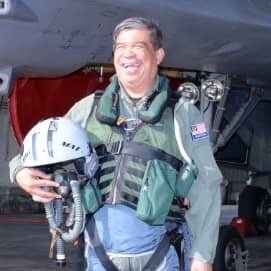 cheers.