Melalui khabar yang dibawa oleh Ketua Pemuda UMNO, Asyraf Wajdi Dusuki, Pas dilaporkan setuju untuk tidak meletakkan calon pada pilihanraya kecil Sungai Kandis yang ditetapkan 4 Ogos depan.
Persetujuan itu dengan maksud untuk memberi laluan kepada UMNO untuk berhadapan satu lawan satu dengan PKR dalam pilihanraya tersebut.
Perkara itu kemudian disahkan oleh Pas Selangor yang menyatakan pertembungan satu lawan satu antara BN dengan PH akan memberi peluang yang lebih baik kepada pembangkang.
Jarang benar Pas berpendirian tidak meletakkan calon sebagaimana pendiriannya di Sungai Kandis kali ini.
Ketika Pas sama-sama sebagai pembangkang dengan Pakatan Harapan sebelum ini, seperti di Sungai Besar dan Kuala Kangsar misalnya, parti tetap berkeras untuk meletakkan calon atas keyakinan mereka adalah parti Islam yang banyak sokongan, lebih berpeluang mencapai kemenangan, selain dakwaan memperjuangkan kebenaran serta berkewajipan menyertai pilihanraya sebagai satu cara untuk berdakwah dan berjihad.
Pas juga selama ini tidak kisah dengan pertandingan tiga penjuru atau empat penjuru sekali pun, malah mengatakan kemenangan di akhirat jauh lebih penting berbanding kejayaan di dunia.
Tetapi, sejak Pas dan UMNO sama-sama bergelar pembangkang sekarang ini, perubahan sikap dan pendirian Pas nampak begitu ketara sekali.
Mereka kini setuju tidak bertanding semata-mata untuk memberi laluan kepada UMNO berhadapan satu lawan satu dengan calon PH daripada PKR.
Makanya, dalam kempen pilihanraya nanti, apakah Pas akan turut berkempen untuk UMNO?
Apakah buat pertama kalinya juga kita akan menyaksikan Hadi Awang, Tuan Ibrahim Tuan Man dan lain-lain pemimpin Pas duduk sepentas dengan Zahid Hamidi dan Annuar Musa?
Bagaimana pula dengan ahli dan penyokong Pas di Sungai Kandis?
Sediakah mereka memangkah dacing kali ini? (ShahbudinHusin 19/07/2018).
Niat penyokong Pas semasa mengundi di Sg Kandis..." Sahaja aku undi calon Umno dari parti Penyamun 1Msia kerana arahan Lebai Kluk Klek walaupun tak masuk syurga" - f/bk
Sikap hipokrit lebai2 PAS...
Ketika lebai bersama Rakan Taawun UMNOOO sebelum PRU14 untuk jatuhkan PH, tiada langsung peruntukan untuk pembangkang malah PAS jadi pasu bunga dalam parlimen untuk merayu BN agar beri peruntukan kepada pembangkang walaupun sedikit, apatah lagi nak mintak sama rata.
Malahan di Kelantan, wakil rakyat pembangkang tidak pernah pun mendapat peruntukan dari kerajaan negeri. Tetapi sejak kerajaan PH bagi peruntukan juga kepada pembangkang, mereka pun berkira-kira nak minta juga.
Di sini bolehlah kita menilai hati perut sebenar puak lebai ni. Penuh hasad dengki dan berpolitik semata-mata tanpa memikirkan rakyat.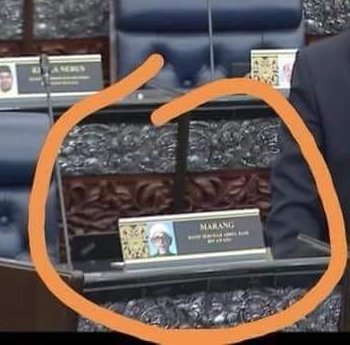 Kerusi ni akan kosong sehingga Parlimen dibubar...
Tiba2 bila PH menang PRU pegang tampuk pemerintahan alih2 mula merayu mintak sama rata?
Dah bagi peruntukan pada pembangkang dah kira oklah berbanding di era BN memerintah satu sen pon tiada untuk pembangkang ketika itu.
Kenapa bila Umno/Bn kalah.. dedak dah abis ka ??
Nasib baik Kerajaan PH ni tidak ikut perangai puak lebai dan BN yang lepas.
Dapat jugak puak pembangkang ni rasa keistimewaan jadi pembangkang di zaman kerajaan PH. - f/bk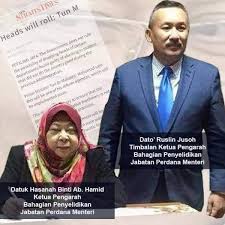 Letter to CIA to pave way for power grab...
A former ambassador today claimed a letter purportedly written by the top intelligence officer under the previous Najib Razak administration to the Central Intelligence Agency (CIA) hints at plans for an "extra judicial power grab" in the aftermath of the 14th general election (GE14).
"I find it very strange, even bizarre, that our intelligence agency, a government department, would send such a letter to their US counterpart," Dennis Ignatius told FMT.
"My sense is that there is perhaps more than meets the eye here."
Dennis was referring to a letter allegedly written on behalf of the Malaysian External Intelligence Organisation (MEIO) and signed by Hasanah Ab Hamid (pix,above), who also led a unit under the Research Division of the Prime Minister's Department.
The former high commissioner to Canada noted that the letter didn't ask for US support to win the election.
Rather, it appeared to seek their understanding and support in the period immediately following the election, he said.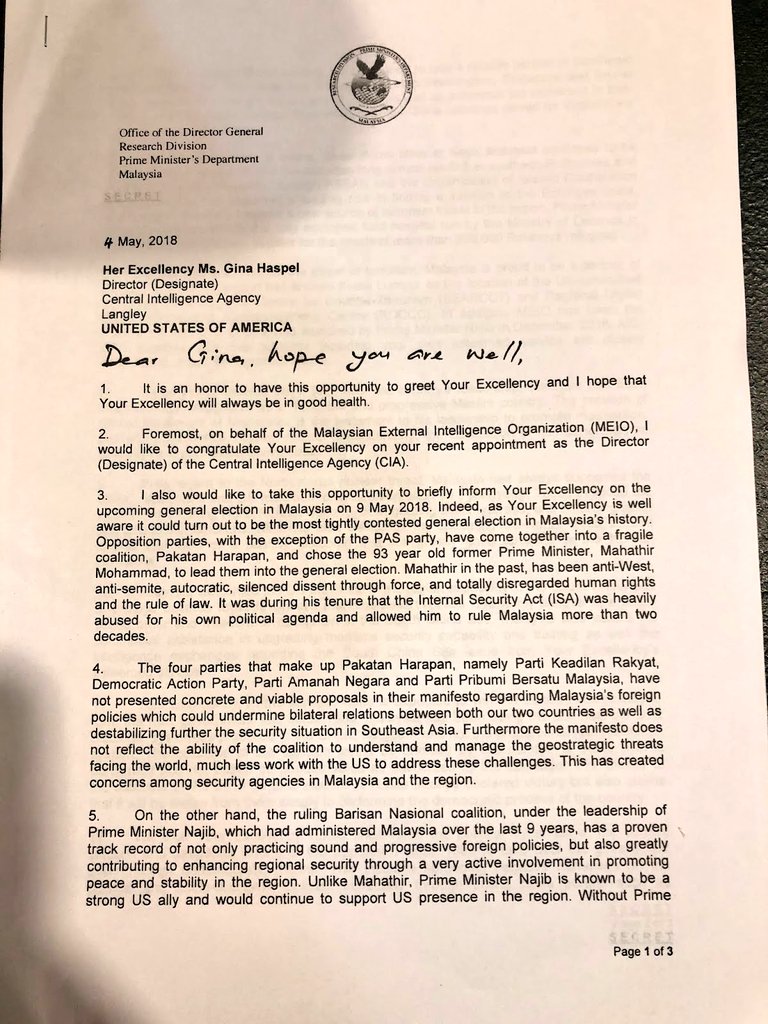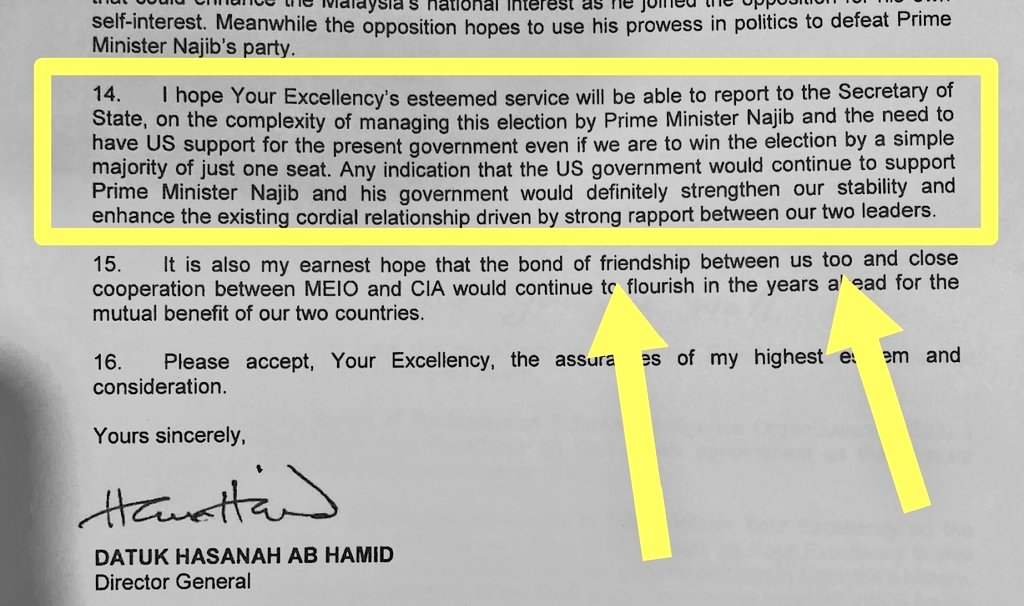 Dennis claimed this suggested that in the final days of campaigning, Najib was anticipating losing the election and might have had to use the National Security Council Act to stay in power.
"Under such circumstances, MEIO was attempting to persuade the CIA and the US government to endorse an extra-judicial power grab by BN in the interests of national and regional stability."
He said the letter attempted to convince the US that such a move would serve Washington's interests well, given Dr Mahathir Mohamad's previous anti-Western bias, and that Najib might be more mindful of the US' interests in relation to China, if it endorsed whatever actions Najib might take.
"It represents, in my view, nothing less than a shocking and shameful appeal to the US to side with Najib against Mahathir in the event of an electoral impasse or a close call.
"It follows a pattern set by other regimes on the verge of losing power.
"Though Najib himself may or may not have known about the letter, it is an indication of the extent his administration was willing to go to hold on to power."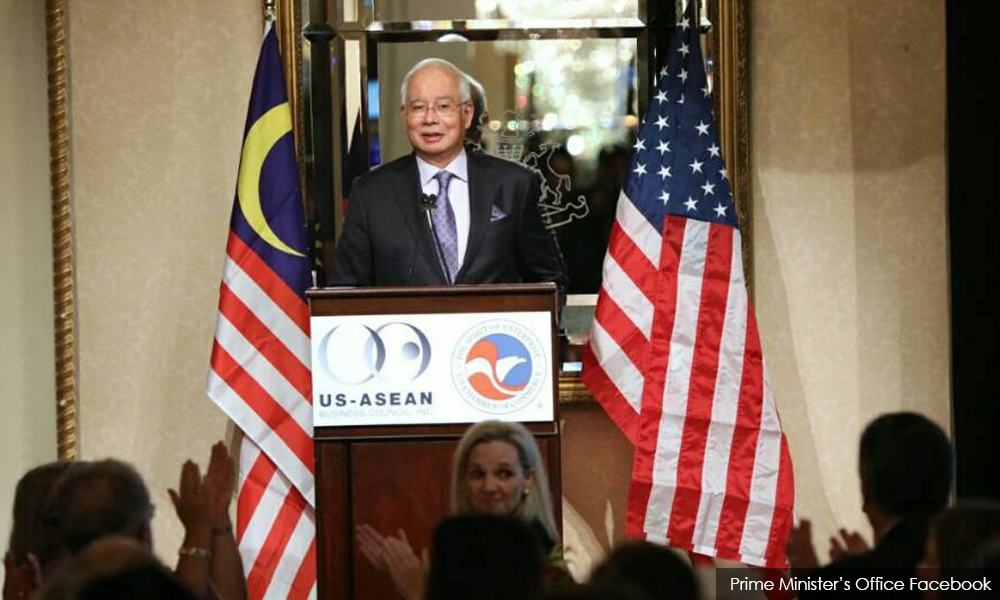 Najib has distanced himself from the alleged letter, saying he was not aware of it.
Dennis said he doubted that such letters were sent to other countries, including China, especially since China already endorsed the Najib administration and would likely go along with anything he did to retain power.
"All our other neighbours would, of course, have hidden behind the so-called 'non-interference' principle and said nothing."
He said the letter to the CIA would now lend credence to the speculation that at least some in Najib's camp were making plans for emergency rule in the event BN lost the election.
"While time will tell whether all this is fact or fiction, I believe it warrants a thorough investigation as proposed by the National Patriots Association (Patriot)."
Earlier today, Patriot called on the authorities to investigate the letter which it described as "treacherous" and "treasonous".
Patriot president Brig-Gen (Rtd) Mohamed Arshad Raji said the purported letter had discussed internal security matters and foreign policy matters that should not have been shared. - fmt
Patriot calls for investigation into CIA letter
Frequent consumption of coffee leads to a
decrease in breast size...
Gitulah akhlak orang UMNOOO...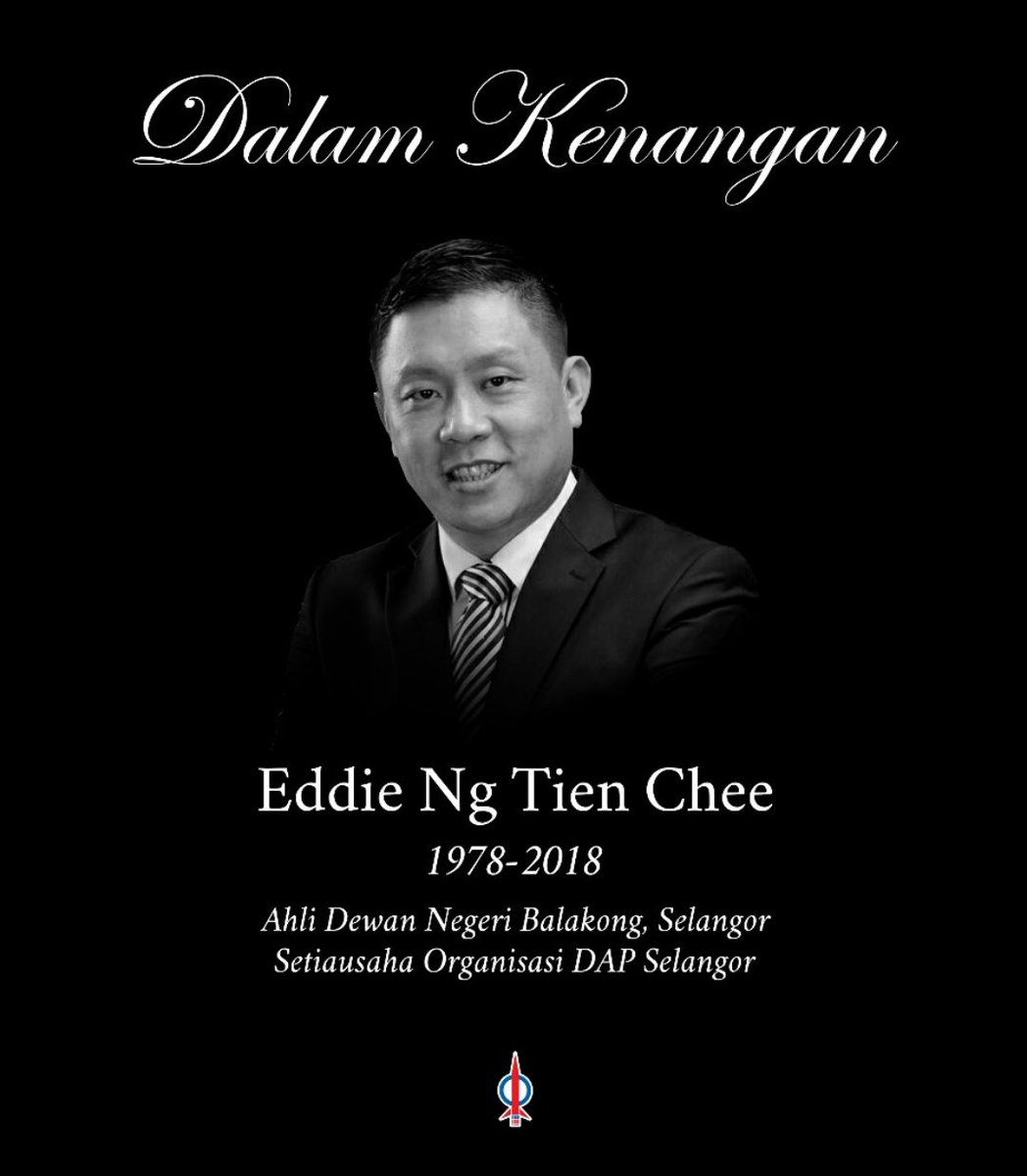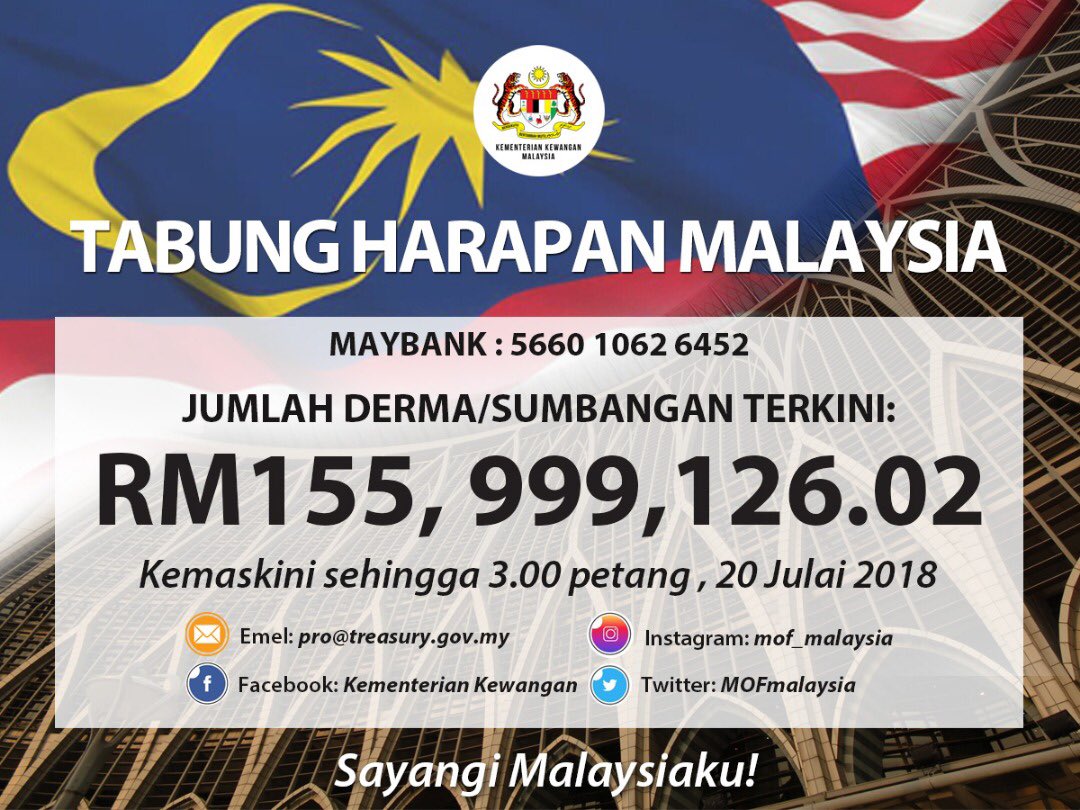 cheers.