31 OGOS 1957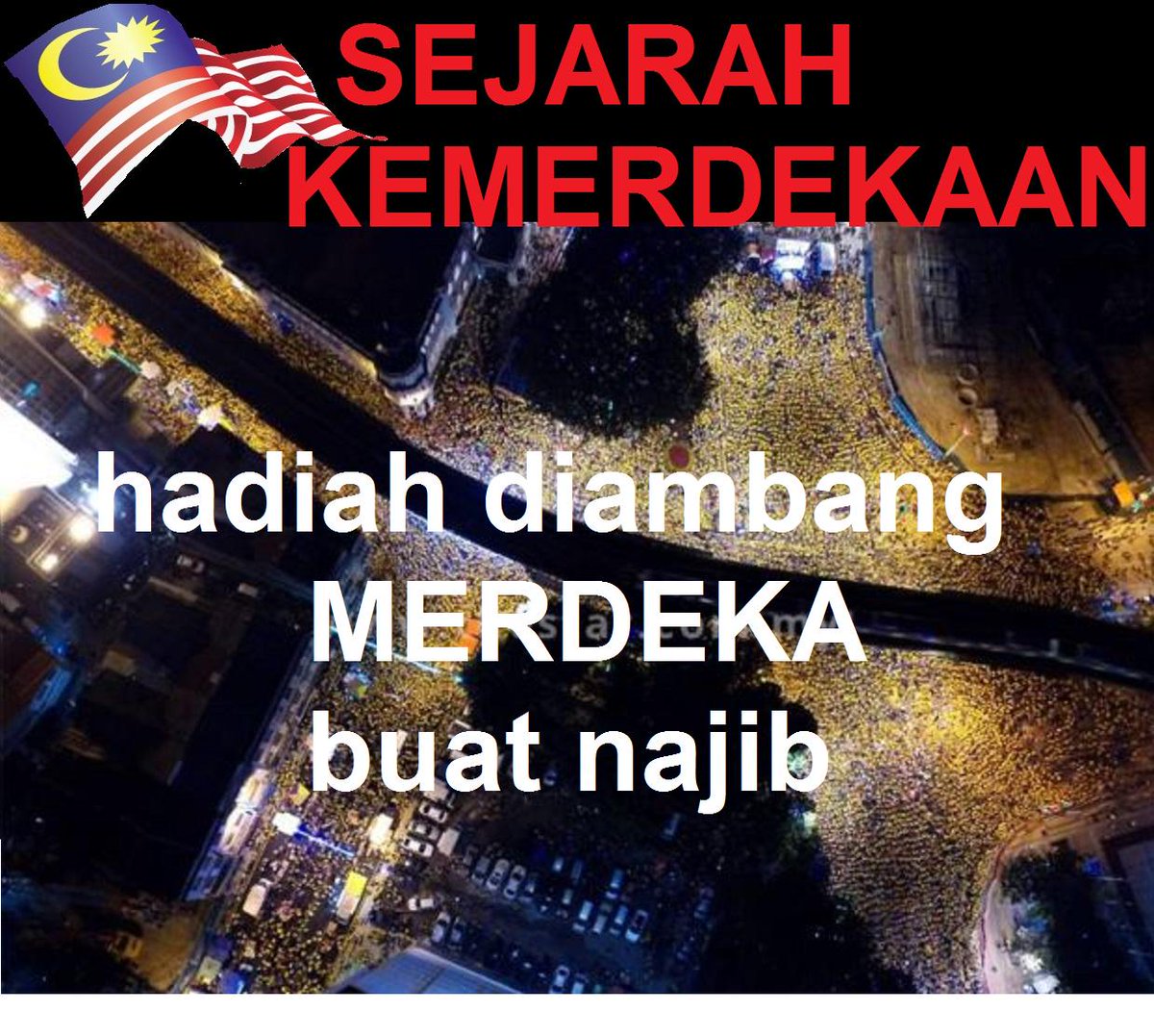 31 OGOS 2015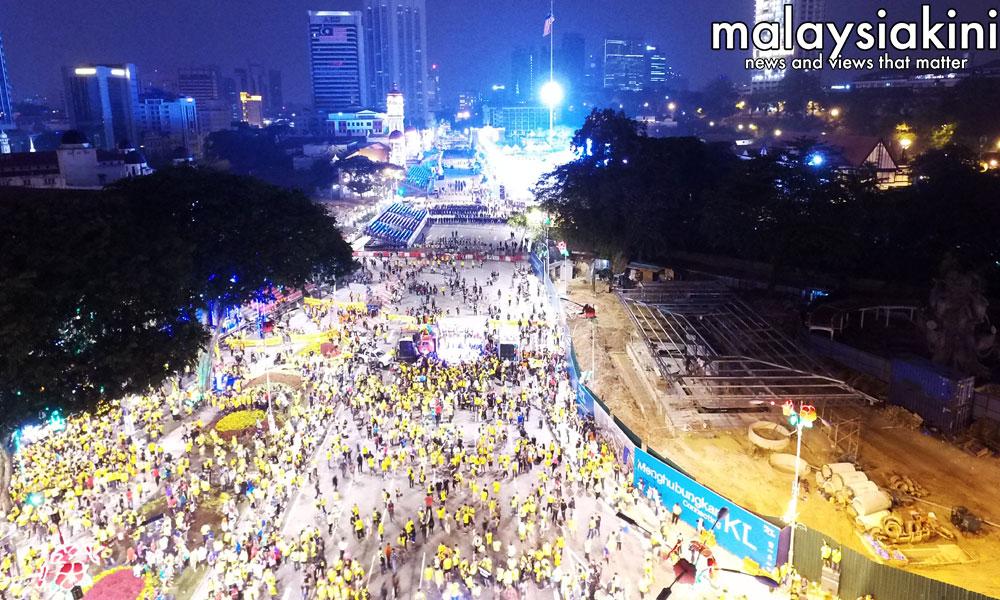 Terima Kasih dan Selamat Pulang...
At 11.25pm Culprit who throw firecrackers sounds like bomb was arrested by BERSIH 4 participent...
Why Malaysians are disillusioned with Najib Razak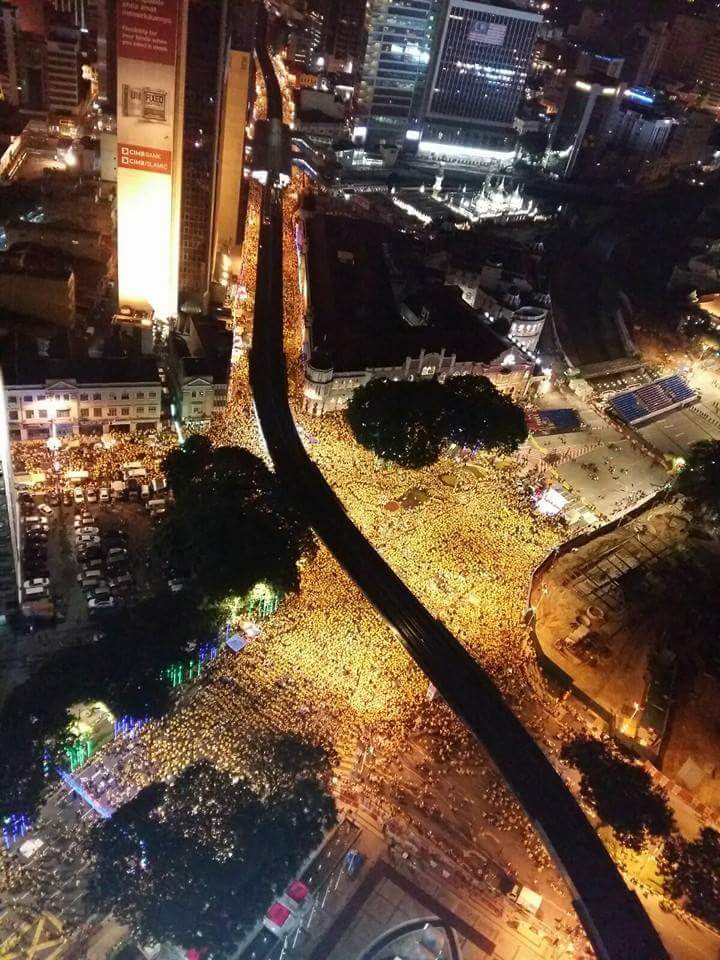 70,000 at Dataran for grand finale...
As estimated crowd of about 60,000 to 70,000 people have gathered at the the vicinity of Dataran Merdeka for the grand finale of the 34-hour Bersih 4 rally which will end at 11.59pm today.

A heavy downpour earlier in the evening did not deter people from gathering, with many more still making their way to the epicentre of the rally.

As the final programme of the day started at 9pm, Bersih volunteers were invited to the stage to give speeches. Earlier political leaders such as PKR vice-president Rafizi Ramli and ex-PAS leader Husam Musa also addressed the crowd.

Both had spoken about the need to force Prime Minister Najib Razak to quit to save Malaysia.

Rafizi even labelled Najib as the the "worst prime minister in our history".

"If we don't remove Najib, more money will disappear," he said.

At the same time, another stage had been erected nearby to get the people to freely express their views.

Several kilometres away at the Kuala Lumpur Convention Centre, Najib in his Merdeka speech which was being telecast live over national television, said street rallies must be rejected as they affect peace and order, and cause problems to the public.

His audience were made up of invited guests, including his ministers and civil servants.

Back at Dataran Merdeka, the thousands of participants in yellow continued to blow their vuvuzelas as their listened to the speeches, but almost all of them agreeing that Najib should be removed for the sake of the nation.

There had not been any trouble at the rally which started at 2pm yesterday. No untoward accidents had been reported, except for a provocative drunk man who had been handed over to the police by Bersih volunteers.

Rally organiser Bersih 2.0 also reminded participants that Dataran Merdeka was strictly off-limits.

"Please help to ensure that no one crosses the barricades.

"Please spread out to the various stages, including those further away from Dataran Merdeka. Crowd sizes need to be manageable to prevent congestion," it said.

Bersih 2.0 also urged participants to disperse orderly and in a calm fashion at the end of the rally.

"Those in the centre, please allow those at the fringe to disperse first, without rushing and pushing

"Please pick up any rubbish left over from the site.

"Do not stay another night, as there are considerable security risks," it said. - berita daily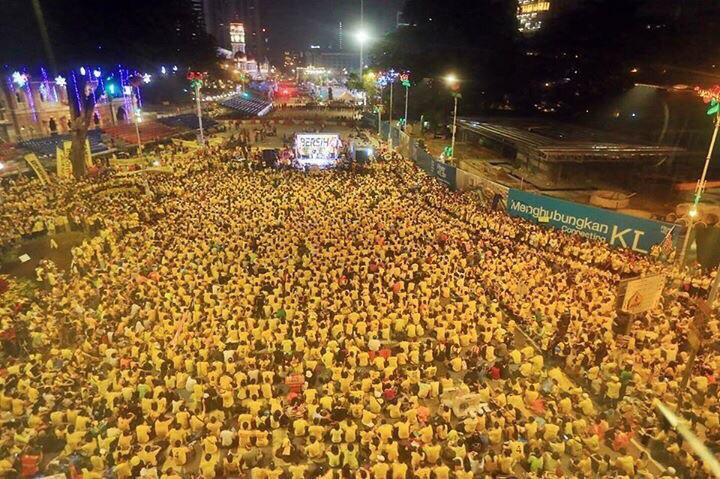 11.00 pm - Kira-kira sejam lagi untuk BERSIH 4 menutup tirai, jumlah peserta meningkat kepada kira-kira 80,000 orang. Sesetengah pihak pula mendakwa jumlah semasa mungkin melepasi 100,000 orang.
300,000 hadir ambang merdeka, catat sejarah besar negara...

Sambutan ambang kemerdekaan ke-58 dianggap paling bersejarah berikutan kejayaan mencatatkan jumlah kehadiran kira-kira 300,000 peserta, malam ini.

Ahli Parlimen Gelang Patah, Lim Kit Siang, berkata kejayaan itu adalah bukti keinginan tinggi rakyat mahu menyelamatkan Malaysia daripada pemimpin korup.

IMG_8653"Tujuan kita ke sini untuk menyelamatkan Malaysia dan sebab itu Najib kena turun.

"Jika Najib turun esok, nilai ringgit juga harga saham akan naik dan kepercayaan pelabur asing akan kembali," katanya di pentas utama Dataran Merdeka, di sini, hari ini.

Selain Kit Siang, beberapa pemimpin utama Pakatan Rakyat (Pakatan) turut menyampaikan ucapan masing-masing sebelum menjelang detik 12.00 malam.

Antara yang memberi ucapan adalah Presiden Parti Keadilan Rakyat (PKR), Datuk Seri Dr Wan Azizah Wan Ismail dan bekas Timbalan Presiden PAS, Mohamad Sabu. - Selangorku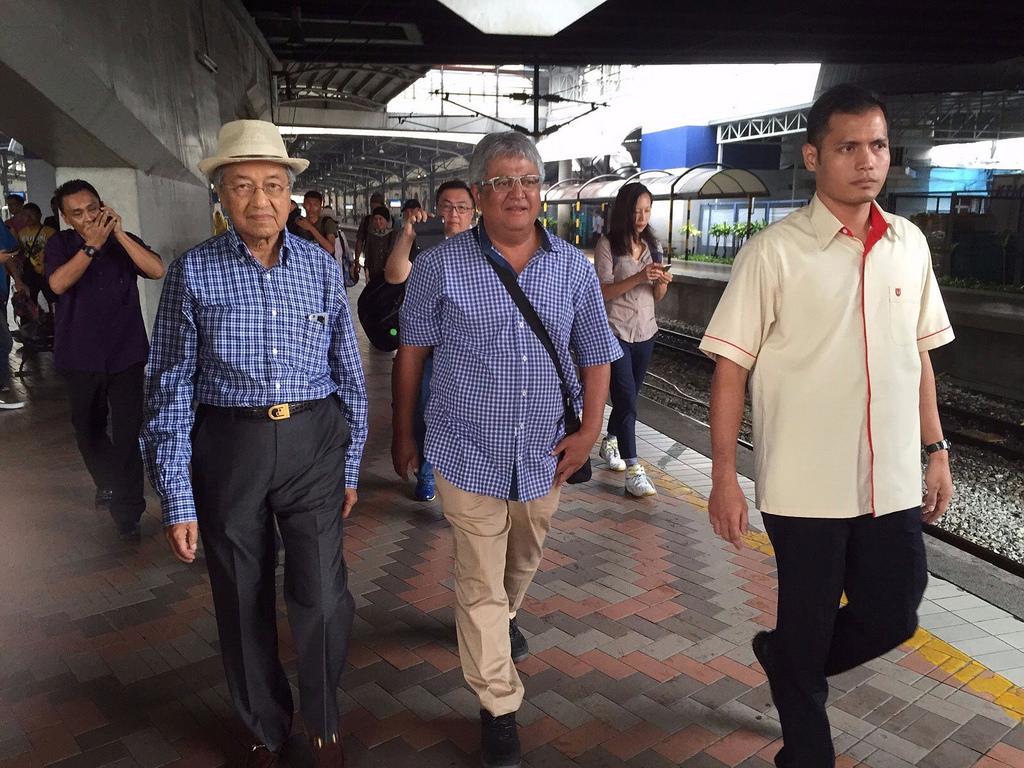 4.30 ptg.-Dr Mahathir Mohamad dan isterinya Dr Siti Hasmah Ali telah tiba, dijangka sedang menuju ke arah kumpulan ribuan penyokong BERSIH 4 di Jalan Tun Perak.Dr Mahathir, yang diiringi bekas menteri Datuk Zaid Ibrahim, kelihatan disambut beberapa penyokong BERSIH di stesen ini.
No Malays, or you failed to notice...
The Bersih protest is still ongoing, yet there are already those wondering just where are the Malays since their attendance has dropped to ranging from 10% or less, by some measure.

While political leaders and members of the federal opposition are quickly spinning this fact to "we only see Malaysians" or even "they will appear today", some have already taken it upon themselves to mock the entire race.

Accusations are ranging from the Malays are comfortable, the Malays are privileged, the Malays are cowards and my favourite thus far, the Malays are missing their balls.

Quite humbly, I will just call all these morons as morons because they have obviously failed to notice the fact that Malays were everywhere but they themselves failed to notice.
Allow me to explain.

I was at Nu Sentral yesterday, which borders Brickfields as one of the gathering points.

And while some attendees were wondering where the Malays are, they keep forgetting to notice just who the heck was serving them breakfast if they were in the same mall as I was.

Furthermore, since you took public transport, who the heck do you think was manning the train or the LRT control centre?

Who were the baristas who prepared your coffee while you rushed to charge your phones at the Starbucks?

Who were the waiters at The Chicken Rice Shop, or the Nando's or even the Texas Chicken with the controversial sauce?

And even more to the point, who did you buy your last minute yellow t-shirts from Uniqlo or wherever, just in case that last minute gazetted law was enforced?

More to the point, who were the police officers and the Federal Reserve Unit members currently manning their stations?

Who are those currently investigating the threat made via SMS against Bersih?

In fact, here is another thing you may have failed to notice. From an economic standpoint, the Merdeka Centre survey says that those most disapproving of Bersih, while Malays, are also those earning below RM2,000.

There is already a floating story of how one uncle from Perlis had to spend an entire week's wage just to attend the protest.

Safe to say, the majority of those disapproving or not attending Bersih are those who cannot afford it.

So for those mocking the majority Malay population as balless, spineless, privileged people, shame on you.

Who the heck do you think you are "saving the economy" for? Just yourselves?

It is for those who do not earn enough, who are unemployed graduates who even Tun Dr Mahathir was asked a question about in Pasir Gudang before appearing to have a look see in Kuala Lumpur.

It is for those who cannot take a weekend off to join your protest, especially since most will probably be paid three times their daily salaries due to it being a three-day weekend.

It is for those who have lost their houses and still live in tents in Kelantan and Terengganu due to the floods, are still waiting for their houses to be rebuilt and cannot afford to spare a dime.

Have you forgotten them in your veracity to be gung-ho propagandists?

So for those so militantly supporting Bersih to the point of calling the majority population cowards, you obviously do not know your own country's people well enough.

For those who say it was because of PAS, you also do not know what they had to spend to bus people into the city for the past rallies. Religion and politics may be the matter you think of, but you obviously failed to see the cost and logistics of such an endeavour.

And I will say this once more to all those detractors. While the Malays are poor, they are still the largest voter base in this country for Peninsular Malaysia and Sabah.

While they may not be attending Bersih, I can assure you that they are reading what you say of them on social media and even in the online portal comments sections.

Heck, maybe Utusan Malaysia and Berita Harian will take a page out of alternative media and make an article of all your social media posts for them to read.

Know this too,... for every derogatory statement and comment, and tweet you type, all your detractors, including myself, will be right there to remind the Malays in 2018 – who supported you quietly but could not attend – of what you thought of them just because they missed your 34-hour shindig.

So take this as a warning; if you believe that Bersih is more important than the 2018 general election, continue as is. Keep mocking those who apparently "do not support you by not coming".

But if you believe that the rally is just a start to a marathon which will finally end a 60-plus year ruling streak, then I suggest you shut up.

You keep saying the whole world is watching. Well, so are the Malaysian voters who will determine the next government. Remember that. – Hafidz Baharom,tmi
My observations on the Bersih 4 rally
Mereka Bukan Dibayar Sesiapa,
Mereka Bukan Tiada Rumah,
Mereka Bukan Suka-suka Mahu Berhimpun,
Mereka Berhimpun Kerana Sayangkan Malaysia,
Mereka Berhimpun Kerana Mahu Kerajaan Yang Bersih,
Mereka Susahkan Diri Mereka Untuk Masa Depan Malaysia Yang Lebih Baik,
Mereka Mahu Kerajaan Yang Amanah,
Mereka Mahu Negara Diurus Tadbir Dengan Baik dan Adil,
Mereka Mahu Kerajaan Ambil Kisah Tentang Bebanan Rakyat,
Mereka Membawa Harapan & Inspirasi Setiap Rakyat Malaysia...
Terima Kasih Bersih 4...f/bk
Kalu ramai Melayu turun, Cina,India tak turun...kata Melayu takde kerja,Cina,India rajin2. Bila Cina,India ramai turun banding Melayu, cakap agenda DAP, Ptuihhhh...
cheers.