Seorang veteran Umno menyifatkan kenyataan pihak berkuasa mengesahkan wang berjumlah RM2.6 bilion yang dimasukkan ke akaun perdana menteri adalah ehsan derma tidak mengejutkan dan sudah diduga.

Malah, beliau mendakwa, sudah dapat dijangkakan bakal ada individu yang "menjadi kambing hitam" yang akan mengaku mendermakan wang tersebut untuk menjernihkan keadaan.

Tetapi, bekas menteri pertanian Tan Sri Sanusi Junid(bawah) berkata, beliau berpendapat wang itu bukan disumbangkan ahli Umno atau warga Malaysia, tetapi pasti dibuat warga asing di luar negara.

"Ia sudah dijangka dan bukan satu kejutan, saya pasti mereka akan mencari individu yang kaya mengakui mendermanya," kata Sanusi melalui satu kiriman khidmat pesanan ringkas (SMS) kepada The Malaysian Insider.

Beliau turut mengatakan, tidak mungkin hanya seorang sahaja yang menderma wang sebanyak itu.

"Yang jelas ialah, kalau rakyat Malaysia yang derma, tidak mungkin seorang sahaja. Yang ada berbilion pun tidak mampu menderma sebanyak itu," kata bekas menteri yang berkhidmat di zaman Tun Dr Mahathir Mohamad itu.

Pada masa sama, beliau yang pernah menjadi menteri besar Kedah turut menamakan beberapa nama individu yang kaya sebagai contoh.

"Kenalah cari orang luar negara seperti Sultan Brunei, Bill Gates, Warren Buffet atau yang sekaya itu. Atau pun raja-raja Arab dan anak-anak mereka.

"Orang berniaga tidak mungkin derma sebanyak itu tanpa dapat sesuatu. Itu bukan derma namanya.

"Kecuali kita upah dengan lumayan seseorang yang sanggup mengaku dia yang menderma. Tetapi kenalah yang boleh dipercayai," katanya.

Sanusi turut sinis dengan mendakwa hanya mereka yang mencapai keputusan Purata Nilai Gred Kumulatif (CGPA) yang tinggi di universiti akan "digunakan" untuk mencari individu yang sanggup menjadi kambing hitam.

"Kenalah pakai tokoh yang CGPA 3.85 untuk mencari penderma ini," katanya yang melahirkan keyakinan derma tersebut bukan dibuat ahli Umno, kerana pada kebiasaannya, yuran tahunan parti mereka sendiri dibayar ketua bahagian.

Isnin lalu, Suruhanjaya Pencegahan Rasuah Malaysia (SPRM) mengesahkan RM2.6 bilion yang didakwa disalurkan ke akaun peribadi Perdana Menteri Datuk Seri Najib Razak memang wujud.

Bagaimanapun, ia bukan wang dari syarikat milik Kementerian Kewangan yang sarat hutang, 1Malaysia Development Berhad (1MDB) atau entiti berkaitan dengannya seperti dakwaan pihak tertentu bulan lalu.

Menurut SPRM, wang itu ialah sumbangan derma politik yang dimasukkan ke akaun peribadi Najib.

Semalam, badan anti rasuah itu mengeluarkan satu lagi kenyataan menyatakan ia sudah mengenal pasti penderma itu yang merupakan seorang dari Timur Tengah tetapi tidak mendedahkan identitinya.

Ia juga mengatakan Najib akan dipanggil bagi memberi penjelasan mengenai perkara itu. – tmi
Expects a scapegoat to own up as the US$700 million donor
Note the remark "Payment" underlined red.
Question: For what service was the Prime Minister of Malaysia paid for from foreign paymaster?
One Pak Sanggup will appear....

Now, Najib's readiness is nothing to shout about. He has sent people to the Middle East to ask some people to acknowledge that it was they who donated to Najib.

Watch this space- someone and some people will emerge to identify themselves as those who made the RM2.6 donation. In Malay this person is called a Pak Sanggup. This is a person willing to assume responsibility in marrying the girl impregnated by someone( the real culprit) else.

And since donation is the much loved word, hey presto- mystery solved! Najib is sanitised.

But hold on. That may trigger off more objections, ridicule and cynicism. The money was transferred using A BVI Company that has since been liquidated through Wells Fargo bank in the US. So, an American Bank -subjected to stringent laws regarding transfer of payments will also have details of the transfer.Jangan main2 with Uncle Sam tau.

So I hope the not so bright people advising the PM and doing his black hand job will not get him into further trouble; but I suspect they will because as I write in the ensuing paras- those in close contact with Najib have caught an incurable disease. Please read on.

Some details regarding the transfer mentioned specifically the term 'payment' not 'donation'. Further it is curious for someone who kind-heartedly donated USD681 million to insist charges on the remittance/transfer between him and the PM recipient, be shared. Boleh bayar RM1.6 billion tapi charge penghantaran wang kena kongsi.

Can send generously the usd681 million but turns scrooge when bearing the cost of transfer. What kind of donor is this? If payment was indeed the case, what has najib sold off to these people? The whole country?God Save Us. Like the MACC people pleaded.

Any above-average kindergarten pupil will say that Najib has arranged this for his vindication. Once again, the people are fooled.

Fooling UMNO members and leaders.

That would fool some of the 3.2 million UMNO members. They are still about 27 million Malaysians who needed convincing. They don't give a rat's ass about the drama staged by Najib's minions.

The underlings include the newly minted DPM with a failure to refine Ph.D. he went on record in his swash-buckling style promising to extradite Claire Ruecastle. Please do because in order to do that 1MDB has to submit ALL documents to the UK authorities. I am already salivating at the requirement. That's good because we know the whites will be thorough and rigorous in their process unlike the sloppiness that has become characteristic of Najib's administration.

By the way, why the slothful process of suing Dow Jones and Wall Street Journal? Cannot understand American English arr?

Also by the way, Xavier Justo whom every UMNO leader in Malaysia accused of 'tampering' with PSI documents, admitted under Thai interrogation, he did not tamper with the said documents. He will be charged if he is at all. with the crime of blackmailing. In other words, the documents used by Sarawak Report were all original and true.

These people are suffering from a terrible disease.

Why are Najib and people like Rahman Dahalan, Azalina Othman, Khairy Jamaludin, Ahmad Maslan who has since gone into relapse behaving strangely as they do? Even Zahid Hamidi?

I hear rumours that they have been infected by a new disease, transmittable by people who are known to be in constant close contact with each other and of course with Najib, known to doctors as mandatephilis. It is caused by a bacteria known as treponema pallidum +, similar but not the same as the bacteria causing syphilis. This is a plausible medical explanation since these people are always in close contact.

This is a new strain of remedy-defying transmittable disease. It's an unusual strain of STD- stupidity transmittable disease afflicting at the moment, UMNO members only.

At the moment, doctors recommend culling the transmitting agents politically as the only remedy. A dismissal of the entire cabinet is one such remedial solution.

So, for the moment, it is afflicting some portion of the 3.2 million UMNO members. For those who distance themselves from Najib, they are safe temporarily. Please follow doctors' advice.

This disease affects the mental capacity of its victims. Power of reasoning is destroyed. Rationalism gives way to morbid irrationalism. The victim often gives jumbled up utterances in public. Listening or reading them can induce nausea and fainting sensation.

The most prominent symptom seems to be a new found arrogance that regards the mandate they get from voters as a 007 license to do anything the victim pleases. Engage them in debates, they froth around the mouths spewing long held prejudices.

Stay away from them as far as possible, the disease can spread airborne through saliva.- Mohd.Ariff Sabri bin Hj. Abdul Aziz.
It's Apandi vs Sri Ram for Sodomy II review...
Former opposition leader Anwar Ibrahim's review of his sodomy II conviction at the Federal Court will pit two former apex court judges against each other, lawyer Gopal Sri Ram and newly-appointed Attorney-General Mohamad Apandi Ali.

This was disclosed by Anwar's lawyer Latheefa Koya when the matter came up for case management today.

"Yes, Apandi will appear for the prosecution himself and it would not be (Muhammad) Shafee (Abdullah)," she said.

Besides Latheefa, lawyers N Surendran, who is also Padang Serai MP, and Shahid Adli Kamarudin appeared for Anwar.

This was confirmed by deputy head of the prosecution division in the Attorney-General's Chambers Mohd Hanafiah Zakaria, who is also a DPP in the case and had appeared for today's case management.

Latheefa said the next case management is Aug 20, as Anwar's lawyers would have to seek dates when Gopal is available.


Anwar was sentenced to five years' jail by the Federal Court last February after Chief Justice Arifin Zakaria, who led a panel of five judges, found him guilty and did not allow his appeal.

Besides the review, Anwar wants the court to also hear an application to record a statement from former Commerical Crime Investigation Department director Ramli Yusuff (photo).

Ramli was the police officer who stopped former IGP Abdul Rahim Noor from assaulting Anwar further when the former Deputy Prime Minister was sacked in 1998 and charged in what is dubbed as Sodomy I trial.

On June 10, Anwar filed a review, arguing there was a political conspiracy against him dating back from the black eye incident. - mk
SPRM tunggu apa lagi, tangkaplah Najib...
Suruhanjaya Pencegahan Rasuah Malaysia sudah pun mengumumkan akan menyoal siasat Datuk Seri Najib Razak berhubung wang RM2.6 bilion yang dimasukkan ke dalam akaun peribadinya.

Walaupun banyak pihak mempercayai sumbangan wang itu ada kaitan dengan skandal 1MDB yang bernilai RM42 bilion, pihak SPRM telah menjelaskan bahawa wang RM2.6 bilion tersebut adalah "derma".

Selepas pengumuman untuk memanggil Perdana Menteri, tiada apa-apa tindakan susulan dilakukan oleh badan anti-rasuah negara itu.

Sebaliknya pegawai-pegawai penyiasat SPRM pula ditangkap polis. Malah, pasukan petugas khas menyiasat skandal 1MDB – melibatkan Jabatan Peguam Negara, Bank Negara dan pihak polis – telah dibubarkan.

Sehubungan itu, Pengerusi Biro Undang-Undang DAP, Gobind Singh, mempersoalkan apa lagi yang ditunggu oleh SPRM kerana ia sudah pun mengumumkan mahu menyoal siasat Najib.

"Apa lagi yang mereka tunggu?"

"Tidak ada gunanya membuat kenyataan umum jika hanya sekadar menagih simpati. Malah, SPRM juga tidak perlu takut.

"SPRM ditubuhkan mengikut undang-undang. Ia mempunyai kuasa yang luas, termasuk kuasa untuk menangkap dan menahan orang yang disyaki atas sebab siasatan.

"SPRM juga mempunyai kuasa untuk menangani mana-mana pihak yang mengganggu tugas dan tanggungjawabnya," kata beliau dalam satu kenyataan.

Menurutnya, dalam kes Teoh Beng Hock yang hanya menjadi seorang saksi dalam kes yang membabitkan sekadar RM2,400, Beng Hock telah ditangkap dan ditahan di pejabat SPRM, dan disoal siasat sepanjang malam sehingga awal pagi.

Tambah beliau lagi, Beng Hock disoal siasat dalam keadaan tegang tanpa diberikan akses untuk mendapatkan peguam.

Selepas soal siasat itu, Beng Hock dijumpai mati di bangunan SPRM pada 16 Julai 2009.

Setelah sekian lama kes tersebut masuk keluar mahkamah, akhirnya Mahkamah Rayuan pada 5 September 2014 telah memutuskan bahawa ada orang atau beberapa orang yang telah menyebabkan kematian Beng Hock.

Gobind yang juga Ahli Parlimen Puchong berkata, SPRM tidak boleh mengkhianati amanah yang diberikan oleh Parlimen kepadanya, dan sepatutnya berani menjalankan tugas tanpa takut dan bimbang.

"Sebagai Ahli Parlimen, saya menuntut SPRM supaya cakap serupa bikin. Mereka mesti membuktikan bahawa mereka adil dalam melaksanakan tugas tanpa memilih bulu," ujar beliau. –
Roketkini.com
No more chances for Najib
Baru aku tahu sapa derma RM2.6b tu...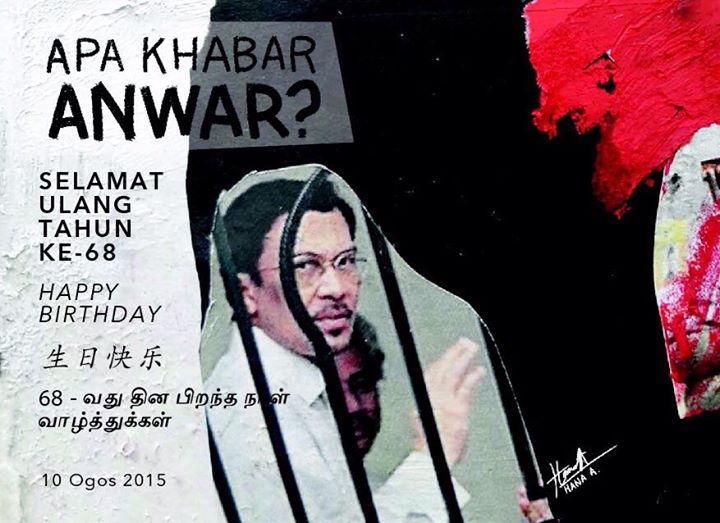 cheers.