"Kalau kita (Ahli Parlimen) tidak percaya kepada Perdana Menteri, Datuk Seri Najib Tun Razak dan cukup majoriti mahu dia dihentikan apa salahnya?" demikian kenyataan Penasihat DAP, Lim Kit Siang ketika disoal oleh media mengenai isu 'guling kerajaan'.

Mengulas lanjut, Kit Siang berkata, istilah guling kerajaan adalah tidak tepat untuk menggambarkan keadaan tersebut (situasi ahli parlimen untuk memberi undi tidak percaya kepada PM), kerana guling kerajaan itu merujuk kepada kekerasan dan tidak bertindak mengikut Perlembagaan.

"Sampai sekarang tidak ada bukti bahawa ada usaha untuk menggulingkan kerajaan, mana? Mengguling apa ertinya? Ialah menggunakan cara kekerasan, cara tidak ikut Perlembagaan itu.

" MP tidak percaya pada PM bukan guling, dalam sistem demokrasi MP boleh tukar PM sama ada dalam Dewan Rakyat melalui undi tidak percaya atau luar dewan ikut formula Perak," katanya pada sidang media DAP di Ibu Pejabat parti itu di Kuala Lumpur.
Dalam pada itu, Kit Siang berkata, beliau tidak dapat memastikan adakah benar adanya dakwaan yang membabitkan ahli Umno untuk jatuhkan Najib.

"Saya tidak pasti ada ke tiada, cuma kalau ada, kalau mereka tidak mahu Najib lagi, mereka boleh lakukan dengan cara undi tidak percaya (ikut Perlembagaan)," katanya.

Terdahulu Timbalan Perdana Menteri, Datuk Seri Ahmad Zahid Hamidi ada mendedahkan komplot untuk menjatuhkan Najib membabitkan pemimpin Umno.

Namun dakwaan yang membabitkan pemimpin Umno seramai 20 orang sepertimana yang diwar-warkan oleh sesetengah pihak disangkal oleh Pengerusi BNBBC, Datuk Seri Shahrir Abdul Samad semalam. - SH
Konspirasi taik kucing...sebenarnya UMNO main silap mata untuk alih perhatian orang ramai daripada isu yang sebenarnya, ia itu skandal 1MDB dan kes Najib balun 2.6 bilion...

t/s
PAS against Najib? Hard to believe...
DAP supremo Lim Kit Siang has expressed skepticism at PAS' declaration that it was prepared to support a no-confidence vote in Parliament against Prime Minister Najib Abdul Razak saying that he would only believe it when he sees it.
This was in response to PAS deputy president Tuan Ibrahim Tuan Man and PAS election director Mustafa Ali's insistence that the party would vote against Najib after Lim said PAS was unlikely to do so.
However, Lim pointed out that neither Tuan Ibrahim nor Mustafa were MPs and may find themselves overruled by PAS president Abdul Hadi Awang who has had a track record of doing so.
"As far as their statement that PAS will support a no-confidence vote against Najib in Parliament is concerned, I'll believe it when I see it.
"The reason why Pakatan Rakyat died after seven years bearing the hopes and trust of the people regardless of race, religion or region for political change, is because PAS under its president Abdul Hadi Awang is not to be trusted, as his word is not his bond," said Lim in a statement today.
Lim pointed out that Abdul Hadi (photo) had repeatedly overruled the Pakatan leadership council's consensus decisions which were agreed upon by his representatives and in cases where he was present, had also reneged on his word.
Wait for election
"As Hadi's PAS does not believe in the maxim that 'one's word is one's bond', I take the statement of the present PAS deputy president and PAS elections director with more than a pinch of salt," he said.
In May, Abdul Hadi had dismissed calls for Najib to step down, stating that the prime minister should be given a chance.
Abdul Hadi had said that the rakyat could wait for a general election to punish Najib.
Pressure is amounting on Najib amid 1MDB's growing debt and the opacity of of RM2.6 billion deposit into his personal bank accounts.- mk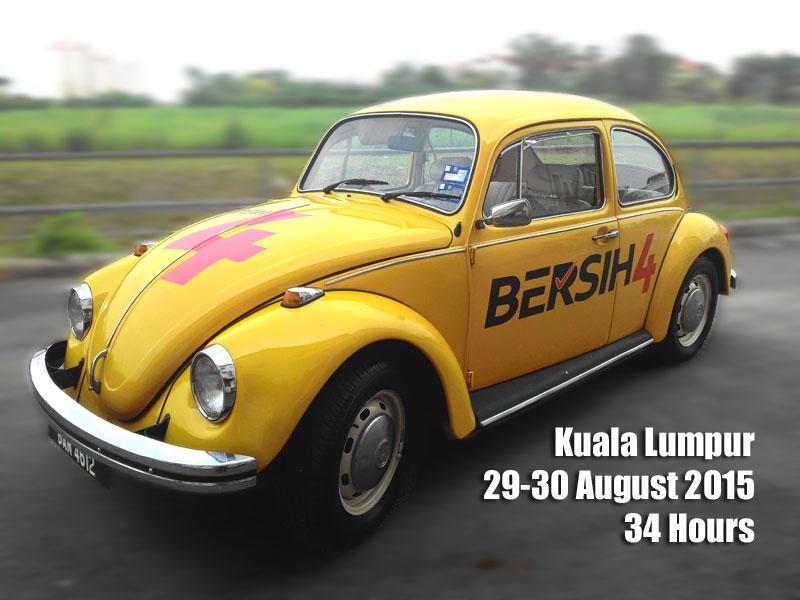 cheers.