Mungkin selepas mentadbir beberapa negeri dan menduduki kerusi-kerusi penting dalam kerajaan negeri, PAS berpendapat mereka sudah kuat dan tidak memerlukan lagi parti komponen untuk bekerjasama.
Hakikatnya PAS lupa bahawa kejayaan yang dikecapi hari ini tidak akan menjadi realiti tanpa kerjasama dengan parti komponen PKR dan DAP dalam dua pilihan raya yang lalu.
Jika dianalisis, PAS tidak kuat jika bergerak secara solo. PAS hanya berjaya mendapat tempat oleh kerana sokongan dari pengundi atas pagar dan pengundi yang bukan ahli PAS terutamanya di kawasan pantai barat seperti Selangor.
Ternyata senario pengundi bukan Melayu yang mengundi PAS sebelum ini tidak akan berulang sekali lagi jika dinilai posisi yang diambil oleh PAS dalam konteks politik Malaysia sejak kebelakangan ini dan mungkin akan menjadi antara faktor kepada kekalahan PAS dalam pilihan raya umum akan datang.
PAS dilihat sebagai rakan mesra kepada Umno sejak akhir-akhir ini. Tatkala keyakinan rakyat terhadap Umno semakin merosot dari hari ke hari, PAS memilih untuk 'bermesra' dengan Umno.
Amat mengejutkan apabila baru-baru ini ada seorang pemimpin PAS pusat mempertahankan dan menyatakan simpati kepada YAB Datuk Seri Najib Razak seolah-olah pemimpin tersebut bercakap dalam kapasiti Ketua Pemuda Umno Malaysia. Melucukan.
Dalam pilihan raya lalu, rakyat mengundi PAS kerana mereka menolak Umno dan bukan kerana kekuatan PAS. Oleh kerana rakyat benci kepada Umno lalu kebencian itu dizahirkan dalam bentuk undi.
Saya tidak pasti jika agenda dan dasar ekonomi PAS merupakan faktor utama masyarakat dalam pilihan raya lalu mengundi PAS? Kemesraan dengan Umno bukan lagi gimik. Ia telah menjadi realiti. Malah secara terang-terangan tanpa sembunyi lagi.
Sungguh jelas sehingga sukar untuk kita bezakan yang mana satu Umno dan yang mana satu PAS, pada hari ini kerana rupa dah sama, nada juga sama, matlamat dan cita-cita juga sama. Persoalannya apakah ahli akar umbi PAS boleh menerima kemesraan ini?
Lihat sahaja mesej yang dihantar oleh akar umbi PAS di Pengkalan Chepa. Mungkin majoriti akar umbi tidak senang dengan pemimpin PAS yang dilihat seakan-akan 'mesra' Umno? Kita tidak akan tahu kerana pertandingan tersebut hanya 'suka-suka'.
Tatkala negara berhadapan dengan isu ekonomi, skandal rasuah, tuduhan demi tuduhan yang tidak terjawab serta siasatan negara luar berkenaan skandal kewangan negara, PAS lebih berminat dengan isu baiah dan kecam mengecam rakan-rakan pembangkang lain.
Malah yang lebih mengejutkan kita adalah apabila PAS berminat untuk memainkan peranan sebagai 'penasihat' kepada kerajaan, bukan penentang dan pencabar?
Oh, ini merupakan sikap terpuji. PAS hari ini sangat bersangka baik dan suka menasihati. Sudah tentu ia merupakan satu budaya yang sihat sebagai sebuah parti politik yang serius memperjuangkan kebajikan rakyat Malaysia, bukan?
Banyak profesional yang telah meninggalkan PAS. Tetapi itu tidak menjadi masalah kerana anda tidak perlu menjadi profesional untuk bersama PAS.
Anda cuma perlu kemaskini status di Facebook dan pergi ke parlimen bagi menyemak jadual parlimen untuk mengetahui bila RUU355 akan disenaraikan dan dibentangkan serta tempoh masa ia akan ditangguhkan pada persidangan parlimen seterusnya dan seterusnya.
PAS kini kembali kepada parti PAS yang asal, gah memerintah Kelantan sejak lebih 20 tahun lalu, sehingga menjadi negeri 'termaju' dalam Malaysia. Agak terkejut juga apabila timbul ura-ura bahawa PAS mahu menawan Selangor.
Lupa kedudukan di Selangor
Adakah PAS lupa di mana kedudukan PAS di Selangor sebelum wujudnya Pakatan Rakyat? PAS sentiasa bermegah dengan kuasa jentera mereka yang ramai dan mendakwa bahawa selama ini PKR dan DAP hanya bergantung kepada kekuatan jentera PAS dalam berkempen. Mungkin PAS lupa ini sudah tahun 2017, bukan 1977 lagi.
Jumlah jentera kempen memainkan peranan yang kecil pada hari ini terutama di kawasan bandar.
Tatkala kita boleh mengikuti ceramah melalui 'live feed' daripada Facebook sahaja dengan duduk sofa sambil makan kuaci, dengan kuasa maklumat di hujung jari kerana internet tanpa batasan, adakah PAS masih berpendapat kekuatan jentera untuk memasang poster dan bendera adalah relevan untuk memenangi pilihan raya?
Saya yakin tanpa jentera yang besar, tanpa poster dan bendera yang banyak sekalipun sesebuah parti boleh memenangi pilihan raya kerana trend hari ini adalah jauh berbeza jika dibandingkan dengan waktu zaman sebelum internet dahulu.
Tetapi tidak dinafikan bahawa mungkin PAS mempunyai sedikit kelebihan di kawasan luar bandar.
Sepatutnya PAS mencari 'common ground' dan bekerja sama dengan parti pembangkang lain. Tetapi hakikatnya tidak. PAS memilih untuk 'bercakaran' dengan parti-parti pembangkang yang lain. Ini amat mengecewakan rakyat. Dan rakyat yang kecewa akan menghukum PAS dalam pilihan raya akan datang.
'Bertomoi' rakan pembangkang
Dengan menyatakan bahawa ia akan bertanding dalam semua kerusi di Selangor, PAS hanya bertindak sebagai pemecah undi dan ini hanya akan memudahkan Barisan Nasional memenangi pilihan raya akan datang.
Rakyat hari ini sudah bijak dan boleh menilai keikhlasan PAS dalam memperjuangkan hak rakyat yang semakin tertindas dengan kos sara hidup yang tinggi serta skandal yang berleluasa. Bagaimanapun rakyat nampak bahawa PAS lebih berminat untuk ber'tomoi' dengan rakan-rakan pembangkang lain sahaja.
Rakyat juga mungkin keliru terhadap perjuangan PAS pada hari ini. Masakan tidak, hari ini melawan BN, esok menyokong BN, lusa berbincang dengan PPBM, tulat menghentam DAP, hari kemudiannya bergaduh dengan PKR, selepas itu mengecam AMANAH dan begitulah seterusnya selama berhari-hari, berminggu-minggu dan berbulan-bulan.
Rakyat semakin bingung dan keliru dengan kehendak dan hala tuju PAS yang sebenar.
PAS boleh diibaratkan sebagai sebuah kapal yang bocor, ke darat tidak, ke lautan juga tidak. Tiada nakhoda yang boleh memberikan panduan yang jelas, tiada sauh untuk dilabuhkan, tiada layar yang kuat, tetapi dengan keyakinan yang tinggi ia boleh membelah lautan Hindi. Menyedihkan.
PAS boleh bersiap sedia untuk kembali ke Kelantan semula seperti mana asalnya. Jangan lupa wahai PAS, rakyat mengundi Pakatan Rakyat, bukan PAS. PAS berada di kedudukannya hari ini kerana Pakatan Rakyat, bukan kerana PAS itu sendiri. - Mohammad Siddiq Azani
Team A And Team B Plotting
'Coup de Etat' Inside UMNO...

Received this from someone...


1) Umno is caught up, both in an internal power struggle between team A (led by PM) and B (led by Zahid) plus another "external crisis" to win over the other BN parties especially those from Sarawak and Sabah to support the pro Hudud bill (RUU 355). It does NOT look likely to be passed through this Parliamentary session (until 6 April).
2) Pas is also facing an internal power struggle (Hadi's position is getting weaker by the day) with many members feeling betrayed by Hadi's close relationship with PM and talks of Pas working together with Umno. Hadi's people (such as Nik Abduh) seem to be losing out in the current divisional elections. Grassroots sentiments in PAS and UMNO seem to be building up against and unfavourably to both presidents.
3) Rumours of Team B taking a stronger position might suggest why Nazri (seems to be an ally for now of team B by his recent attacks against Annuar Musa and Rahman Dahlan of Team A) is keen to having this public debate with Dr M on high profile issues such as 1MDB, which is likely to put more public pressure on PM. This is why that team A seems to be against this public debate.
4) One possible outcome on RUU 355 is for PM to quietly abandon it and let Team B "carry the baby" and take the blame for the failure. Zahid of Team B had been tasked by Najib to promote it, even suggesting that the government would take over the bill.
5) Heard that "big mama" is now in charge of a strategic unit to "take out or neutralize" team B and I_P, who is thought to be with team B now.
6) It would only be a matter of time before the power struggle in Umno leads to an open warfare and it is doubtful that the next GE would be held this year.
7) The decision by China to impose controls on the outflow of funds for the China purchasers of Country Garden project in Johor, is complicating matters and would adversely affect the power struggle in Johor between PM and MB there, who may be backed by the S there.
8) If RUU 355 is debated and does not get passed, then PM and Hadi are in big trouble. If it is quietly dropped or not brought up for first reading for this Parliamentary session, which is most likely the case, then PM can save face and blame Zahid and others for it but Hadi may be in trouble and may not survive a leadership challenge in Pas.
9) Sultan of Perak's recent statement about the independence of judges seems to suggest that the judiciary should not be subservient to the executive (PM) and must be prepared to stand up against political interference. Another sign that the rulers might not be happy with what's happening now.
10) Interesting times ahead, look out for further signs of the power struggle. For example, let's see if Team A is going to stop the public debate between Nazri and Dr M, now scheduled on 7 April at Dewan Karangkraf (Sinar Harian hq) in Shah Alam.
Ostb :
Kepada Ahli MT UMNO, Zahid, Hisham please be serious. You really cannot expect UMNO to survive the next GE14. Even if you win, the win will be super, razor thin. You will definitely lose more States. Kedah, Terengganu are sure goners. Perak might go too - only two seat majority in Perak.
Sabah might fall to the Opposition. Worse, Johor and Negeri Sembilan may see serious gains by the Opposition.
The cure for all these problems (for now) is just tell Najib and wife to leave. Such a simple cure. Just one individual person has to exit. Take his garbage with him. Problem solved.
Do you seriously expect to face the GE14 with Najib heading the gomen?

- ostb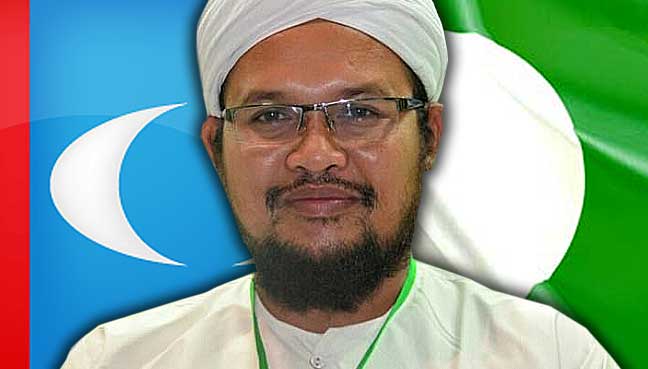 PAS kasi warning kat Azmin Ali...
Timbalan presiden PKR diingatkan supaya jangan terlalu selesa selepas menyerang PAS kerana mereka yang membantu dan membenarkan beliau dan partinya memerintah Selangor.
Menyifatkan Datuk Mohamed Azmin Ali umpama "kacang lupakan kulit", Ketua wanita PAS Selangor Wan Hasrina Wan Hassan mengingatkan beliau supaya jangan mencabar kesabaran parti Islam.
"Azmin sepatutnya sedar dia pegang kerusi menteri besar atas cadangan PAS. Kalau nak harap parti dia sendiri, namanya langsung tiada dalam senarai," kata Hasrina dalam kenyataan hari ini.
PKR memimpin kerajaan Selangor, yang disertai PAS, DAP dan Amanah, hasil daripada persetujuan dalam kalangan pembangkang sejak pilihan raya umum ke-12.
Hasrina berkata demikian selepas menteri besar Selangor itu menyindir rancangan PAS untuk menawan Selangor dari partinya.
Baru-baru ini, menjelang PRU-14, Ketua Pemuda PAS Nik Abduh Nik Aziz mengesahkan rancangan presidennya, Datuk Seri Abdul Hadi Awang menawan Selangor.
"Muslimat Selangor akan akur sekiranya parti memutuskan hubungan dengan PKR dan tiada sebarang kerjasama lagi menghadapi PRU-14 akan datang," kata Hasrina.
"Orang yang lupa daratan tidak boleh dijadikan kawan."
Sementara itu, Pengarah Pusat Penyelidikan PAS Pusat Dr Zuhdi Marzuki dilaporkan berkata PAS mempertimbangkan untuk "mengambil semula" kerusi yang "dipinjamkan kepada PKR" di Selangor, termasuk kerusi Parlimen Azmin, Gombak.
"Sekiranya PAS pusat menetapkan keputusan untuk putus hubungan dengan PKR pada muktamar yang dijadualkan penghujung April nanti, kita mungkin mengambil balik kerusi di Selangor termasuk kerusi PKR," katanya kepada Utusan.
"Bukan saja di Selangor, malah kerusi di seluruh negara kita ambil balik." - fmt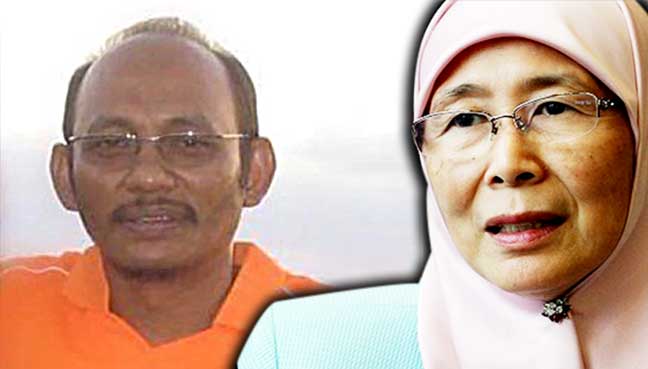 Three strange abductions and
There is something strange going on in the country. Pastor Koh was abducted by a team of about 15 men in three SUVs, two cars and two motorbikes. The abductors even filmed the abduction.
Then we found out that Joshua Hilmy a Malay turned christian preacher has also gone missing since late last year. People who know him suspect he has also been abducted, along with his wife. Police reports have been made yet until today the Police have no clue about the whereabouts of Joshua Hilmy.
Now here is news that yet another man, social activist Amri Che Mat(pic,above) was also believed to have been abducted in November 2016. His family believes that a group of men also in a group of cars and motorbikes were responsible for his disappearance.
Ostb : If indeed Amri Che Mat from Perlis, Joshua Hilmy and Pastor Koh(pic above) were abducted by the same gang, then the Police must advise us so. Whether the Police have completed their investigations or not, they should have some leads or some profiling that they can share with the public.
If the Police can say conclusively that these three abductions were totally unrelated then the Police must tell us so.
The public is worried that there indeed is a gang that is going around planning and abducting people.
In all three cases, the common factor is that no ransom demands have been made. This indicates some other motive, other than ransom money. I believe love triangles, Ah Long revenge, business rivalries, nasty mother-in-laws can all be ruled out. There appears to be more sinister elements at work here.
In two of the cases (pastor Koh and Amri Che Mat) the presence of multiple vehicles and many men has been witnessed.
With so many cctvs fixed along our roads and highways the complete absence of clues in the pastor Koh abduction (more than a month now) is quite mindboggling.
The Amri Che Mat and Joshua Hilmy (pic above) abductions are even longer (more than four months) with still no clues as well.
In 1998, the son of Muhd Taib the former MB was kidnapped. The Police shot dead the whole gang of kidnappers - within hours of the release of the boy. Among the five people the Police shot dead was a pregnant woman - the wife of one of the kidnappers. That was before the age of cctvs.
Something is not right.- ostb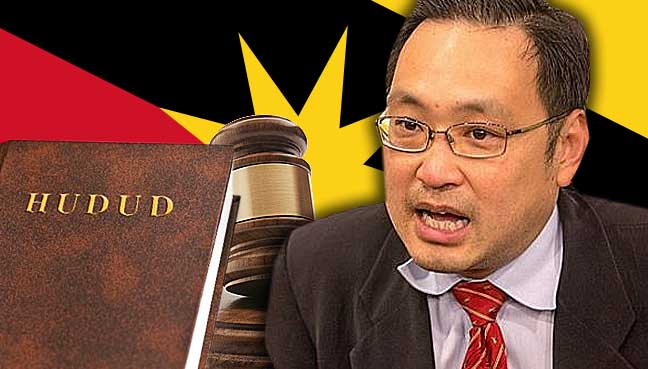 Sarawak BN MPs may waver on their stand against Hadi's bill if the government tables it as specifically applying to Muslims in Peninsular Malaysia, while excluding non-Muslims and East Malaysians.
Sarawak DAP leader Chong Chieng Jen said if a deal had been struck with assurances given that Sarawak would be unaffected by the bill, that would be a "clear-cut lie".
"After the passing of this bill, like all other bills, all it takes is for one signature of one minister before it will be extended to Sarawak. It will no longer require another debate or resolution in Parliament before it is extended to Sarawak," Chong said.
He was responding to a front page report by Sin Chew Daily today, which stated that it had received a preliminary draft of the Syariah Courts (Criminal Jurisdiction) Act 1965 (Act 355) that will replace PAS president Abdul Hadi Awang's private member's bill.
In order to appease the non-Muslims and East Malaysians, the newly amended bill, scheduled to be tabled in the current parliamentary sitting, will specify that it is applicable to West Malaysian Muslims only, and will not be applicable to non-Muslims and East Malaysians, Sin Chew Daily reported.
Chong said Sarawakians would still be exposed to punishment under the new laws.
"There are hundreds of thousands of Sarawakians now working in West Malaysia. They will be subject to the same law under Act 355 once it is passed. All of them are Sarawakians, but their constitutional rights to a single system of criminal justice will be changed," Chong said.
He added that new harsher Islamic laws would be discriminatory and would amount to having two punishments for one offence.
"This amounts to a back-door violation of the constitutional framework of our country," he said.
Chong charged that the Sarawak BN government, led by Chief Minister Abang Johari Openg, would not stand up to Putrajaya.
"All Sarawak BN MPs have been gagged by Abang Johari not to speak on this matter anymore," Chong told reporters at the state's party headquarters today. There are 47 BN MPs from East Malaysia, of which 25 are from Sarawak.
"The whole development of this has shown that, in the BN, Umno's wishes will always prevail. The other parties have no say. The value of PAS to Umno exceeds the value of all the other BN components put together," he said.
He added that the only way to "protect the integrity" of Malaysia's secular constitution was to "make Umno the opposition"..
"That is the only chance we have to stop 'Umnoism' and its culture from continually eroding our rights," he said.
In its report, Sin Chew quoted a source as saying that the government's draft may only make minor changes to Hadi's proposals, such as increasing the fine from RM5,000 to RM50,000 (instead of RM100,000 as proposed by Hadi), caning from six strokes to 100, and the maximum jail term from three years to 20 years as opposed to Hadi's 30 years..
The source added that the last sitting of the current parliamentary session would be extended from April 6 to April 11 to facilitate the adoption of the government's bill.
BN is expected to hold a supreme council meeting on March 28. - fmt
kecuali Hadi dan ahli2 parti lebainya...
cheers.