Setiausaha Agung DAP, Lim Guan Eng berkata, di saat PAS dilihat 'sanggup berpeluk' dengan UMNO, parti pembangkang yang serius mahu menentang kerajaan kleptokrasi UMNO-Barisan Nasional (BN) harus bersatu padu.
Berucap di Persidangan DAP 2016 hari ini, beliau berkata, Pakatan Harapan dengan penyertaan parti baru, Parti Pribumi Bersatu Malaysia (PPBM) dalam blok pembangkang itu perlu dengan segera menyatukan rakyat demi menyelamatkan Malaysia.
"Walaupun PAS sanggup berpeluk dengan UMNO dan tidak mempedulikan perbuatan BN menjadikan Malaysia sebuah kleptokrasi demi kepentingan politik sendiri, kita mesti mempunyai keberanian untuk menyatukan rakyat bagi menyelamatkan Malaysia.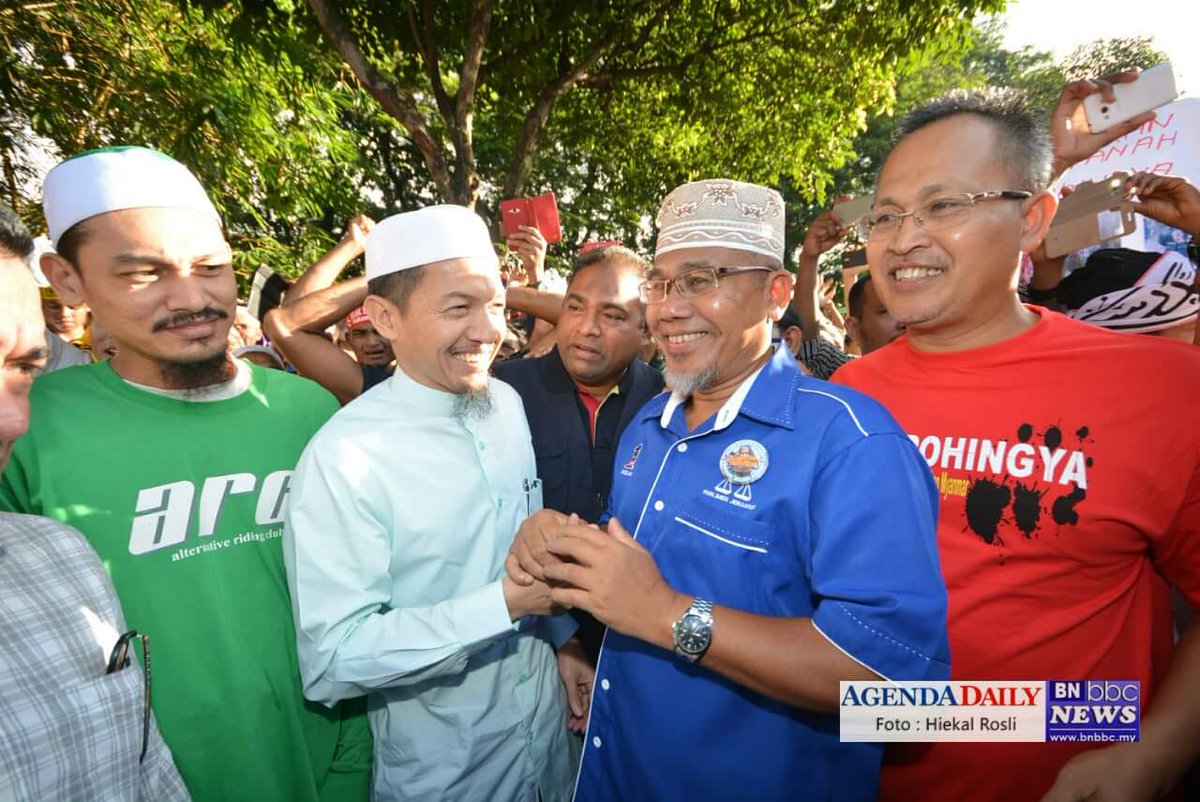 "Dan ini termasuk bekerja bersama-sama dengan Tun Dr Mahathir Mohammad, bekas Timbalan Perdana Menteri Tan Sri Muhyiddin Yassin dan menggalakkan ahli-ahli biasa UMNO dan PAS untuk menjadi sebahagian daripada perubahan ke arah Malaysia yang lebih baik," katanya.
Beliau turut menyatakan keyakinan terhadap gabungan baharu itu yang menurutnya mampu untuk membina naratif baru dalam menentang UMNO-BN dalam Pilihan Raya Umum Ke-14.
"Bolehkah DAP dan rakan-rakan gabungan memberi harapan kepada rakyat Malaysia bahawa bersama-sama kita boleh mengubah keadaan dengan segera?
"Adakah kita mempunyai naratif yang menarik untuk memenangi pilihan raya umum akan datang bersama-sama rakan sekutu kita? Dan bolehkah sebuah tawaran baru menjanjikan hari esok yang lebih baik untuk semua rakyat Malaysia? Saya yakin, kita boleh!" ujarnya. – Roketkini.com
Nabi tak ada RM2.6b, 1MDB pun
The prophet didn't have RM2.6b or 1MDB...
Umno may think that their president Najib Abdul Razak is god sent but he is far from a prophet, said former premier Dr Mahathir Mohamad.
"The prophet of Islam, he did not have RM2.6 billion in his account and 1MDB," Mahathir said at a press conference on the sidelines of DAP national convention in Shah Alam today.
He was making reference to the RM2.6 billion found in Najib's bank account, and Najib's brainchild, the troubled state investment fund 1MDB.
At the opening of the Umno wings general assembly, Umno de facto number two Ahmad Zahid Hamidi was reported had said that Najib was fated by Allah to become party president.
Two days later in his opening speech for the main body AGM, Najib had said that he was following the example set by Prophet Muhammad by turning the other cheek against those who attacked him.
Meanwhile, Mahathir also poked fun at Umno Wanita chief Shahizat Abdul Jalil, who said she was aghast that Mahathir and DAP veteran Lim Kit Siang were now "kissing" (cium mulut).
She was making a reference to the new alliance between the former foes.
"I haven't come to that stage of liberalism yet. One can be liberal but even liberalism has its limits.
"I mean if you all turn up naked, I would object," he told reporters.
He also assured that DAP was not as liberal as their opponent claim they are.
"(DAP secretary-general) Lim Guan Eng is not that liberal, he still holds on to Malaysian values.
"We are not going to hell, Guan Eng is not going to marry another man," he said in jest.
DAP had become Umno's enemy number one at the latter's annual general assembly this year.
Najib had said that if a DAP-led opposition comes to power, Malay rights and privileges and Islamic institutions would be eroded. - mk
This guy was wanted for murder 5 years ago.
Then he goes around and get his Datoship...
IGP Says Slain Dato Ong Teik Kwong
Had No Previous Criminal Record...
This is from The Star...
This is an old news report about the murder of some gang member. The news says,
"Polis sedang memburu lima lelaki yang dikenal pasti sebagai suspek kes pembunuhan seorang lelaki yang ditetak dalam keadaan ngeri di Lorong Rumbia Satu, Sungai Nibong . . . Suspek adalah Ong Teik Kwong @ Ah Kwong 27.."
Here is Free Malaysia Today...
How can this embarrassing news report (from about five years ago) appear on the Alternative Media so quickly, AFTER the IGP said this Dato Ong had no previous criminal record? I received it via WattsApp. Who will have such news clips "in their files" ?
Certainly this old news clip will be embarrassing to the IGP.
I also received a video clip which is supposed to be that of the slain Dato's driver getting a beating from his triad colleagues. (Thats what I assume because there is no text at all. But the fellow is speaking in Hokkien and you can hear what he is saying.) The video clip has gone viral and many people have seen that clip.
There is more, much more to this shooting than what is being made known.

The shooter is no mental case.

The driver who "was arrested" has been released so quickly. Then he went and got that beating.

Talk is the dead Dato, just 32 years old, is in the "entertainment" business in Penang.

Talk is he has a boss - in KL.

By the way, what happened to that case where that 6 feet 4 inch Indian fellow was found hanging under that arch along the Federal Highway? Still suicide? - ostb
Are the Police hands tied by "DEDAK" too?...
The Datuk businessman who was shot dead by his bodyguard following an argument, was a top boss in Gang 24, said the police.
OCPD Assistant Commandant Mior Faridalathrash Wahid said police were aware of Datuk Ong Teik Kwong's and the gang's illegal activities for some time.
"We have information that the members were involved in protection rackets but no one has come forward to lodge a police report. The gang is also involved in illegal money lending.
"It is one of 14 secret societies being monitored by us. We have a list of the members and know their movements," he said when contacted on Saturday (Dec 3). - THE STAR/ASIA NEWS NETWORK
Phew!.......just for a moment I thought that the KPN/PIG (Police Inspector General) and his men were sleeping on the job.
You cannot blame me....it has been known to happen before.
But this time, according to OCPD Mior the police were aware that the dead Datuk was a top boss in Gang 24. Good one Mior....you are on the ball!
Tapi Mior, boleh tolong explain why you need some one to lodge a police report before you take that Datuk and the other members of his gang into remand for questioning and further investigation....and maybe even arrest them ?
You tell us that they are involved in protection rackets, illegal money lending and other illegal activities....you have a list of their members and know their movements.....do you mean to tell me that you knowingly allowed them to go about doing these illegal activities because no one lodge a police report?
What happened to the police taking the initiative to stop a crime BEFORE it happens?
Are your hands tied by "dedak"?
Aisehman why like this? You pulled in Rafizi, Tony Pua, Maria Chin, Nurrul....and a host of other opposition leaders for questioning and put them on remand...... and none of them....I repeat NONE OF THEM.....were involved in any protection rackets, any illegal activities or illegal money lending....??? So how?
And if you have knowledge that this Datuk is the top boss of Gang 24 do you not think it is your duty to inform which ever bloody Sultan who conferred the Datukship on the top boss of gang 24 to withdraw the datukship from him and return to that top boss any dedak given to the Sultan by the top boss as a donation for awarding the datukship upon him?
Or are you worried that if you do so you yourself, will not be getting your datukship from the same Sultan?
See how complicated things get when you do not do your job properly?
Have you check whether the gun and bullets used in the killings came from that gunshop belonging to the KPN's daughter?
You must check all this and inform the public that the daughter of the KPN was or was not involve in selling the gun and the bullets to the bodyguard that murdered the Datuk....but maaf Mior.....here am I telling you how to do your job! Who am I to do so?
Well Mior..... for one I am a concern Malaysians who have watched with sorrow, anger and contempt at the manner PDRM has conducted itself under this Khalid .
For another my late father was Director of CID under Tun Haniff...and he did served in Penang as HSB (Head of Special Branch) and I know that my late father would be sad to see how PDRM has now become an object of ridicule and contempt by Malaysians for the manner it has conducted itself in these last few years under this Khalid.
And you telling us that you need for someone to lodge a police report before you can act against a known top boss and members of gang 24 is ample evidence of the depths that PDRM has now sunk to!
And a KPN that allows his daughter to trade in guns and bullets that could be used to kill his own officers is more that ample proof that PDRM is now sleeping in the same bed as this corrupt Umno led BN government.
God help us all! - steadyaku47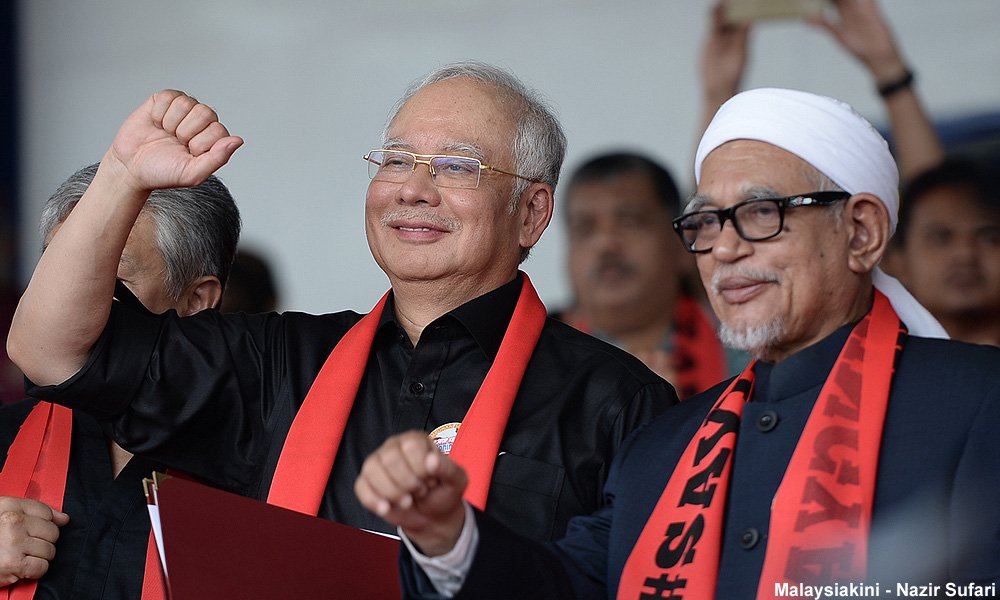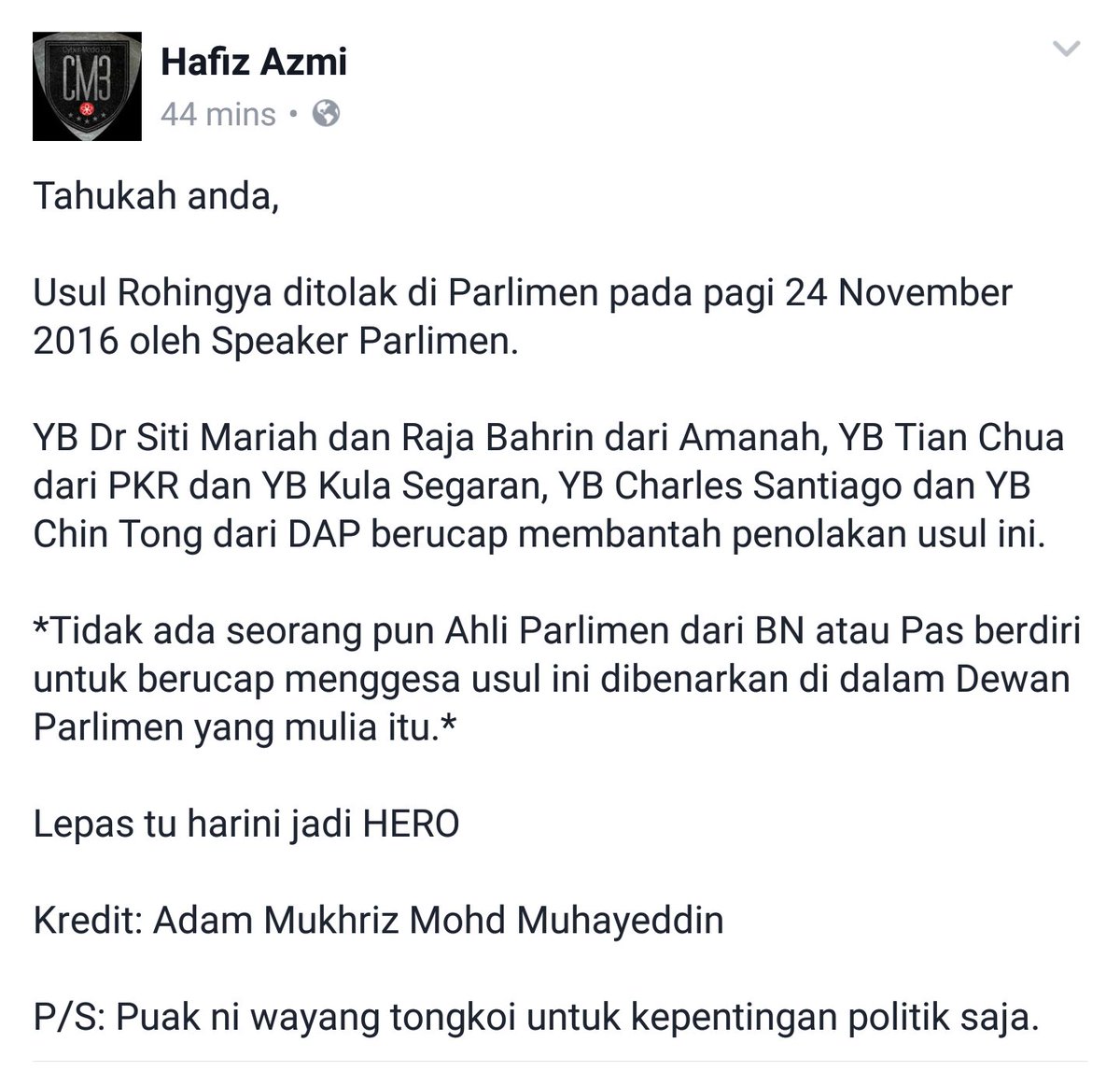 Allah's chosen one was not lifting a finger for the Rohingyas before he needed his photo-op. This was how much the govt "cared" before:
"(May 19): A motion to debate in Parliament the plight of Rohingya and Bangladeshi migrants stranded in boats off Malaysia's western coast was rejected today.
Sungai Siput MP Dr M. Jeyakumar Devaraj, who filed the motion, expressed disappointment at the rejection, adding that the House had missed an opportunity to discuss ideas that could help Putrajaya deal with the crisis.
Jeyakumar told reporters in the Parliament lobby that the matter should be debated on humanitarian grounds. In his motion filed, Dr Jeyakumar said Malaysia's policy to push back refugee boats to sea was an irresponsible action that tarnished the country's image in the international arena.
Nik Abduh cool saja dengan Kak Ijat...
The motion also carried suggestions by a few Pakatan Rakyat MPs for the government to consider, including discussions with other Asean countries on ways to address the refugee crisis responsibly.
"We just want to discuss this crisis, it is not about slamming the government. Discussions and solutions are needed," Dr Jeyakumar said.

The refugee crisis was also intertwined with human trafficking, the PR MPs added in the motion.
Nampak dak Jam Tongkoi aka Jam Jamban...
Malaysia is the current Asean chairman, and has been warned by opposition politicians that its failure to be proactive in providing humanitarian assistance to the boat refugees and to pressure Myanmar to stop persecuting the Rohingya minority would render its chairmanship useless.
Malaysia has been turning away refugee boats and preventing them from coming ashore, drawing international and domestic criticism. The United Nations has reminded Malaysia and other countries in the region of international obligations to rescue the migrants and to prevent their refoulement if they faced persecution at home." Hypocrisy is the one thing he does well.
Orang Melayu mudah lupa. - Anonymous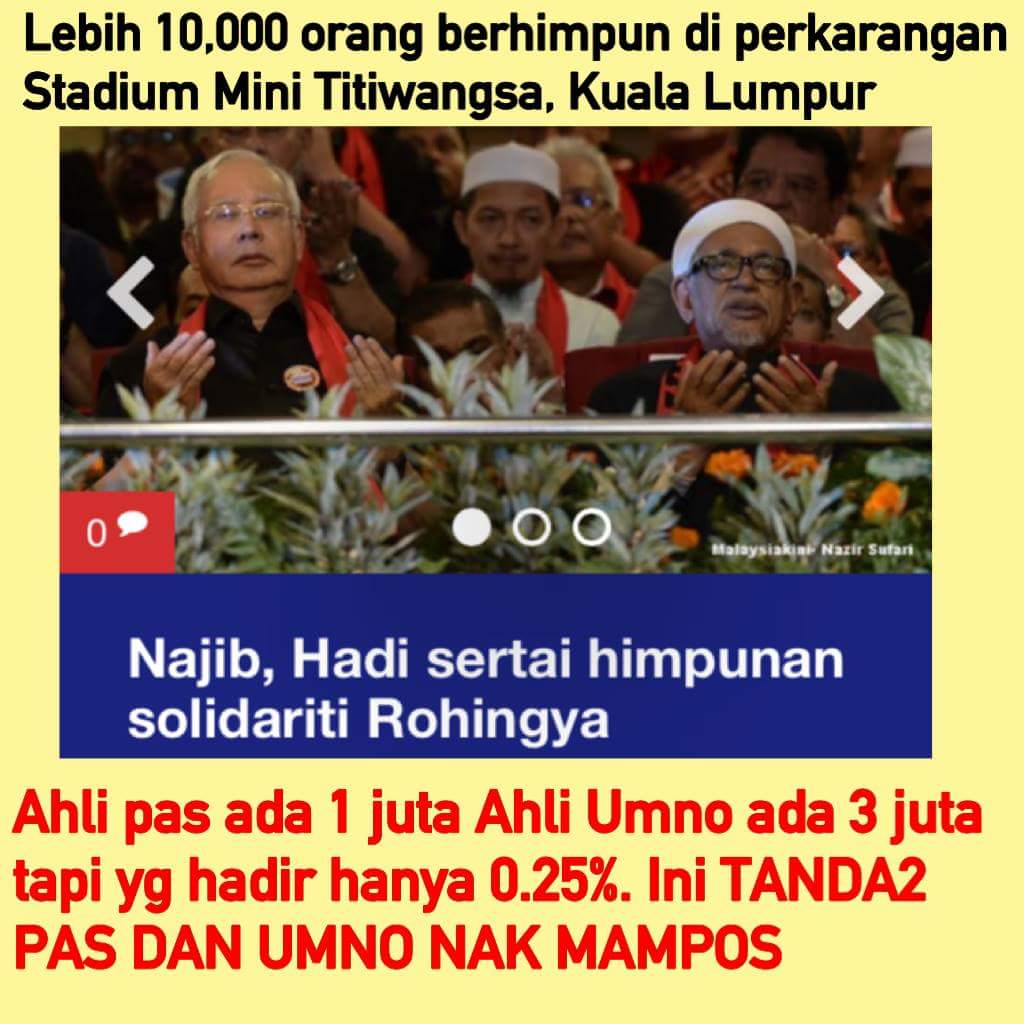 cheers.