Maria Chin Abdullah mendedahkan beliau tidak dibenarkan memakai pakaian dalam ketika ditahan selama 10 hari di bawah Akta Kesalahan Keselamatan (Langkah-langkah Khas) 2012 atau Sosma, bulan lalu.
Pengerusi Bersih 2.0 itu berkata, 8 pegawai Cawangan Khas bergilir-gilir menyoal siasat beliau dari 9 pagi hingga 6 petang, selain dipaksa berjalan ke bilik soal siasat dengan gari dan memakai kaca mata hitam.
"Saya juga tidak dibenarkan memakai pakaian dalam dan ini membuatkan saya berasa sangat lemah terutama apabila semua penyiasat adalah lelaki," katanya ketika berucap pada perasmian Laporan Hak Asasi Manusia Suaram 2016, hari ini.
Beliau berkata, walaupun kebanyakan penyiasat itu profesional, mereka bagaimanapun ada membuat beberapa komen yang tajam dan menyakitkan tentang keluarga serta rakannya.
Maria juga langsung tidak tahu di mana beliau berasa dan tidak dibenarkan menggunakan namanya.
"Jadi, peguam dan keluarga, malah anda sendiri tidak tahu di mana anda berada dan ketika di sana, saya hanya dirujuk sebagai 378. Malah, saya tidak dibenarkan menjawab apabila dipanggil dengan nama. Saya hanya 378."
Beliau berkata, polis dilihat cuba membentuk satu teori konspirasi bagaimana Bersih 2.0 menerima pembiayaan daripada yayasan dikaitkan dengan jutawan, George Soros.
"Dari 2010 hingga 2011, kami menerima dana daripada Soros, tetapi kami sudah mengisytiharkannya.
"Pada 2012, kami memfailkan saman terhadap New Straits Times dan akhbar itu meminta maaf kepada kami kerana melaporkan kami mempunyai AS$20 juta. Sekarang ialah RM3.2 bilion daripada Soros dan kali ini (tuduhan itu) tidak akan berjaya."
Turut hadir ialah aktivis, Hishamuddin Rais yang bercakap mengenai dana Soros.
"Pada 1967, saya tonton filem James Bond dan mahu menjadi seorang perisik.
"Saya lebih suka bekerja untuk CIA dan saya meninggalkan akaun bank saya di mana-mana dengan harapan Soros akan beri saya wang.
"Saya disoal siasat polis dan paling teruk saya masih tak dapat 1 sen pun," katanya yang disambut dengan gelak tawa hadirin. - MToday News Sdn Bhd
Menteri Kewangan yang suka membisu...
Sehingga ke hari ini Najib Razak belum jawab soalan saya di Parlimen dalam sidang lepas: "kalau kena bayar RM14 bilion (atau USD3.5 bilion hutang 1MDB yang dituntut oleh IPIC melalui proses arbitrasi), macam mana kerajaan bercadang mencari wang?"
Apabila laporan Financial Times menyebut sumber dalaman mengesahkan hutang yang dituntut IPIC yang berjumlah RM30 bilion akan mula dibayar dengan bantuan Kerajaan Cina, Dato' Seri Najib masih diam membisu.
Apabila saya tanya beliau ura-ura satu GLC besar akan disenaraikan di Singapura dan sebahagian besar saham yang bakal diterbitkan akan dikuasai oleh pihak yang ada hubungan dengan Kerajaan Cina, Dato' Seri Najib terus membisu.
Patutlah dia lantik seorang lagi Menteri iaitu Datuk Johari Ghani untuk menjadi Menteri Kewangan II. Malangnya, Menteri Kewangan II pula ada jawapan piawai juga: kalau Dato' Seri Najib diam membisu, Dato' Johari terkenal dengan jawapan "saya tidak tahu".
Perhatikan prestasi penggulungan perbahasan belanjawan di Parlimen buat kali yang pertama oleh Dato' Johari.
Saya cukup berharap beliau bukan jenis yang menyerang peribadi dan fokus kepada hujah berfakta, namun kalau sudah Umno memang serang peribadi itu sudah sebati.
Saya tanya rasional mencukai rakyat dengan GST untuk diberikan BR1M kerana kesan GST yang menaikkan harga setiap tahun itu menyebabkan nilai BR1M semakin berkurangan. Ini soalan ekonomi yang asas dan sepatutnya mudah dijawab.
Sebaliknya beliau menyerang peribadi saya dengan menyebut bagaimana anak saya disekolahkan di sekolah swasta dan kami ke hospital swasta; untuk memberi gambaran saya orang kaya yang tidak faham kepayahan rakyat.
Padahal anak saya baru berumur 3 tahun dan belum bersekolah. Kemudian saya ke klinik swasta biasa sama ada Dr Zailan atau di Klinik Bukit Antarabangsa.
Bila saya tanya tentang bagaimana mahu membayar hutang 1MDB, jawapannya lebih mudah: ahli-ahli parlimen BN bangun menjerit dan membuat bising, kemudian Dato' Johari terus duduk tanpa menjawab.
Mudah rupanya jadi Menteri Kewangan II. - rr-f/bk
Misteri kenaikan mendadak pengundi utk PRU14...
Dewan Negara appears to be a place for government or party cronies,
after appointment of six Umno leaders as senators...
Criteria for appointments to the Dewan Negara seem to have deviated from the objectives outlined in the Federal Constitution, a law expert said, noting that it is now a place for government or party cronies.
Dr Abdul Aziz Bari said the Dewan Negara, as the second chamber of Parliament, was for members of society who could not be elected to the Dewan Rakyat. And this, he said, included representatives of minority groups like the Orang Asli, pensioners or professional groups. But Aziz pointed out that the Dewan Negara now appears to be a place for government or party cronies.
He said this in response to the appointment of six Umno leaders, including Umno Youth vice-chief Khairul Azwan Harun, to the Dewan Negara .
DAP national vice-chairman Teresa Kok said it was illogical and unacceptable for the government to appoint Azwan after his allegedly "racist" speech at the Umno Youth gathering during the party's general assembly.
On Nov 30, during the gathering, Azwan warned the Chinese of a possible backlash should they continue to reject Barisan Nasional. Kok, the Seputeh MP, also urged the government to make known the criteria for the appointment of senators.
Aziz said Dewan Negara members were suppose to revise Bills passed by the Dewan Rakyat and speak up for the minorities.
"But senators are also appointed to become Cabinet members. It no longer represents the ideals of the second chamber," he added.
Aziz said nothing much could be done unless there was a change in the Federal government and for the new administration to return to the spirit of the constitution.
The former law professor at the International Islamic University also wondered who would Azwan represent, going by the criteria set in the constitution for appointment to the Dewan Negara.
Shad Faruqi, the Emeritus Professor of Law at UiTM and a newspaper columnist, said senators represent geographical areas and special interests rather than voters.
Under Article 45, the Dewan Negara consists of 44 appointed and 26 indirectly appointed senators. The 26 represent the 13 states in the Federation while the 44 are appointed by the Yang Di Pertuan Agong.
However, under Article 45 (2), the king appoints persons who "have rendered distinguished public service or have achieved distinction in the professions, commerce, industry, agriculture, cultural activities or social service or are representative of racial minorities or are capable of representing the interests of aborigines." - fmt
Was it a bid to humiliate Dr Mahathir?
This is not our culture of softness and subtlety. This is not our tradition of grace, elegance and refinement. But we chose to be uncouth in our conduct for political purpose. We don't score Brownie points by stooping that low!
There is a lesson in the saying, "There is a set of rules and a code of conduct that I believe that you should adhere to in life." And it is an important lesson to bear in mind.
When Dr Mahathir Mohamad was invited a month ago in November to the installation of the new Yang di-Pertuan Agong at Istana Negara on Dec 13, it was the right thing to do. The names of invitees would have been vetted through before invitations were sent out. That is the rule. At this stage, it must have been considered and decided that Dr Mahathir was most-deserving to be invited for the occasion - among others.
So the invitation was sent out to Dr Mahathir who graciously accepted the invitation, to be sure, most gratefully. That should have been the end of the story.
But it wasn't so. In a decision that befuddled the mind, this invitation was arbitrarily withdrawn without any reason given. The purported letter dated Dec. 5, 2016, signed by the Keeper of the Ruler's Seal Syed Danial Syed Ahmad mentioned that "no seat would be provided at the event for Mahathir and that the former premier was being informed of this beforehand to spare him any embarrassment if he attended."
It is very strange that instead of simply withdrawing the invitation, the letter went even further by unnecessarily mentioning that "no seat would be provided at the event" and suggested that he would be embarrassed if he attended the installation.
Was it felt that Dr Mahathir would still stubbornly attend the installation in spite of the invitation being withdrawn? Would Dr Mahathir really do that? Would he be that thick-skinned? Come on, let's accord that man some decency and dignity!
If he was uninvited with what face would Dr Mahathir insist in going for the ceremony? It is a preposterous assumption that he would.
It is not clear whether this was the decision of the Conference of Rulers. Malaysians are wondering simply because the rulers are supposed to be apolitical, they are supposed to be above politics. But the decision apparently appears to be very much political in nature.
It would clear the doubts if the Conference of Rulers were to state that it was their decision to un-invite Dr Mahathir. It would put an end to unnecessary speculations. If this was done, then the prime minister's alleged role in this unfortunate episode will not become an item of gossip and a rumour.
As it stands, the people believe that the action to drop Dr Mahathir from the official list of invitees was a deliberate attempt to insult and humiliate Dr Mahathir. If this wasn't the case, a clarification as to why the invitation was withdrawn would be greatly helpful. - P.Ramakrishnan
Makamah US tak benarkan keluarga Jho Low
ubah aset 1MDB yang dicuri...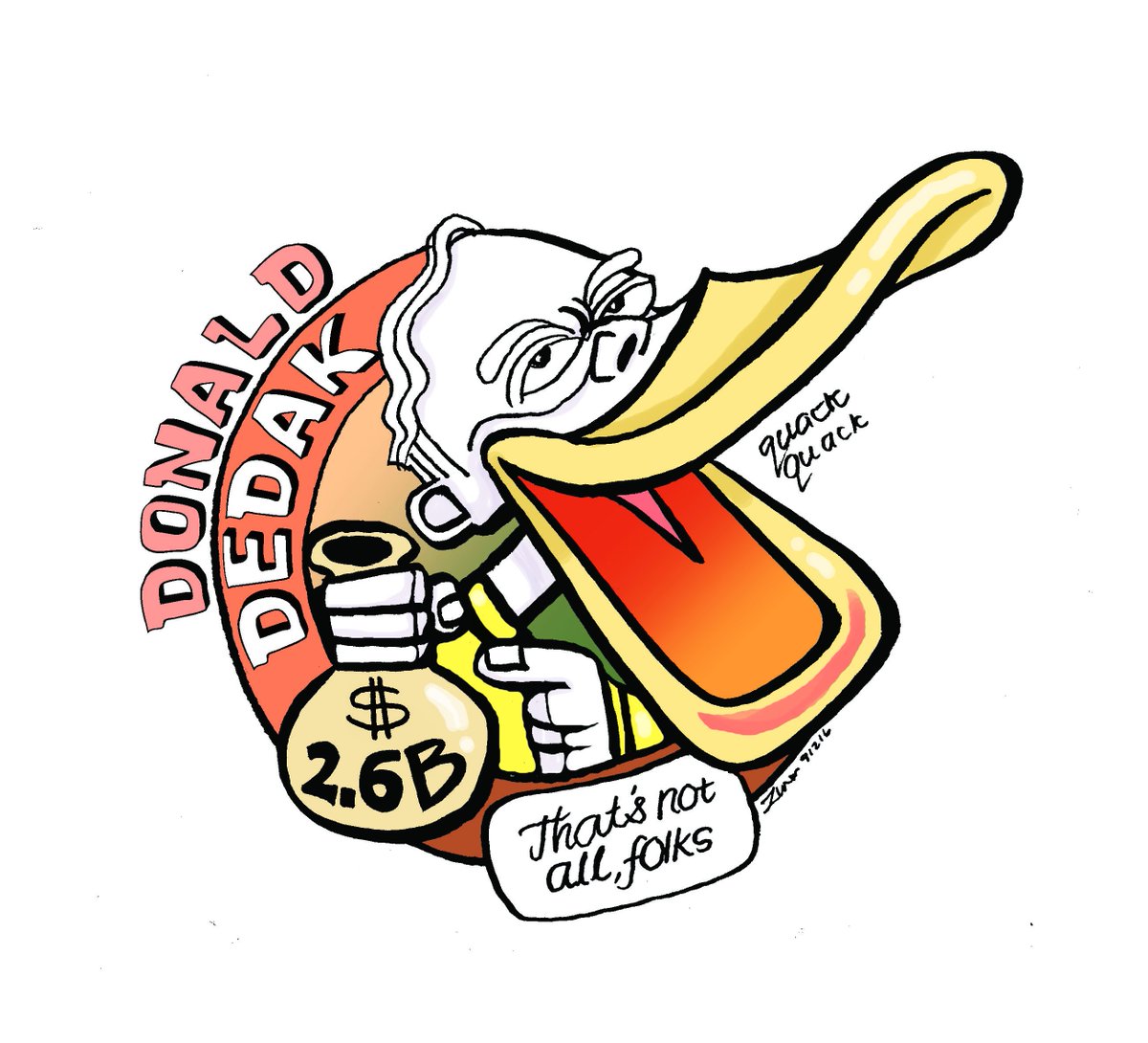 cheers.