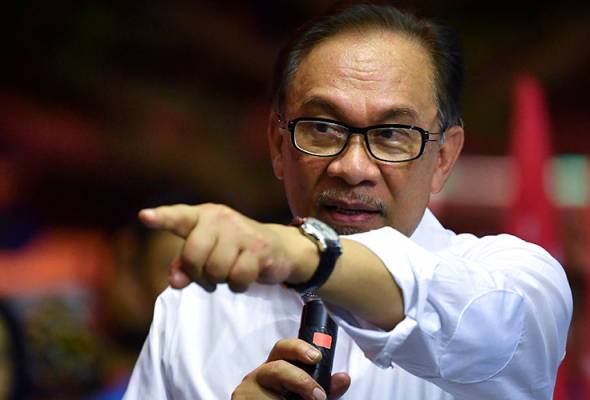 UMNO, parti yg bangsatkan Melayu yang hilang kuasa setelah 61 tahun berkuasa mahu Anwar Ibrahim, peliwat super tegar dua kali masuk penjara, sebagai bakal PM ke8. Inilah kabilah munafik yang mengaku Islam tetapi menafikan kuasa Allah yang musnahkan kaum Nabi Luth dalam al-qur'an. Nampak sangat kerakusan UMNO hendak menumpang tuah dan sial Anwar Ibrahim yang super gelojoh bermimpi menjadi PM setelah keluar dari penjara.
Sebenarnya pucuk pimpinan UMNO yang kebanyakannya bakal menempah bilik di Sg Buloh mahu menyelamatkan diri mereka dan harta haram hasil korupsi dan salahguna kuasa dari tindakan kerajaan PH pimpinan Tun Mahathir. Tun Mahathir telah berikrar kepada rakyat beliau akan bertindak terhadap para koruptor tanpa belas kasihan. Ini amanah rakyat, dan Tun M tetap melaksanakan amanah itu.
Pada perkiraan pemimpin koruptor UMNO kalau Anwar jadi PM nasib mereka sebagai koruptor akan terbela. Bomoh Ponorogo mungkin melalui bacaan mantranya 'blu osen' UMNO dapat diselamatkan kalau peliwat super tegar jadi PM. Burung terbang jangan dipipiskan lada. Jangan ingat panas sampai ke petang rupanya hujan airmata di tengah jalan.
Untuk pengetahuan ahli-ahli UMNO yang buta politik, pekak badak, pemakan dedak gred E, minda JKKK, UMNO akan kulluhum tak lama lagi. Kabilah pemimpin korupnya akan diheret ke mahkamah sebelum akhir tahun ini. Banyak akan tinggal di Sg Buloh dan Kajang berpuluh tahun, dan besar kemungkinan mati di kediaman baru mereka. UMNO tidak boleh diselamatkan lagi kerana ia bakal diharamkan sebab pucuk pimpinannya melanggar undang-undang UMNO sendiri tanpa mengadakan pemilihan parti menurut keketapan undang-undang tubuhnya sendiri. Ini bermakna Najib dan MKT membunuh UMNO. Mereka inilah penghianat UMNO sebenarnya.
Sekiranya Anwar cuba menggugat Tun Mahathir dan menimbulkan masalah kepada kerajaan PH jangan salah ibu mengandung kalau PKR ditendang keluar dari PH kelak. Anwar hanya boleh menyalak, berkokok, berpidato tetapi kemampuan intelek dan kemiskinan ilmunya tidak mampu mengatasi krisis kewangan dan ekonomi negara sekarang. Hanya bininya yang memuji melangit kononnya suaminya dikatakan Menteri Kewangan terbaik. Kebanyakan ahli UMNO tahu Anwar banyak menabur 'pink form' saham Bumiputra dan juga berbagai projek kepada para penyokongnya dalam dan luar UMNO. Seperti Najib 'cash is king', dan Anwar jadikan 'pink form dan projek as king' .
Jangan terkejut beruk kalau sebahagian besar pucuk pimpinan UMNO, bekas menteri dan timbalan menteri dan pegawai-pegawai tinggi GLC akan diheret ke mahkamah sebelum akhir tahun ini. Hari ini beribu ahli UMNO sudah menyertai Bersatu kerana mereka tahu UMNO masih dikuasai oleh para penyamun politik yang bakal bermukim di Sg Buloh. Kalau Anwar silap langkah, terlalu gelojoh dan bongkak, cuba bermain api besar kemungkinan dia akan kecundang, dan kembali meratapi nasib, tuah hilang sial yang mendatang. - Yahaya Ismail
Najib Shed Tears : Dr.M Has Proven (UMNO) Malays Are Lazy and Untrustworthy...
UMNO's General Assembly, it's first since the Malay nationalist party lost the federal government in the May 9 general election, has come to its end. This could be the party's last assembly before it disintegrates – ending its journey of corruption, racism and extremism. All is not well with the party as the sinking ship continues to sail without a clear direction.
It's newly crowned captain – Zahid Hamidi – has failed to convince the 3,000 delegates that his leadership is a force to be reckoned with. He quickly unleashed Chinese philosopher Lao Tzu to counter criticism that his leadership sucks. He insisted his leadership isn't just an empty vessel. Yet, when grilled for more information about his idea about "unity government", he went berserk.
Zahid told all and sundry that the issue of the unity government is closed, preventing anyone from debating it. However, as he has yet to warm his seat as UMNO president, his deputy, Mohamad Hasan, appears to have rejected the plan of a cooperation with Islamist party PAS. The No. 2, clearly offended with the party leadership's strategy – crawling and begging – PAS for support.
In defiance of his boss Zahid, Mohamad Hasan told the 3,000 delegates – "We should forget it. Even if they come to us we should look at it properly first because if we are just a passenger than forget it. We shouldn't play second fiddle. Why should we? We were in power and the government." The sudden outburst has forced Zahid to defend UMNO's alliance with PAS.
Zahid was actually incredibly stunned and panicked with the unexpected rebellion from his own deputy, so much so that he had threatened critics not to back him into a corner. He said – "I am an open person. But when I am pushed to the wall, my openness has its limits. I am Zahid Hamidi. They know my DNA in this struggle. I don't want to reveal my true colours. If there is a tiger or lion in me, what comes out is a goat."
But Zahid's gloating about being a goat, tiger, lion and whatnot was not the primary attraction at the assembly. Instead, it was his predecessor's presence, and his sudden burst into tears that had gotten the attention of the delegates. Former premier and UMNO president Najib Razak entered the assembly hall like a Bugis warrior, much to the surprise of observers.
Heck, the scandal-plagued Najib even received a standing ovation from UMNO delegates when his name was announced at the opening of the assembly. Perhaps PM Mahathir Mohamad has proven his controversial argument when he said Malays were not only lazy and untrustworthy but also lacked a sense of shame, especially the UMNO-Malays.
Speaking to UTM (Universiti Teknologi Malaysia) staff and students at a special lecture on September 20, Mahathir said – "Today, people do not feel ashamed at all. You see them going to jail and smiling. You see people smiling when you tell them, 'hey, you are a thief'. There is no feeling of shame." Of course, he was mocking and insulting crooked Najib and his minions.
The fact that the 3,000 UMNO delegates saw nothing wrong with their former president stealing and plundering billions of dollars is quite breathtaking. It shows that they were nothing but a bunch of lazy Malay leaders who had depended so much on Najib for free flow of cash, contracts and handouts that they didn't care how the ex-president had gotten the money in the first place.
Blinded by money, their judgement had been clouded largely because they were too lazy to read, think and understand the 1MDB scandal. They didn't realize the untrustworthy Najib had actually stolen and plundered money originated from 1MDB, supposedly belonging to Malaysians. The UMNO delegates were so freaking stupid it makes Najib looks like Einstein.
The culture of corruption and thievery was so entrenched in the Malay nationalist party that the delegates couldn't differentiate between right and wrong. How could Malaysians trust leaders such as UMNO delegates who think it was alright to steal from not only the national coffers but also taxpayers' hard-earned savings – EPF, KWAP, FELDA, FELCRA, Tabung Haji and whatnot?
But Najib's grand entrance wasn't the only pathetic and shameful drama displayed at the 2018 UMNO General Assembly. Najib's return to the PWTC (Putra World Trade Centre) for the party's gathering this year in his capacity as Pekan division chief also saw him shedding tears, apparently because he was so touched by the support splashed by the delegates.
Mr. Najib's tearful drama was a big deal, like it or not. That's because the Bugis warrior had not shed a drop of tear before. He didn't cry after caught stealing money and he surely didn't cry after he lost the May 9 polls. Even as he was being dragged to be interrogated by anti-corruption agency, he didn't cry but smile proudly – proof that UMNO Malays indeed lack a sense of shame.
Heck, even after he was slapped with dozens of charges of criminal breach of trust (CBT), money laundering and abuse of power, the defiant son of Razak was seen grinning from ear to ear. Make no mistake about it. Najib was merely shedding crocodile tears at the UMNO assembly because he finally saw how successful his "cash is king" corruption policy has on the party.
Treating the party like a cow barn, Najib now believes his greatest success story has been herding the cows of UMNO and leads them around by the nose. Even after losing the federal government and putting the party at risk of closure, the delegates had chosen to applaud, cheer and worship him. That speaks volumes about the incredible lack of shame amongst UMNO Malays.
Najib Razak and UMNO Malays are so crooked that it makes Mahathir's controversial "crooked bridge" with Singapore looks like a wonderful straight bridge to wonderland. The fact that Mahathir is seen as a saviour despite having ruled the country with an iron fist for 22 years proves how much the people despise Najib and his band of UMNO thieves. - ft
Apa yang menarik, DSAI dan DSWA adalah tentang baju yang dipakai oleh mereka berdua adalah pakaian yang sama pernah dipakai dalam pernamaan calon di PRK 2008,2015 dan 2018...
Lebih sami dari sami pula...
Melayu bangkit di Sg.Kandis...
Akhirnya, persoalan terjawab..kenapa Tuan Guru Hadi Al-Musang King
dendam sangat dgn Anwar Ibrahim, PM in waiting..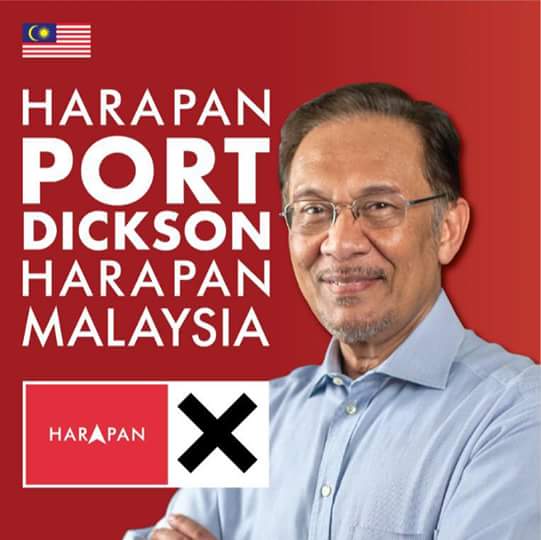 cheers.