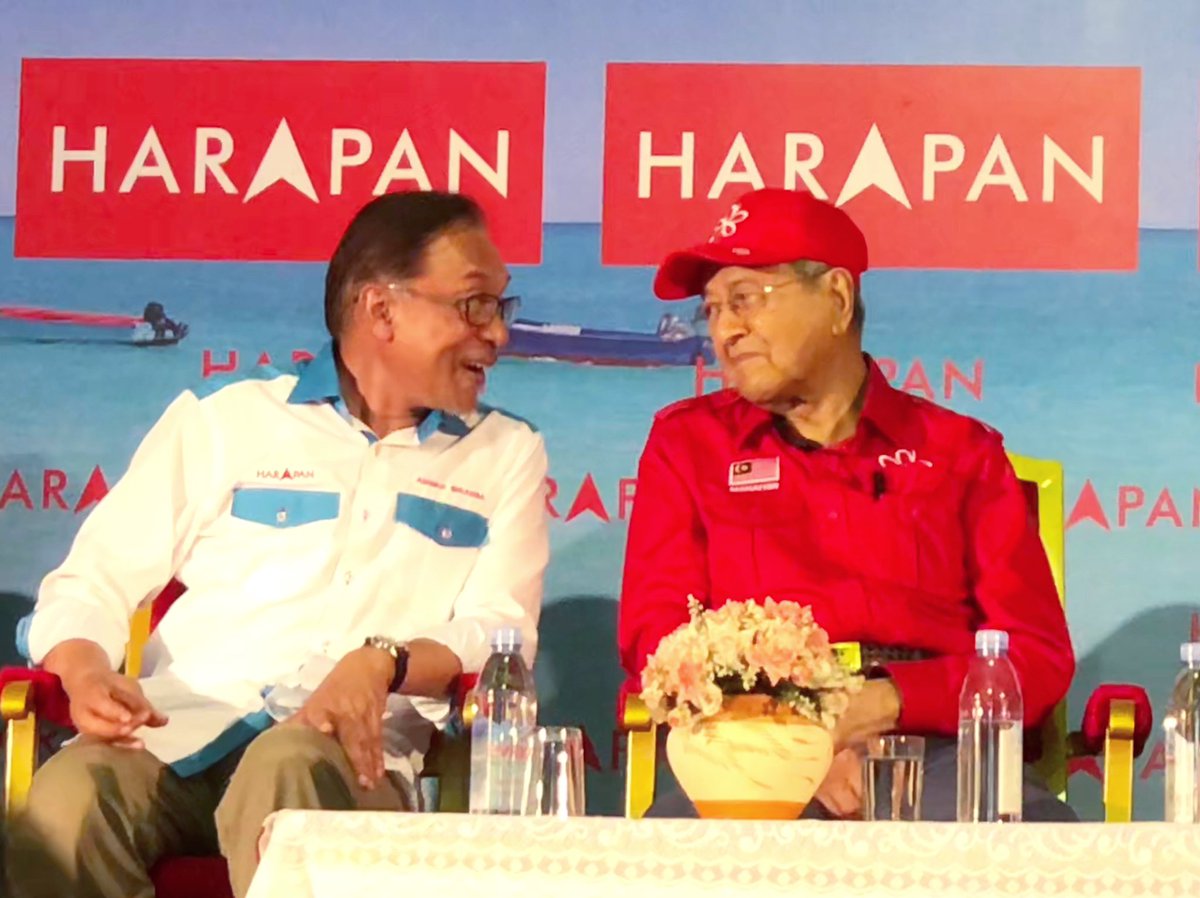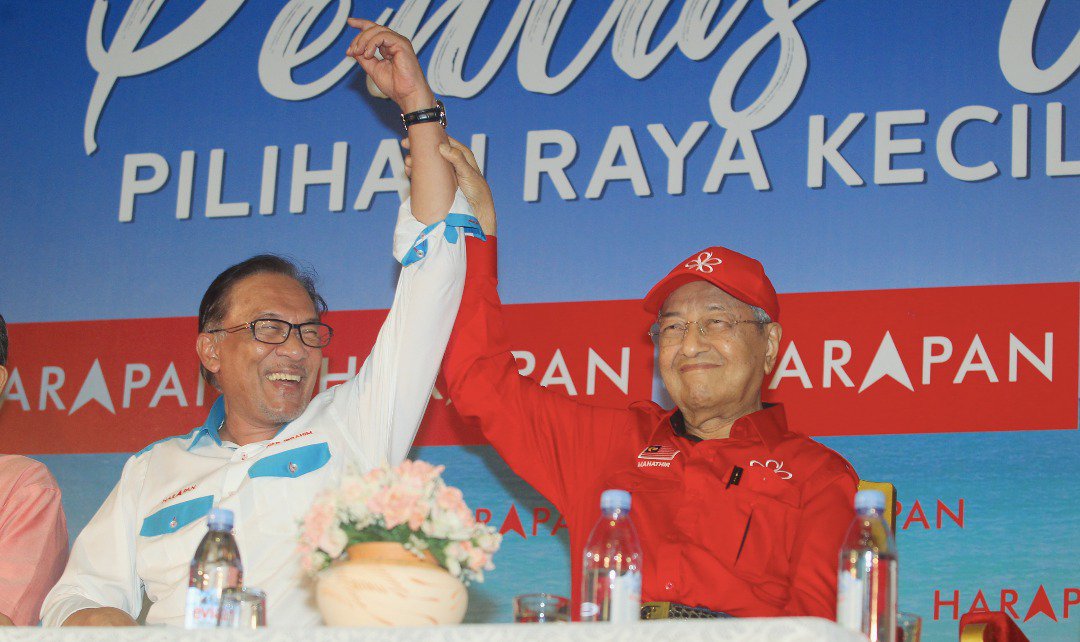 Akademi Mokhtar Dahari ...
Banyak sampah sarap dan kotoran daki yang ditinggalkan oleh kerajaan terdahulu kepada kerajaan Harapan. Gara-gara itu menyebabkan menteri terpaksa bekerja lebih masa, membuat penyelidikan, semakan dan kajian ke atas segala masalah ditinggalkan itu.
Salah satu ialah projek Akademi Bola Sepak Mokhtar Dahari di Gambang, Pahang. Projek bernilai RM85 juta tidak berjalan seperti mana diharapkan. Banyak infrastrukturnya rosak atau tidak sempurna. Paling menyedihkan pelatih di akademi berkenaan katanya makan pun tidak berapa cukup.
Semua kepincangan itu terdedah selepas Menteri Belia dan Sukan Syed Saddiq Syed Abdul Rahman turun meninjau sendiri ke akademi berkenaan.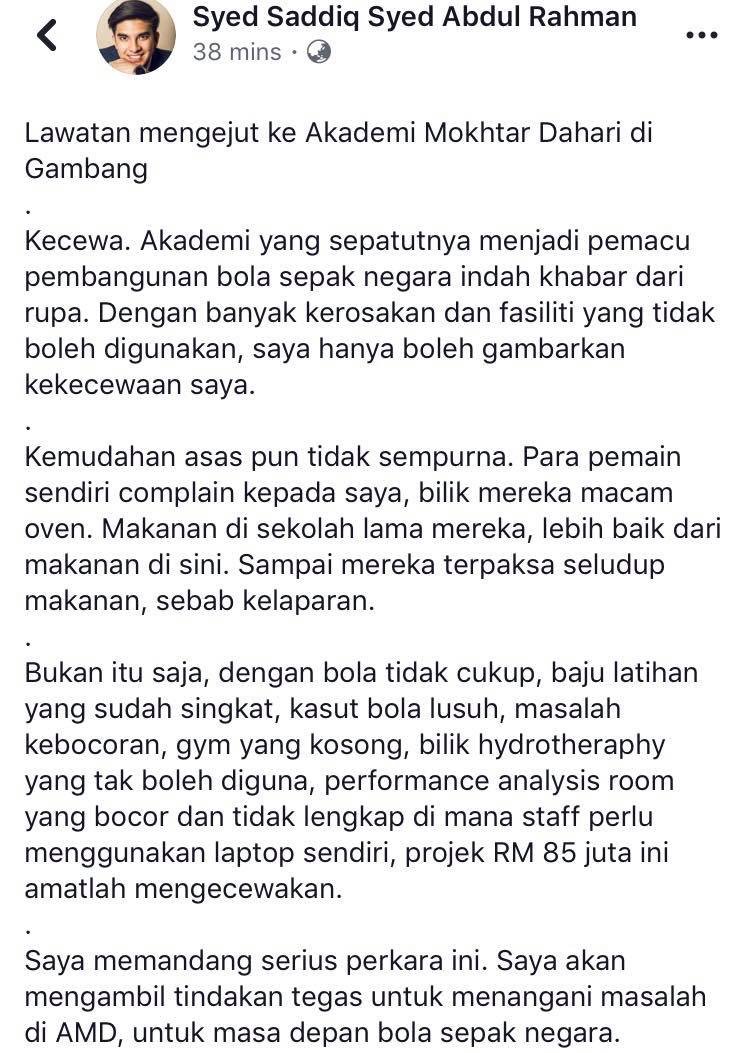 Apa yang berlaku di akademi itu adalah salah satu contoh macam mana kerajaan terdahulu meninggalkan beban kotoran dan masalah kepada kerajaan sekarang ini.Selain akademi itu banyak lagi projek gajah putih diwujudkan di zaman kerajaan Najib Razak dahulu.
Mungkin kalau anda memantau di kawasan anda juga ada projek gajah putih yang diwujudkan untuk membantu dan memberi wang kepada pihak tertentu dengan menjadikan kontrektor sebagai alat.
Justeru segala penyelewengan itu kerajaan kini harus menanggung semua itu dengan penuh tanggungjawab. - MSO
Kemenangan gemilang PH pada PRU 14 adalah kemenangan rakyat yang mahukan perubahan. Mereka benci, muntah dan laknati rejim super korup Najib Razak UMNO/BN. Berjuta berdoa, sembahyang hajat pohon Allah hancurkan rejim super korup itu. Allah memberkati hajat mereka.
Semua golongan rakyat, dari berbagai kaum, agama dan budaya perlu sedar budaya kerajaan PH tidak seperti kegilaan kuasa dan korupsi bermaharajalela di era maharaja perompak kelas cakrawala Najib. Kini rakyat menentukan nasib negara, parti-parti politik, bukan ulamak kelas ular dalam semak atau pun istana. Memang kebebasan bersuara dan hak menyatakan pendapat individu dipertahankan, tapi jangan melampau.
Memang ada pihak istana yang menyalak belakang tembok istana untuk menjadi 'pejuang' rakyat kononnya. Beruk di hutan pun dapat menilai buah fikiran yg tak matang. Rakyat yg bijak tahu mudik seluang di pinggir kali. Amalan demokrasi membolehkan siapa saja menjadi pejuang rakyat atau pejuang agama atau istana. Silakan. Masuk tengah gelanggang, tunjukkan silat dan kuntau politik kalian. Kalau kalian benar-benar pejuang berjiwa rakyat, ada jasa besarnya, berani berkorban dan menerima risiko dari perjuangan kalian, syukurlah.
Dalam perlembagaan jelas dikeramatkan peranan dan kuasa institusi Raja. Raja berperlembagaan tidak ada kuasa eksekutif untuk berlagak sebagai menteri besar apalagi hendak mencampuri urusan pentadbiran dan politik negara. Sekiranya ada anak raja hendak menjadi pejuang rakyat, menceburi politik, silakan. Pada PRU 14 ada raja cuba menyokong rejim korup yang lalu dengan harapan rakyat negerinya akan bersamanya. Allah Maha Kuasa menunjukkan kuasaNya. Najib yang dikaldaikan Rosmah dan kabilah para koruptornya ditendang rakyat dari Putrajaya
Sekiranya ada sultan atau anak raja berminat menceburi politik nasional rakyat akan mengalu-alukan mereka. Tunjuklah kebijaksanaan dan kemampuan intelek kalian. Sertai pilihan raya. Kalau kalian bernasib sabut timbullah, tapi kalau nasib batu jalanan maka tenggelamlah akhirnya. Ingat yang menentukan nasib negara ialah kuasa Allah dan rakyat, bukan parti politik, ular dalam semak dan juga istana. - Yahaya Ismail
Zahid to be charged?...
Umno president Ahmad Zahid Hamidi is expected to face MACC charges in regards to the alleged misappropriation of a foundation's funds.
A MACC source said he is most likely to be charged on Thursday, and if that is true, it means he will be spending the night on the MACC premises.
Zahid, however, had tweeted today that MACC would only be recording his statement and advised his supporters against holding a gathering in front of MACC headquarters this Wednesday.
In July, Zahid was questioned twice by the MACC in relation to the Akal Budi Foundation. It was reported that RM800,000 had allegedly been misappropriated from the foundation to pay for credit card bills belonging to Zahid and his wife.
Zahid had said that funds from the welfare foundation were indeed used to clear credit card debts but claimed that this was due to a mistake by his officer.
Meanwhile, another source close to the matter said Zahid could be facing tough days ahead as the MACC has not only been investigating him and his family on a resort project in Bagan Datuk as well as the source of wealth in a family member's bank account.
Massive resort project
In April, Bernama reported that Zahid launched the project, known as the Teedo resort which cost about RM75 million, during a ground-breaking ceremony attended by his wife and daughter.
Zahid was quoted as saying that the project would be done without government funding.
"For your information, the construction of this hotel will be done without a single sen of government money and even the land and infrastructure will be financed 100 percent by the private sector," he had said.
It is understood that the 60-hectare resort will house a commercial zone, a shopping centre, restaurants, a theme park and a religious school with a total gross development costing about RM250 million, reported Bernama. - mk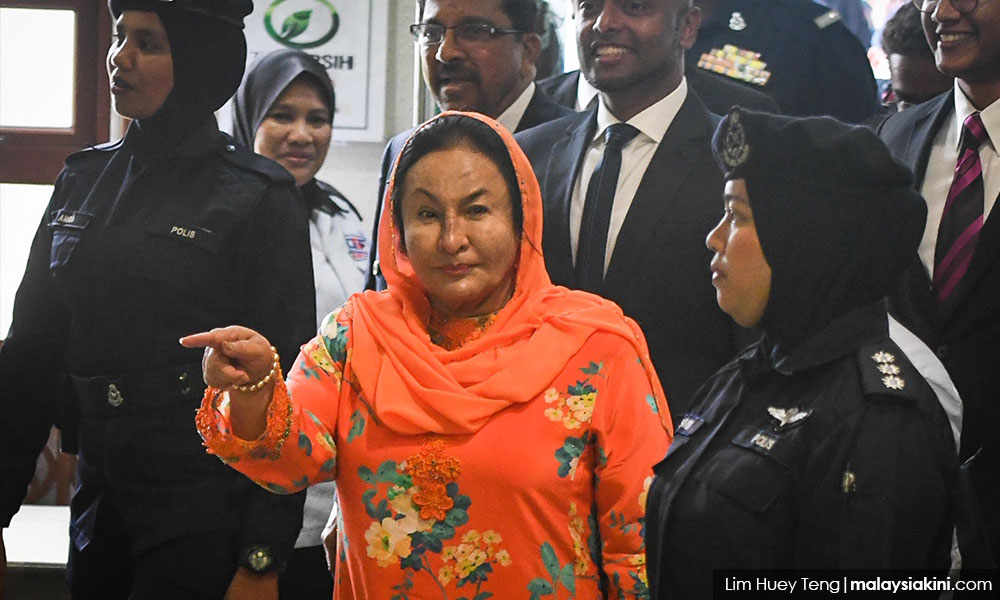 If you do the crime,you must do the time...
When I was much younger than Pekan MP Najib Abdul Razak's daughter, Nooryana Najwa, I was seated in one of the clusters of creaky wooden buildings along Jalan Duta which was the Magistrate's Court. A lady clad in a baju kurung sobbed after being jailed for two years for stealing jewellery from her employer.
I have watched several jaga kereta being brought in handcuffs to be charged. Their offence? Not producing their identity cards when requested by a policeman. The sentence was a fine of RM25 (big money at that time) or two weeks after pleading guilty. Guess which route they opted for?
Later, when "promoted" to cover the Sessions Courts, I listened to lies on oath, pleas in mitigation and other utterances which would sometimes tug your heart. The felons - robbers, rapists, thieves and extortionists – some of whom were sweet-talkers would try to talk themselves out of trouble. There was no one shedding a tear for them except in some cases, an elderly woman hoping her wayward son would be given a chance to turn over a new leaf.
Much later, I sat stone-faced as one inspector Saderi Abdul Samat, a convicted murderer (incidentally the man who prosecuted him was Mohd Shafee Abdullah) had his last visitors before he was hanged the following morning at the Pudu Prison. While the father, mother and son were locked in embrace and tears, I sat recording those final moments in my mind for the Malay Mail.
On Wednesday, tears flowed outside the court complex in Jalan Duta after Rosmah Mansor was charged with 17 counts of money laundering and avoiding tax. Tears came not from her parents or their family but from one Ramesh Rao who gained infamy for making all kinds of allegations when Sarawak Report was releasing one leak after another on the 1MDB scandal.
"She's like a mother," he declared between sobs and spoke of the virtues and qualities of the Najib's wife.
Nearby, there was a virtuoso performance by actress Ellie Suriati for the media. Like in a real-life drama, she declared "It's really ridiculous and bogus," of the charges against Rosmah. (She got her five minutes of fame – UK's Guardian newspaper quoted her)
From far-away Chicago came yet another harangue from Nooryana. She went on a tirade: "I can accept taking action on a man who was in power, but putting the women in his life in harm's way is going too far. Two weeks ago, you raided his mother's house, and today, you remand (sic) his wife, and plan on charging her the same day her husband is due in court. I suppose tomorrow makes for a great picture and media circus."
Going too far? Media circus? The circus folded its tent and closed shop in the early hours of May 10 when we elected a new government. The days when the mainstream media recorded even the length and sound of your father letting out gas are over. They then did it not for posterity but for fear his minders would take offence.
In a lengthy Instagram post, she said: "Too sad to cry, too angry to scream, I just got up, took wuduk (ablution) and prayed tahjud (night prayer) for Mummy." Social media reacted to her post, to the point of being unmannerly and abusive.
Answers forthcoming at trial?
There were other points to ponder. The extravagant wedding, the highly-publicised cost of the flowers and the decorations raised eyebrows. Explaining such indulgence on June 9 last year, I remarked: "The discovery of cash in the millions at the homes of officials of the Sabah Water Board made the transfer of RM2 million into the account of an unemployed housewife child's play. Has anyone explained?
"How would you describe such overindulgence? Crazy or madness or insanity? Yet, these people whose hands are tainted continue to lead lives, living up with the Joneses and pretend as if nothing had happened." Hopefully, many answers will be forthcoming when the trial comes underway next year.
On Thursday, I asked on Facebook: Why is there so much hatred of this lady (Rosmah)? Some of the responses are unprintable because of the caustic language and scathing words. There was not a single respondent who had something good to say. Without a proper survey, it would be wrong to use comments on social media as a yardstick to measure her popularity or disapproval.
But the designer bags, the extravagant shopping trips and her taste for diamonds which have been chronicled in the international and later in local media have certainly influenced their opinion. There is little sympathy for the once self-acclaimed First Lady of Malaysia and the use of government apparatus with little regard for rules and regulations.
The many in high places who had incurred her wrath are quietly enjoying the retribution, thanking the Almighty for answering their prayers. Nothing personal but I strongly believe in the adage: If you do the crime, you must do the time. Anything less will be a travesty and mockery of justice. - R.Nadeswaran
Ku sangka panas hingga ke petang,
Rupa nya hujan di tengahari,
Ku sangka Najib akan menang,
Rupa nya kalah banyak kerusi.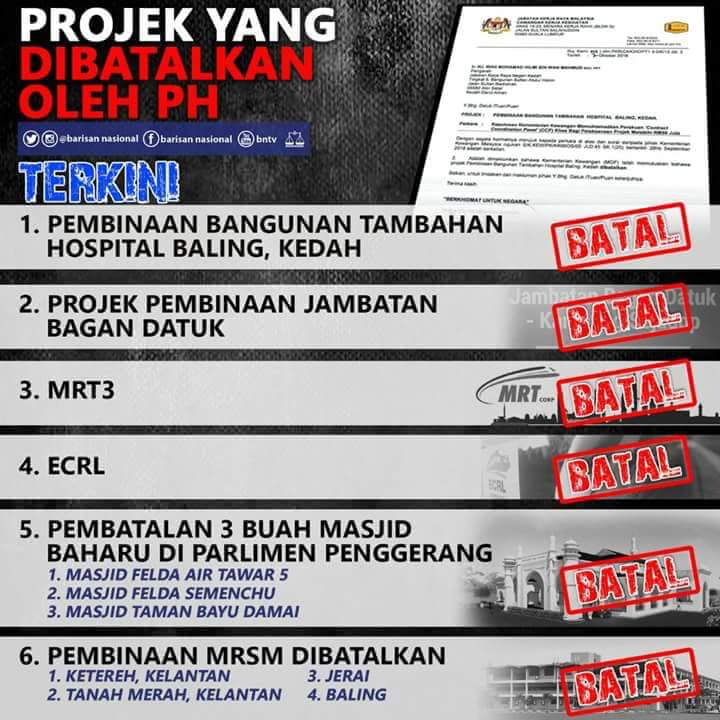 Putih mata yang angan2 tender runding...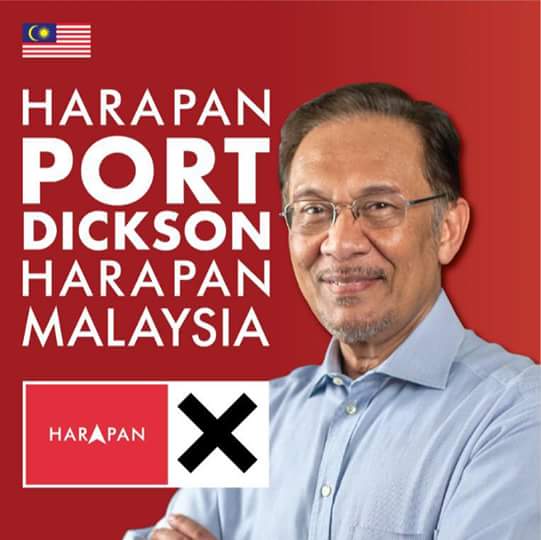 cheers.