Meskipun kalah pada Pilihan Raya Umum ke-14 (PRU14) yang lalu, Datuk Seri Ahmad Zahid Hamidi tetap hendak berdabik dada seolah-olah masih lagi menduduki kuasa dalam kerajaan.
Apatah lagi pemimpin yang kini mengepalai parti Melayu Umno itu kini berhadapan dengan 45 tuduhan pecah amanah, menerima rasuah dan pengubahan wang haram berjumlah RM114 juta.
Terdapat suara dalaman Umno yang mahu Zahid bercuti sementara menunggu perbicaraan. Duduk letaknya bekas Timbalan Perdana Menteri itu akan dibincangkan oleh mesyuarat Majlis Tertinggi bulan hadapan.
Zahid nampaknya begitu tidak senang dengan persoalan tentang kedudukannya, apabila bersikap agak biadab ketika diajukan soalan mengenai nasibnya dalam parti oleh seorang wartawan.
Sambil tersengih, beliau menjawab: "Apa hak you tanya?"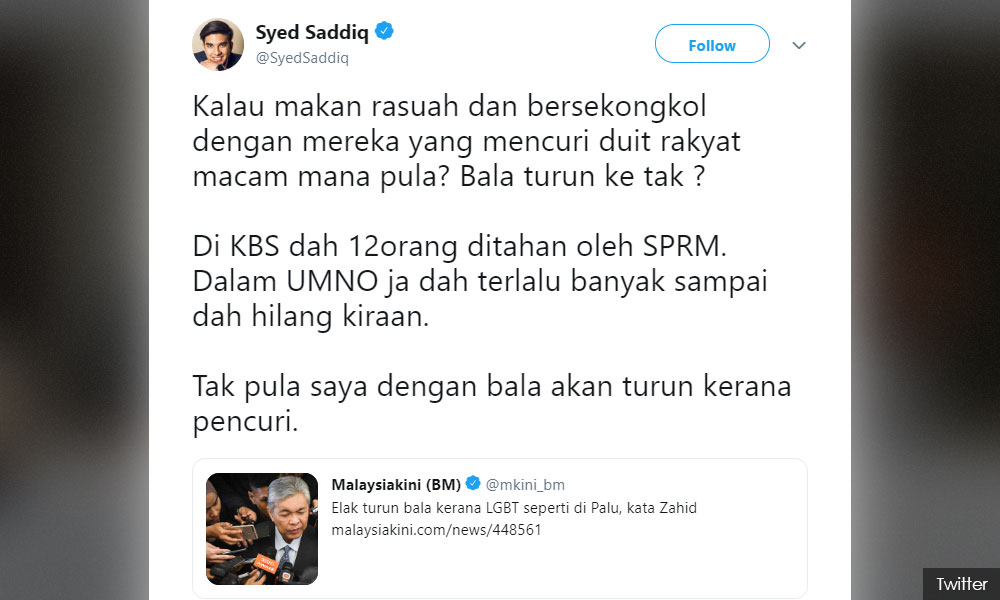 Namun, apa yang hendak dihairankan sangat dengan jawapan berkenaan, kalau orang sama cuba mengaitkan isu LGBT dengan bencana alam yang berlaku di Palu. Kita sendiri boleh mencongak tahap pemikiran beliau.
Ia tidak ubah seperti seorang penceramah yang mengaitkan isu LGBT dengan segala bencana yang berlaku di muka bumi ini. Seolah-olah Tuhan itu dipenuhi amarah tanpa ada belas kasihan.
Mungkin Zahid perlu berhenti berpolitik dan masuk program realiti. Kemudian jadi penceramah dengan gelaran PU dan menyerahkan tampuk kepimpinan Umno kepada yang lebih muda dan berkaliber, Khairy Jamaluddin contohnya. – Roketkini.com
Ada angin spoi-spoi bahasa bertiup mengupek khabar akan belaku pertukaran Menteri Besar di sebuah negeri. Jangkaan ini timbul ekoran sekurang-kurangnya tiga Adun di negeri berkenaan akan berubah haluan. Dengan perubahan itu menyebabkan kedudukan MB kini yang mendapat sokongan tipis terancam.
Perbincangan mengenai perubahan Adun berkenaan masih belum dimulakan lagi, tetapi ia sedang diatur untuk menghitam putihkannya. Adun berkenaan dikatakan sedia menanggung apa yang bakal berlaku ke atasnya demi melihat perubahan itu, hatta dituduh pengkhianat.
Katanya mereka bersedia ditohmah apa saja asalkan maksudnya untuk merubah kedudukan MB itu berhasil. "Mereka meletakkan kepentingan negeri dan rakyat melebihi kepentingan mereka," demikian kata sumber rapat dengan Adun berkenaan.
Kesediaan Adun berkenaan untuk berubah kedudukan memberi laluan untuk menukar MB di negeri berkenaan yang dikatakan tidak menunjukkan prestasi yang diharapkan. Apa yang lebih mendukacita lagi, MB itu tidak menunjukkan dia sebagai seorang MB, masih berfoya-foya dengan jawatan itu.Tunggu.- MSO
Najib's cousin: I'll help Malaysia
Malaysian opposition politician Hishammuddin Hussein has offered to help the government find and repatriate Low Taek Jho, the missing financier suspected of masterminding a multibillion-dollar corruption scandal at state fund 1Malaysia Development Berhad.
The offer comes just weeks after Hishammuddin's cousin, the former prime minister Najib Razak, was charged on multiple counts regarding the misappropriation of funds at 1MDB.
Low – popularly known as Jho Low – is wanted by various countries including Malaysia in connection with the scandal and is widely thought to be hiding out on the Chinese mainland.
Hishammuddin, who lost his role as defence minister after the May 9 election that saw his party, the United Malays National Organisation (Umno), dumped from power, said he would use his contacts formed with the Chinese government during his time in the cabinet to "bring him back to face justice".
"I have enough contacts and friends from the past in the leadership. We want justice, we want closure … If he is in China, within my capability, I will do what I can," said Hishammuddin, speaking from the sidelines of parliament.
Hishammuddin developed close ties with the Chinese government in 2014 following the disappearance of Malaysia Airlines flight 370, which occurred during his tenure as transport minister. The flight, which was headed to Beijing from Kuala Lumpur, was never found but observers praised Hishammuddin's leadership skills during this period.
Hishammuddin's comments appeared to offer an olive branch to the newly-minted Pakatan Harapan government, but some analysts questioned his motives.
"If you wanted to catch this guy you would have done so a long time ago," said political scientist James Chin of Tasmania University's Asia Institute. "Moreover, it doesn't work that way – China is such a large country, so even if you have connections you need some sort of paperwork. And if they truly have him, China won't give Jho Low up so easily. Hishammuddin isn't a minister any more so he can't rely on favours."
Awang Azman, of University Malaya's Institute of Malay Studies, also questioned whether Hishammuddin had "hidden intentions".
"It is possible he is trying to win over [Prime Minister Mahathir Mohammad] and show off his capabilities. There are rumours he has met Mahathir several times, along with heavy speculation that Hishammuddin may leave Umno for Mahathir's party, Bersatu. His efforts in retrieving Jho Low could gain him acceptance in the Pakatan Harapan government.
"However, this action may undermine foreign minister Saifuddin Abdullah's standing if he appears less competent in locating Jho Low, which could serve to embarrass the cabinet. That said, Hishammuddin can be viewed as a neutral party in the face of the slight tension between Malaysia and China following the release of a group of Uygurs."
Malaysia recently freed 11 ethnic Uygur Muslims from prison and sent them to be resettled in Turkey despite Beijing's demands for custody. Mahathir said they had done nothing wrong in Malaysia and so were to be released.
While Low is believed to be hiding in China, Mahathir said in New York recently that it was "quite tricky" to accuse China of harbouring the Malaysia-born fugitive. He suggested China had not expelled Low because "maybe he's a bargaining chip".
Malaysia-China ties have been strained since the suspension of Chinese-backed infrastructure projects worth US$22 billion. Mahathir claims the government lacks the fiscal capacity to follow through with the projects and has denied being anti-China.
The countries do not share an extradition treaty, so Malaysia has limited options. In September, Mahathir said the government was trying to "work out some ways or private efforts to get back Jho Low from China".
Interpol are also trying to track down the missing financier, acting on requests from both Malaysia and Singapore.
Speculation has been rife that Low is hoping to do a deal with the Malaysian government, after Mahathir's right-hand man Daim Zainuddin said Low had tried to contact him offering to "assist" with the 1MDB trial.
Low had been an informal adviser to the 1MDB fund and was seen as having connections to the Saudi government. Najib said this year that Low had "represented the Middle East partners and their dealings and partnership with 1MDB" in overseas energy sector deals.
However, the US Department of Justice believes this was a front to launder misappropriated funds and that Low used the money to throw elaborate parties, purchase high-end art and luxury yachts, and fund Hollywood films such as The Wolf of Wall Street.
In July, it was reported that Jho Low had fled to China from Macau. In August, Low released a statement on his website saying he would not submit to any jurisdiction where "guilt has been predetermined by politics and self-interest overrules legal process".
He maintained his innocence, saying the "corrupt Mahathir regime" had no interest in following due process. - scmp
Students lodge police report against school principal for alleged sodomy
Nik Amar cermin muka lu dulu...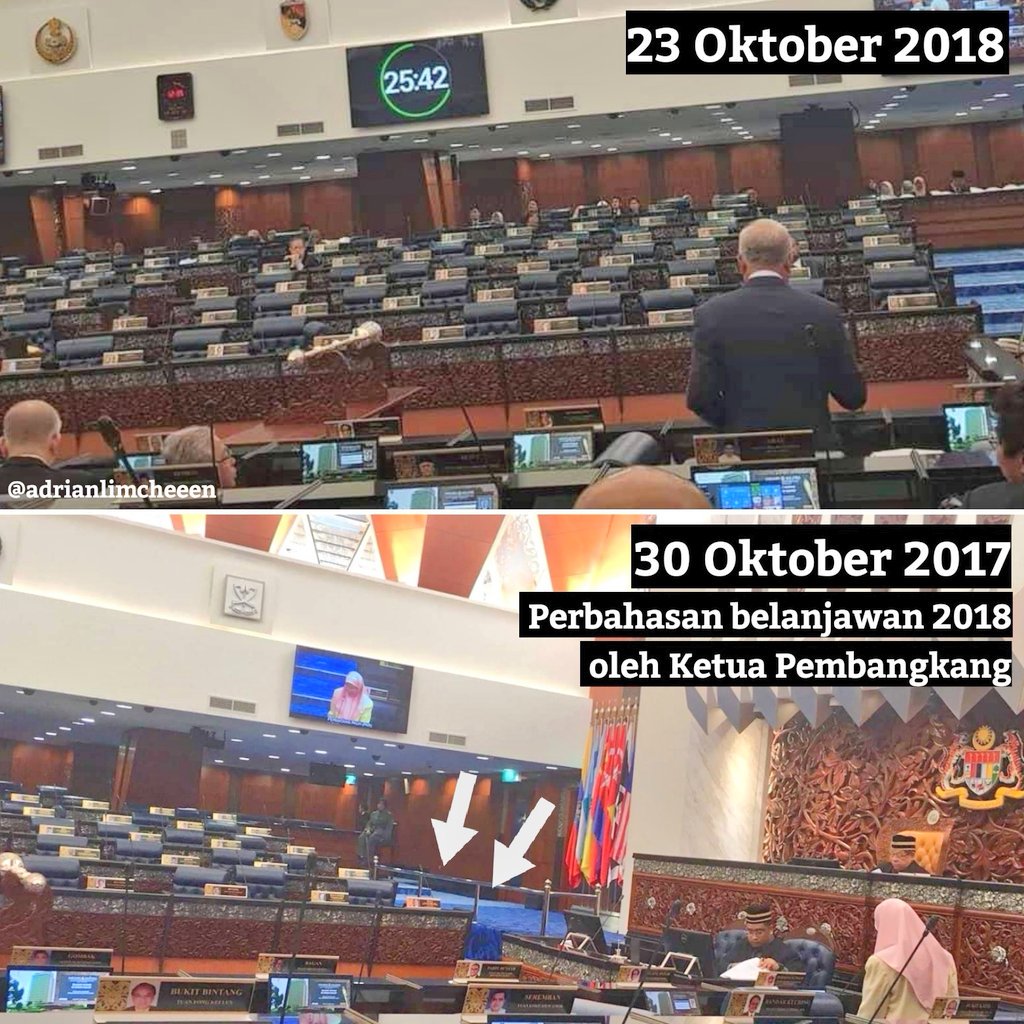 Dulu ko buat kat pembangkang Sekarang giliran ko pulak Jib.
Siapa nak dengar.Sian betui dgn ko Najib.Nasib ko la laaabuuuuu..
Bekas jurulatih bulu tangkis China, Li Yongbo kini menjadi pemilik
ladang durian di Kelantan yang seluas sehingga 30 hektar.
Bukan pak lebai tak suka cina kapiaqkah...
cheers.