A
l Fadzil Tn. Guru Ustaz Hj. Wee Ka Siong adalah seorang ulamak suci bagi Perikatan Nasional. Segala tindak tanduknya pasti direstui oleh para pejuang bangsa dan agama seperti Umno dan Pas. Jangan tak tau woii walaun2 dan macai2 semua.!!! - f/bk
siap siaga untuk PRU15...
Adakah Umno/BN sudah bersedia menjatuhkan kerajaan Melayu-Islam Perikatan Nasional pimpinan Muhyiddin Mohd Yassin bagi memaksa PRU ke-15 diadakan lebih awal? Bubarkan Parlimen dan adakan pilihan raya umum lebih awal adalah mantera Umno.
Atau adakah kedua-dua mereka hendak membayangkan dan meyakinkan penyokong bahawa mereka akan lepas kes jenayah di Mahkamah? Umno/BN tidak rugi apa-apa.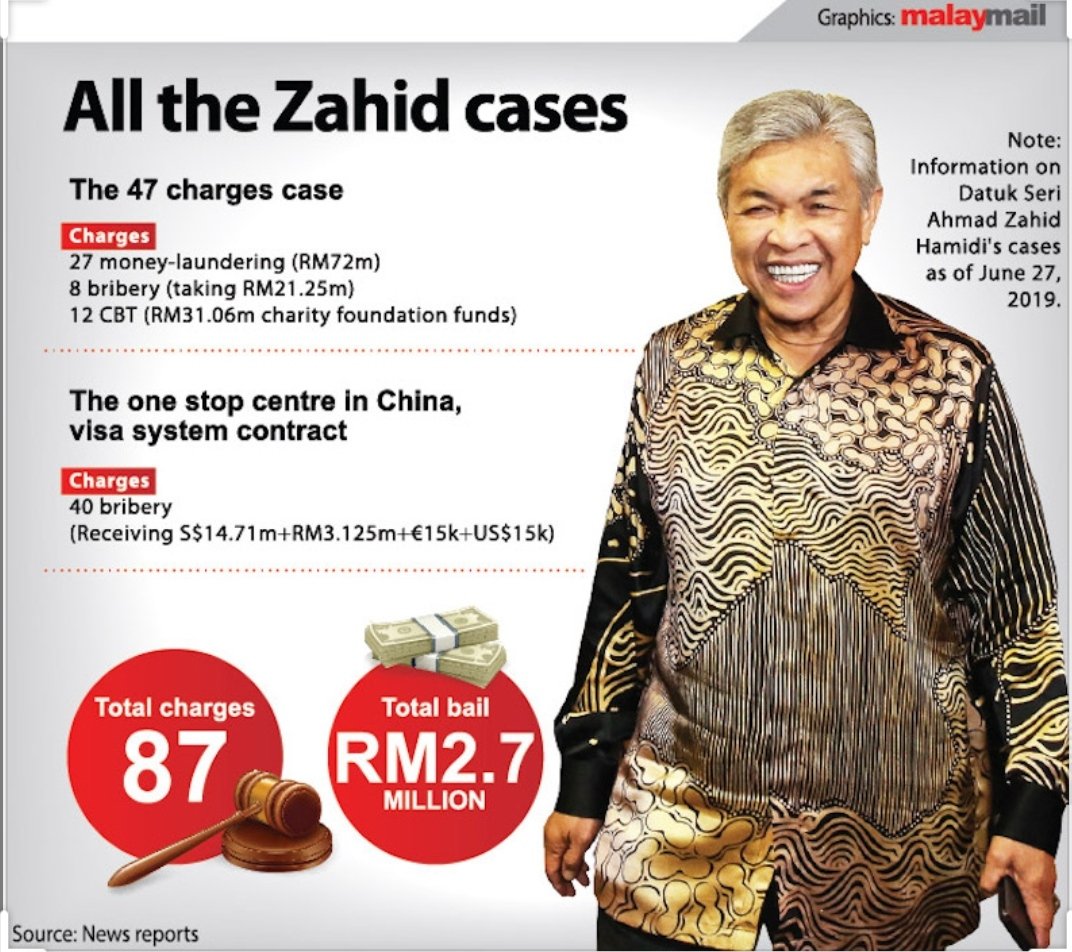 Mereka kalah PRU ke-14 tapi Muhyiddin pungut mereka dari pinggiran politik dan anugerahkan mereka jawatan Menteri, Menteri Besar dan GLC.
Muhyiddin memberi mereka kuasa eksekutif dan sekali gus mengiktiraf Muafakat Nasional Umno-Pas. Dengan kekuatan jawatan Menteri, Menteri Besar dan GLC yang Muhyiddin berikan itu, Umno dan Pas kini mempunyai kekuatan menentukan kekal atau jatuh kerajaan Perikatan Nasional.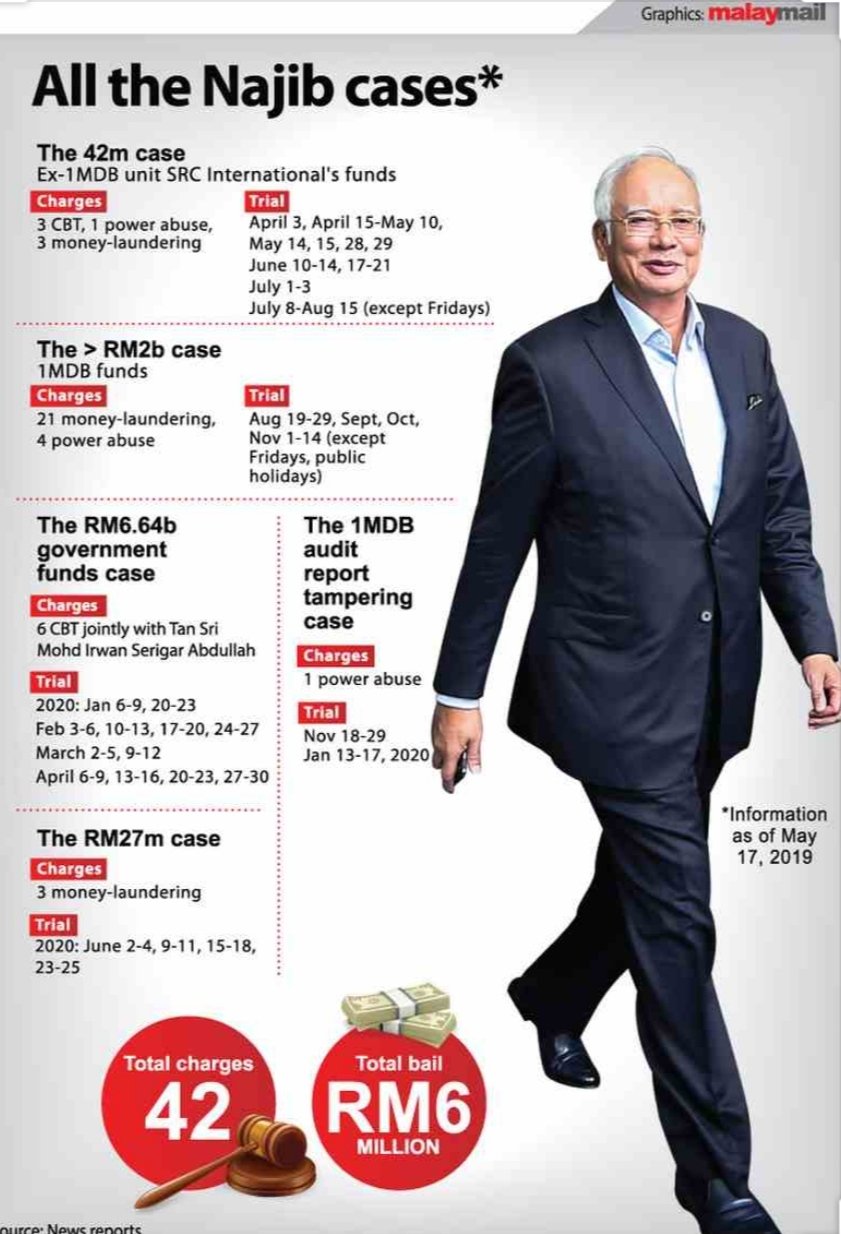 Dalam bahasa yang mudah, Muhyiddin dan feksyennya dalam Bersatu bergantung hayat kepada Umno dan Pas. Mampukah Bersatu feksyen Muhyiddin menentang Pakatan Harapan dan Muafakat Nasional dalam PRU akan datang? - a.kadir jasin
Bila kaki rembat dan sakau berasa dirinya mulia dan yang paling kesian bila Parlimen bubar adalah Menteri2 dari geng lebai.Bukan setakat golden handshake tak dpt, pencen Menteri dan MP (utk kali pertama jadi MP) pun tak dpt! Kalu depa menang semua kes terhadap Zahid dan Najib bakal digugurkan dan disimpan dalam arkib negara untuk NFA...Ini psy war jer...rilek la merak kayangan.- f/bk
Big questions waiting for answers...
We know that a few days ago former Umno president Datuk Seri Najib Razak met current Umno president Datuk Seri Ahmad Zahid Hamidi at the latter's residence. And they talked. What did they talk about? I don't know. Could it be that Najib was lobbying for his son to be the Umno candidate to contest the Chini by-election on July 4? Maybe, but I can't say for sure.
But somehow Zahid saw it right to post on Facebook photos of him meeting Najib and entourage. That's not all. As we know, he also proudly proclaimed "Kami sudah siap untuk PRU15. Adakah anda semua sudah bersedia bersama kami?" Or "We are ready for GE15. Are you all ready to be with us?"
By "kami" or "we" was Zahid talking about himself and Najib and their people? It's a no-brainer Umno has its share of factions despite the public show of unity. Or was Zahid as president talking in the name of Umno to say that his entire party is ready for polls?
The general consensus among political observers, commentators and analysts is that Zahid was referring to Umno the party. And when he posed the question "are you ready to be with us", was he referring to Umno members and supporters, or the rakyat generally? Never mind that. Let's move on to the big questions. When he said general election 15, was he talking of a snap election or the GE15 which is supposed to beheld some three years from now?
Head of Research at Ilham Center Professor Dr Yusri Ibrahim says chances of election be called anytime soon are slim. Elections, Yusri reminds us, can only be called when the prime minister seek the consent of the Yang di-Pertuan Agong to dissolve the Parliament. Considering the precarious situation the Perikatan Nasional government is in right now, it is most unlikely that prime minister Tan Sri Muhyiddin Yassin would advise the King to dissolve the Parliament for a snap election,says Yusri. True.
However, snap election could be a possibility if Pakatan Harapan and allies, or the Umno-PAS pact move against Muhyiddin who currently holds a razor thin majority in the Parliament. Anyway, whether a snap election now or election three years from now, Umno has declared earlier that it would have no qualms to field its candidates against Muhyiddin's Bersatu in seats Umno considers its "traditionally". This they say despite being part of the Muhyiddin administration.
Datuk A Kadir Jasin, Bersatu supreme council member aligned to Tun Mahathir Mohamad, has an interesting poser – "Is Umno-BN ready to topple the Malay-Muslim Perikatan Nasional led by Muhyiddin to force GE15 to be held earlier?" Judging from what Zahid said, it is not wrong to say that he and Najib want to be involved, or put it simply both want to contest GE15 snap or otherwise. But how about the court charges they are now facing?
I agree with Kadir in asking this: "Are the two of them foreshadowing and assuring their supporters that they would be freed of their criminal cases in court?" as reported by MalaysiaKini.. That to me is a very big question. Zahid sounded confident when he announced Umno's readiness to face election. But the thing is, Umno as well PAS had "clamored" for snap elections even during the Pakatan Harapan rule, saying their pact known as Muafakat Nasional will win to rule Malaysia.
First of all. they had pointed to the seats won by Pakatan Harapan in GE14 by slim margins. As Umno and PAS see it, the combined votes won by both parties were more than the votes obtained by Harapan in winning the seats. So, they say in the next election the same number of votes will be given to just Umno or PAS as only either of them will be contesting. Hence, that would be enough for Muafakat Nasional to win those seats.
But Ilham Center CEO Azlan Zainal has often told me it is not as simple as that. A lot of things need to be considered, including issues of the day, the candidates, locations,demographics and what not. "It's not like transferring of fund via online banking," he told me months ago. Still Umno and, to an extent, PAS have always said they are confident of winning when they contest as one entity, i.e. Muafakat Nasional. But there are many problems to be faced, and they know it.
A big issue will be the allocation of seats, and who to contest where. The seats Umno and PAS are targeting are the same seats they have contested in every election, but against each other! Come next election they will have to make big sacrifices in letting go of their so-called traditional seats. While the incumbents would most likely be allowed to take another shot in defending their respective seats, problems will arise in seats where both Umno and PAS claim they can win.
Lots of give-and-take would be needed. Up till now Umno and PAS seem to be sweeping the problem under the carpet, perhaps adopting the "we will cross the bridge when we come to it" attitude. But Umno and PAS had their chance of putting this to test when political observers suggested they accommodate each other for exco positions in states which they were ruling. Like in PAS-held Kelantan and Terengganu. and Umno-BN's Pahang and Perlis. This was following the results of GE14. But the suggestions by analysts were ignored.
Now there is a suggestion made by Ilham Center's Yusri that Umno make way for PAS to contest the Chini by-election to prove its sincerity and appreciation for PAS' contributions to Umno. It is almost certain that Umno will win the Chini seat. But Umno is said to be considering Datuk Nizar Najib,son of former PM Najib, to contest the seat.
There are many more problems which the two parties need to iron out in facing the next election. Hence, I ask if the show of confidence is genuine or merely a case of bravado. Then there's the question of non-Malay Muslim votes. To state the obvious, a political coalition can only win the election in Malaysia with the support of all people of different races, communities and religions. A strong support of Malays and non-Malays is of utmost importance.
Umno and PAS know this. On their own to win non-Malay votes is very hard, if not impossible. They will have to bank on MCA and MIC to deliver the non-Malay votes. No easy feat considering the state of affairs in both parties and also on how Umno and PAS have hurt the feelings of non-Malays in the past and even not too long ago.
I'll end with this. During the political coup in February, Gabungan Parti Sarawak's Tan Sri James Masing was on record saying GPS was more comfortable working with PAS than DAP. A few weeks ago, he was also on record saying he was doubting PAS' sincerity when the party suggested the federal government suspend the production and sale of liquors to prevent drunk driving. - Mohsin Abdullah,sinchewdaily
Desperation Hits PN With Election Talk...
Former premier Najib Abdul Razak has .. said Umno is prepared in the event Parliament is dissolved if Pakatan Harapan only manages to secure a slim majority with "bought" MPs.
What better admission than this sudden talk of an election that PN has failed to achieve its back door coup through its own strategy of bought MPs? These two pampered political warlords know that 'PM8′ cannot command a majority, even after the three month breather provided by the Covid pandemic during which they have handed out jobs and bribes to anyone who will take them.
Both these desperadoes have scores of charges against them for vast amounts of graft and abuse of office and they plainly don't want to swap their Italian furnished palaces for reflection in a spartan cell.
There is likely not to even be time to 'plea bargain' their way out of those charges before PN falls, so today they embarked on this last desperate gambit to engineer an untimely election instead. And naturally they did so with a level of cheek and double standards to leave honest folk gasping breathless.
Thus, whilst it was fine for PN to claim a working majority with at the best 2 MPs, Najib today announced such an arrangement would be intolerable if the shoe was on the other foot. In the process he of course is admitting that defections are making certain the balance will be the other way with a PH advantage. So, now he says this slim majority is no longer 'workable' and is 'unstable'.
He wants the Agong to 'use his wisdom' and call and election unless the 'slim majority' belongs to PN. With even more brass neck he accuses PH of seeking to "buy" the defecting MPs who have become increasingly sick of the lies, the graft and infighting under PN. This from a bunch of conspirators who have been embarrassingly recorded in flagrante delicto describing this very process of buying MPs as their own key strategy for luring them away from the parties they were elected to represent at the last election.
MPs returning to Harapan will be returning to what their voters wanted. Meanwhile, these two UMNO kleptocrats appear to think they have stirred up sufficient trouble, strife and hatred in Malaysia over the past two years that voters will give up all hopes of reform and vote their thieving parties back. More to the point, what other options do they have besides one last gamble with an election now that their coup has cratered? - Sarawak Report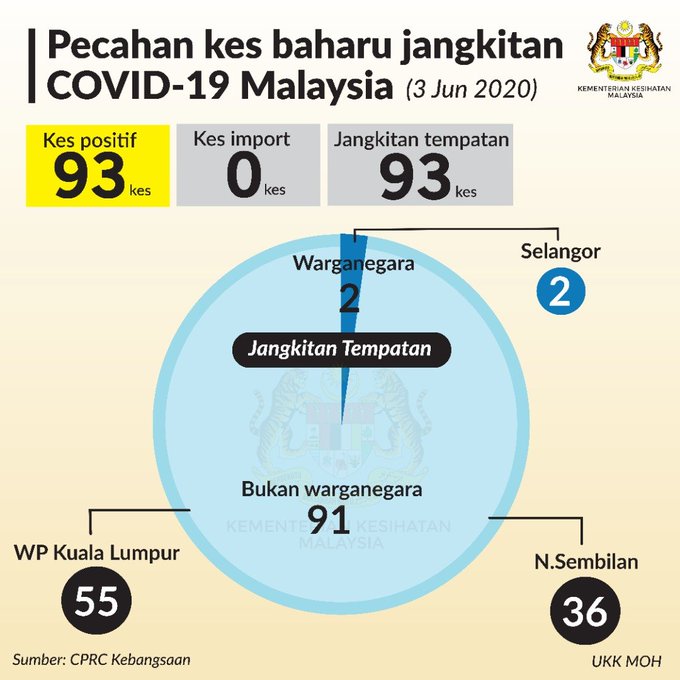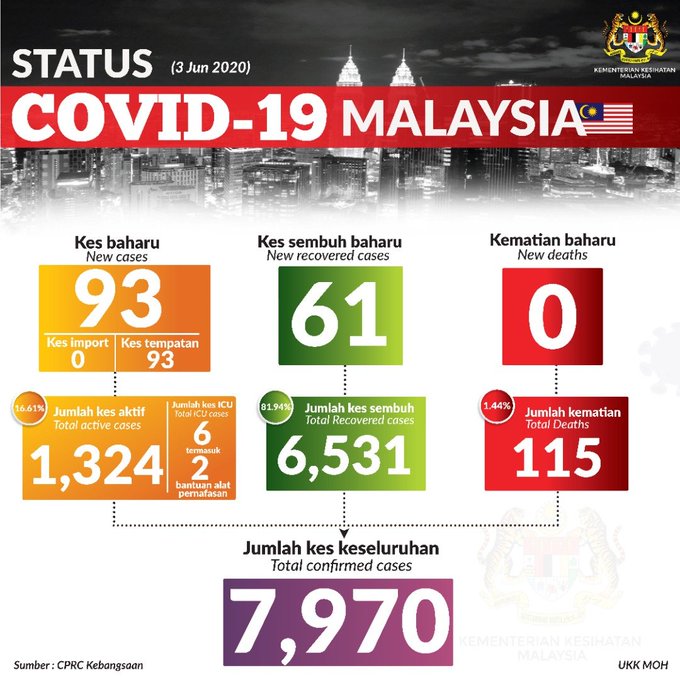 cheers.