Puak2 sembab dgn semburit yg berapa kerat tu boleh "buli" parti melayu keris telanjang dlm meeting mereka. Mereka perlekehkan pmimpin2 parti keris telanjang dgn kata2 cukup umpan mereka dgn beberapa menteri dan jawatan dlm GLC, itu sudah cukup, kata sembab. Kemudian mereka ramai2 ketawa berdekah-dekah..-f/bk
Din confident jer yg Bersatu akan ada "Upper hand" dan UMNO tak boleh demand? Biaq betoi? No wonder Tun M tak setuju. Otak Yiddin ni kira habih "meta" habih cerdik sampai tinggai hampeh kot? Cuba dengaq ni, payah gak nak faham, dengaq ulangkali.Aku pun belum cukup "khatam" tapi bolehlah faham.
Rakaman audio yang tular dikatakan mesyuarat Bersatu dimana suara lelaki berbicara itu Muhyiddin Yassin, yang mengemukakan cadangan untuk menarik ahli parlimen Umno menyertai Bersatu dan jika Bersatu (beliau) dapat membentuk kerajaan mereka akan dihadiahkan dengan jawatan ia merupakan satu perancangan jahat dan keji.
Dalam rakaman audio itu suara seperti mirip suara Muhyiddin itu menyebut, kalau dijanjikan apa-apa jawatan kepada mereka, (MP Umno) mereka tidak akan berpaling tadah dan terus menyokong Bersatu. Mengambil kira sumber berkenaan, terdapat 13 ahli parlimen Umno yang telah meninggalkan parti berkenaan menyertai Bersatu. Mereka itu adalah:
1. Hamzah Zainuddin (Larut).
2. Mustapa Mohamed (Jeli).
3. Ikmal Hisham Abdul Aziz (Tanah Merah).
4. Rosol Wahid (Hulu Terengganu).
5. Shabuddin Yahya (Tasek Gelugur).
6. Noor Azmi Ghazali (Bagan Serai).
7. Mohd Faslah Mohd Fakeh (Sabak Bernam).
8. Mas Ermieyati Samsudin (Masjid Tanah).
9. Dr Abdul Latif Ahmad (Mersing).
10. Abdul Rahim Bakri (Kudat).
11. Azizah Mat Dom (Sepitang).
12. Ronald Kiandee (Baluran).
13. Zakaria Idris (Libaran).
Mereka ini hendaklah dicam dan diingati oleh pengundi di kawasan masing-masing.Tindakan mereka meninggal parti perlu diAJAR secukupnya dengan tidak lagi memberi undi kepada mereka dalam PRU15 akan datang. - mso
Dengaq sampai habis betapa jahatnya Din,Semburit dan geng...
Penjelasan konspirasi Muhyiddin Mohd Yassin, Azmin Ali dan Hamzah Zainuddin serta konco-konco mereka dari Umno dan Pas mengkhianati Mandat 9 Mei 2018. Rayuan dan arahan Dr Mahathir Mohamad dipijak lumat oleh konspirator Langkah Sheraton.
Syed Saddiq Syed Abdul Rahman cabar mereka yang ada rakaman suara sulit mesyuarat Majlis Pimpinan Tertinggi Bersatu 23 Februari agar menyiarkan keseluruhan rakaman demi kebenaran. Ahli Parlimen Muar dan Ketua Armada Bersatu itu mencabar pihak-pihak yang beliau sebut dalam sidang medianya, kalau berani ambil tindakan undang-undang ke atasnya. - a.kadir jasin
Betapa jahat si Hamzah ni...
PPBM secretary-general Hamzah Zainudin once described Muhyiddin Yassin as a "power hungry" leader who wanted to topple Najib Razak's administration, Muar MP Syed Saddiq Syed Abdul Rahman claimed today.
He said Hamzah, who was then an Umno Supreme Council member, had told him Muhyiddin wanted to become the prime minister just before the last general election.
"That was why he (Muhyiddin) kept on attacking Najib," he said at a press conference here, adding Hamzah had related this to him.
there are graft allegations...
BERSATU youth wing (ARMADA) executive committee member (religious affairs) Abu Hafiz Salleh Hudin has called for Prime Minister Muhyiddin Yassin to swiftly answer allegations of graft related to a voice recording from the party's supreme council meeting on February 23 which surfaced yesterday.
The voice recording reveals more excerpts of the Bersatu supreme council meeting on February 23, which led to the party's controversial exit from the Pakatan Harapan coalition to join forces with 10 rogue PKR members of parliament led by Azmin Ali, Umno-led Barisan Nasional, PAS and GPS in a political coup that resulted in the current Muhyiddin-led Perikatan Nasional ruling ensemble.
Dr Mahathir and four other Bersatu MPs objected to the coup and have remained with Pakatan Harapan on the opposition bloc, forming a split between two factions for control of Bersatu itself.
Abu Hafiz called for Muhyiddin to answer serious allegations that have surfaced from this recording.
"The voice recording points to criminal intent and relates to corrupt offers of positions. It is followed by corresponding actions after PN assumed the government. Does Muhyiddin admit or deny that it is his voice?" asked Abu Hafiz.
Moga SPRM boleh buka siasatan kpd pemilik suara audio mirip Din ni, sebab janji jawatan utk habuan tebuk atap tu pun termasuk RASUAH jugakan? Berani dia tiru suara Din?
In the two minute and 24 seconds clip (top most clip) which went viral on social media yesterday, a voice resembling that of Bersatu president and Prime Minister Muhyiddin appears to instruct, among others, the expansion of Bersatu via crossovers from Umno, including from former Prime Minister Najib Razak's camp.
The voice resembling Muhyiddin is heard instructing council members, including allegedly directly addressing the likes of current Home Minister Hamzah Zainuddin, Perak Menteri Besar Ahmad Faizal Azumu (Peja) and Paya Rumput assemblyman Mohd Rafiq Naizamohideen.
"I said there are over 30 Umno currently, can we meet them and say, 'Hey, we are going to form the government man, why don't you come and join Bersatu?'. Bersatu is already with 41, add to that 10 from Umno, we are the biggest party," the voice said.
The voice also appeared to address former Prime Minister Tun Dr Mahathir Mohamad, by stating, "I'm sorry to say, you don't follow, but I thought that could be done."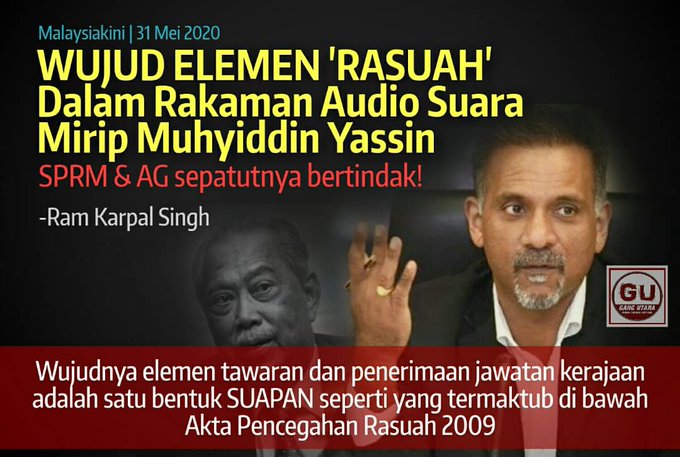 But Abu Hafiz's bone of contention came in the following quote from the video which appears to indicate the enticement of crossovers allegedly and admittedly (by the voice resembling Muhyiddin's) with offers of ministerial and GLC posts.
"If we take another, another, another, maybe there are among them, moreover if they have certain offers, why not? What is the difference between joining Bersatu and remaining in Umno?
"If we carry out such efforts, maybe some of them will join Bersatu. And there are those who have joined Bersatu. Thus, Bersatu will become an enlarged party. Imagine if 30 come in with us, with the 40 that we have, we are the single largest Malay ruling party in the country. This is the scheme of things.
"Sorry to say brother, Even if I am sick, I do work. Every night I speak to people, 'Can we not do it?'
"The other day, I spoke to Hamzah, Peja, you can too Rafiq. Talk to one, to three, four, five people.. If you add one, two three… If they know a new government is to be formed, Umno comes in, 'why don't you come in now? Why don't you join us now rather than you join later?'
"I think if we do that, a large number will become members, 10, 20… with Najib and his clan. And we give them positions. If they are not ministers, become chairmen of GLCs.
"At the beginning maybe they don't want to leave. Rather than stay now and become opposition. They want to be part of the government. "
The next line rather obviously exposes Dr Mahathir's opposition towards the move.
"Of course, Tun said to me, No, maybe they will do something. I don't think they can do something. And everybody follows Najib's demands. And threaten us, if you don't give this we will exit en masse.
"It may be possible, but maybe not successful. So, I think don't make a total conclusion because if it happened and Umno gets the upper hand. Thus the scheme of thing, if we do this it will strengthen Bersatu.
"If Tun calls two or three Umno people, we suggest 'join now, join now'… If this happens we become the majority. Bigger than any other party there is now. When is the time? This is it…" - talkedabout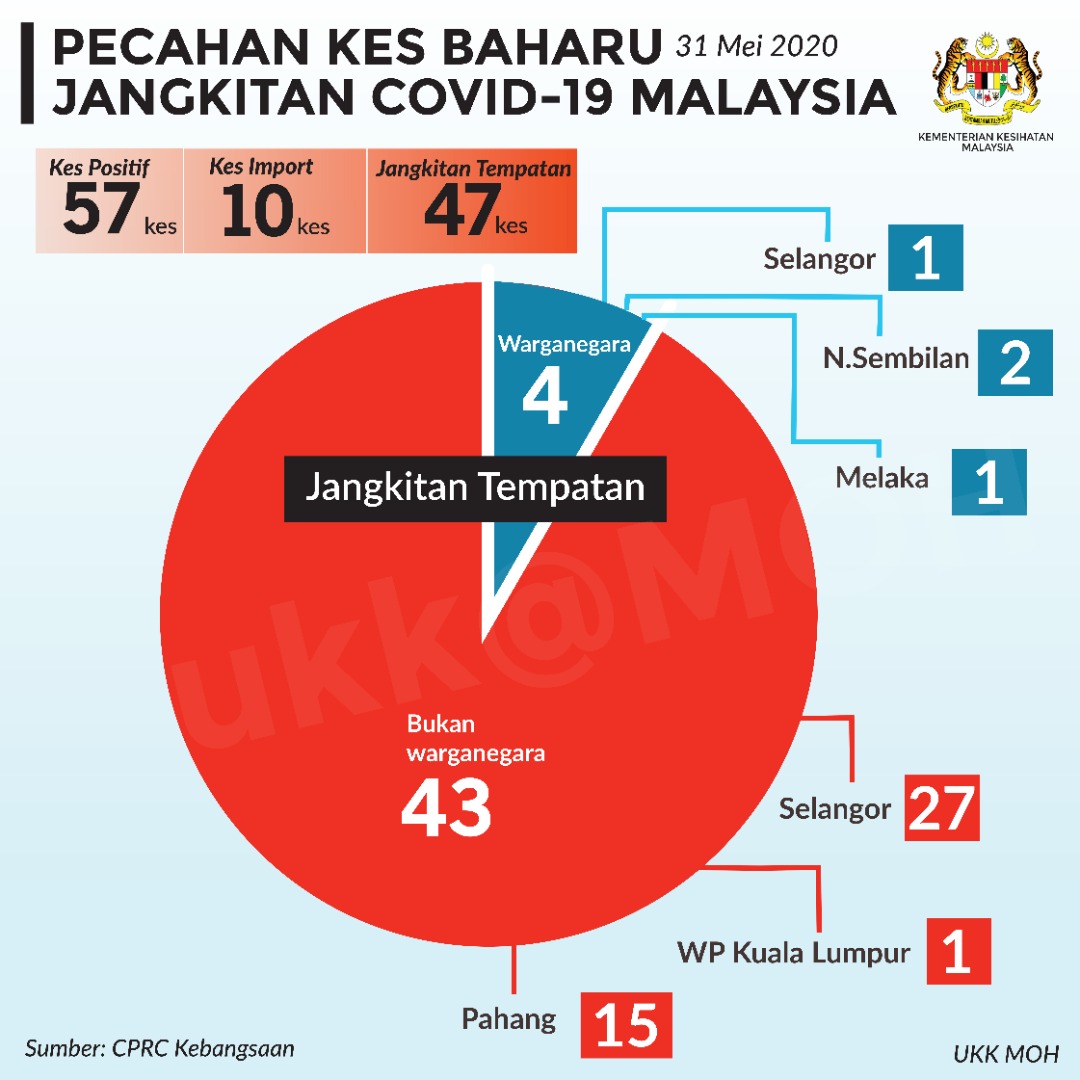 cheers.