Peruntukan kedua berjumlah RM300,000 yang didakwa ditawarkan kepada pemimpin parti peringkat pertengahan oleh anggota Majlis Pimpinan Pusat PKR yang dipecat Zakaria Abdul Hamid ketika pemilihan parti pada tahun lalu dilaporkan datang dari sumber Kementerian Perumahan dan Kerajaan Tempatan.
Setiausaha Agung PKR Saifuddin Nasution mendedahkan hal ini semasa membacakan surat SPRM yang secara "khilaf" dihantar kepada parti itu mengenai siasatan terhadap Zakaria.
Menjelaskan latar belakang kes, katanya Zakaria yang juga bekas pegawai Menteri Kerja Raya Baru Bian turut menawarkan kontrak RM20,000 dari Kementerian Kerja Raya.
"(Surat SPRM itu juga menyatakan) beliau juga memaklumkan bakal mendapat peruntukan berjumlah RM300,000 daripada Kementerian Perumahan dan Kerajaan Tempatan untuk dihabiskan sebelum hujung tahun 2018," kata Saifuddin pada sidang akhbar di Pulau Pinang.
Menurut sumber, surat itu juga menyebut Zakaria meminta para pemimpin PKR untuk memohon peruntukan daripada penyelaras parlimen Bera.
Surat itu dilaporkan berkata tindakan tersebut disyaki sebagai usaha untuk mendapatkan undi dalam pemilihan PKR.
Malaysiakini telah menghubungi Menteri Perumahan dan Kerajaan Tempatan Zuraida Kamaruddin untuk mendapatkan penjelasan.
Zuraida, yang juga naib presiden PKR, merupakan antara 18 individu yang menandatangani surat menuntut pemimpin parti mengemukakan permohonan maaf kerana bertindak "tergesa-gesa" terhadap Zakaria.
Majlis Pimpinan Pusat PKR memetik surat SPRM sebagai alasan untuk menyingkirkan Zakaria. Ketika dihubungi mengenai perkembangan terkini pada hari ini, SPRM enggan mengulas lanjut.
Timbalan Ketua Pesuruhjaya (Operasi) SPRM, Azam Baki berkata pihaknya menganggap isu ini sudah selesai apabila tampil menjelaskan kekhilafan mengenai surat kepada PKR itu. - mk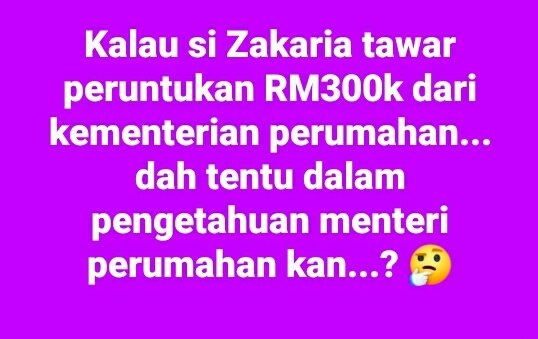 Sementara itu...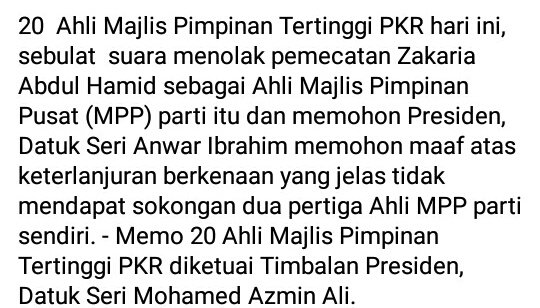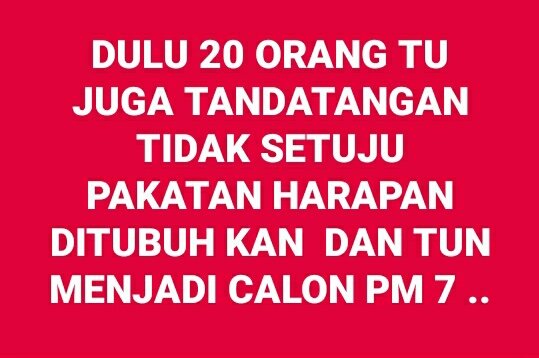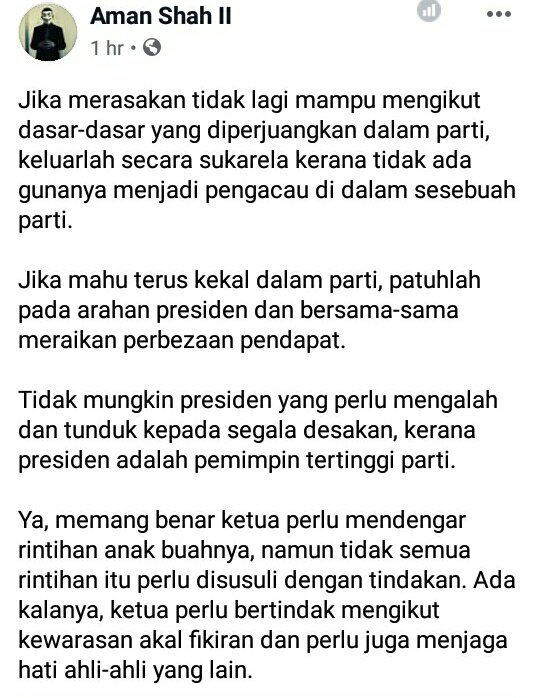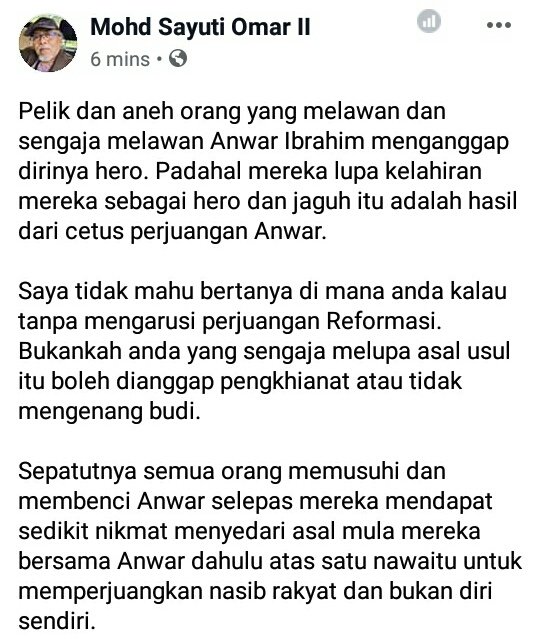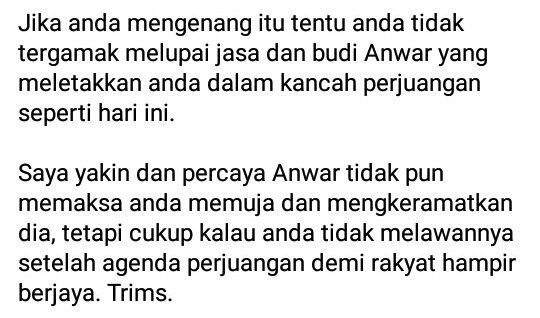 Latheefa Koya perlu mohon
Alkisahnya, SPRM hantar surat kepada Lembaga Disiplin Parti Keadilan dan melaporkan tentang salahlaku Ketua Cabang Bera, Sdr Zakaria berkaitan isu rasuah sewaktu pemilihan parti yang lalu.
Pengerusi Lembaga Disiplin membawa surat tersebut ke mesyuarat MPP yang tidak dihadiri oleh beberapa ahli MPP penyokong Azmin termasuk Azmin serta Sdr Zakaria sendiri, kecuali YB Daroyah yang hadir.
Lembaga Disiplin mencadangkan pemecatan ke atas Sdr Zakaria kerana menganggap isu rasuah adalah isu besar dan berat buat parti Keadilan, apatah lagi laporan itu datangnya dari SPRM. Anwar selaku Presiden, beliau mahu melihat sendiri laporan tersebut sebelum MPP membincangkan tindakan selanjutnya. Laporan itu dibacakan untuk pendengaran semua ahli MPP yang hadir ketika itu. Anwar secara peribadi mencadangkan hukuman lebih ringan iaitu di'gantung' sahaja keahlian Sdr Zakaria dan beliau boleh membuat rayuan. Namun, majoriti ahli MPP ketika itu memikirkan bahawa kesalahan yang dilaporkan oleh SPRM itu bukan kesalahan kecil dan ini memalukan parti.
Majoriti mahu Sdr Zakaria dipecat dan beliau diberi peluang untuk membuat rayuan. Seandainya kesemua ahli MPP berdisiplin dan bertanggungjawab untuk hadir mesyuarat yang diwajibkan ke atas mereka itu, saya fikir banyak keputusan positif dapat dicapai secara kolektif. Malangnya, ini tidak berlaku sekian lama. Apa ertinya majoriti tapi majoriti yang tidak berani berhadapan dengan minoriti dalam mesyuarat?
Apa pilihan yang Anwar ada? Adakah Anwar hanya mahu mengabaikan laporan SPRM tersebut? Adakah Anwar mahu memaksa semua ahli MPP ikut cadangannya agar Sdr Zakaria hanya perlu digantung? Kalau itu berlaku, itu bukan Anwar yang kita kenali.
Adakah parti perlu berdiam diri sehingga Sdr Zakaria dan kawan2nya dari kumpulan Azmin ada kelapangan untuk hadir mesyuarat barulah ianya dibincangkan? Mana lebih penting, parti atau kumpulan serta puak? Parti harus berjalan terus.
Bayangkan kalau parti tidak bertindak langsung ke atas laporan tersebut, apakah pandangan masyarakat terhadap parti yang dipimpin oleh Anwar ini? Apabila SPRM menyatakan kemudian bahawa pihaknya 'terkhilaf' kerana sepatutnya surat itu tidak dihantar kepada parti kerana itu bukan cara atau kaedah SPRM berurusan dengan kes2 sedemikian, namun SPRM sehingga kini tidak menafikan isi kandungan laporan tersebut.
Apabila isi kandungan itu masih diperakui oleh SPRM, maka wajarlah parti bertindak berpandukan laporan tersebut.
Sekiranya laporan itu bagi fikiran Sdr Zakaria adalah salah atau fitnah terhadapnya, sewajarnya Sdr Zakaria menfailkan saman terhadap SPRM. Beranikah beliau berbuat demikian?
Mengapa Anwar perlu mohon maaf sekiranya dianggap laporan itu palsu atau fitnah? Bukankah sebaiknya mereka menuntut SPRM agar menarik balik kandungan surat itu dan memohon maaf bukan sahaja kepada Sdr Zakaria tetapi kepada parti Keadilan juga kerana kes ini menjejaskan imej parti di mata rakyat.
Selaku Pesuruhjaya SPRM, Latheefa Koya yang terlalu mengenali Sdr Zakaria dan rapat dengannya sewaktu di dalam parti dulu perlu memohon maaf kepada sahabatnya itu dan bekas partinya dulu kalau laporan SPRM itu tidak betul atau bersifat 'nakal'. Mengapa Anwar perlu pikul biawak hudup? - wfauzdin ns
A dead man's ashes will not
Why do critics from Umno and PAS fear the ashes of former secretary-general of the Malayan Communist Party (MCP) Chin Peng? Is it because they think his ashes could revive communism in Malaysia?
That cannot be the reason because no one is interested in communism, especially as the People's Republic of China (PRC) citizens are themselves more capitalist, and probably more successful entrepreneurs, than the Americans. Moreover, Umno leaders fell over themselves to do business with communist China, and sold swathes of Malaysian territory to PRC companies.
Communist or Red China, aka PRC, is one of Malaysia's biggest trading partners. More billionaires have been made in PRC than elsewhere. They manufacture products cheaply, export them at bargain basement prices and still make a profit. The Chinese travel widely and boost tourism in many countries. They make model capitalists and do not project the image of drab communists in grey uniform, quoting from Mao's Little Red Book.
On a separate note, World War II witnessed soldiers from the Imperial Japanese army killing more people – Malayans and other foreigners – than Chin Peng. Across Asia, millions died from Japanese brutality, and over a six-week period, 200,000 Chinese perished in what is known as the Nanking massacre.
Despite their barbarism, a memorial has been erected at a bridge in Alor Star to commemorate the "Japanese heroes". All their war crimes appear to have been erased from our memories.
Those who lived through WWII recount numerous beheadings and torture, mainly of Chinese Malayans. Sybil Kathigasu, a nurse from Papan, Perak, who supported the resistance effort against the Japanese, treated wounded guerillas and was later captured, tortured and jailed by the Japanese.
Girls were abducted and placed in Japanese army-run brothels to service their soldiers. Men were sent to work on the death railway. Yet today, Umno and PAS fear Chin Peng's ashes and demand an investigation into their return to Malaysia. Surely, the police have better things to do than waste valuable resources investigating the people who returned Chin Peng's ashes to Malaysia.
The communist ideology is not everyone's cup of tea. It is like a cult, almost like a religion, with a strict and rigid observance of rituals – in dress, greetings, mannerisms and salutations.
The British outlawed Chin Peng's activities because he wanted to empower workers, in other words, the unions. After WWII, Britain needed to increase the production of rubber and tin, to help finance the huge debt left behind by the war. Crippling strikes, increases in pay, and improved working and living conditions in the mines and estates were the last things on their minds.
So, what was the real reason of banning Chin Peng's ashes from being interred in his family vault in Sitiawan? We are told that his ashes have been scattered in the sea off Lumut and the jungles in the Titiwangsa mountain range, so there is no chance of a shrine being erected to pay homage to Chin Peng or MCP.
Is the scrutiny over the ashes primarily because he was the leader of an army that was banned by both the British and Malaysian governments?
Few Malaysians are aware that during WWII, the British commandos in Force 136 fought alongside Chin Peng to repel the Japanese forces. They gathered intelligence and sabotaged Japanese army positions.
Umno and PAS politicians may claim that the return of Chin Peng's ashes is an insult to the memory of the Malaysian security forces who were killed during the Emergency, and a humiliation for the veterans who are still alive.
Former IGP Rahim Noor dismissed these comments when he was asked if the 1989 peace accord brokered by the Thai government and signed by the Thais, the Malaysian government and the disbanded MCP was a slur on the armed forces.
"To me, in any war, in an armed conflict, big or small, there must be casualties. If you say the army, police personnel and civilians suffered the most, ask MCP (and) they would say the same thing, 'what about me and my people?'," he said. So, what could be the reason for the criticism of the return of Chin Peng's ashes?
The most likely explanation is that the ashes could be used as a propaganda tool with which Malay nationalists can foment discord, and whip up the fear that Chinese communists would attack the Malays. Umno and PAS need to continue to promote the myth, that they protect the Malays and defend Islam.
The history books will probably not mention that Chin Peng helped to liberate Malaya from Japanese aggression, and fewer still will state that Chin Peng, who opposed colonial power, had issued a challenge to Tunku Abdul Rahman Putra Al-Haj, at the failed talks in Baling, in December 1955. Twenty months later, we achieved Merdeka. - Mariam Mokhtar
Sukan SEA Manila...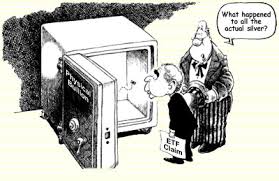 This is what Dr Mahathir found in the vault of the Treasury Dept
after winning the14th Election! So who is the culprit?
Tak ada sorang pun pemimpin di atas ini berani mengkritik MCA pasai pengunaan
JAWI disekolah Jenis Kebangsaan..Jika DAP yang cakap, pantas keluar kenyataan..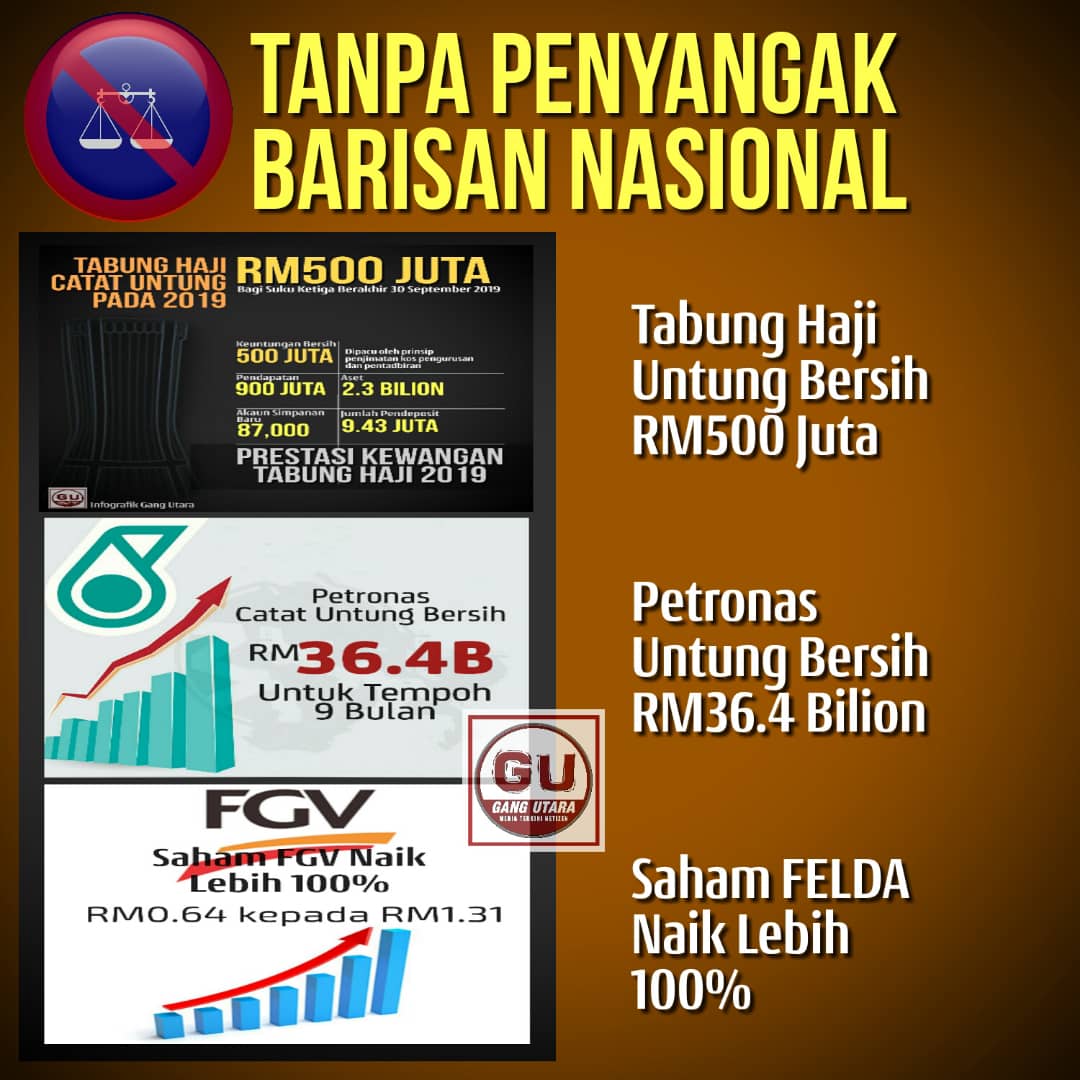 cheers.