For a 72-year old man who have had a busy and, possibly, challenging day, Datuk Seri Anwar Ibrahim was full of zest when he made a brief appearance at the 20th anniversary of Malaysiakini in Bangsar on November 23 last.

Then again that is the consummate public relations maestro known variously to friends and foes as Datuk Seri Anwar Ibrahim, AI, Brother Anwar, Saudara Anwar and Pak Sheikh. When I greeted him that evening, his first response was to point out to the similarity of the shirts we were wearing.

Anwar is a sartorially conscious person and an expert at disarming opponents but may not be as good as Tun Dr Mahathir Mohamad in managing enemies.

I believe that is also the reason the two man "grudgingly" acknowledge each other's strengths and weaknesses. I am both lucky and unlucky knowing them somewhat closely for a long time – Dr Mahathir since 1964 and Anwar from 1982. But there has always been a price I have to pay.

As I have stated many times before, I first came across Dr Mahathir when he came to my village in Kedah to contest his first election in 1964. My late father was an Umno divisional leader then.

I met Anwar face-to-face in early 1982 when Dr Mahathir introduced him as "the newest Umno member" at the old Prime Minister's Department in Jalan Datuk Onn, Kuala Lumpur.

Dr Mahathir was then into the first year as Prime Minister and was about to hold his maiden general elections. Anwar had just resigned as President of the Malaysian Muslim Youth Movement (ABIM) and I was then Associate Editor of the Business Times.

As a journalist at Bernama and later at the New Straits Times Press (NSTP), I did not hold a positive view of Anwar. When I joined the National News Agency as a cadet reporter in 1969, Anwar was rebel-rousing at the University of Malaya.

It was natural of us in the mainstream media to portray him as a sort of enemy-of-the-state for his political activities. This led to his arrest by the government of late Tun Abdul Razak Hussein in 1974 under the Internal Security Act (ISA) for his role in the Baling rubber smallholders protest. He was detained for 22 months.

So, at the press conference that followed, I asked him to prove his membership of Umno by citing his membership number. Every Umno member has a number. Before he could answer, Dr Mahathir stepped in to say something to the effect that "like you" (referring to me), in Umno if the parents were members, the children too were considered members. Anwar's late father, Datuk Ibrahim Abdul Rahman, was a senior Umno leader in Penang who once held the post of Parliamentary Secretary.
Challenging 16 Years

Under Dr Mahathir's tutelage and protection, Anwar rose quickly to become Umno Deputy President and Deputy Prime Minister in 1993 and his anointed successor. I described him as the crown prince of Umno. For me personally, it was a "challenging" 16 years (1982-1998), partly because I did not always agree with Anwar's way of doing things and his aggressive empire-building.

Still I believed that there should be a limit to demonising him in the media following his 1998 sacking from Umno and the government, and his subsequent imprisonment for abuse of power and sodomy. The latter conviction was overturned in 2004.

I thought he had suffered enough and, furthermore, he thrived on publicity. The more he was condemned in the media the more his supporters would rally around him. I wasn't altogether wrong. Although the Barisan Nasional (BN) succeeded in retaining a two-third majority in the 1999 General Election, the opposition did well and Anwar's Reformasi lived on.

That was principally the reason why I resigned as the Group Editor-in-Chief of the NSTP in 2000. I disagreed with the view that the media should continue to demonise him and actions be taken against his alleged supporters in the media.
Birth of Pakatan Harapan

Fast forward to the kleptocratic era of Datuk Seri Mohd Najib Abdul Razak – almost 20 years after Anwar's sacking from Umno and the Cabinet - I mentioned to Dr Mahathir that the consensus among the oppositions on the upcoming General Election might not be achieved unless he and Anwar met face-to-face.

I said, in all those years that he and Anwar were a team, most things were directly decided and done between the two of them. At least that was my impression in dealing with them in those 16 years. By the same token, it's best to leave the issue of the handover of power to the two of them. Interference could jeopardise the agreed transition. And if Anwar had learned anything from the past, I believe he should rein in his impatient supporters.

After some hesitation and difficulty, they met in the courtroom of the Kuala Lumpur Court Complex on 10 February 2017 where Anwar was attending a defamation trial against Utusan Malaysia and TV3. They had an earlier meeting also at the Kuala Lumpur High Court when Dr Mahathir turned up to give support to Anwar in his challenge against the National Security Council Act.

That 2017 meeting sealed the understanding that culminated in the Parti Pribumi Bersatu Malaysia (Bersatu) joining the Pakatan Harapan (PH). Other meetings followed which saw Dr Mahathir being appointed PH Chairman.
At the PH Convention on January 7, 2018 in Shah Alam, Dr Mahathir was announced the candidate for Prime Minister, Datuk Seri Dr Wan Azizah Wan Ismail as the Deputy Prime Minister and that a royal pardon would be sought for Anwar as soon as the PH formed the government. All the above had been fulfilled leaving only the transfer of power to Anwar for which no date was stated in the January 7 declaration.

This was confirmed as recently as on July 13 by the Parti Keadilan Rakyat (PKR) Secretary-General, Datuk Saifuddin Nasution Ismail, who is a staunch supporter of Anwar but had worked closely with Dr Mahathir during the critical days of consensus building.

With the Dr Mahathir finally deciding to reshuffle the Cabinet following the shock defeat at the Tanjong Piai Parliamentary by-election on November 16, it's timely to examine Anwar's role.

The Cabinet reshuffle is sorely needed not only because the PH ratings are falling but also because several ministers are clearly not performing. The Prime Minister could bring Anwar into the Cabinet as a special function minister although the latter had said, jokingly, that he wasn't applying for a Cabinet job.

This was response to Dr Mahathir's statement that he wasn't sure if Anwar would be joining the Cabinet. We could do well to reduce politicking and concentrate on running the country. A.Kadir Jasin
My take on Chin Peng's ashes...

First and foremost, I like to tell those politicians that are shouting with crocodile tears about how the armed forces personnel are feeling about the Chin Peng's ashes being brought back into the country to stop your drama. Did you even raised a finger to fight against the CT, well I did.

Let me just said, A Country Is Built On Its History. Having said that, Chin Peng is part of our history, he may not be a pleasant part of our history by nevertheless he is a part of it. Just like all the screwed up politicians we have had and will be having.

The Japanese Occupation, Communist Terrorists (CT), the insurgence, Bukit Kepong, May 13, the Memali, BMF, 1MDB etc are all part of our history. History is made up not only of glorified achievements and happy endings but it includes the tragedies and the unpleasant incidents.

We cannot change history or rewrite it. We should embrace our history as it is the foundation for our future by not repeating the tragedy and unpleasant incident. Unless we own our history we will never move forward. This is exactly what is happening to our politicians, they don't want to own our history and we kept repeating the mistakes like BMF and 1MDB, May 13 and racial polarization and many others.

So Chin Peng killed others in the course of fighting for his belief. Did not the Japanese do the same? Then how come we are able to accept the Japanese's killings but not Chin Peng's? We not only accept the Japanese's killing, we in fact crave and adore them and their products. We welcome them under our MM2H programs. We welcome their money.

I fought against the CT. My platoon shot and killed 3 of them in Kanowit, Sarawak. In Gubir, Kedah I lost a few men to them. The thing is, I never hold it against them, the CTs especially not Chin Peng. In fact in a way I respected them for fighting for their beliefs. It was more than what we have done – fighting for salary…a job.

As for the threat of CT revival, I guess this is a good opportunity for the police (SB) to use his grave or dump site as a honey comb. Monitor the bees that visit it, document them, monitor their activities and see if there is a movement to revive communism.

So, to the politicians stop all these bullshits. Let's own our history and built a great nation based on it. Written without fear of favor. - Rozlan Mohd Noor,
Hello!kartel hanya ada satu kongres nasional PKR...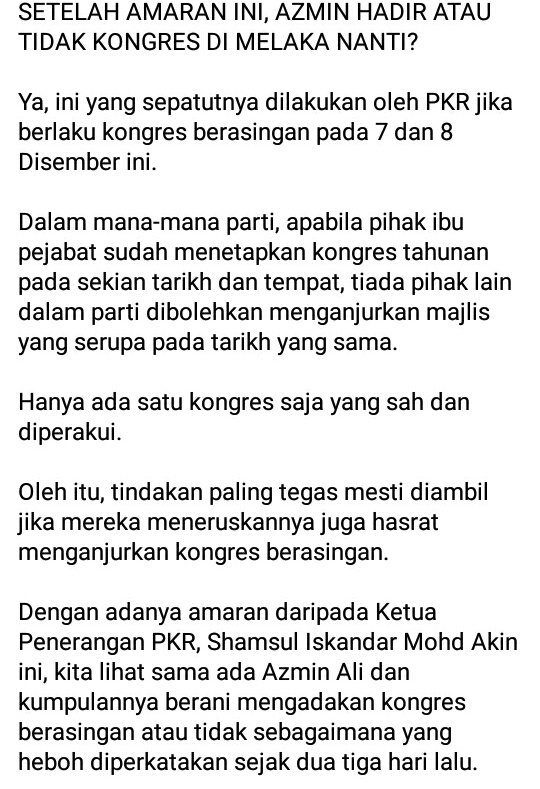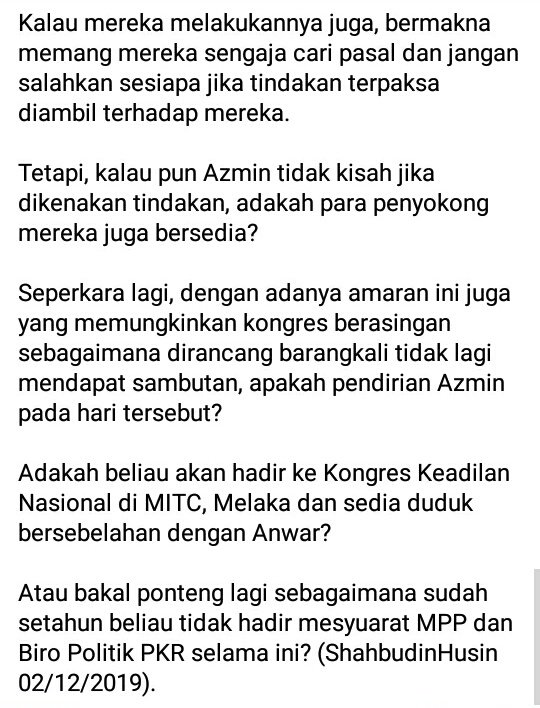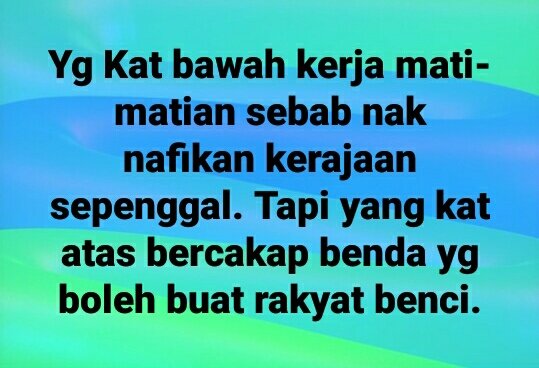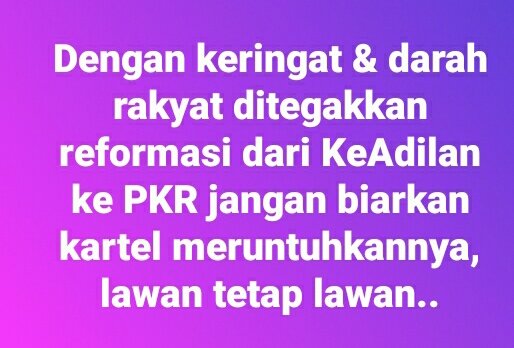 Baca kenyataan Zailah ngan MP Dungun, Tujuan depa undi menolak Peruntukan belanjawan kebajikan Sebab nak bagi peringatan kepada Pemimpin PH yang Ponteng.. Dia punya pusing... Kalahkan Sammy Vellu..Depa sedar tak apa depa cakap ?
Yang hadir dan mengundi dalam dewan rakyat hari itu menolak Bajet Kementerian Wanita dan Kebajikan Masyarakat tu Ali Parlimen PAS cuma 3 orang.. Keseluruhan ahli Parlimen PAS ada 18 orang.. 3 dari 18 tu cuma khadiran 20% dari keeseluruhan MP PAS, Sedangkan Kalau dalil tu digunakan 80% MP PAS itu sebenarnya ponteng.. Haji Hadi, Nik Abduh dan Ulama PAS pun semua Ponteng..
Kalau MP PAS sendiri 80% Ahli Parlimen dia tak hadir dewan Rakyat.. ada hati nak bagi peringatan pada MP PH yang Ponteng, Aku tak kira lah.. Sapa pun Ponteng kita tak setuju, Tapi dari kes ni nak tunjukkan Busuknya hati Ahli parlimen PAS.. MP PAS boleh saja berkecuali seperti zaman PH jadi Pembangkang dulu, Tapi Walak MP PAS pada UMNO dan MCA tidak bertebing..
dan Allah aturkan tepat Ahli Parlimen PAS yg terlibat dikalangan Wanita Sendiri si Zailah menolak Peruntukan dan bajet untuk orang miskin ,Ibu Tunggal dan OKU... Sepatutnya depa lah jadi tulang belakang bagi kementerian wanita, tapi depa Tolak...dan Allah aturkan Banjir besar dikawasan Parlimen 2 MP tu sekarang.. apakah depa perlukan bantuan ? - Ipohmali
Tiada was2 PAS ni dah tak boleh pakai...
Sebabnya:
1. Pendirian yg tdk konsisten dan selalu berubah utk kepentingan mereka
2. Berpaling dari membela yg haq, memerangi yg batil. Cth boleh bersama Umno menolak bajet OKU dan fakir miskin kerana politik.
3. Pemimpin2 Pas dah berapa ramai kalah saman fitnah dan terpaksa minta maaf.
4. Telah dikesan acap kali berbohong dan bertindak bodoh spt berpuas hati dgn laporan audit 1mdb yg kita dah tahu dari awal ada penipuan.
5. Pas sudah nyata meninggalkan amar makruf nahi mungkar cthnya meninggalkan ayat walaa tarkanu yg tdk membenarkan org beriman bersama golongan zalim...kini, mrk dah tak berani baca dlm ceramah.
6. Pas makin jadi Umno...cth nyata bila tak boleh bawa hujah puak Pas hr ini akan ratib Dap sama mcm Umno...Pas dah jadi parti asobiyyah mcm Umno!
Pas sudah tiada integriti dan hilang arah perjuangan Islam! - Mohd Yusof
Fikrah PAS, bab politik mereka pakai borong, tapi bab agama mereka pilih-pilih ayat Qur'an atau Hadis yang sesuai dengan nafsu mereka saja.
Kalau sokong BN, mereka akan sokong apa saja yang BN buat walau seburuk-buruk perkara dan bercanggah dengan Islam... Bila tolak PH, mereka akan tolak apa saja yang yang PH buat walaupun kebaikan untuk membantu petani, kebajikan untuk OKU dan perkara yang dimuliakan oleh Islam. - f/bk
Amaran banjir di negeri Pak Lebai...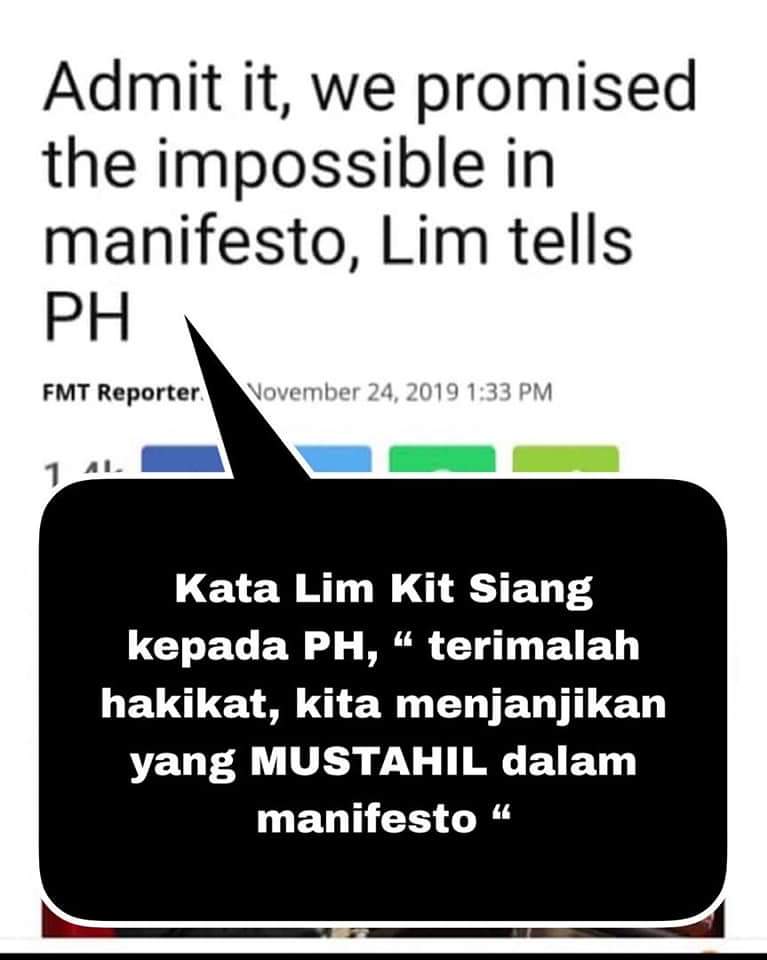 cheers.