Naib Ketua Wanita KEADILAN Yb Juwairiya berkata kumpulan seperti Otai Reformis 98, Jingga13, MASSA dan Anak Reformasi hanyalah sekadar badan bukan kerajaan (NGO) dan tidak mewakili ahli atau pemimpin partinya.
Adakah dia ni lupa siapa yg tubuhkan dan siapa ahli ahli dalam NGO tu?? Atau telah jadi bodoh sejak bersetongkol dengan Kartel??
Jingga13 sendiri yg kini dah 9 tahun diwujudkan adalah terdiri dari ahli KEADILAN, ditubuhkan oleh ahli KEADILAN, di iktiraf oleh Presiden KEADILAN sejak zaman Wan Azizah hingga kini Anwar Ibrahim dan dibarisi anak muda yg majoriti dari mereka masih AMK suatu ketika dulu, dan banyak mempertengahkan barisan anak muda yg berani menentang rejim UMNO ketika era pemerintahan Najib.
Yb Jue si payung terjun, takkan tak perasan ada antara golongan kamu sendiri suatu masa dulu di zaman pembangkang adalah dari NGO2 yg kamu kata bukan ahli parti ni?? Nak aku senaraikan satu persatu ke??
Aku tak heran kalau suatu masa nanti jika ada kumpulan pengundi Dun Bukit Melawati bersuara ketidakpuasan hati, dia sendiri keluar statement kumpulan tu bukan pengundi Dun Bukit Melawati..
Nilah contoh org lupa diri. Selamba kutuk geng turun ke jalan reformasi. Tak marah aih..pada mada YB masih dok pakai pampers...
Bila YB payung terjun dari #Kartel yg cuba putar sejarah!!! Kami reformis harap2 awak tonggek dalam PRU15 nanti- f/bk
Najib dan Zahid kaya raya
tapi
suka balun duit rakyat...
Pemimpin UMNO kata senarai kenderaan Zahid itu tidak lah mengejutkan..Sebab dia dah kaya sebelum jadi TPM... Kenyataan ini aku setuju.. Tapi itu bukan lah persoalannya..
Aku pun tahu, Zahid Hamidi dulu pernah dilantik pengerusi BSN.. Sama seperti Azeez Rahim dia dulu pernah dilantik pengerusi Tabung Haji.. Takkan lah depa takda harta langsung..itu mustahil..
Begitu juga Najib..Najib ni dari keluarga Bangsawan.. Adik dia CEO CIMB, Anak Perdaan Menteri.. Memang Najib Kaya.. Tak heran..Yayasan Noah, Pak sedara dia ada saham Genting.. Sepupu dia Hishamuddin pun anak bangsawan..anak bekas Perdana Menteri, kalau takda langsung harta,Menipu lah...
Tapi itu bukan Soalnya.. Soalnya Pendakwaan depa ni melibatkan Penyelewengan di Mahkamah, Segala harta.. Segala Perbelanjaan mewah,Percutian mewah, samaada Beli jam mewah sebagai hadiah jam untuk pujuk bini, Bayar Insuran berpuluh Kenderaan mewah dari sumber haram.. dari dana Kebajikan.. apa lagi teruk dari sumber dana awam seperti KWAP dan KWSP..
Kalau kamu kaya, Guna saja Duit kamu sendiri.. apa perlu transaksi yang mencurigakan..Duit hasil rasuah dan Derma komisen Projek.. apa perlu kamu menggunakan pelbagai cara "mencuci Duit"menghalalkan duit yang haram, Rasuah dan penyalahgunaan kuasa ini bukan saja boleh melibatkan orang susah..Hatta orang Kaya, Taikun pun boleh terjebak dengan rasuah... dan akhirnya mereka ini cuma mensucikan rasuah dengan Agama dan Kebajikan. Sebab apa ini berlaku ? Sebab Nafsu kepada harta dan pangkat ini tidak pernah cukup.
Yang menjadi pelik hari ini, Ulama boleh bersama penyamun dan penhkhianat hak rakyat, tetapi menyerang mereka yang membela hak rakyat seperti Rafizi..Lihatlah muka depan harakah hari ini, bagaimana mereka mempertikaikan Peguam negara hanya kerana dia cuba melepaskan dari pendakwaan semula keatas rafizi selepas dibebaskan Mahkamah hanya kerana mendedahkan salah laku pemimpin yang korup, tapi tanpa rasa malu bersama Najib dan Zahid di persidangan UMNO kononnya bicara soal maruah Melayu dan Islam..
inilah gambaran Ulama Jahat..Inilah 2 Perkara bukan hanya merosakkan seorang Pemimpin...hatta Seorang Ulama ! dan akhirnya kerana 2 Perkara ini mereka merosakkan Agama.. - Ipohmali
UMNO-Baru's struggle. What struggle?...
To which Umno-Baru "struggle" was the party's secretary-general, Annuar Musa, referring when he urged its members to berjihad (fight hard) and donate towards the Umno-Struggle Fund (Umno-Tabung Perjuangan)?
While the average Malaysian was struggling to make a living and struggling to pay his taxes, Umno-Baru leaders merely helped themselves to taxpayers' money and the donations collected by charities. As far as many Malaysians are concerned, Umno-Baru leaders struggle to tell the truth, and they struggle to keep their hands off the taxpayers' money.
Their politicians struggle to be sincere, they struggle to observe law and order, and they struggle to respect people of other faiths and cultures. Most of all, many of them struggle to be law-abiding citizens. Their MPs struggle to be civil in Parliament and struggle not to be sexist.
Umno-Baru struggles to tell Malaysian schoolchildren the nation's early history instead of Umno-Baru's version. For several decades, Umno-Baru ministers struggled to give students a decent well-rounded education, struggled to assist senior citizens, struggled to promote interfaith harmony - whilst the police, armed forces and civil service found it a struggle not to become political puppets.
What is Annuar's (below) definition of struggle? He should ask graduates why many cannot afford a home and are forced to stay with their parents. Many pensioners are afraid to fall ill, especially if they live on their own, and have no family members for support.
Single mothers struggle to gain justice under the syariah system. Lawyers string them along, and many of these desperate women give up the struggle for justice. They struggle to make ends meet, struggle to have a family life, because many have to keep two or three jobs to provide for their children.
With hard work and perseverance comes success. For decades, Umno-Baru's affirmative action policies and the NEP stopped the Malay cronies from taking risks. They never understood the real meaning of having to struggle for success.
Today, many Malays struggle to appreciate the struggles of the non-Malays, the hardships they endured to send a child to university, to start a business, to buy a property or to repay a debt. The oft-repeated mantra of Umno-Baru (and PAS) is that they are the only ones to "protect the Malays and defend Islam". Both failed in this struggle.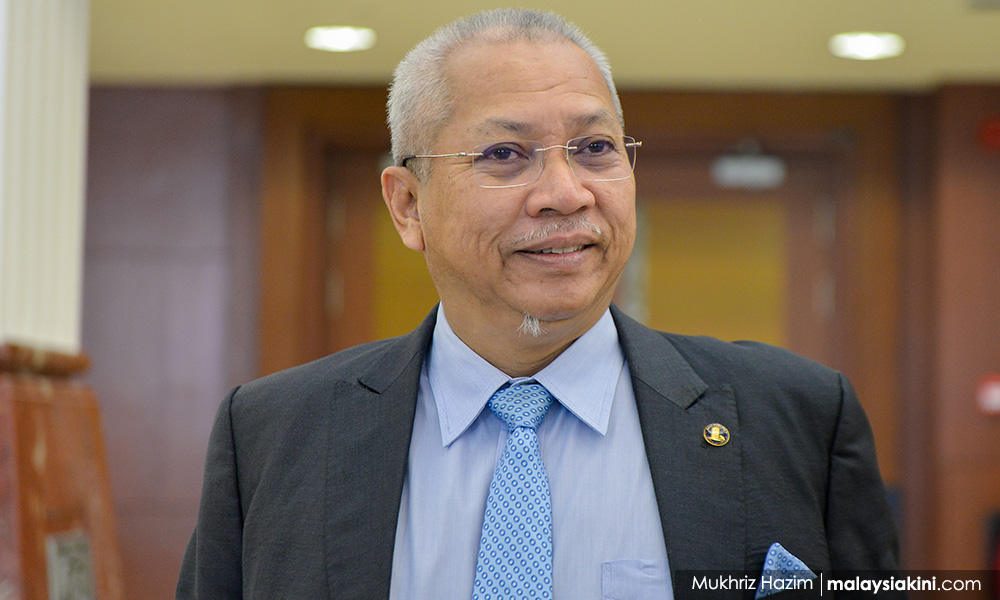 Today, many Malays require protection from other greedy, manipulative and power-hungry Malays, many of whom are current and former Umno-Baru leaders. Think of Najib Abdul Razak, his spouse, his deputy Ahmad Zahid Hamidi (below), Felda's former chairperson and many other Malays who were former heads of GLCs.
For the past four decades, Umno-Baru struggled to uphold the good name of Islam. With the formation of the beefed-up Jakim, women became more suppressed, with their minds imprisoned, according to the whims of the men who make the rules. The Malay woman's dress and behaviour are considered more important than her ability and achievements. Many Muslim women find it a struggle to compete in the 21st Century, because some men expect them to conform to 6th Century modes of behaviour.
Children are married off because it is men's religious right. The underage children struggle to be wives, mothers and home-carers because they are children. The self-appointed "protectors" of Islam in Jakim have made the lives of ordinary Muslims (and non-Malays/Muslims) more of a burden and struggle.
The Umno-Baru "struggle" extends to their wives and families. Some spouses, who are as extravagant as their husbands, struggle to convince us that their vast wealth came from saving their pocket money since they were teenagers. Some Umno-Baru children struggle to contain their violent outbursts when denied entry to a condominium and struggle not to swipe other men's girlfriends.
Other spoilt Umno-Baru brats struggle not to order other people about, as if they were the emperor's daughter. Other Umno-Baru offspring struggle not to flaunt their ill-gotten wealth. How can one afford a RM7 million house, when one has no education, no job and no social skills?
The arrogant Umno-Baru progeny insult the rakyat by claiming they are stupid and easily duped into signing legal documents, which make naïve villagers the proxy owner of land, or a business which really belongs to an Umno-Baru politician or crony.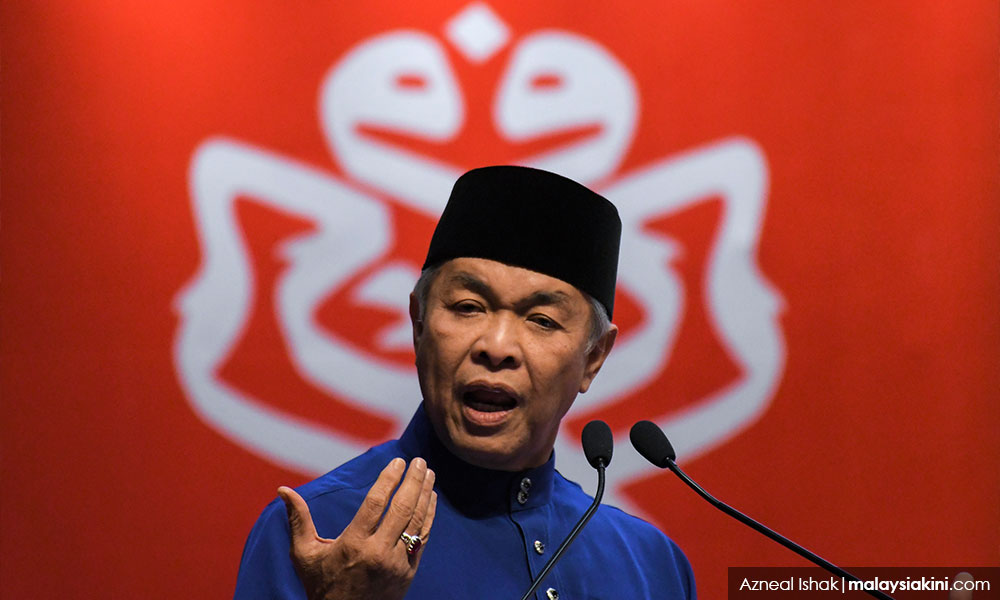 Was Annuar referring to Umno-Baru's struggle to pay its cybertroopers and macais? When their accounts were frozen, after GE-14, there was no financial incentive to motivate supporters to do the party's bidding.
Previously pro-Umno-Baru NGOs were paid to attack those who criticised Najib's administration. The Red Shirts, led by Jamal Yunos, used to terrorise normal citizens. Abdul Rani "Kibidap" Kulup, whose band of followers wore dark sunglasses, red berets and green uniforms covered with medals, had a passion for lodging police reports against Najib's critics. Both men have disappeared from the social scene. Money does make the world go round for Umno-Baru.
The only struggle, which Umno-Baru leaders know, is how to line their own pockets. Despite the rakyat's demand for good governance and an end to racism and religious extremism, Umno-Baru struggles to turn over a new leaf.
The trials of Najib and Zahid have been eye-openers. During their reign of terror, people were punished for criticising their administration, but we now know that their reign was also one of uncontrolled spending with taxpayers' money, and charitable donations being used to fund their lifestyles. Zahid spent RM70,000 on insurance for his luxury cars and motorbikes, and another RM35,000 on road tax.
We struggle to understand why the checks and balances failed to expose the corrupt politicians. Annuar's Umno-Baru fund is pointless, as the money will eventually fall into the pockets of its leaders.
The real struggle is that we have to put up with Umno-Baru's nonsense. Moreover, we also struggle to understand why Pakatan Harapan wants to morph into a clone of Umno-Baru. - Mariam Mokhtar
Rosmah pun tak ingin gadai cincin utk jamin suaminya...
cheers.