Sehingga ini belum ada mana-mana pemimpin utama PH tampil bersuara menzahirkan sokongan terhadap pengumuman Mahathir Mohamad mahu melewatkan lagi tarikh peralihan kuasa sehingga selesai Sidang APEC pada November 2020.
Baik daripada kalangan PKR, DAP dan Amanah, semuanya masih senyap seribu bahasa. Lebih daripada itu, pemimpin-pemimpin daripada Bersatu sendiri, di mana Mahathir adalah pengerusi parti itu juga tidak ada yang tampil menyokong pengumuman tersebut.
Kebiasaannya, sebarang perkara yang diumumkan oleh Perdana Menteri, lebih-lebih lagi berkaitan perlanjutan jawatan, mudah saja mendapat sokongan, terutama daripada golongan pengampu, pembodek dan penjilatnya.
Ikut logiknya, inilah masa paling sesuai untuk mereka membodek dan mengampu Perdana Menteri serta selepas itu bolehlah menuntut apa-apa yang perlu seperti kontrak, jawatan, kedudukan dan sebagainya.
Tetapi, mengapa tidak ada yang melakukannya? Kenapa semua orang masih diam membisu dan senyap membatu daripada mengeluarkan kenyataan menyokong? Apakah Mahathir sudah dapat merasa ketiadaan pengampu, pembodek dan penjilatnya?
Apakah makna semua ini? Apakah ini bermakna majoriti pemimpin PH, termasuk daripada Bersatu, sebenarnya turut tidak setuju dengan hasrat Mahathir itu dan mereka segan untuk menzahirkannya secara terbuka, takut-takut kalau Perdana Menteri tertua itu terasa hati jika mereka berterus-terang mengenainya?
Kalau setuju, kebiasaannya tentu sudah ramai yang mengeluarkan kenyataan memberi sokongan, malah berlumba-lumba melakukannya. Fahamkah Mahathir isyarat ini?
Begitu pun, melalui perbualan umum di mana-mana dan menerusi luahan di media sosial, ternyata hampir 90 peratus netizen tidak setuju dengan apa yang diumumkan oleh Mahathir itu.
Mereka merasakan, jika dalam tempoh 19 bulan ini pun tidak banyak perubahan mampu dilakukan oleh Mahathir dalam memberi lebih kesejahteraan kepada rakyat dan menjadikan keadaan negara bertambah baik, memberinya tempoh lanjutan enam bulan lagi hanya menjerumuskan kerajaan kepada kedaaan yang lebih bahaya lagi.
Tambahan lagi, dengan adanya gesaan Lim Kit Siang agar kerajaan menjadikan tahun 2020 sebagai tahun menunaikan janji manifesto adalah juga petunjuk bahawa tempoh 19 bulan selama ini tidak memperlihatkan banyak kemajuan dari segi memenuhi kehendak rakyat.
Untuk itu kata mereka, tempoh dua tahun menjadi Perdana Menteri dan menjelang Mei 2020, peralihan kuasa kepada Anwar Ibrahim, tidak dapat tidak, mesti dilakukan.
Sekurang-kurangnya dengan Perdana Menteri baru mengambil alih teraju negara, harapan kepada perubahan positif itu lebih diyakini berbanding Mahathir yang sejak 19 bulan lalu ternyata gagal melakukan sesuatu yang berkesan.
Satu-satunya kejayaan Mahathir sejak 19 bulan lalu, hanyalah daripada sudut politik dengan menjadikan banyak parti yang dilihat mengancam kedudukannya seperti PKR, DAP dan Umno, sentiasa bergolak dan hampir berpecah.
Tetapi, kerana beliau sudah terlalu tua, kudrat terbatas, partinya sendiri tidak kuat dan tiada orang sekelilingnya yang betul-betul menjilatnya seperti Megat Junid Megat Ayob, Sanusi Junid dan Aziz Shamsuddin, semua perancangan politiknya nampak mudah dibaca dan sangkut di tengah-tengah jalan. Ohhh...cukup-cukuplah Tun!! - Zulimran Nasution
Jin, banjir dan akui takut dengan Hadi...
Seorang pengamal perubatan alternatif mendakwa salah satu punca banjir teruk di Kelantan melibatkan kerja jahat jin. Pengusaha Pusat Rawatan iLahana, Sa'ad Ja'afar mendakwa beliau dan rakannya telah 'menangkap' sekumpulan jin berkenaan baru-baru ini dan menyeksa salah seorang ketua mereka.
Hasil dialog dengan entiti itu, ketua jin akhirnya mengaku memburukkan lagi keadaan bencana alam di Kelantan itu semasa musim tengkujuh ini. Menurut Sa'ad, rupa ketua jin ditangkap itu tinggi, berjubah putih, bongkok dan tangannya panjang yang didakwa digunakan bagi mengepung dan menolak air supaya menjadi banjir. Jin itu dikatakan berusia 213 juta tahun.
Dalam pada itu, Sa'ad mendakwa ketua jin yang mengaku sengaja memburukkan lagi keadaan banjir supaya manusia bercelaru seterusnya mereka mendapat perhatian daripada ketua mereka iaitu Dajjal.
Malah ketua jin mengakui faktor mahu berbuat demikian kerana Kelantan sebuah negeri yang banyak kebaikan termasuk didakwa bersungguh-sungguh mengikut ajaran Islam. Malah dalam sesi dialog yang sama, ketua jin juga mendakwa negeri yang paling sedikit kebaikannya ialah kawasan Kuala Lumpur.
Dalam pada itu, Sa'ad juga menanyakan soalan berkaitan dengan ahli politik termasuk Perdana Menteri, Tun Dr. Mahathir Mohamad kepada jin berkenaan. Jin tersebut mendakwa golongannya tidak terkesan dengan Mahathir dan mendakwa Presiden PKR, Datuk Seri Anwar Ibrahim pula telah 'dipermainkan' namun tidak mengulas lanjut mengenainya.
Bagaimanapun, jin berkenaan mengaku menyukai Mohamad Sabu kerana mendakwa Presiden Amanah itu suka mendengar bisikan mereka. Mengenai Setiausaha Agung DAP, Lim Guan Eng pula, jin berkata pemimpin DAP itu tidak akan dapat menghancurkan umat Islam tetapi yang hancur adalah dirinya sendiri.
Tergamak depa edit gambar ni. Sebenaqnya guru tok sedang duduk atas air tanpa perahu. Guru tok ni keramat, dia boleh jalan atas air, apatah lagi duduk. Jin pun terkentut kalau sebut nama guru tok.- f/bk
Berbeza dengan Datuk Seri Abdul Hadi Awang, jin berkenaan mengakui gentar dengan dengan Presiden Pas itu. Menurutnya, cadangan dari Abdul Hadi banyak akan menyusahkan golongan mereka di kemudian hari.
Soal jawab antara Sa'ad bersama jin yang didakwanya itu dimuatkan dalam blognya, PakarTangkapJin.blogspot.com. Sa'ad berkata, pengakuan jin itu dilakukan semasa proses soal jawab dan dalam keadaan mahkluk berkenaan dalam keadaan terseksa.
Bagaimanapun, katanya, ia merupakan pandangan jin dan bukan satu ketetapan kerana segala-galanya ditentukan Allah.
"Dalam hal ini, mungkin ada orang yang sukar mempercayainya namun kita harus sedar ilmu Allah itu sangat luas," ujarnya ketika dihubungi hari ini. – MalaysiaGazette
Tiada modal kaum Pas ni. Adakah Jin pula dikalahkan.Nama Jiin itu Karut bin Makrut.Hahahaha.Jin pulak yg disalahkan PAS ni dah kehabisan modal sekarang guna Jin pula.Kalaulah nak buat statements tolonglah buat statements yg logik Jin takut dgn Hj.Hadi.Hahaha.SHIT Punya statement.Memalukan orang PAS ni .Hj Hadi dah nyanyok..Idea dah korup .Allah swt dah tunjukkan bukti dgn jelas yg Hj Hadi ni saorang penipu dan tak bertanggung Djawab. Dia berdendam dgn Mat Sabu kerana keluar PAS dan menubuhkan AMANAH dan dapat menjadi pemerentah dan dapat menjadi Menteri Pertahanan pula.Dah tak ada modal skg guna modal Jin pula.Tak malu ke kalau VIP dunia tau hal ini.Sorry lah tak terpengaruh dgn cerita dongeng bangang bagitu.Apa dia ingat rakyat bangang macam dia ke?Ya Allah bangang betul.Tergelak Baca statements JIN Hj.Hadi. Binawe betul Hj.Hadi ni.

- Yusof Yusma
People were upset Dr.M defended Azmin's homosexual acts,but not Anwar's sexual assault...
Accusations of favouritism and hypocrisy – even evil conspiracy – have been slapped on Mahathir Mohamad, the oldest prime minister in the world. That was the anger and displeasure expressed by netizens on social media over the double standard practised by the prime minister after premier-in-waiting Anwar Ibrahim was accused of committing sexual assault.
To make matters worse, the Royal Malaysia Police has suggested that a polygraph test could be used over Muhammed Yusoff Rawther's allegations of having been sexually assaulted by Anwar, the president of PKR (People's Justice Party) – the biggest party in the ruling Pakatan Harapan coalition government. Mr. Anwar has strongly denied the allegations.
People smell a rat, and it's hard to blame them. Anwar had previously been sentenced to prison for two sodomy cases, each under different prime ministers – first round under Mahathir in 1998 (during his first stint) and the second time under Najib Razak in 2014. And now it appears the same Mahathir is about to hit Anwar with a similar stunt again – Sodomy version 3.
Actually, there has been some minor modification to the drama script. The previous half-baked sodomy storyline cannot continue its third version for obvious reason. That's because in his statutory declaration, Yusoff claimed he had thwarted Anwar's attempt to outrage his modesty when the two met at the PKR president's house on October 2 last year.
Yes, it's been more than a year since 26-year-old Muhammed Yusoff Rawther was allegedly sexually assaulted by 71-year-old Anwar Ibrahim at the politician's house, never mind that the PM-in-waiting was busy campaigning for the Port Dickson by-election and had attended an event to commemorate the 150th birthday of Mahatma Gandhi in Kuala Lumpur on the alleged date.
It would certainly look suspicious, not to mention ridiculous, for Yusoff, a young and energetic former research assistant of Anwar, to claim being sodomised by Anwar but would take more than a year to expose the old rapist. When then-former PM Najib orchestrated Mohd Saiful Bukhari Azlan's sodomy case against Anwar, it had invited criticism and laughter all over the world.
Flashback – Anwar Ibrahim was pronounced guilty of Sodomy Part-2 in 2014 by a Kangaroo Court controlled by Najib regime, despite various doubts. For example, instead of lodging a police report, Mohd Saiful happily met Anwar a day after being sodomised. The victim was so smart that he did not wash his "anus", apparently to preserve semen samples, but was dumb enough to wash his underwear.
Sex Video Scandal - Azmin Ali and Muhammad Haziq
Mysteriously, Saiful also suddenly introduced a bottle of lubricant – KY Jelly – when giving his testimony during a trial. The most jaw-dropping part was when medical evidence confirmed that there was no trauma or injury found in Saiful's anus, as if he had some kind of super ability to heal himself like the mutant Wolverine. You can go to this article here to read the 12 screw-ups written 5 years ago.
Saiful's sodomy allegation against Anwar was so ridiculous that the judge threw the case out in January 2012. But by March 2014, the acquittal was overturned by the Court of Appeal. Anwar was subsequently sent to 5 years' imprisonment, which he served before being pardoned on 16 May 2018 after the Najib government lost the 2018 General Election.
Clearly, it would make Mahathir looks incredibly dumb if the same sodomy scripts were to be re-used again. Therefore, the police say that the latest case against Anwar is about the outrage of modesty, and not sodomy, as no sexual penetration has been claimed. The young Yusoff would have a lot of explaining to do if he claims sodomy. A sexual assault allegation is much easier.
However, the police have not decided whether to subject both the accuser and the defender to polygraph tests. Will it be fair to subject Anwar only for the test and not Yusoff? What if both fail (or pass) the tests? More importantly, what if Anwar fails the test but has a strong alibi? After all, polygraph tests are not necessarily an accurate lie detector.
If indeed Anwar did sexually assault the young man, then the PKR president should be punished according to the rule of law. Likewise, if Yusoff had made a false allegation against the PM-in-waiting, he, too, should be sent to jail. However, the public perception is such that the police cannot be trusted to do their jobs professionally without fear or favour.
Not only people don't believe the impartiality of the police force, they also don't believe Prime Minister Mahathir had nothing to do with the latest allegation against Mr. Anwar. And who could blame the public for increasingly distrust the 94-year-old man who openly treats Azmin Ali and Anwar Ibrahim differently over a same problem – sex scandal.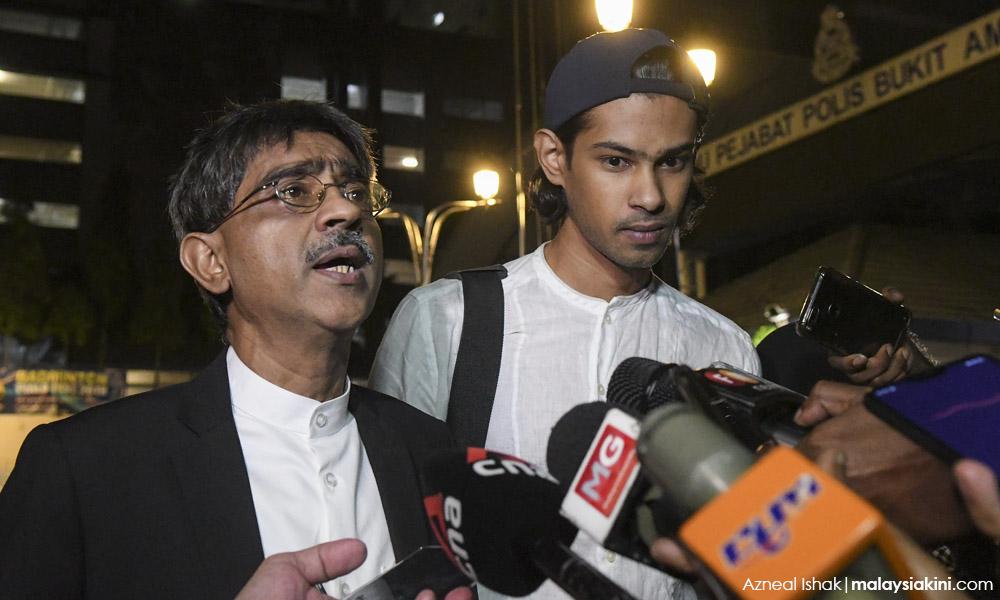 Lawyer Haniff Khatri Abdulla and Muhammed Yusoff Rawther
Polis dok kalut siasat kes DSAI tapi kes Semburit Azmin sampai sekarang tak ada khabar berita... Senyap je.. Yang nyata dalam video boleh pula ditangguh-tangguh, tapi yang real menipu pula yang disiasat sakan... Owh.. Sebab Penguam Tun bagi sokongan kuat buat fitnah kat DSAI ke..untuk membantutkan janji agar DSAI tak jadi PM ke? Kalau betul Tun ikhlas dah pasti dia mengarahkan peguam dia untuk tidak masuk campur dan pembangkang yang menghulurkan bantuan guaman kepada Yusoff tu.. Kenapa pula peguam Tun yang lebih? Nampak...Lu pikirlah sendiri.. - f/bk
When Azmin Ali, the blue-eyed boy of PM Mahathir, was implicated as the man in an explosive gay sex video in June, the premier quickly came to the defence of the Economic Affairs Minister. He unilaterally declared Azmin's innocence and conveniently claimed the video clip was fake – even "before" the police could start the investigation and authenticate the video.
But when it's Anwar Ibrahim's turn to be accused (for the third time), the same Mahathir kept his silence and had never once defended the future prime minister. It screams double standard and bias that Mahathir was so eager to protect a man caught having pleasure with another man, but couldn't care less about another man accused of sexual assault.
The worst part was when the Inspector General of Police Abdul Hamid Bador, a loyalist of the premier, had joined the bandwagon in insulting the peoples' intelligence – declaring that the identities of the two men in the gay sex video clips cannot be determined, despite the public's confidence that one of them was Economic Affairs Minister Azmin Ali.
The suspicion has now grown stronger that Mahathir was the hidden hand behind the sexual assault drama. The prime minister's lawyer, Haniff Khatri Abdulla, has emerged as Yusoff Rawther's attorney against Anwar Ibrahim. Of course, the lawyer argued that the simple fact that he appeared for his client makes it crystal clear that Mahathir cannot be the man behind the evil plot.
Perhaps the lawyer thought people were too dumb to realise there's something called "reverse psychology". Interestingly, Rural Development Minister Rina Mohd Harun, the Women's Chief of Mahathir's party (PPBM or Bersatu), appointed the lawyer as the new chairman of the Penang Regional Development Authority (Perda) in January this year.
You don't need a rocket scientist to find out why PM Mahathir approved the appointment of his own lawyer to head a powerful agency like "Perda". And it's quite troubling that the police didn't raise (or deliberately refused to raise) the idea of using polygraph tests when Muhammad Haziq Abdul Aziz admitted to be one of the men in the sex video clip plaguing Azmin Ali.
Why did the police question and grill Anwar Ibrahim, but not Azmin Ali? Has homosexual been declared legal, natural and legitimate activities under the Mahathir administration? Perhaps Mahathir should clarify why in a Muslim country like Malaysia; homosexual acts appear to be less damaging than sexual assault. The premier's reputation and integrity are being questioned. - FT
PAS rela derma tabung selamatkan Najib...
Mak lempir lupa asal usul dia dapat jadi menteri...
cheers.