Seorang ahli Parlimen Barisan Nasional (BN) digantung 2 hari daripada sidang Dewan Rakyat selepas mempersoalkan jika abu suci (vibhuti) di dahi RSN Rayer (PH-Jelutong) ada kaitan dengan abu mayat bekas pemimpin Parti Komunis Malaya (PKM), Chin Peng.
Kekecohan bermula apabila Tajuddin Abdul Rahman (BN-Pasir Salak) bertanya Rayer jika abu di dahinya ialah abu mayat Chin Peng.
"Saya hendak tumpang tanya, abu itu adakah abu Chin Peng atau apa?" soal Tajuddin.
Beliau terus bertanyakan Rayer berhubung abu suci di dahinya ketika perbahasan di Dewan Rakyat bertukar kepada isu penahanan 12 individu yang didakwa ada kaitan dengan kumpulan pengganas Harimau Pembebasan Tamil Eelam (LTTE).
"Saya tidak mahu Jelutong (Rayer) dituduh pakai abu (mayat) Chin Peng dekat dahi itu," katanya.
Rayer kemudian memberitahu Speaker Dewan Rakyat, Mohamad Ariff Md Yusof, tindakan Tajuddin ialah satu penghinaan kepada penganut Hindu.
"Ini adalah menghina orang-orang Hindu. Saya minta Pasir Salak (Tajuddin) minta maaf kerana beliau menghina orang-orang Hindu di Malaysia. Saya minta tarik balik kenyataan itu."
Rayer mendapat sokongan Sivakumar Naidu (PH-Batu Gajah) yang bersetuju kenyataan Tajuddin itu ialah penghinaan kepada penganut Hindu.
Tajuddin kemudiannya menarik balik kenyataan itu selepas diasak beberapa ahli Parlimen beragama Hindu yang lain.
"Okeylah, tarik balik. Tarik baliklah, apa ada masalah?"
Shahidan Kassim (BN-Arau)
Perbalahan berlaku lagi selepas Shahidan Kassim (BN-Arau) menggunakan Peraturan Mesyuarat 36(12) untuk merujuk Rayer ke Jawatankuasa Hak dan Kebebasan, kerana mendakwa ahli Parlimen DAP itu mengelirukan Dewan dengan menuduh BN anti-penganut Hindu.
Rayer berkata, beliau bukannya menuduh ahli Parlimen BN anti-penganut Hindu, tetapi Tajuddin daripada blok pembangkang yang bertindak menghina penganut Hindu.
"Beliau sudah memohon maaf, jadi tidak perlu menarik balik. Kenapa saya perlu tarik balik sedangkan kenyataan itu dikeluarkan Tajuddin?" soalnya.
Ia disusuli Ramkarpal Singh (PH-Bukit Gelugor) yang menggunakan Peraturan Mesyuarat 36(6) berhubung sangkaan jahat terhadap mana-mana ahli Parlimen.
"Tadi Pasir Salak (Tajuddin) saya percaya ada membuat satu kenyataan terhadap Jelutong (Rayer) bahawa abu yang dipakai Jelutong itu adalah abu Chin Peng atau berkaitan komunis.
"Ini adalah kenyataan melampau. Kenyataan itu menghina, saya minta satu keputusan daripada speaker Dewan Rakyat," katanya yang mempersoalkan pendirian wakil rakyat MIC berhubung kenyataan Tajuddin.
M Saravanan (BN-Tapah) berkata, beliau tidak bersetuju dengan tindakan individu atau ahli Parlimen membangkitkan isu agama.
"Tetapi, apa yang disebut Pasir Salak (Tajuddin), saya tidak ada dalam Dewan Rakyat," kata Saravanan.
Ariff memutuskan untuk menggantung Tajuddin dan Khoo Poay Tiong (PH-Kota Melaka) selama 2 hari.
Noh Omar (BN-Tanjung Karang)
Tajuddin digantung kerana mengganggu urusan Dewan, manakala Khoo pula disebabkan beliau tidak mematuhi arahan speaker.
"Ini sudah keterlaluan, Kota Melaka dan Pasir Salak saya arahkan keluar (Dewan Rakyat). Kota Melaka kerana tidak mengikut arahan speaker, semua hendaklah bertindak mengikut peraturan mesyuarat," kata Ariff.
Abu suci dihasilkan daripada kayu istimewa yang dibakar dengan minyak sapi dan herba lain menggunakan api suci.
Ini adalah kontroversi kedua di Dewan Rakyat membabitkan ahli Parlimen BN dalam tempoh seminggu.
Pada 27 Nov lalu, bekas menteri persekutuan, Noh Omar (BN-Tanjung Karang) mengeluarkan kata kesat "P ***** k" kepada Rayer yang menggelarnya "bodoh" dalam satu pertikaian mengenai catatan Facebook yang mengkritik Sultan Selangor. - fmt
be with Pakatan Harapan!...

You cannot fight corruption without upsetting the people who are corrupt and there are many corrupt people in Malaysia. If you understand this, then you begin to understand why many people are upset with what PH is doing to fight corruption. These are the people who are casting aspersions on the work done by the AG, the IGP, and Lateefa Koya. You can begin to understand why people are hantaming Tun Mahathir and Pakatan Harapan for leading the fight against corruption. When you see these corrupt people being very angry with PH and Tun Mahathir, then you know that PH and Tun are doing the right thing to fight corruption.
How corrupt was our country under Barisan Nasional?

For Najib Razak, to be a grand kleptocrat when he was PM, Rosmah Mansor, the First Lady of Malaysia has to be corrupt. She knows how much Najib earns. She knows how much they spend. She knows the deals he makes, the people he sees and the millions he stashes away in parts unknown. She knows how much she spends on the stuff she gets to make her feel that she is FLOM when we know she is not. She knows who pays for them. All this she knows and more. If there is anybody who knows how corrupt Najib is, Rosmah knows.
Najib's children know their father is corrupt. Riza Aziz, the stepson to Najib, knows where the RM1.25 billion that went into his account, came from. He knew where the money he "invested" in Red Granite for the "Wolf of Wall Streets" came from. He knows from where the money he got to buy those penthouses in New York and in other parts of the world came from. He knows and he is quiet because he knows that his stepfather is corrupt.

If Najib's mother, Tun Rahah Mohd Noah does not know that her son was corrupt then, she knows it now. Tun Rahah now knows that the money that came from Najib's bank account for her Yayasan, was money that came from 1MDB.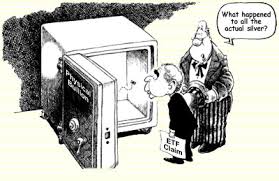 This is what Dr Mahathir found in the vault of the Treasury
Dept after winning the14th Election! So who is the culprit?
Najib's brothers know that Najib is corrupt because they know the lifestyle that Najib, his wife and children led. They know that that lifestyle cannot be maintained on the salary that Najib is making. They also know that the "deals" and "projects" they are getting comes to them because of Najib's position as PM. They were profiting from the public office that Najib holds and that is corruption not only by Najib but also corruption by them. They knew that Najib is corrupt and was quiet about it.

The DPM and Ministers in the cabinet are also complicit in allowing and encouraging Najib's corruption when he was PM. They choose to be quiet for they profited from the corruption of Najib. The mendacity and complicity of the Cabinet in the corruption perpetrated by Najib are treasonous and they should be held accountable for treason to our beloved Malaysia. They knew that Najib is corrupt.
There were many in the Judiciary, Legislature, PDRM, SPRM, PDRM, ATM, Statutory bodies and authorities, and many in the Civil Service who were complicit in allowing grand corruption to ravage our country. Together they are responsible for siphoning the scarce resources from the economy meant for schools, hospitals and the development of our country. Together they increase the future indebtedness of our country and damaged the economy of our nation for many generations to come. They were all responsible for allowing the unholy alliance of politics and business. They all knew that Najib is corrupt but was silent for they benefited from corruption.

Think about the enormous work Pakatan Harapan has to do to eliminate corruption when so many in Malaysia today, are corrupt. I do not doubt that PH have the political will to fight corruption. The powers that be within PH are analyzing the roots and causes of corruption. They have the remedy to manage these problems. PH have begun to implement these remedies and are monitoring the progress and effectiveness of these remedies, but the task at hand is massive. The obstacles and the extent to which corruption has been normalized and accepted as the way of doing things in Malaysia simply has to be seen to be believed, but progress is being made even though the wheels of justice seem to be turning too slowly.

Let us take some solace in the fact that when Pakatan Harapan Ministers tell us lies, there are checks and balances in place to take them to task and they are made to understand that they will be held to account for what they do in the name of the government. Let us take some comfort in the fact that everything that this PH government does is subject to scrutiny and debate by any one of us and that the MSM and the online media are vocal, critical and constructive in their comments and debate about these matters. All is not perfect and all is not bad with this PH government but we must grant them one concession: They are trying! And really guys, is that not what we want of any government that we have put into office? That they will try?

Now we need Pakatan Harapan to move with us towards One Malaysia. Towards inclusivity, not exclusivity. Towards a union of all Malaysian sans the division of race, religion, and politics. And all this we must do knowing that there are still many among us today who would want our country to go back to those toxic times when BN normalized corruption and treated all the resources of our nation as theirs to rob and pillage as they think fit. And there are enough of them out there with the resources and the numbers to create much mischief among us all. So be on guard. Be wary and most of all, be with Pakatan Harapan! - st47
Ponorogo pujaan olarmakk serta walaun.
cheers.