Pas akhirnya mengakui parti itu ada menerima dana sebanyak RM2.5 juta sebagaimana yang didedahkan oleh Ahli Parlimen Pokok Sena, Mahfuz Omar sebelum ini.
Dengan pengakuan itu bermakna Mahfuz tidak berbohong atau membuat fitnah berhubung dakwaan wujudnya dana meragukan yang diterima oleh Pas.
Sebanyak RM1.5 juta dana dikatakan dimasukkan ke dalam akaun Pas Pusat, manakala RM1 juta lagi ke akaun yang dimiliki oleh tiga pemimpin Pas Terengganu.
AJK Pas Pusat, Dr. Zuhdi Marzuki ketika mengakui mengenai wang tersebut bagaimanapun berkata, ia adalah derma individu tertentu kepada Pas.
Katanya, dana itu bukannya datang daripada UMNO.
Oleh kerana Dr Zuhdi sudah mengakui wang RM2.5 juta itu merupakan suatu derma, satu alasan yang sama digunakan Najib Razak ketika mengakui ada wang RM2,600 juta yang masuk ke akaun peribadinya, orangramai kini tentunya ingin tahu siapakah individu pemberi derma tersebu?
Adakah beliau itu seorang yang kaya dan ternama, ada perniagaan besar dan mempunyai banyak wang dalam akaunnya sendiri?
Oleh kerana Dr Zuhdi mengatakan wang tersebut adalah derma individu dan tiada kaitan dengan UMNO, pendedahan siapa individu berkenaan tentu saja sangat penting, bukan saja kepada orangramai, malah juga buat Pas sendiri.
Setidak-tidak kita ingin tahu penderma itu bukan ahli UMNO, bukan kroni UMNO dan bukan juga bekerja dengan mana-mana pemimpin UMNO.
Jika tiada apa yang mahu disembunyikan dan Pas juga benar-benar ikhlas, telus serta tulus, Pas seharusnya tiada masalah untuk mendedahkannya.
Pernahkah Pas selama ini menerima derma dalam jumlah sebanyak itu daripada mana-mana individu?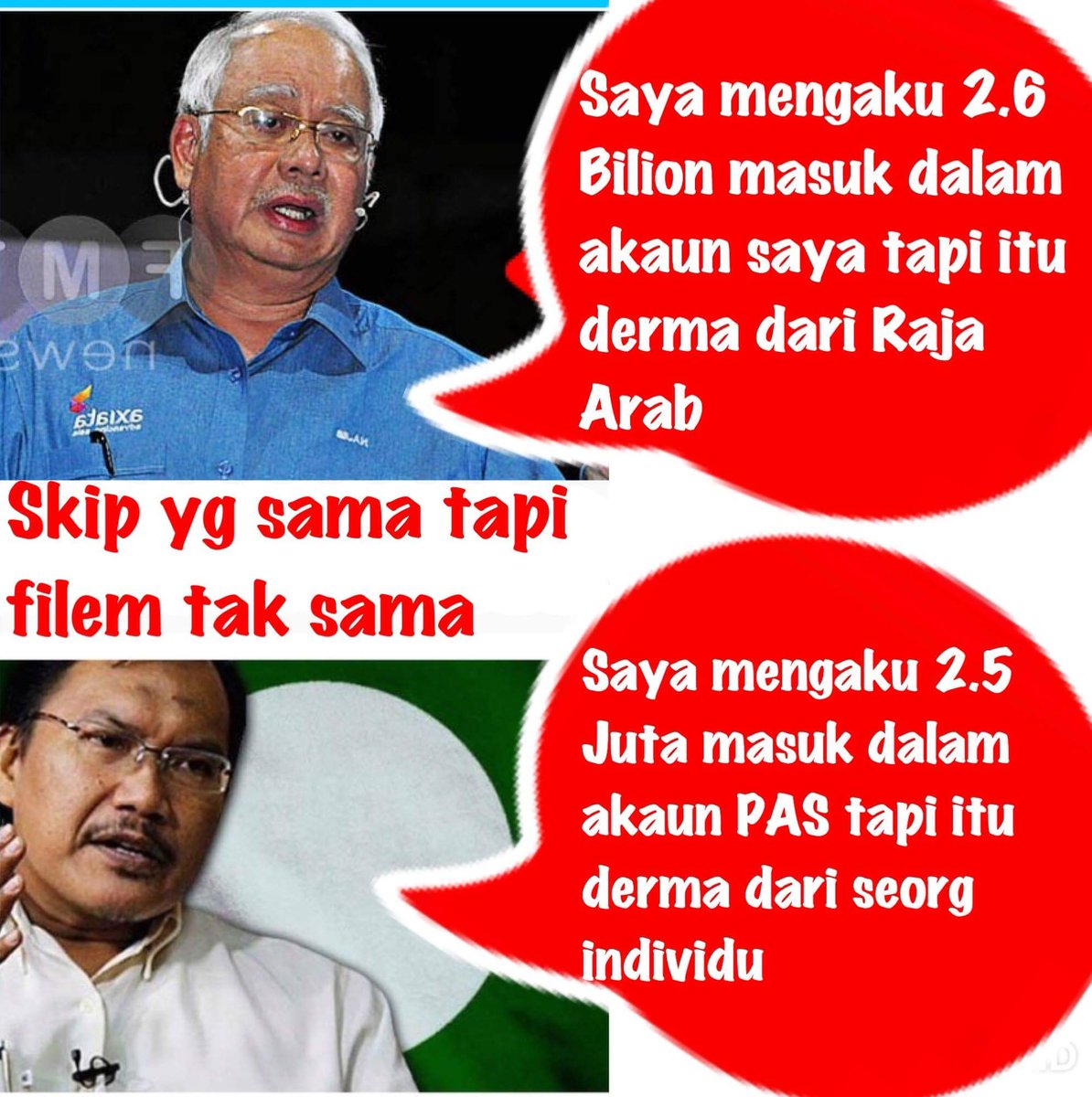 Jika selama ini Pas banyak bergantung kepada derma ahli-ahlinya melalui kutipan tin milo, mengapakah sejak berbaik dengan UMNO ini Pas tiba-tiba mendapat derma individu dalam jumlah yang besar?
Tindakan Pas terus berteka-teki dengan sekadar mengatakan ia derma, tetapi tidak berani mendedahkan butiran lengkap pendermanya, semuanya ini hanya menjadikan Pas sama seperti Najib saja kelakuan dan perangainya.
Atau adakah Pas sendiri belajar daripada Najib berhubung penggunaan alasan derma itu? - ShahbudinHusin
Outsmarted World's Biggest Crook...
Yes, we know. The Malaysia "Kangaroo Court" will declare UMNO, an illegal society effective yesterday (19 April, 2018), is still a legal society by throwing the case out of the window as fast as lightning. Still, it's nice to know that the world can see how caretaker Prime Minister Najib Razak bulldozes his way to contest the election as an illegitimate candidate.
UMNO (United Malays National Organisation) is Malaysia's largest political party with Mr. Najib as its president. UMNO is also the backbone or lead partner in Barisan Nasional (BN) coalition, which was the ruling party in Malaysia before the Parliament was dissolved paving the way for the 14th General Election on May 9, 2018.
With roughly 3 weeks away before the polling day, and a week before the nomination day on April 28, the political party is in panic mode. A group of 16 brave UMNO members, including a branch chief, filed a judicial review application today (Friday) to challenge the decision of the Registrar of Societies (RoS) to extend the period from holding the UMNO leadership elections until April next year.
While the legal process is ongoing, the group is also seeking for the Court to suspend all UMNO activities until the disposal of said action. What this means is, unless the "Kangaroo Court" moves really fast, UMNO President and BN chairperson Najib Abdul Razak cannot sign the letters of appointment for candidates from UMNO and BN in the coming general election.
Of course, Najib's paid cybertroopers, propagandists and bloggers are foaming at the mouth – crying, whining and bitching – that it was former premier Mahathir's fault for pulling such a stunt. But even if it's true that the 93-year-old Mahathir was behind the sabotage, can anyone blame the old fox for easily outsmarting the narcissist Thief-in-Chief Najib Razak?
Mr. Najib has nobody but himself to blame for plunging UMNO into the crisis now. Had he grown his spine and courageously held the party election from the beginning, he would not have had gotten himself into the shit-hole he's now having. So, how did the self-proclaimed Bugis warrior screw up, and still has no idea what hits him? Here's the story.
The last party elections were held on October 19, 2013. According to UMNO Constitution, an election must be held every 3 years. Therefore, the subsequent election should be held on October 19, 2016. Thanks to the explosion of 1MDB scandal, where PM Najib was caught with his hand in the cookie jar – a whopping US$681 million in his private banking accounts – he had no choice but to postpone it.
Under the pretext of strengthening UMNO ahead of the 14th nationwide election, Mr. Najib postponed for 18 months the party election when it was due on October 19, 2016. Obviously, he was too terrified to allow the party's election for fear of being dislodged by former mentor-turned-enemy Mahathir. That 18-month extension expired yesterday (April 19, 2018).
Amusingly, on March 5, the Registrar of Societies (RoS) conveniently allowed another postponement of the party elections in accordance with the Clause 10.17 of the party constitution, allegedly allows a further extension of 18 months. The problem is this – the so-called Clause 10.17 actually does not exist in the UMNO constitution.
In essence, the Malaysia Registrar of Societies (RoS) was either ignorant, or was conspiring with UMNO in legalising an illegal society. Thinking she was smart, RoS director-general Surayati Ibrahim allowed the extra 18 months extension to UMNO under Section 13A (4). However, such empowerment could not be used in the case of UMNO.
The Section 13A (4) only applicable in situation where the RoS had itself given an instruction to any society to comply with an order, but failed to do so, to which the RoS could give another 18 months extension. Clearly, in the case of UMNO, RoS wasn't involved at all from the beginning when the UMNO Supreme Council and Najib gave themselves the 18 months, which expired yesterday.
In short, UMNO is officially an illegal organization effective April 19, 2018. Period. However, Malaysian "Kangaroo Court" can always bend the rules to suit caretaker Prime Minister Najib Razak by simply throwing out the judicial review application brought by the 16 UMNO members. But if the court does that, it openly admits that the judiciary together with RoS are perpetrators of illegal activities in Malaysia.
It's funny how karma works. Previously, Najib had used the same Registrar of Societies (RoS) to intimidate opposition DAP party. After DAP conducted a re-election of its CEC (central executive committee) members on Sept 29, 2013 in compliance to the directive of the RoS pursuant to their letter dated July 30, 2013, RoS still wasn't happy and continued harassing the party.
RoS ordered the re-election of DAP's CEC after it found so-called irregularities and manipulation of votes by the party in its initial election in December 2012. Not satisfied with the DAP's re-election, the then-RoS director-general Mohammad Razin Abdullah instructed DAP to hold yet another re-election of the party's CEC, claiming that the re-election held on Sept 29, 2013 was equally unlawful.
So, an obedient DAP can be bullied to hold multiple re-elections until the RoS is satisfied but at the same time, UMNO can be given the leniency and special privilege not to conduct any election since 2013? Heck, the RoS had even abused its power by legalizing UMNO when the party should have been declared an illegal society.
RoS was also super strict with PPBM (Malaysian United Indigenous Party), another opposition party led by Mahathir Mohamad. The Registrar of Societies declared the party illegal at the eleventh hour before the dissolution of Parliament in what appeared to be a deliberate act to prevent the influential former premier from contesting under his party's logo.
It's disgraceful that the country's Registrar of Societies blatantly and illegally allowed UMNO to postpone its party elections, but oppresses and suppresses opposition parties at the same time. But what comes around goes around. Previously, the same RoS had cited problems with PPBM's status as the reason why opposition alliance Pakatan Harapan could not be registered.
Similarly, now that UMNO has become an illegal political party, the Barisan Nasional (BN) coalition should be outlawed too. This also means the BN's symbol – "dacing (scales)" – cannot be used too. Well, Najib and his minions should stop whining and crying about being sabotaged by veteran UMNO warlords who started the fiasco – "Iron Lady" Rafidah Aziz and Rais Yatim.
Of course, the whole chess-game has been part of Mahathir's strategy from the beginning. Didn't the 93-year-old former premier warn Najib about his plan-A, plan-B, plan-C and so on in case Najib plays dirty? Its funny how Najib's propagandists are bad-mouthing Mahathir when not too long ago, they mocked and insulted the old man as senile and not fit to become the prime minister again.
It's absolutely embarrassing that an old fox Mahathir has easily outsmarted 64-year-old Najib. Sure, everything will be fine eventually as money change hands to make the judicial review goes away. Perhaps Najib should consider bribing the 16 UMNO members to withdraw their application. Perhaps Najib should consider declaring "emergency" and rule unchallenged like a dictator. ft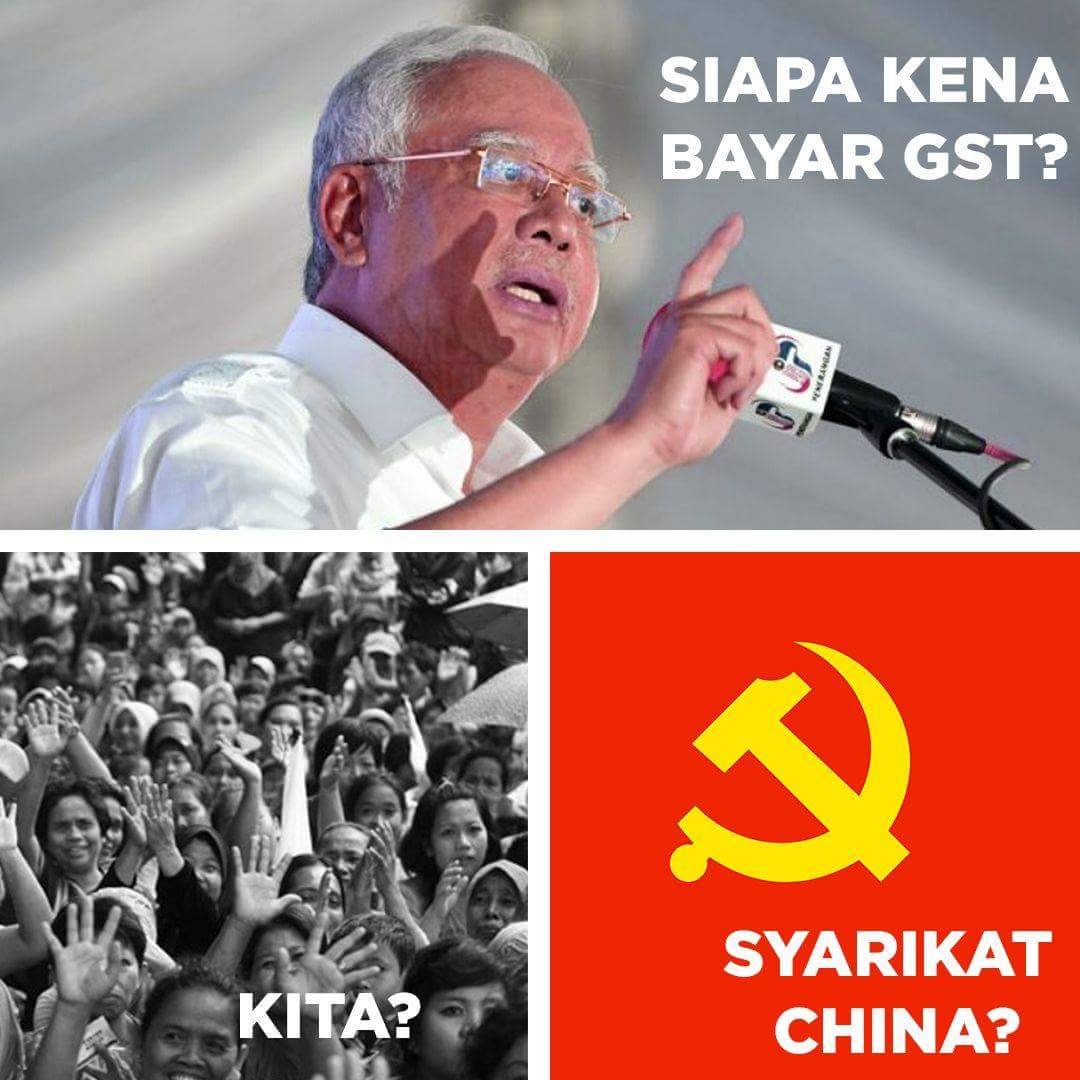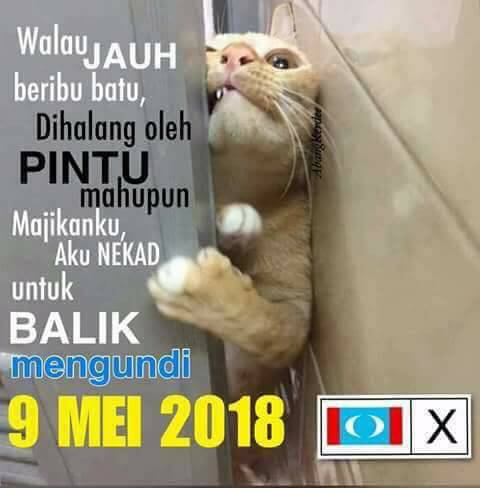 cheers.