Di sebalik serangan dan dakyah jentera propaganda UMNO memburuk-burukkan Pakatan Harapan (HARAPAN), Presiden UMNO, Najib Razak sedang menunjukkan tanda-tanda cemas menjelang Pilihan Raya Umum ke-14 (PRU14) pada 9 Mei ini.
Perasaan cemas itu boleh dibahagikan kepada dua sebab utama; Pertama kerana gelombang sambutan luar biasa rakyat kepada HARAPAN seluruh negara, dan sebab kedua adalah kemungkinan UMNO diharamkan.
Penangguhan pemilihan bahagian dan ahli Majlis Tertinggi UMNO yang berakhir pada 19 April 2018 setelah mendapat 18 bulan lanjutan daripada Jabatan Pendaftaran Pertubuhan (ROS) memungkinkan UMNO bukan lagi sebuah parti yang sah.
Bagaimanapun, Setiausaha Agung UMNO Tengku Adnan Tengku Mansor dilapor berkata UMNO telah mendapat kelulusan ROS menangguhkan pemilihannya sehingga 19 April 2019.
Keadaan ini menunjukkan UMNO bukan sahaja menangguhkan pemilihan ahli-ahli Majlis Tertinggi bukan sahaja untuk 18 bulan tetapi 30 bulan sedangkan perlembagaan UMNO hanya memberi kuasa untuk menangguhkan pemilihan tersebut selama 18 bulan sahaja.
Ketua Parlimen DAP Lim Kit Siang, berkata, "Situasi yang melanda UMNO saat ini menyebabkan Najib tersentak kerana UMNO berkemungkinan menjadi parti yang tidak sah di sisi undang-undang," ujarnya dalam kenyataan.
Beliau turut memetik kenyataan bekas menteri UMNO, Tan Sri Rafidah Aziz yang berkata situasi ini menyebabkan Najib Razak secara automatik tidak sah sebagai Presiden UMNO, selepas 19.04.2018
Lebih menakutkan, Rafidah dalam satu kenyataan dilapor berkata "UMNO sebagai parti politik yang tidak sah selepas 19.04.2018, tidak boleh bertanding dalam PRU14 yang diadakan selepas 19.04.2018 !!!"
Situasi ini mendorong enam belas anggota cawangan UMNO memfailkan permohonan untuk kebenaran semakan kehakiman untuk membatalkan keputusan Jabatan Pendaftaran Pertubuhan (ROS) yang membenarkan UMNO lanjutan masa untuk mengadakan pemilihan parti di semua peringkat.
Sikap 'berlembut' ROS untuk mengambil tindakan terhadap UMNO juga telah mengundang pelbagai kritikan mendakwa jabatan tersebut tidak berlaku adil.
Ia amat berbeza dengan tindakan keras jabatan itu terhadap parti-parti pembangkang sebagaimana dikenakan terhadap DAP dan Parti Pribumi Bersatu Malaysia (PPBM).
Persoalannya saat ini, di mana lagi talian hayat UMNO? – Roketkini.com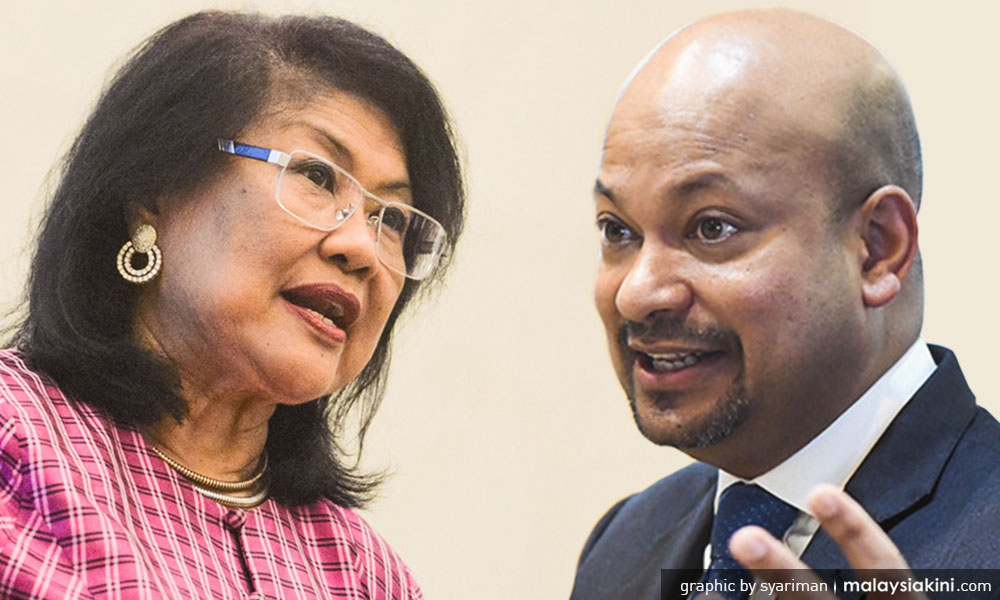 Rafidah asks Arul Kanda...
1MDB chief executive officer Arul Kanda Kandasamy has noted the absence of apologies from the firm's critics after the Indonesian courts found that the country's police had not lawfully seized the 1MDB-linked superyacht, Equanimity.
However, one of the critics he named, former international trade and industry minister Rafidah Aziz, questioned the need to apologise.
In an interview with the Singapore Strait Times yesterday, Arul Kanda said the yacht seizure had triggered a "coordinated and sustained" attack on 1MDB.
"There were so many negative comments against 1MDB and the government including by people like Rafidah and (former communication minister) Rais Yatim who had an axe to grind, (they) made all sorts of malicious and misleading statements.
"But (after the Indonesian court ruling) do you see any apology from Rafidah... from Rais... from the opposition politicians who were barking and braying about this issue? I don't think so," he added.
Rafidah, who is known as the iron lady, fired a salvo on Arul Kanda over his remarks.
"Apologise for what? For saying facts?" she asked.
She explained that her comments on the matter concerned the Malaysian authorities' inability to track the yacht or seize it, when the Indonesians could.
Turning the tables, the former minister claimed that it is Arul Kanda who should apologise to the people.
"Stop talking nonsense... Arul should try to explain, truthfully, the 1MDB mess to the rakyat who simply can't accept whatever he has blabbered on so far.
"I believe a lot of apologies are due to the rakyat?" she added.
The Indonesian police seized the Equanimity on Feb 28 in a joint operation off the coast of Bali with the US Federal Bureau of Investigation (FBI).
The yacht's registered owner Equanimity (Cayman) Ltd challenged the legality of the seizure, resulting in the April 17 Indonesian court verdict in their favour.
The court found that the seizure of Equanimity did not follow the procedures laid out by its laws on mutual legal assistance and that the FBI should have requested Indonesia's assistance via the Ministry of Law and Human Rights instead of the Indonesian police.
It ordered the police to return Equanimity to its claimant Equanimity Ltd.
The superyacht is one of several assets that the US Department of Justice (DOJ) is seeking to seize as part of its 1MDB-related civil forfeiture suits.
The department claimed that businessperson Jho Low had used US$250 million allegedly misappropriated by 1MDB to purchase the vessel.
1MDB has denied that any of its funds are missing. - mk
cheers.