PAS kini merosot menjadi parti pembangkang yang tidak serius memandangkan tindak-tanduk pemimpinnya juga mendapat pujian Perdana Menteri Najib Razak.
"Perjuangan PAS kini sudah sesat. Sesat sampai dipuji oleh Umno," kata Lim.
"Jika Umno puji kamu sebagai sebuah parti politik pembangkang yang baik, kamu lingkup la. Kamu parti pembangkang yang baik sebab kamu ikut cakap mereka, dan tidak ganggu atau mengancam kedudukan mereka.
"Itu tidak menjadikan kamu sebuah parti pembangkang yang sebenar. Kamu seperti parti pembangkang olok-olok," katanya.
Lim berkata demikian pada sidang media di Pulau Pinang selepas diminta mengulas berhubung peletakan jawatan ahli Parlimen Pokok Sena Mahfuz Omar (bawah) daripada PAS semalam.
Mahfuz yang merupakan ahli veteran PAS selama 34 tahun itu merupakan antara ahli parlimen terkenal dalam parti Islam itu.
Bekas naib presiden parti dan pesuruhjaya Kedah itu tidak bersetuju dengan tindakan PAS meninggalkan pakatan pembangkang. Beliau bagaimanapun asih belum mengumumkan parti PH mana yang akan disertainya.
Lim yang juga ahli Parlimen Bagan dan ketua menteri Pulau Pinang berkata, Mahfuz meninggalkan PAS untuk meyertai pembangkang adalah jelas bagi menentang skandal dan mengubah kerajaan persekutuan Barisan Nasional.
"Adalah jelas Mahfuz mahu memstikan terdapat pembangkang yang kuat untuk menentang BN….menggantikan kerajaan yang mungkar kepada yang makruf.
"PAS bukan lagi sebuah parti yang serius," katanya.
Dalam ucapan tahun barunya, Najib berkata presiden PAS Abdul Hadi Awang adalah "lebih baik" berbanding pemimpin pembangkang lain.
Katanya, ia boleh dilihat menerusi minat yang sama seperti sokongan terhadap Rohingya dan Palestin menyebabkan PAS dan Umno boleh bekerjasama.
Beliau menyifatkannya sebagai "politik matang" yang membantu membina negara dan menyatukan rakyat, berbanding menyebabkan perpecahan.
PAS dan Umno merupakan musuh tradisi, yang mana keduanya adalah parti Melayu Islam. Kebelakangan ini, PAS dan Umno dilihat lebih "erat" terhadap satu sama lain.
PAS sebelum ini adalah ahli pakatan pembangkang Pakatan Rakyat sebelum memutuskan kerjasama dengan DAP dan PKR pada 2015 dan tahun lalu.- themalaysianinsight
PAS no longer a real opposition party
Johor,Kedah at risk for UMNO,
while Selangor at risk for PH...
As Malaysian Prime Minister Najib Razak seeks to lead the ruling Barisan Nasional (BN) coalition to victory in the upcoming general election, three states — Selangor, Kedah and Johor — are shaping up to be key battlegrounds.
Mr Najib had previously declared his aim of wrestling back Selangor, Malaysia's richest and most industrialised state that has been ruled by the opposition since 2008.
But it is clear that the opposition Pakatan Harapan (PH) pact will fight tooth and nail to keep its crowning glory, having seen to have governed the state generally well during its two terms in charge so far. Uncertainty on two fronts makes the race difficult to call.
With opposition Parti Islam Se-Malaysia (PAS) declaring its intention to contest in the state, this means three or multi-cornered contests are very likely, said Dr Lee Hwok Aun, a senior fellow at Iseas-Yusof Ishak Institute.
PAS split from the federal opposition pact in 2015 over differences of the former's intention to implement the Islamic penal code in Kelantan. Some PAS members also left to join a new splinter party Parti Amanah Negara, which is now part of PH.
"Selangor Chief Minister Azmin Ali is pursuing state-level rapprochement with PAS to avert three-cornered fights, but it is unclear whether and how this will materialise," Dr Lee said.
"Statewide three-cornered fights will definitely make the contest very close, but cooperation with PAS must negotiate steep hurdles, and even if manageable, introduces various complications."
Though PAS is now not part of PH, it has retained its place in the Selangor state government, with the 11-member Selangor State Executive Council made up of three PAS representatives.
Mr Azmin had said that this was in the interest of maintaining the stability of the Selangor state government ahead of the general election. Any deal he aims to strike with PAS now is likely to entail some power sharing arrangements.
In the 2013 election, PH won 44 state seats in Selangor, with BN securing only 12 seats in the 56-seat state legislative assembly.
But the 44 seats included 15 won by PAS, though two of those PAS members are now part of Amanah.
To keep its rule of the state, PH will need to at least retain its 29 seats to maintain its simple majority of state seats.
Dr Lee pointed out the ongoing electoral redelineation exercise may redraw boundaries of various constituencies to BN's advantage.
The Selangor government had filed objections and mounted a judicial review, but this was dismissed by the High Court. This has resulted in the Election Commission proceeding to hold hearings of voters' objections with exceptional haste.
"Clearly, BN wants to get the new boundaries gazetted before holding the general elections, and if it succeeds, PH will face more hurdles to retain Selangor," added Dr Lee.
Beyond Selangor, close electoral contests are also on the cards in the country's far north and deep south.
Parti Pribumi Bersatu Malaysia (PPBM) — a party set up by former prime minister Mahathir Mohamad after he left ruling United Malays National Organisation (Umno) over differences with Prime Minister Najib Razak — is said to be mounting a strong challenge in the northern state of Kedah.
This is due to Dr Mahathir's influence in his birth state where he spent half of his life.
Moreover, his son, Mukhriz Mahathir, was the state's Chief Minister before he was unceremoniously ousted from Umno in 2016.
"They will give us a tough fight but I believe we will still retain power," Kedah Umno youth chief Shaiful Hazizy told TODAY.
"Kedah people like Dr Mahathir and Mukhriz but we are ready … to fight. Moreover, PPBM are currently beset with internal problems."
He was referring to how PPBM is plagued by factionalism and has failed to conduct its internal elections as required by the Registry of Societies.
In Umno's stronghold of Johor, PH is aiming to make further inroads after its success in 2013 when it won 16 seats in the 56-seat Johor state assembly, while former ally PAS won three.
The opposition made its first significant headway into Johor in the 2008 general election when DAP won four state seats, while PAS won two.
This was a marked improvement for the opposition which had struggled to secure anything more than five state seats in Johor since Malaysia's independence in 1957.
The same trend can be seen in the election of Members of Parliament, where Johoreans' votes for BN's candidates had traditionally outperformed voters in other states – until slight dips in 2008 and again in 2013.
As such, any inroads into the state by the opposition in 2018 will strike a further blow to BN, particularly as Johor holds the symbolism of being the birthplace of Umno.
And this time round, PH will be banking on the stature of PPBM's deputy president Muhyiddin Yassin, a former Deputy Prime Minister who was sacked by Mr Najib for questioning the premier on the 1MDB scandal.
Johor assemblyman Tengku Putra Haron Aminurrashid Tengku Hamid Jumat admitted that facing Dr Mahathir and Mr Muhyiddin means Umno will have "to be on our toes."
However, he noted that as they were both in government previously, their records too would be under scrutiny, and this "puts us on an even keel."
"Now all that remains to be brought to the arena in the next general election is what development and security the current leadership has brought and will continue to bring to the people, compared to the promise of a better future from less democratic leaders from the past in PH," he said.
Moreover, PPBM's efforts may be hampered by the Malay community's loyalty towards the ruling party.
"The acceptance of the Johor people towards BN is very high especially at the state level. I can tell up to 80 per cent of the people are supportive towards us," said Mr Ali Mazat, the Umno assemblyman for Bukit Permai, a district in Johor.
He cited the state government's closeness with the people, as well as the concept of Bangsa Johor as reasons why Johoreans will continue to throw their support behind BN.
Umno leaders in the state has been espousing the Bangsa Johor concept – first introduced by the Johor Sultan Ibrahim Iskandar – of fostering unity through respect for race, religion and culture.
Beyond penisular Malaysia, the east Malaysian states of Sabah and Sarawak are expected to continue to be BN's strongholds. They delivered about a third of parliamentary seats for BN in 2013.
In the resource-rich state of Sabah, BN contested all 60 state seats in 2013, and won 48. This time, it is confident of winning all of them.
"Sabah BN is firmly behind PM Najib because he has done so much for us compared to his predecessor, Dr Mahathir, who was in power for 22 years but neglected Sabah's welfare," said Mr Chew Kok Wah, who is a member of the powerful BN Sabah committee.
He cited infrastructure projects including the ongoing construction of the 1,060 km Pan Borneo Highway that links Sabah with neighbouring Sarawak and Brunei as well as Putrajaya's adherence to a 20-point agreement that safeguards the interests, rights and autonomy of Sabah as examples.
If East Malaysia is what Malaysians call a fixed deposit for BN, the same can be said of Penang for PH, which currently holds three quarters of the state seats.
Despite having a corruption case hanging over his head, Chief Minister Lim Guan Eng remains hugely popular in the northern state.
The key question then, as Malaysia heads to a much anticipated and tightly contested election, is whether PH can retain Selangor and spring a surprise in Johor and Kedah.
"I think PH can realistically defend the two states (Penang and Selangor) it currently holds but the federal opposition cannot expect to repeat the performance of the 2013 election in Selangor, especially since PAS is poised to be the spoiler," said Mr Asrul Hadi Abdullah, an analyst with political risk consultancy BowerGroupAsia. - todayonline
Felda received RM6 billion from the listing of FGVH, spent RM1.7 billion as windfall...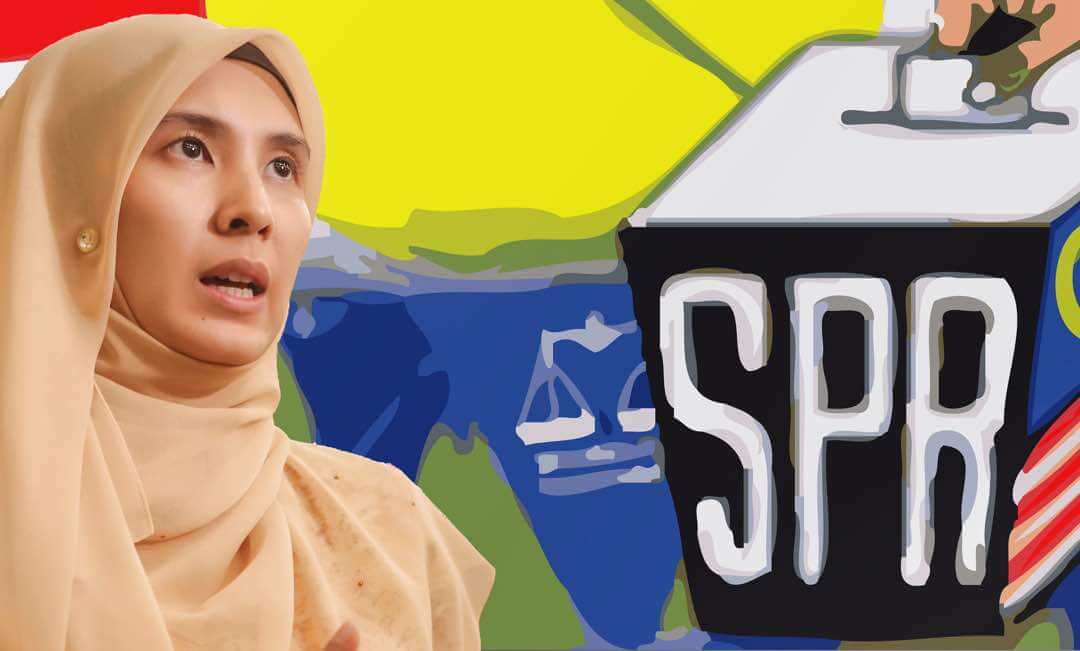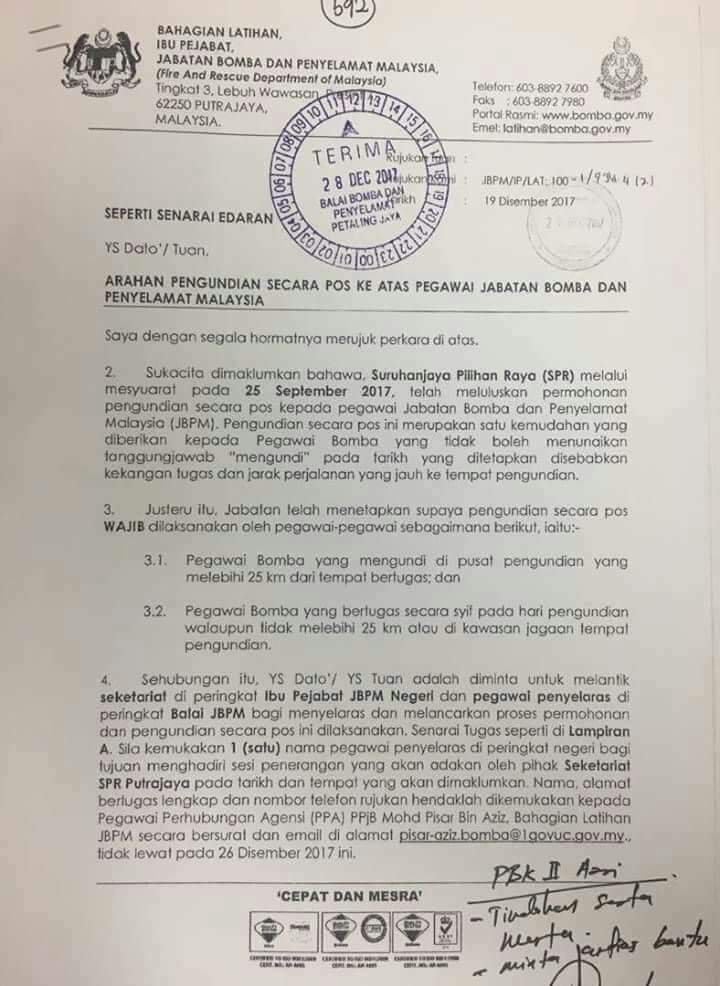 Bomba pun dah jadi Pengundi POS...
Nampaknya UMNO/BN dah bertambah goyang...
Dr.M minta maaf depa kata tak Islamik.UMNO tak minta maaf pun,
lebai maafkan, itu Islamik pula.Pening, bila ugama itu dijadikan barang jualan...
cheers.