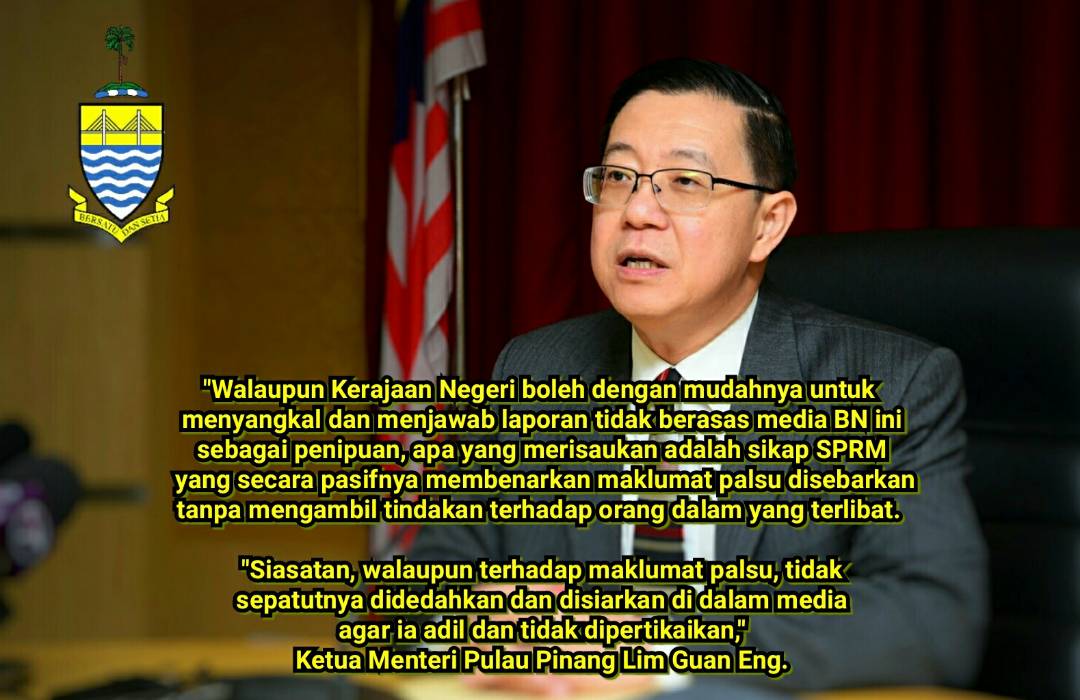 Lim Guan Eng mempersoalkan mengapa Suruhanjaya Pencegahan Rasuah Malaysia (SPRM) tidak mengambil tindakan berhubung "maklumat palsu" membabitkan dakwaan sogokan dalam projek terowong dasar laut di negeri itu.
"Apa yang mengganggu adalah SPRM secara pasif membenarkan kebocoran maklumat palsu berlaku tanpa sebarang tindakan.
"Siasatan, walaupun (berdasarkan) maklumat palsu, tidak sepatutnya didedahkan dan diterbitkan dalam akhbar agar tidak menjejaskan penyiasatan," katanya dalam satu kenyataan hari ini.
Lim menegaskan SPRM bertindak pantas dalam isu kebocoran maklumat membabitkan dakwaan salah laku Menteri Besar Johor Datuk Seri Khaled Nordin (gambar) dalam skandal perumahan di Johor.
Menggambarkannya ia sebagai dwistandard, Lim berkata tindakan tidak bertanggungjawab SPRM dalam kes itu akan menghakis keyakinan terhadap kredibiliti dan integriti agensi berkenaan.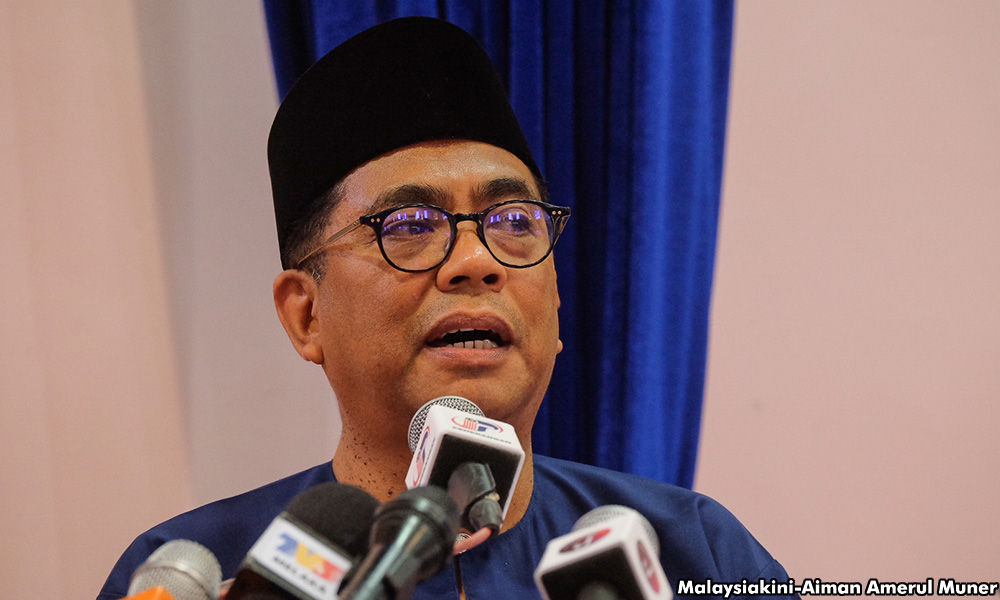 "Kegagalan berterusan SPRM bertindak terhadap laporan palsu oleh media BN hanya akan menimbulkan tanggapan bahawa siasatan bermotivasi politik, terutamanya dalam kehangatan pilihan raya umum," katanya.
Semalam media memetik sumber tanpa nama melaporkan sogokan diberikan kepada "ahli politik utama" dalam projek terowong dasar laut di Pulau Pinang.
Maklumat tersebut yang dikatakan berdasarkan "penemuan awal siasatan SPRM," turut mendakwa ahli politik menerima antara "puluhan ribu dan beberapa juta ringgit" bagi kerjasama mereka.
Lim terdahulu menolak dakwaan tersebut dan menyifatkannya sebagai "pembohongan terdesak,".
Bagaimanapun beliau berkata tidak mempunyai kuasa untuk mengambil tindakan undang-undang kerana tiada individu dinamakan secara langsung.
Dalam kenyataannya hari ini, ketua menteri itu menjelaskan bahawa kerajaan negeri Pulau Pinang tidak boleh menyaman fitnah memandangkan hanya individu boleh melakukannya.
"Adakah akhbar-akhbar BN berani mencetak nama-nama ahli politik utama yang terlibat, supaya kerajaan negeri Pulau Pinang boleh mengambil tindakan undang-undang untuk melindungi reputasi mereka," katanya.- mk
Guan Eng decries MACC double standards
PNB And EPF To Bail Out Spiralling Costs Of London's Battersea Power Station! Battersea Power Station sold by gomen to PNB / EPF for RECORD RM8.7b
- development black hole on South Bank, London
- swallowed gargantuan RM8.6b public money from EPF / PNB
- face-saving pressure of Minister of Finance.
- surprise news hit headlines in London late Thurs
- spiralling costs, gomen pulled out, bail out required.
- most expensive property purchase ever in London
- dwarfing Walkie Talkie Tower of £1.3bn last year.
- project nightmare spelt out in the figures
- original Sime Derby/ Setia bought in 2012 for £400m
- crumbling white elephant project on South Bank.
- original price in 1987 just £1.5 million
- present purchase by PNB/EPF thousand times greater.
- profit forecast cut from 20% to 8% since 2012 sale to SP Setia
- not due to be completed till 2020
- malls, residential blocks not finished till 2028.
- SP Setia itself 70% owned by PNB/EPF
- PNB/EPF re-finance their own investment
- cost over-runs in all directions
- hazards such as asbestos
- four chimney towers taken down and re-built
- costs doubled from 750m pounds to 1.5 b
- project spearheaded by Najib Razak
- mover behind deal Lord Marland, key promoter of UK deals with Msia
- influx of M'sian money into London his crowning achievements.
- Battersea created planning headaches for decades
- present plan is 7th attempt to find profitable use for site
- Without this latest bailout entire project up for auction
- save face for Najib in advance of upcoming election
- pensioners savings in PNB / EPF different matter
Kampong Boys Tak Tahu Niaga - Duit Amanah Saham Pun Lesap Jadi Asap... RM8.7 billion of EPF and PNB money !!
I tell you folks, that 1MDB is just a sideshow. Just a distraction. These thieves are stealing the whole country blind. The purchase of the Battersea Power Plant by EPF/PNB did strike me as odd. And very risky. Hello EPF/PNB you should read about the collapse of Olympia and York and their famous Canary Wharf project in London waaaaaay back in the 1980s.
Canary Wharf was another 'Battersea Power Plant' type redevelopment, of the old London dockyards, but on a much larger scale. The Canary Wharf project was started in 1988 and went bankrupt by 1992. Only 11 years later in 1999 it finally began turning around after an underground line was extended to Canary Wharf (the Jubilee Line Extension). Then another 24 years later, since 2012-2014, the Canary Wharf project generated high prices and high returns (more than 8% lah).
Why go to all that trouble just to earn a return of 8%? Just put OUR money in Fixed Deposits lah. Or give it to the professional fund managers lah. They can easily do 8% return on investment.
My view is all these foreign property plays overseas by our local kampong boys are driven by the commission agents, the kickbacks from property deals, simple corruption, ignorance and an excuse for senior management to travel overseas for inspection tours and shopping trips.
I am told Tabung Haji once bought an apartment in Mecca without checking the tenure of the lease, which was expiring. But who gives a flying duck. They have so much Tabung money. Then they bought a gentleman's drinking club along the Thames in London. Haram. They justified the purchase by saying the bar and alchohol business was less than 20% of the revenue. I think the senior management just wanted a place to hang out in London.
MARA buying buildings in Australia at way above market prices. Those purchases are now under investigation for corruption.
Felda started a "chain" of Malaysian restaurants overseas which I believe have also gone bust.
A few years back Sime Darby blew about RM800 million in some project in Qatar. Their Chairman said it was a useful learning curve for our boys and girls !! What ?? At a cost of RM800 million of corporate money? Sime is also substantially owned by PNB. Public money again.
If 'learning curve' is what you want, then just send our local boys and girls to work overseas for a few years. Some of them are illegal farm workers now in South Korea. No need to bust RM800 million of public money. The argument for the NEP (New Economic Policy) is that the Malays cannot compete with the non Malays, especially with the Chinese. The playing field is not even, so they say. This is nonsense.
Anyway, to even out the playing field, we provide crutches. There are restrictions, controls, licenses and permits in the economy. It is all race based. Affirmative action. Bla bla bla.
It is now 2018 and you still cannot compete on an "uneven playing field" inside Malaysia. Then how the hell do you think you are going to compete on an even more "uneven" playing field like the London property market?
There is no New Economic Policy to protect you in London.
If you feel that you are ready to compete in London (with the Brits, the Jews, the Europeans, Chinese, Japanese who are all investors in London) then why not free up the 'playing field' in Malaysia as well? Abolish all the NEP restrictions that are still in force here in Malaysia.
But you cannot abolish the NEP just yet. We all know that. Then why did you blow RM8.7 billion in the London property market? It has to be another corrupt idea.There is no real intention to be 'even playing field' property developers in London. Its just a mechanism to siphon out money. Again the people (PNB/EPF) will bear the cost. - ostb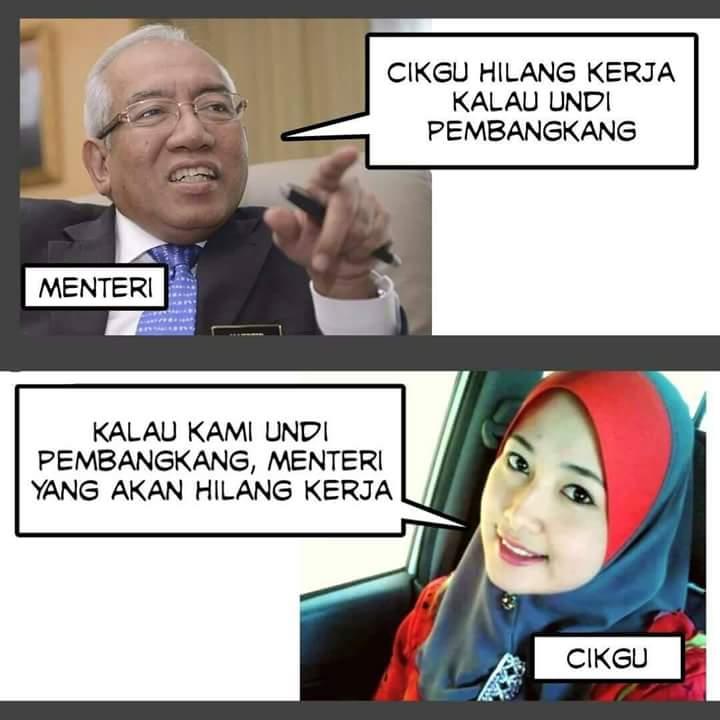 Here's another village idiot bikin kacau..The Civil Service is revolting. That is what is happening. There is going to be a Malay tsunami, an Indian tsunami, a Chinese tsunami and a couple other tsunami I dont wan to 'bocor' here. I have been talking to friends from these places. They say that their entire complements are now anti gomen. Anti gomen feeling is thick and it is increasing.
Recall I mentioned the 1st Surprise and the 2nd Surprise. Yesterday people from there told me that at least FIVE UMNO Parliamentary seats in their area will fall to the Opposition. Recall we only need about 20 Parliamentary seat to topple the BN. If those FIVE SEATS are confirmed, that is only about 15 seats to go.
In 2013 PAS won only 21 out of 70 seats they contested. I think this time they will win hardly 5. Even if PAS loses only 5 seats this time around, that is another 5 for the Opposition. Only 10 more to go.
MCA is going to lose all 7 of their seats. Say MCA can salvage 2 (highly unlikely) that is another 5 seats to the Opposition. That is 15 already.
MIC has 4 seats. They will lose all. On a good day, they may keep just one. 3 will go to the Opposition. That is 18 seats. Only 2 more to go.
Then Dr Mahathir is going after 52 seats, including plenty FELDA seats. I have not tallied those seats yet. Say on a very bad day, Dr Mahathir wins 20 seats. DAP is going after 45 seats or more. They already have 38. If DAP can add an extra 5 seats, it is game over for the BN.
My storng suggestion to the UMNO/BN crooks (crooks only ok) is please get ready to leave the country. The moment the results are announced, your goose will get cooked.
All those hangers on, paid protesters, media cronies etc also better get ready to be out of work. Tough times are coming up for you folks. Very tough times. The only way out for you is if you revolt against your party president. Throw him out of his perch. Only the party members can do that - from within your party.
The Opposition is now fully united and strong. That 1st Surprise is going to be a really big surprise. Big winds blowing. Teachers revolting, Civil Service revolting, everyone is revolting. - ostb
Najib muncul dalam dokumentari BBC tentang korupsi
Sebuah dokumentari agensi penyiaran BBC mengenai konflik seputar keluarga Diraja Arab Saudi memaparkan Najib secara menonjol.
Episod kedua House of Saud: A Family at War yang kali pertama disiarkan pada Selasa lalu memulakan laporannya dengan penglibatan Putera Turki Abdullah Al Saud dalam skandal 1MDB.
Selepas 1MDB berjaya mengumpul dana sebanyak RM5 bilion, pelaburan pertama 1MDB melibatkan sejumlah AS$ 1 bilion dalam usaha sama dengan PetroSaudi International, sebuah syarikat yang kurang dikenali pada September tahun itu.
Editor Sarawak Report Clare Rewcastle-Brown memberitahu BBC urus niaga itu lahir di atas kapal peranginan mewah Tatoosh dalam pertemuan di antara Putera Turki dan Najib yang ditemani isteri dan anaknya.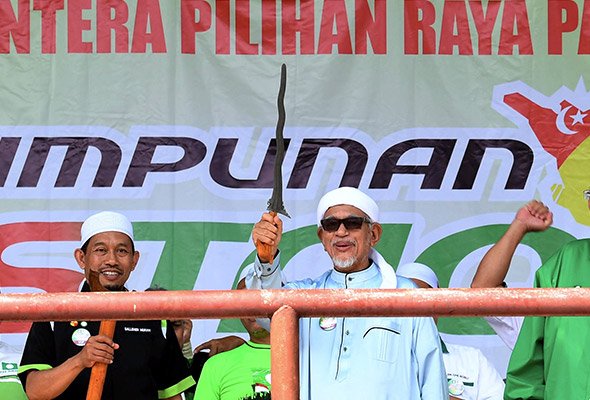 cheers.