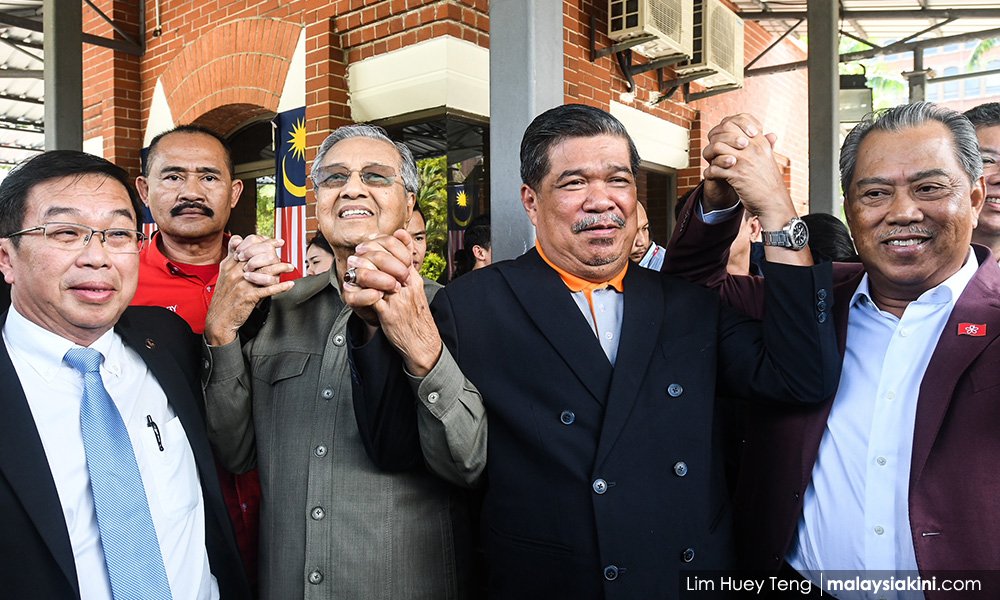 Pertemuan yang dijadualkan antara Majlis Presiden Pakatan Harapan (HARAPAN) dengan Menteri Dalam Negeri, Datuk Seri Dr Ahmad Zahid Hamidi hari ini berakhir hampa apabila beliau tidak muncul dan hanya mewakilkan Ketua Setiausaha KDN sahaja.
Pertemuan tersebut adalah bagi membincangkan masalah pendaftaran HARAPAN, gabungan parti-parti DAP, PKR, Amanah dan PPBM.
Bercakap di luar pagar kompleks KDN, Pengerusi HARAPAN Tun Dr Mahathir Mohamad meluahkan rasa kecewa beliau kerana tidak dapat berjumpa sendiri dengan menteri.
"Parti campuran ini perlu didaftar secepat mungkin kerana kita perlukan masa untuk buat persediaan PRU.
"Kalau diberi keputusan seminggu dua sebelum, masa tidak mencukupi," ujar Tun Mahathir kepada pemberita.
Rombongan tersebut disertai Pengerusi Kebangsaan DAP, Tan Kok Wai, Presiden PKR, Datuk Seri Dr Wan Azizah Ismail, Presiden Amanah Mohamad Sabu dan Presiden PPBM Tan Sri Muhyiddin Yassin.
Mereka diberitahu bahawa kelewatan pendaftaran HARAPAN adalah ekoran beberapa masalah membabitkan parti-parti DAP dan PPBM.
"Kami cuma nak tahu dari menteri apa sebab lewat sangat? Ni tak ada kata yes or no. Kami dalam keadaan misteri. Kalau salah bagitahu lah.
"Cuma cakap dalam pertimbangan. Maknanya ada masalah, cuma tak diberitahu," tambah mantan perdana menteri itu lagi.
Tun Mahathir menegaskan bahawa pihak HARAPAN akan mematuhi apa sahaja kehendak kerajaan yang tidak bertentangan dengan undang-undang, supaya gabungan tersebut didaftarkan secepat mungkin.
"Kita akan pertimbang segala usaha untuk dapatkan kelulusan," ujar beliau.
DAP baru sahaja mengadakan pemilihan semula Jawatankuasa Kerja Pusat 12 November lalu, setelah diarahkan berbuat demikian empat tahun selepas Jabatan Pendaftar Pertubuhan (ROS) mendiamkan diri.
Parti pimpinan Tun Mahathir pula baru-baru ini berhadapan kemungkinan dibatalkan pendaftaran, gara-gara masalah dalam sayap pemudanya. – Roketkini.com
Dr.M - PH registration stymied by issues with DAP, PPBM
Can the RM90 milion be returned,
the only way for PAS to go is Najib's way...
As reported, the incumbent, but unpopular, president of PAS is adamant that the party will not labour with Pakatan Harapan (PH) and Barisan Nasional (BN) to face the next general election.
Critics have the opinion that this is an unwise strategy. "It would be wise for PAS to work with the other Opposition parties in the country" and what more, open its membership to all Malaysians, irrespective of race or religion. PAS does not need special PAS Supporters' Clubs or wings comprising the non-Muslims or try their luck to go solo in the next general election. They will not thrive without the support of all Malaysians. Allow all Malaysians to become PAS members if they wish to do so. After all, Islam is for all. Islam as a religion does not segregate people by race or religion.
Historically, even the Jews were protected under any Islamic rule. They had lived harmoniously with their Muslim brothers.
Moderate political platform
In the Malaysian context, the state of Kelantan has shown an exemplary harmonious society where we witness the Muslims and non-Muslims living together without much animosity. PAS opening its door to Malaysians of all races and religions is a pragmatic move by a political party in a multi-racial country like Malaysia. The perception of Malaysians towards PAS would be instantly buoyed by this move. The people then do not have to be a Muslim to subscribe to a pragmatic Islamic party's struggle. Those who believe in the struggle of this political party are welcome to become members. Even if they decide not to become members, they can still vote for PAS during elections if the party is part of the Opposition and is seen as a moderate political platform for all.
This 'feel-affection-for-PAS' syndrome is not a new observable fact. In actuality, many non- Muslims in the past had voted for PAS in elections. The people in Kelantan – Muslims and non-Muslims – cherished PAS and the majority of the electorate there had voted for PAS under the dutiful leadership of the late Nik Aziz Nik Mat. This affection for PAS had trickled down to many regions in the country during that era. If PAS can remain a moderate Islamic party – putting the welfare of the people as their prime concern, the people will go all out to vote the party in.
PAS now should attract more professional and educated Malaysians to lead and bring the party to greater heights. The trend towards this has to be set by visionary leaders in the party, as voters would want a progressive party to lead them. The people at large are now anxious to see a two-coalition political system in the country. PAS could therefore play a pragmatic role in the Opposition to bring greater cooperation and prosperity to the country.
A full-fledged multiracial entity
Unlike Umno, when PAS opens its doors to non-Malays, non-Muslims and non-bumiputeras, the party will truly reflect the aspiration of all Malaysians. PAS as part of the Opposition coalition will be in a better political position than Umno to win the hearts of all Malaysians. As for the coalition members, other than Pribumi, DAP, PKR and Amanah are essentially multi-racial. The PH coalition will become a full-fledged multiracial entity. This bodes well for the country. Maturity should prevail among PAS politicians as there is a need for such an entity in this societal foundation of ours.
The next step would be for PAS to bring about a much desired paradigm change. Get more professionals and the educated to become the think-tank for the party to face economic and social challenges in this global era. Be a moderate Islamic party. PAS leaders should outwit the serving government when it comes to economic prowess and changes.
PAS cannot remain a party that only rally on petty social or religious issues affecting some groups of people. Trivial and sensitive issues should best be discussed at the party level in an inclusive manner. There has to be a huge paradigm change at the economics level that PAS should focus on. PAS already has capable leaders in its fold who can execute this job. What more when PAS becomes part of the Opposition coalition.
PAS, however, should further metamorphose into a party that has concrete blueprints for the economic, education and social issues affecting the society. Religion can be better professed if it can also bring about material benefits for the people. Faith in religion does not mean that the people have to be satiated just with religious rhetoric. Religion should be seen as a vehicle that brings about social justice to people and economic well-being to the nation.
Society is crumbling
The economy is affecting the people's livelihood. Society is crumbling due to a lack of moral or religious virtues. Unfortunately, education today is merely a paper-chase route to life – most 'graduates' are without the desired knowledge and end up being ineffective and unemployed. The 'illiterate' among the literate graduates abound these days. They carry with them impressive scrolls but many are not up to the mark. Education remains a process but nothing tangible can be tapped out of these graduates.
Corruption is breaking the foundation of our society. Individuals are draining the institutions they are entrusted to protect. Corruption has affected almost every level of our society in the midst of never-ending talks about religion and moral values. Speechifying on corruption and integrity alone will not change a society.
The people need realistic ways and there must be political will to overcome this scourge – the spate that has made the rich richer and the poor poorer. The people see injustice all around them. Power is corrupting the leaders. Crime is destroying society; people live in fear of crime because the social and economic systems are in turmoil. Indeed, religion without faith is insufficient. PAS for sure is aware of all these quandaries faced by the nation.
Never too late for PAS leaders to envisage the party's destiny
Faith is significant to make people think and act within the framework set by the religion. Mere lip service will do nothing to change the tattered fabric of our society. It's always wise to have truly God-fearing people to be in power. PAS can show the path to all people that there can be justice in the governance of a country. If PAS can pave the way, Muslims and the non-Muslims alike would be ever ready to vote them into power. Social and economic parities are the craving of all people in the country now, irrespective of race or religion.
They want justice to be done and not just listen to mere fiery rhetoric by politicians who want to fish for votes. PAS should revitalise and head in the right direction towards becoming more relevant in the Malaysian political scene.
It's never too late for PAS leaders to envisage the party's destiny. They have to put their differences aside and come to terms with other parties in PH. "Settling of scores" out of vengeance has never been an Islamic way. To forgive and forget is the way forward in Islam. Let the next general election be a one-to-one contest – PH versus BN. A two-party (coalition) system for the country would benefit PAS and the people more. - Moaz Nair
"It Is Not That I Love Rome Any Less,
It Is That I Love Caesar More !"...
The correct quote should be "It Is Not That I Love Caesar Any Less, It Is That I Love Rome More !". That is what humongo-Anwar-crony Zahid Hamidi said when Anwar was kicked out of UMNO in 1998.Zahid visited Anwar in hospital as well.
Well Kepala Bapak and Zahid have visited Anwar Ibrahim in hospital. The fact is Anwar is still a prisoner, under the care of the prison authorities. He is not just a patient in a hospital. To visit a prisoner who is in hospital, you still need the approval of the Prisons Department or the Ministry of Home Affairs.
If Kepala Bapak and Zahid can visit Anwar in hospital, then others should also be allowed to visit him especially all the PKR people. I am sure Sivarasa, Latheefah, Tian Chua etc would like to visit Anwar in hospital as well.
If they are denied, then it is proof enough that Kepala Bapak and Zahid's visit was not just any ordinary visit but a special visit to cut a deal with Anwar.
Talk is Anwar will be pardoned (AFTER the elections). But no possibility of Anwar becoming PM. Wan Azizah will also retire. Nurul Izzah will be made a Cabinet Minister. This is just talk ok.
If Kepala Bapak cuts a deal with Anwar, it will NOT backfire on them. YES this will help Kepala Bapak win the elections. The Malay voters will be less confused.
If Kepala Bapak, Hadi Awang and Anwar Ibrahim appear on the same stage it will be a major show of Malay unity. For the first time in almost 70 years, Malay politics would be united. Just like the time BEFORE Pas split off from UMNO about 70 years ago. The Malay voter will only see Malay unity.
Pakatan Harapan will be screwed. Pakatan Harapan will only have Bersatu, DAP, Amanah and Warisan. In this scenario, the future of the Malays will be totally screwed. Totally and completely screwed.
If Kepala Bapak cuts a deal with Anwar, then what happens to the likes of Sivarasa, Latheefah and Tian Chua? Sivarasa and Latheefah will find out that they are just Indians. Tian Chua will find out that he is just a Chinese.
Indians use daun kari or curry leaves to make their curries. The curry leaf only flavors the curry. It is not eaten. After flavoring the curry, the daun kari is just thrown away. That is the nature of curry leaves. There was only one person I knew who actually ate the curry leaves. She was a young Chinese girl. I too chew and swallow the curry leaves. Nothing goes to waste. - ostb
BN hampir kalah tika undi blok Bajet 2018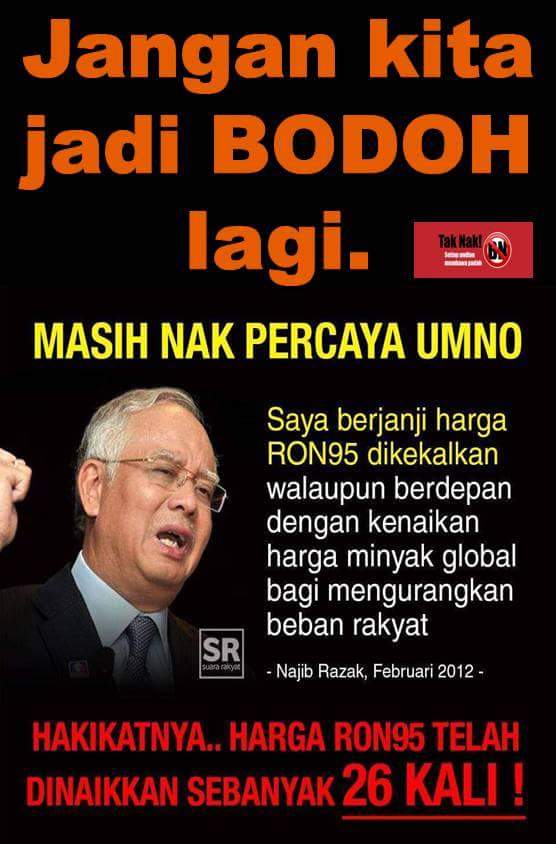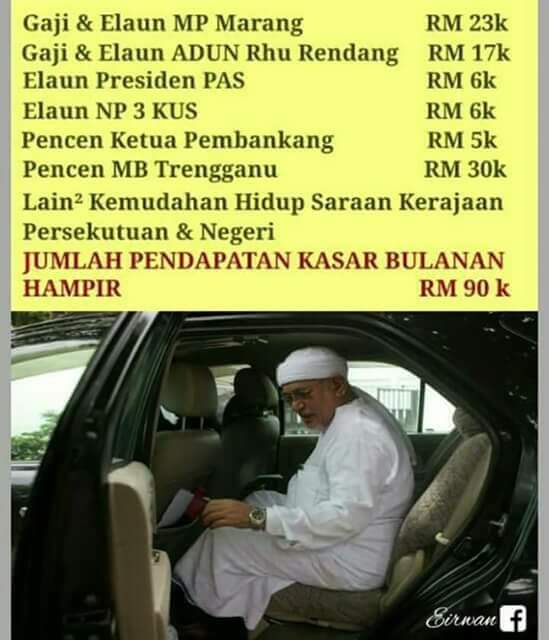 This tok lebai didnt even bother to attend
the current budget session. Betul betul gaji buta.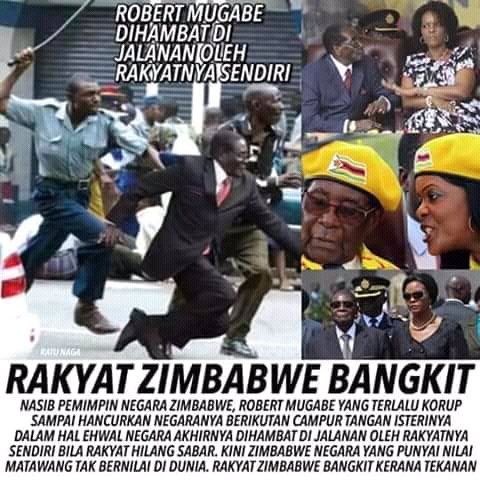 cheers.