Antara perkara yang tentunya memeranjatkan yang terkandung dalam kenyataan pembelaan editor Sarawak Report, Clare Rewcastle-Brown berhubung saman Hadi Awang terhadapnya ialah wujudnya dakwaan pembayaran sebanyak RM200 juta kepada bekas Timbalan Presiden Pas, Nasharuddin Mat Isa.
Daripada jumlah RM200 juta itu, sebanyak RM90 juta dikatakan disalurkan kepada beberapa pimpinan kanan Pas untuk tujuan supaya mereka menyokong UMNO dan BN.
Sebelum kenyataan pembelaan Clare, Ahli Parlimen Pandan, Rafizi Ramli pernah tampil dengan akuan bersumpah mendakwa Najib ada memberi sejumlah wang yang tidak dinyatakan jumlahnya kepada Nasharuddin untuk diagih-agihkan kepada para pemimpin Pas.
Berikutan itu, Nasharuddin mengancam untuk menyaman Rafizi, namun sehingga sekarang tiada apa-apa berita mengenainya.
Sehingga Hadi tampil dengan kenyataan balasnya sebelum perbicaraan sebenar berlangsung di London nanti dan sementara Nasharuddin juga masih berdiam diri, baik berhubung dakwaan dalam akuan bersumpah Rafizi, mahupun pendedahan terkini beliau menerima RM200 juta sebagaimana dalam kenyataan pembelaan Clare, mari kita bermain-main dengan angka mudah buat seketika.
Jika RM200 juta disalurkan kepada Nasharuddin dan daripada jumlah itu, hanya RM90 juta diberikan kepada beberapa pemimpin Pas berdasarkan maklumat boleh dipercayai daripada S Ambiga kepada Clare, di mana lebihan RM110 juta lagi?
Dalam simpanan siapa sekarang wang RM110 juta itu?
Apa jadi kepada wang itu selepas ini?
Adakah ia akan menjadi milik kekal orang tengah atau broker atau memang RM110 juta itu merupakan untung berniaga?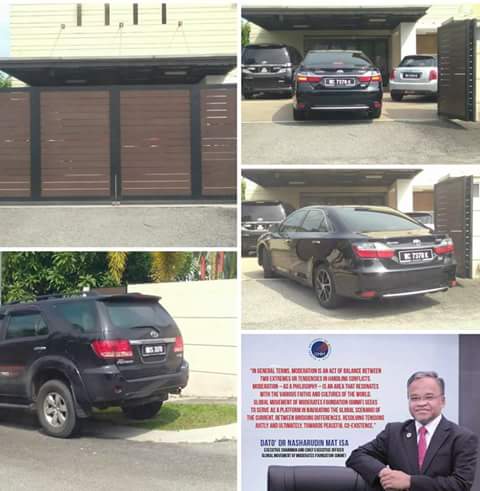 Tahukah Pas tentang kewujudan angka RM200 juta tersebut?
Adakah Najib puas hati, jika benar daripada RM200 juta yang pernah diberikannya itu, tetapi hanya RM90 juta saja yang sampai ke sasaran sebenar?
Begitu juga dengan Pas, apakah mereka turut berpuas hati, kiranya benar jumlah RM200 juta itu adalah angka yang sahih, namun yang diterima hanya RM90 juta saja?
200 – 90 = 110 – jadi broker jauh lebih untung daripada berjuang untuk agama dan bangsa?
Adakah ini seperti yang pernah disebut oleh P. Ramlee – jual orang lebih untung dari jual unta? - shahbudindotcom
Ahli biasa PAS bodoh macam
lembu, kambing dan itek...
Hadi kata 'Bagi duit kat aku, aku perlukan duit engkau untuk bayar yuran loyar buruk saman wanita mat salleh di Inggelen".
Ahli bodoh pun hulur lah duit potong getah depa seringgit, dua ringgit, lima ringgit, RM50 atau lebih.
Tapi sekarang wanita mat salleh buat akuan bersumpah kepada mahkamah mengatakan bahawa :
Extract from Claim No. HQ17M01386
IN THE HIGH COURT OF JUSTICE QUEEN'S BENCH DIVISION
MEDIA AND COMMUNICATIONS LIST BETWEEN HONOURABLE ABDUL HADI AWANG MP (Claimant) and CLARE REWCASTLE BROWN (Defendant)
DEFENCE AND COUNTERCLAIM
"... 26.9 Nasharudin and other senior PAS personnel benefitted personally, enjoying and exhibiting a new affluence from the money channelled into the party by Najib Razak.
26.10 Nasharudin new-found wealth acquiring vehicles costing not less than RM1.5 million
(including a BMW 525 priced at RM388,000, a Mini priced at RM230,000, a Toyota Vellfire priced at RM290,000, a Toyota Camry, priced at RM150,000 and a Toyota Fortuner priced at RM200,000 and property, including a house at Banggi, Selangor, worth RM3 million
bought with cash.
PAS MPs and senior party figures have bought new, luxury cars and new houses and married second and third wives spending conspicuously in excess of their political salaries and what they could previously afford.
26.11 Deputy Chief Minister of Kelentan, Mohd Amar Nik Abdullah, acquired a fleet of luxury cars, including a Range Rover, Audi 6, Toyota Vellfire and Toyota Attis and built several houses for his family.
The Spiritual Leader Hashim Jasim acquired a Porsche Cayman car.
PAS Information Chief Khairuddin Aman Razali gave his second wife a RM500,000 Audi Q7 car as a gift.
PAS Information Chief Nasrudin Hassan Tantawi bought a RM300,000-plus Toyota Vellfire.
Secretary to the Syura Council, Nik Muhammad Zawawi Nik Salleh acquired a luxury Mercedes with the number plate PAS 9, itself worth around RM100,000, and a luxury Audi.
Takiyuddin bin Hassan, MP for Kota Baru and Secretary General of PAS has acquired a fleet of expensive cars and a luxury motorbike, including a Volkswagen Passat priced about RM160,000 with personalized number plate TAK 11, itself worth up to RM100,000
Muhammad Khalil, PAS Youth Leader, acquired luxury BMW motorbike.
Mokhtar Senik, chairman of the PAS Pahang Ulama Council, has acquired a luxury Mercedes and Toyota..."
But the ordinary members cant even effort a motocycle- ostb
Last Friday, PM Dato' Sri Najib Razak claimed with bombast that he had unveiled the 'mother of all budgets'.
Many promises were made in a transparent attempt to hoodwink the people into supporting the BN in the coming general election.
But there is a gaping hole in the middle of this pre-election budget; it fails to show how the government plans to balance expenditure and revenue.
How will this government deliver upon its many budget promises, when it has not shown how it will increase revenue? This is not revealed anywhere in the budget.
Therefore, there is only one obvious explanation; new taxes or increased and broadened GST will be imposed.
If the BN win the next general election, I believe they will soon after announce new taxes or GST.
The Rakyat will have to dig deep into their pockets to enable the BN to deliver their budget promises. - 3 November 2017
Air mata mereka adalah protes
terhadap
kekejaman Kerajaan
Dr.M hugging the UTK members
protecting him for the last time.
Cadang Kerajaan Malaysia ambil saja Mat Bangla untuk dijadikan kakitangan kerajaan,nanti tak perlu lagi bayar pencen. Gaji Mat Bangla pun boleh bagi murah janji sediakan saja tempat tinggal mereka.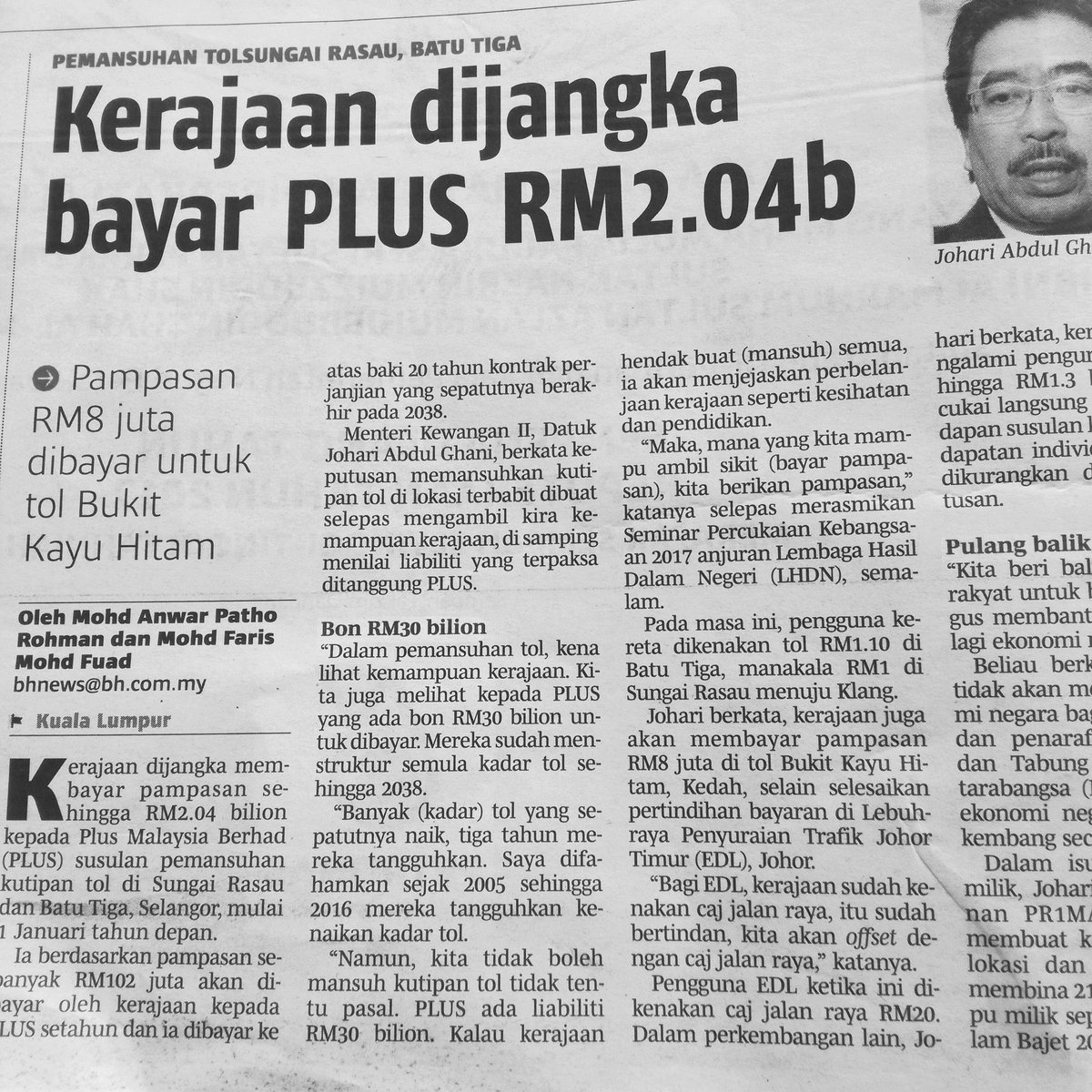 Kos mansuh tol RM110juta setahun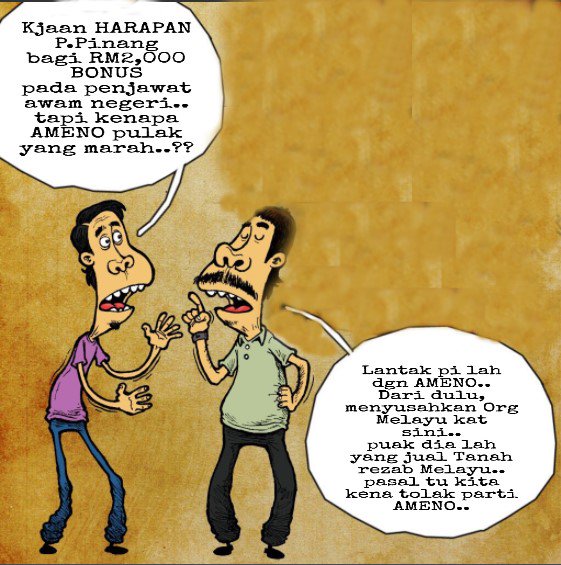 cheers.