Sultan Johor Sultan Ibrahim Iskandar hari ini menyelar sebuah akhbar yang mempersoalkan kewajaran Enakmen Lembaga Perumahan dan Hartanah Johor 2014.
Bertitah merasmikan persidangan Dewan Undangan Negeri (DUN) Johor pagi ini, baginda juga menyelar pengamal media "cetek akal" yang mempersoalkan kewajaran kuasa raja dalam enakmen itu. Enakmen itu diluluskan dengan 10 pindaan.
"Bagi saya surat khabar seperti ini sudah tiada nilai dan hanya layak dijadikan pembungkus nasi lemak sahaja," titah baginda yang dibacakan oleh Tunku Mahkota Johor, Tunku Ismail.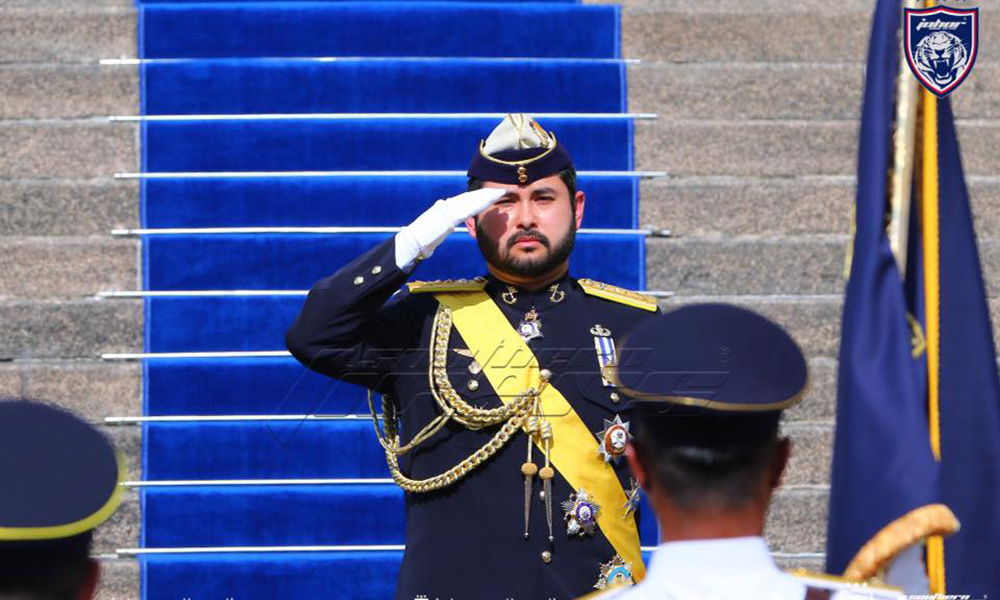 Akhbar Umno, Utusan Malaysia antara yang mengulas isu itu.
Tokoh pembangkang yang sedang dipenjarakan Datuk Seri Anwar Ibrahim melihatnya sebagai serangan terhadap institusi diraja tetapi tiada sebarang tindakan diambil.
Sultan Johor menasihatkan kerajaan negeri berhati-hati membuat keputusan dan tidak terpengaruh dengan desakan orang luar yang tidak mengetahui sejarah serta kaedah pentadbiran negeri itu.- mk
Sultan takes a swipe at 'good for wrapping nasi lemak' newspaper
Dilema Kelangsungan PAS...
Kalau boleh saya meminjam ungkapan bahasa Inggeris dan menterjemahkannya ke dalam bahasa Melayu bolehlah saya katakan bahawa banyak air telah mengalir di bawah jambatan di muktamar Pas ke-63 baru-baru ini.Dalam bahasa Inggeris, ungkapan itu berbunyi "A lot of water has flowed under the bridge."
Banyak perkara dan hal diperkatakan, dibincangkan dan diputuskan dalam persidangan di Kota Sarang Semut berhampiran Alor Setar itu.
Soalnya sekarang, adakah keputusan yang dibuat di muktamar itu muktamad dan pimpinan baru yang dipilih di persidangan itu berbeza daripada yang sebelumnya?
Mungkin tidak kerana ada proses-proses lain yang terpaksa dilalui sebelum ketetapan-ketetapan itu dikuatkuasakan dan kepimpinan baru pula tidaklah homogen dan monolitik.
Pas adalah antara parti politik paling banyak lapisan hierarkinya. Ada Muktamar, ada Majlis Syura, ada Mursyidul Am, Dewan Ulama, barisan kepemimpinan, Dewan Muslimat, Dewan Pemuda dan banyak lagi cabang yang tindih menindih dan sokong menyokong.
Di sebalik baju Melayu dan ketayap, jubah dan serban terdapat pelbagai pandangan dan pendekatan yang kadang kalanya umpama langit dengan bumi. Dalam kata lain, Pas adalah parti dalam parti.
Walaupun perwakilan dan pemimpin Pas mempamerkan sikap keras berkaitan kerjasama dengan parti-parti lain namun ia bukanlah sesuatu yang dipahat di atas batu dan tidak boleh diubah. Baca seterusnya...
Turning from 'PAS for All' to
The year was 2008. The rallying cry was 'PAS for All'. Here the party promoted the idea of justice, truth and welfare for all Malaysians. The then-inclusive party also realised the importance of coalition-building with one aim amongst all parties: take down Umno and right the wrongs in this country. Two elections down, we see a party that has stripped itself of all ethics and virtues that it had held precious.
Today, PAS wants to tango with Umno and betray the people who voted them as part of the opposition coalition against BN in both the 12th and 13th general elections. What had brought about this change, one may ask? What compelled party president Abdul Hadi Awang to forgo his agenda for reform and instead align PAS with its former sworn enemy, Umno?
The answer lies in the Islamist party's greed for power through a play of religion on politics - by promoting Islam and syariah law, and perceiving all other religions as its subordinates. Or as one may say, by pitting the Muslims against citizens from other religions.
Muslim vote trump card
Hadi's Islamic agenda did not work with the opposition coalition, which sticks to a common goal of a secular state, leading to the Islamist party's exclusion. It would seem Prime Minister Najib Abdul Razak has cleverly manipulated the rift to fracture the opposition.
But PAS believes it is one up, as Umno and Najib cannot afford to shrug off PAS' fundamentalist Islamic ideologies and, in the process, alienate its largest vote bank: the Malay Muslims. PAS and Hadi continue to play sycophants to entrench their relationship with Umno. One need not look beyond the recently-concluded high-level PAS muktamar to figure out the client-patron relationship between Umno and the Islamist party.
The only winner at the high-profile meeting was Najib, who has been dangling carrots before Hadi with regards to his private member's bill, which aims to empower state legislation to increase syariah punishment. The prime minister would have been relieved, as the PAS muktamar was conspicuously silent about his role in the financial scandal involving a sovereign fund headed by the prime minister, amounting to billions of dollars.
To curry favour with Najib, PAS has thrown its support behind Umno while claiming to go solo, and has predicted a sweeping win for its party. To ensure its victory, PAS has neither breathed a word about any of the scandals plaguing this nation, nor raise any questions about the struggles Malaysians are facing trying to put food on the table for their families, sending their kids to school or trying to stay afloat despite the debt we find ourselves in.
Time to rip off band-aid
Heading into the 14th general election, the battle lines have been drawn. On one side are Umno and PAS, promoting corruption and no solutions to the pressing issues faced by Malaysians. And on the other, the opposition parties offering a new beginning for Malaysians after 60 years of suffering.
As such, keeping PAS in the fold any longer will do the opposition no good. The reality is this: there will be multi-cornered fights at the next elections, engineered by PAS. The sooner the opposition parties cut out PAS, the more time it will give Malaysians to realise PAS has turned on the people.
And we need to be honest and clear with Malaysians, instead of flip-flopping because even PAS has made it clear that it doesn't want to have anything to do with PKR, Bersatu, Amanah, and DAP. - mk
China-Backed Plan to Prop Up Scandal-Plagued Malaysian Fund 1MDB Collapses...




A deal for a Chinese state-owned company to help bail Malaysia out of a multibillion-dollar financial scandal fell apart Wednesday after the Chinese government refused to authorize the investment.


China Railway Engineering Corp. and a local Malaysian partner had agreed in December 2015 to take a 60% stake in Bandar Malaysia, a major residential and commercial real-estate project in Kuala Lumpur that originally was being developed by 1Malaysia Development Bhd., a Malaysian state fund.
The deal, valued at 7.4 billion ringgit ($1.7 billion), was a cornerstone of efforts by Malaysia's government to sell off 1MDB assets after the fund ran up over $13 billion in debt. The fund is now the center of major corruption probes in a number of countries, including by the U.S. Justice Department.
The China Railway consortium was unable to meet criteria under the December 2015 agreement to complete the sale, according to a statement Wednesday by TRX City Bhd., a company owned by Malaysia's Finance Ministry, which in turn owns the 1MDB fund. It didn't give details.
The China Railway consortium, which also included Malaysia-based Iskandar Waterfront Holdings Sdn Bhd., confirmed in a statement that it had received a "notice of termination" from TRX City. The consortium said it was reviewing the termination with its legal adviser.
The failure of the deal is a blow to Malaysian Prime Minister Najib Razak, who set up 1MDB in 2009 with the stated goal of developing Malaysia's economy, and headed its board of advisers. At the time of the deal, in a New Year's message to Malaysians, he heralded it as "the final major milestone in the 1MDB rationalization plan."
The 1MDB fund hasn't published financial statements for 2015 or 2016, so its current financial situation is unclear, Still, the deal's failure is likely to add to pressure on Mr. Najib, who also is finance minister, to find other ways to pay 1MDB's debts.


The prime minister's office and 1MDB didn't respond to requests for comment.

-WSJ
This whole thing is just suey. Bad karma, bad luck or bad joss. Even if they develop the land will investors be happy buying into such tainted projects? Stolen moneys, people have died mysteriously, others have been jailed, fired, prosecuted and it goes on.
News is Chief Thief was already about to go to Bandar Malaysia yesterday for a planned event when the event was suddenly cancelled. Malunya. Now where is 1MDB going to get that RM7.4 billion? That IPIC settlement requires a first payment of RM2.5 billion by July 31, 2017.
RM7.4 + RM2.5 = RM9.9 billion ! ! Duit mana mau mari? Najib kena jelas pasai apa urusniaga Bandar Malaysia ini mampuih?
The Chinese have also pulled the handbrake on Chinese nationals buying properties overseas. So the Iskandar Waterfront project is also stuck because they are depending on sales of units to many Chinese buyers.
The GST may go up. O'wise how else are they going to raise the money? I have a simple suggestion which the Chief Thief has possibly not thought about before.
Get that JoLo fellow and his family to return some of the stolen money. Just to cover the RM2.5 billion IPIC payment due by July 31st. Then at least you will have some breathing room.
It is only RM2.5b. He has plenty more stolen money left. Think about it lah. Prepaids, you may wish to take up this suggestion, privately. - ostb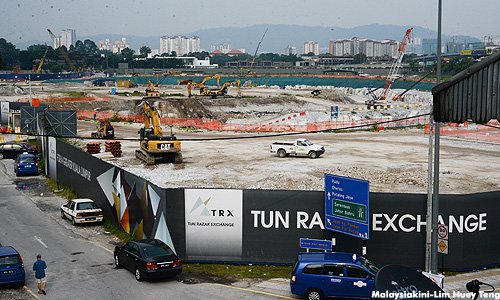 Sekarang Jual Beli Bandar Malaysia Sudah Batal,
Habis Siapa Akan Tanggung Ganti Rugi?...
Well 1MDB and gomen are both the same - it is taxpayers money. But this is a relevant question. The buyer IWH paid a (10%?) deposit of RM741 million.
If this aborted deal is IWH's fault, then the deposit of RM741 million is burnt. Gone up in smoke. IWH will not get their money back. Lim Kang Hoo will shit enough bricks to build a new causeway to Singapore.
But if the deal was aborted because of 1MDB's fault or the MOF's fault then IWH will be asking for the refund of their 10% deposit (RM741 million).
Will the gomen refund the deposit? Got mani or not? What about ganti rugi? Surely there will be damages, losses, claims and such. Siapa akan tanggung bayar ganti rugi?
Or are they following the Slumberjack Privatisation Model.You know where they first sign the contracts and the agreements.Then they break the contracts and agreements. Then the lucky concessionaire claims and gets paid ganti rugi or compensation. Paid by the gomen for breaking the agreement.
For example they signed the agreement for the crooked bridge.Then they cancelled the crooked bridge. Then the lucky concessionaire was paid about RM700m compensation.Without even having to build the crooked bridge.Unbelievable.
Or like the muallaf fellow who got the AES deal.Then they cancelled or suspended the AES.(What is happening to the AES now?)Then they paid the muallaf fellow compensation.
So will 1MDB or whoever subsidiary pay "compensation" to IWH for breaking this Bandar Malaysia S&P Agreement? That can be a lot of shopping money. - ostb
WSJ: China sekat pelaburan ke Bandar Malaysia
With CREC-Bandar Malaysia deal collapse a war of words erupts
RM 43 juta duit SRC dikeluarkan secara tunai...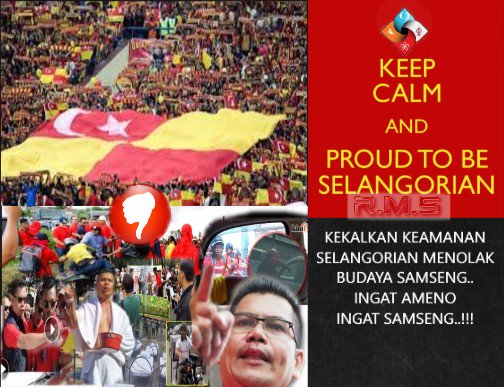 cheers.