Bossmu, Najib Razak malam ini tampil di pentas ceramah BN di Tanjung Piai. Seperti biasa dan seperti tanpa ada apa-apa kesalahan dilakukan Najib, setiap apa yang ditutur diterima dengan tepuk sorak.
Puluhan pertuduhan yang dikenakan ke atas Bossmu itui sedikit pun tidak meragui para pendengar ceramahnya. Yang hadir bukan sahaja dari Melayu mazhab Umno tetapi ada juga segelintir daripada Melayu mazhab Pam. Dan disinilah kekuatan Najib tidak tahu malu dengan apa yang berlaku kepada dirinya.
Najib menyindir dan mengecam kerajaan PH dengan beberapa fakta dengan menyebut akan kemerudumuman dividen dan hibah dalam beberapa buah syarikat milik kerajaan atau lembaga, yang merosot nilainya berbanding dengan era pemerintahannya.
Misalnya dividen Lembaga Tabung Angkatan Tentera (LTAT) dari 14% turun kepada 2% sahaja, hibah Tabung Haji daripada 8% turun kepada 2.5% sahaja.
Semua tadah tangan mendoakan kemenangan Jeck Seng, tetapi Jeck Seng sendiri tak menadahnya tapi dok main h/phone.Inilah kerja Melayu mazhab UMNO kena tipu hidup2..f/bk
Apa dikatakan Najib itu benar dan kita setuju. Cuma satu kesilapan Najib yang dia tidak sebut, sebanyak RM2.5 billion wang 1MDB yang disangak bersama Jho Low. Kerana sangak wang itulah maka dia dipanggil membela diri.
Dalam ceramah tadi juga Najib yakin apa bakal berlaku di Tanjung Piai itu, menjadikan BN akan selangkah lagi akan ke Putrajaya, untuk memerintah semula negara dan mungkin akan meneruskan agenda penyangakan selanjutnya. Saya setuju.
Tetapi apa yang terlupa disebut Najib mengenai dirinya, apabila Mahkamah memanggilnya untuk bela diri bersabit tuduhan menyangak RM42 juta dana SRC International Sdn Bhd, bermakna dia selangkah lagi untuk ke Sungai Buloh. - mso
akaun PAS,kami difitnah...
Pemimpin PAS kata dah terbukti mereka difitnah.. Sebab duit RM 90 juta tak masuk akaun PAS.., Cuma aku nak tanya Pemimpin dan Walaun PAS, cari dalam artikel Sarawak Report.. Sarawak Report ada sebut ker RM 90 juta masuk Akaun PAS ? sapa boleh bagi bukti SR ada sebut.. aku bagi RM 10 ribu sebagai ganjaran..
Jadi Pemimpin PAS tak payah Bodohkan Ahli depa lah.. Kalau yang dituduh dalam Sarawak Report tu PAS, yang saman Sarawak Report tu adalah PAS bukan Haji Hadi.. artikel SR tu tuduh Najib..tapi Hj Hadi pergi saman SR, nampak tak mudahnya Haji Hadi dikhadamkan Najib..
Kenapa Haji Hadi yg saman bukan PAS ? Sebab PAS menafsirkan " Top Echelons" dalam artikel SR dimaksudkan Haji Hadi, Dalam pembelaan SR pulak kata "Top Echelons" semua pemimpin Utama ada kaitan dengan PAS.. Tu sebab Haji Hadi Tarik balik Saman..Memang Haji Hadi dah Comfirm Kalah..
Macam Calon PKR yg saman Hj Hadi..Sebab dia kalah, Sebab Hj Hadi Fitnah Pil Kuda tak sebut nama... Shamsul takda hak untuk saman, Walaupun dalam penghakiman, Hakim mendapati Haji Hadi mengfitnah.. orang yg patut saman adalah PKR bukan Shamsul..

Bila Sarawak Report dalam Pembelaan dia,dia sebut yang dimaksudkan "Top Echelons" kesemua Kepimpinan Utama PAS.. tu yang Pemimpin PAS pakat takut.. Semua pemimpin depa , akaun pemimpin depa akan diheret ke Mahkamah London... Tembelang akan Pecah kat sana...
Sama macam kes 1MDB.. Bila dituduh kerugian RM 40 billion skandal 1MDB.. bukan makna RM 40 Billion masuk akaun Najib dari 1MDB, akhirnya yang sampai tak sampai 2 Billion pada akaun Najib..yang Najib terima pun bukan dari 1MDB..tapi SRC.. itu lah cara depa alirkan duit.. Cuci Duit, sama macam kes Peguam UMNO yang dapatRM 15 juta..tu sebab dalam Artikel Sarawak Report Sebut Najib alirkan RM 90 juta kepada Pemimpin Utama PAS untuk pecahkan Pembangkang.. dia tak kata masuk Akaun..
Apa yang SR tulis.. ?

RM90 million is widely reckoned to have flowed into the top echelons of PAS in recent months (BN veterans would tell them they came cheap).

".. nampak tak ada dia sebut akaun PAS ? RM 90 Juta masuk akaun mana mana ? yang jadikan kes ini dengan tajuk RM 90 juta sebagai isu bukan Pembangkang..sebenarnya PAS sendiri..
Tapi kita faham lah..IQ Pemimpin PAS, apa lagi walaun PAS bukan cerdik mana.. inilah Kelompok Ruwaibidhah.. Jangan kata hal Undang2..Hal agama pun depa jahil..Dulu depa kata depa dah menang Saman Sarawak Report.. last2 Haji Hadi sendiri tarik balik Saman..
Sama macam Walaun PAS sambut Haji Hadi bagai wira dulu kat Airport.. kata depa RUU 355 dah berjaya dibentang..walaupun baru baca tajuk.. Tu bukan Rang Undang2..tu baru usul pembangkang..Rang Undang2 ni dibuat Kerajaan bukan Pembangkang..baca usul pun depa kata dah bentang RUU.. begitulah mudahnya pembodohan yg berlaku kepada pengikut2 PAS..lebih teruk dari pengikut Ayah Pin.. Memang Sejarahnya orang Terengganu ada bakat sesatkan orang.. takda beza Ayah Chik dan Ayah Pin..
Depa ni jangan kata lah, Bab Undang2 Jahil..Bebas dengan jaminan Polis pun depa kata Suspek dah dibebaskan.. Macam depa percaya Najib tak bersalah sebab Najib masih bebas.. tak sangka begitu teruk cara orang agama, Bani Melayu berfikir.. agaknya tu sebab,paling ramai jadi mangsa Syarikat Scam adalah Bani Melayu.. tak heran lah air kencing Serangga pun depa tadah minum..jadi air suci.. buakn takat air anai anai 30 Juzuk..
Sudah sudah lah PAS..tak payah Bodoh kah ahli..kalau rasa saman Sarawak Report Kos tinggi..Saman jer Husam, Mahfuz.. Malah Exco Kedah dengan beraninya tunjuk resit transaksi RM 2.5 juta Duit UMNO masuk ke akaun PAS.. Jadi saman jer lah.. ni yg tuduh ni taraf Pemimpin Utama,EXCO..
Pemimpin PAS mengaku jer lah... FAKTANYA.. Sebenarnya Memang wujud Kerjasama Sulit PAS dan UMNO sebelum PRU 14 pecahkan pembangkang.. sepertimana ditulis Sarawak Report.. Mengaku jer lah PAS memang terima Duit UMNO.. Makan Duit UMNO.. berapa pun jumlah yang sampai pada PAS tak penting..Yang penting telah dibuktikan sebelum PRU 14, Haji Hadi.. PAS makan duit UMNO.. Buat kerja untuk UMNO..Jadi Khadam Najib untuk pertahankan BN di Putrajaya.. Duit Deposit calon pun UMNO tolong Support.. - ipohmali
On the eve of polling in Tg Piai, some voters are still undecided . It's been a hectic two week campaigning with BN drawing bigger crowds than PH. But a huge turnout may not necessarily translate into votes. Tanjung Piai a great test for Malaysia's PH government..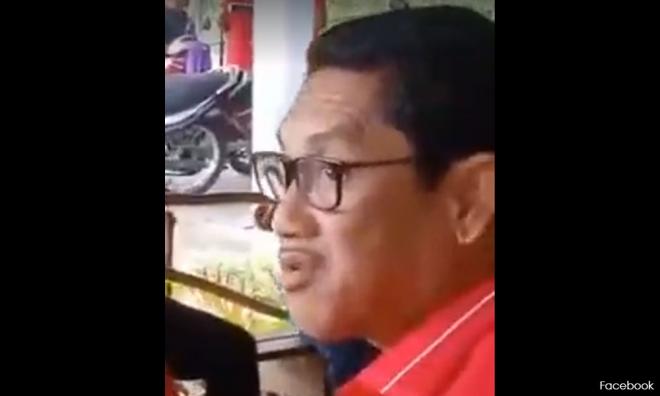 Perak MB starts a battle he cannot win...
One of Sun Tzu's golden rules of warfare was, "Do not start a battle in which there is no chance of winning."
Perak Menteri Besar Ahmad Faizal Azumu should take heed of this rule because he may live to regret the comments about his "lone battle". which he made in a video. He told a small gathering that he was fighting "a desperate battle alone, against DAP".
In his lone battle, Ahmad Faizal probably imagines that his enemy is the DAP. He is wrong because his enemy is the people of Perak, whom he betrayed with his incompetence and arrogance.
In the video which went viral, Ahmad Faizal said, "In Perak, I am fighting a desperate battle alone against 'puak-puak' (factions) DAP.
"I want to defend the land of the Malays, I want to champion our religion."
He needs to tell us from whom or what he has to defend the Malays and Islam. For the past 62 years, Umno touted the same line, but what have they done to improve the lives of the Malays?
The same goes for Ahmad Faizal. What has he done in the past 19 months, to improve the lot of the Malays?
Is Ahmad Faizal still trapped under his tempurung? Malays occupy positions of power in GLCs, in ministries, in the police, customs, immigration, Mara, Felda, Tabung Haji, Khazanah, Bank Negara and Jakim.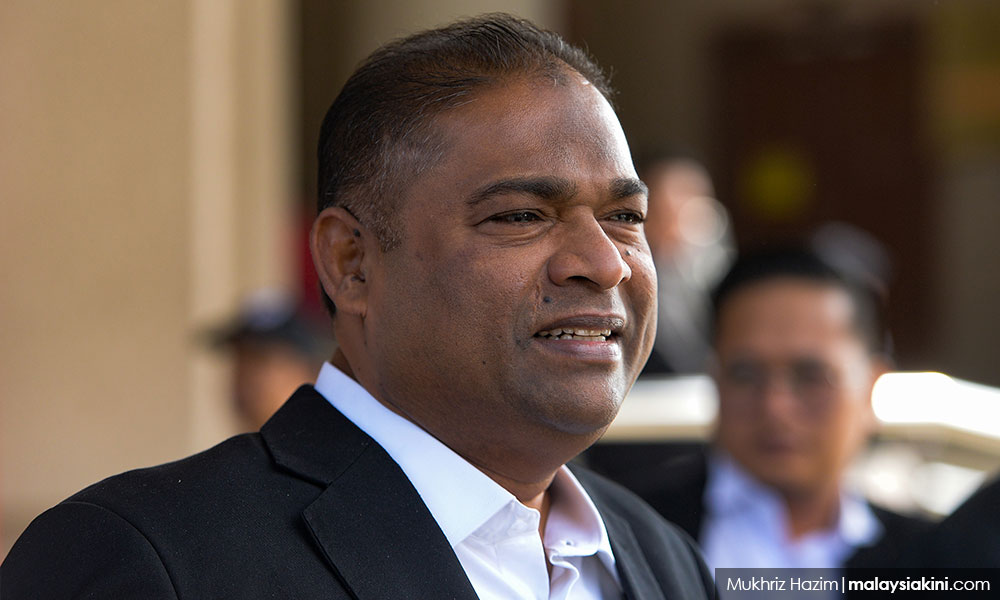 If the Malay needs defending, it is from the other Malays. Many are not used to holding power or being in charge of money. Disgraced Najib Abdul Razak, his former deputy PM Ahmad Zahid Hamidi, Isa Samad, formerly of Felda, and Abdul Azeez Abdul Rahim (above), the former head of Tabung Haji, have been charged with criminal breach of trust and money laundering.
The Malays also need defending from being pampered. Dr Mahathir Mohamad scolds the Malays for being lazy, but in the next breath, rewards them with handouts. No wonder they are confused.
What does Ahmad Faizal mean by wanting to "champion our religion"? Is it through might and right? What has he done to push the IGP to find Indira Gandhi's daughter, who was kidnapped by her convert husband? Will he stop the alleged forced conversions of Orang Asli?
For the past 19 months, he has wasted time doing very little, apart from lurching from one blunder to the next. Ahmad Faizal has thwarted the wishes of the rakyat who wanted the new Pakatan Harapan administration to clean-up the mess left by the previous state government.
More importantly, he has done nothing to entice the hundreds of thousands of young Perakians, and experienced professionals, who have migrated to Kuala Lumpur, Penang, Singapore and overseas in search of better pastures, to return, and help to rebuild Perak.
In short, the Perak MB lacks both charisma and vision.
He has lost the trust of the people of Perak, who voted for Harapan. He abused his position by dismissing the need for transparency in awarding some contracts. He appointed an RM2 company to do reforestation. Without open tenders, contracts worth several hundreds of millions of ringgit were awarded to companies. He belittled the rights of the Orang Asli and dismissed claims that Orang Asli children were malnourished.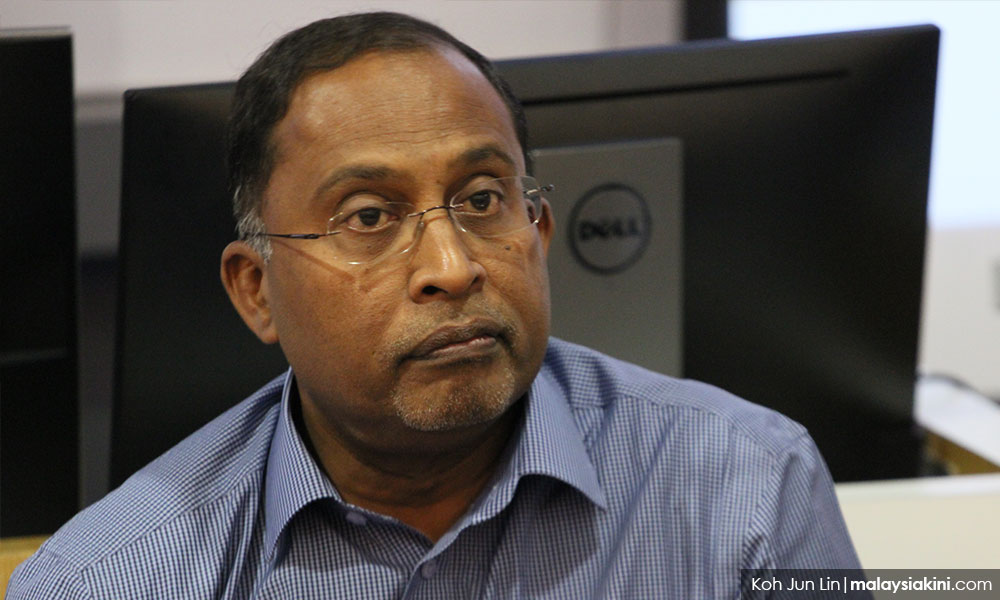 Instead, the Perak taxpayer is forced to bail out Umno-Baru's white elephants. Thus far, no-one in the administration of the former MB, Zambry Abdul Kadir (above), has been hauled up for corruption. If they need a hint, try sand mining.
The Orang Asli in his constituency of Chenderiang must regret voting for Ahmad Faizal. He won by the skin of his teeth - a mere 39 votes. If not for the Orang Asli, he would have lost his deposit
One year after being in office, the ungrateful MB repaid his gratitude by claiming that there was no such thing as Orang Asli customary rights in Perak.
DAP is the biggest party in the Perak Pakatan Harapan coalition, with 18 seats. Bersatu is the smallest with two, but it is Bersatu which calls the shots.
"Melayu mudah lupa" (Malays easily forget) and Ahmad Faizal has betrayed the DAP, in the same manner he betrayed the Orang Asli, with his "lone battle" remark.
Like most people from his former party, Umno Baru, Ahmad Faizal probably thinks that he has a right to rule. He has put his former party, Umno Baru, before the interests of the state. The Perak taxpayer is forced to bail out the Movie Animation Park Studios (above), the Umno Baru white elephant. He wants to resurrect other Umno Baru white elephants, like a new airport and a space centre. These vanity projects will only benefit the cronies.
The Perak MB has also put himself before the interests of the rakyat. He once said that his best achievement was to continue to be MB.
Desperate for popularity, he rewarded Perak footballers (and officials) who beat Terengganu in the Malaya Cup finals of 2018, with land seized from farmers who had tilled the soil for four generations. It would have been cheaper to reward the footballers with Datukships, especially as we have now lost a good source of fresh produce.
The warning signs, that he plays to the Malay/Muslim crowd, were evident at the start of Ahmad Faizal's tenure. In the Manjoi mob incident, the Malays who demanded the removal of bottles of alcohol from the shelves of a store in Manjoi, were not punished. Businesses must be worried.
So, who is the real Ahmad Faizal Azumu? He fancies himself as the hero of the Malays and Muslims, but claims to be MB of a multi-racial state. He is the proverbial Umno-Baru wolf in Bersatu sheep's clothing, and acts like a member of the fifth column.
He and his family have roots which are firmly grounded in Umno-Baru. They hopped into Bersatu in a tactical move which was motivated by greed and selfish political reasons.
Ahmad Faizal knows that he was not the people's choice for MB. The rakyat wanted an MB who was not corruptible.
For now, Ahmad Faizal's position is safe, because he has the protection of his Godfather, Prime Minister Dr Mahathir Mohamad. But no-one lasts forever. - Mariam Mokhtar,mk
cheers.