Bila Haji Hadi kata Hudud tidak sesuai, Sukar dilaksanakan di Negara kita..Terus terang aku kata..Dalam bab perlaksanaan Hudud di Malaysia ini.. Kalau ikut Ijtihad yang tepat.. Istiqamah dengan Disiplin Fiqh.. Lebih Faqih Lim Kit Siang dari Haji Hadi.. Lebih Jujur DAP dari PAS...
DAP sejak dulu menolak Hudud, Bukan sebab depa benci Hudud.. Hatta Mendiang Karpal Singh lebih jujur setiap kali menolak Hudud dengan mengatakan ianya bertentangan dengan Perlembagaan..Dia akan kekal mempertahankan Perlembagaan.. Masa tu Aqidah Haji Hadi, Perlembagaan ini Perlembagaan Kufur.. Lim Kit Siang dalam ceramahnya memetik pandangan Qaradawi tentang Awlawiyyat(Keutamaan).. Apa yg dikata Haji Hadi semalam, Itulah pendirian DAP selama ini..
DAP tak pernah hina Hudud seperti Presiden dan pemimpin MCA.. Pernah ada gambar pemimpin tertinggi DAP seperti Karpal Sing, Lim Kit Siang dan Lim Guan Eng buat sepanduk ,aksi Pangkah seperti presiden MCA, Minta PAS sedar diri..
Begitu juga aksi DEMO luar pejabat PAS..hatta DAP Tak Pernah takut takutkan Hudud seperti UMNO dan MCA.. Tapi kami tak dan main sentimen kaum kata MCA anti Islam seperti PAS.. Sebab pada aku, Itu lambang Kejahilan..
MCA dalam kempen PRU 13, Mereka beli iklan dalam Akhbar Thestar satu muka surat, Hasut bukan Islam, Burukkan Hudud dan PAS untuk takutkan bukan Islam mengundi DAP.. DAP tak pernah buat mcm itu.. Bayangkan iklan itu nilainya RM 20-30 Ribu/ Muka surat.. Itu kerja MCA..
Itu sebabnya bila Haji Hadi kata DAP lebih Agresif, Extreme itu tidak tepat.. MCA lebih Extreme.. hakikatnya, hari ini bagaimana Allah tunjukkan kuasanya, Bagaimana Haji Hadi ditempatkan bersama kelompok Ashabiyah.. memang Haji Hadi dan Politik kebenciannya satu ketentuan yang hebat.. Kelompok Takfiri, Khawarij dan Ashabiyah seperti Haji Hadi memang sesuai bersama UMNO dan MCA.. begitulah Allah aturkan..- Ipohmali
Apa khabar Tanjong Piai...
Baru mendapat maklumat mengenai Pirake Tanjung Piai daripada seorang teman wartawan veteran yang bermukim di sana sejak Isnin lalu. Kempen Pirake Tanjung Piai sudah memasuki hari ke lapan hari ini, bermakna sudah lebih separuh ia berjalan. Hari mengundi pada 16 bermakna ada enam hari sahaja lagi.
Daripada laporan teman itu, kedudukan dan peluang di Tanjung Piai di antara PH dengan BN masih belum berubah. Apa yang saya gambarkan sebelum ini, PH akan kecundang masih kekal.
Apa yang ketara berlaku di Tanjung Piai pengundi berbangsa Cina sudah berpihak kepada BN. Undi Cina untuk BN ada peningkatan. Adapun undi Melayu masih kekal seperti Piraum lalu. Kenapa ini berlaku seperti saya katakan, Cina tetap mengundi Cina walaupun di mana mereka berada. Inilah perbezaan dengan orang Melayu yang sangat diplomasi dalam berpolitik dan sedia bertolak ansur.
Ertinya keputusan Umno menyerahkan kerusi itu kepada MCA adalah betul. Sebab kalau kerusi itu ditandingi oleh Umno, undi Cina akan mengalir kepada calon PH atau ada yang mengambil sikap tidak mahu keluar mengundi.
Hanya satu cara sahaja untuk PH mengekalkan kerusi di Tanjung Piai itu. Orang Melayu hendaklah bersikap seperti orang Cina juga. Orang Melayu kena undi calon Melayu. Jika sikap ini tidak ada kepada orang Melayu maka PH akan kalah.
Apakah orang-orang Melayu Umno dan Melayu Pam akan mengubah sikap mereka yang "wala" dengan kata pemimpin itu meniru sikap orang Cina? Tepuk dada tanya selera. Dan saya tidak yakin orang Melayu mempunyai responsif yang hebat untuk bangsa dan kepentingan mereka sendiri. Orang Melayu hanya kuat membebel, dan ada kalanya boleh mengamuk sesama sendiri. Prinsip orang Melayu macam batang keladi celor sahaja.
Sehingga hari ini saya meramalkan calon MCA Wee Jeck Seng yang dijinjing tangannya oleh Hadi Awang akan menang sekitar 300 hingga 500 undi. Perhatian secara menyeluruh akan dilakukan Ahad ini apabila saya akan turun ke sana dan melihat sendiri dari dekat. - mso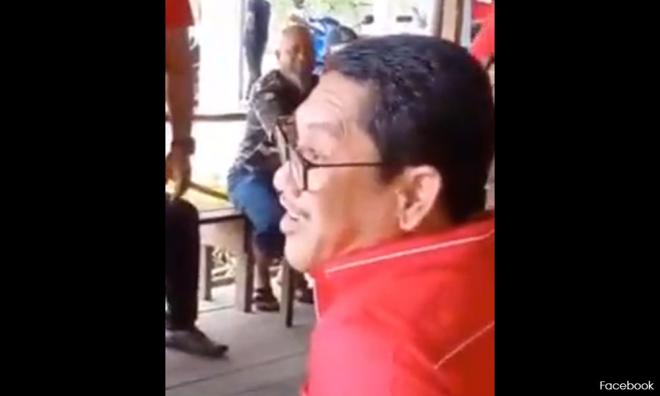 Bersatu v MCA: DAP grassroots between
a rock and hard place in Tg.Piai...
DAP grassroots are torn between their unwillingness to campaign for Pakatan Harapan's candidate Karmaine Sardini from Bersatu and wanting to see Wee Jeck Seng from rival party MCA defeated in the coming Johor by-election.
Malaysiakini has learnt from DAP insiders and elected representatives that this is a result of a series of events involving the party, including the prosecution of its lawmakers in the Liberation Tigers of Tamil Eelam (LTTE) case.
Also of concern is the brouhaha over the controversial comic by former party member Hew Kuan Yau and possible disciplinary action against party central executive committee member Ronnie Liu.
These events have significantly strained ties between DAP and fellow Harapan component party Bersatu.
This could prove to be a major setback for the ruling coalition as DAP plays an important role in assisting its Bersatu counterpart retain the seat.
Not only because the parliamentary seat comprises 42 percent Chinese voters, but also because the party won Pekan Nenas, one of two state seats under Tanjung Piai.
In GE14, Harapan's incumbent, the late Md Farid Md Rafik secured an overwhelming majority of 80 percent support of the Chinese in the constituency. However, the past year has also seen Chinese support for the ruling coalition eroded.
This is also worrying as Farid won the seat last year with a sliver of just over 500 votes to two-time former MP Wee.
Wee is hoping to reclaim the seat as BN's candidate once more in the Nov 16 polls, against Bersatu Tg Piai chief Karmaine.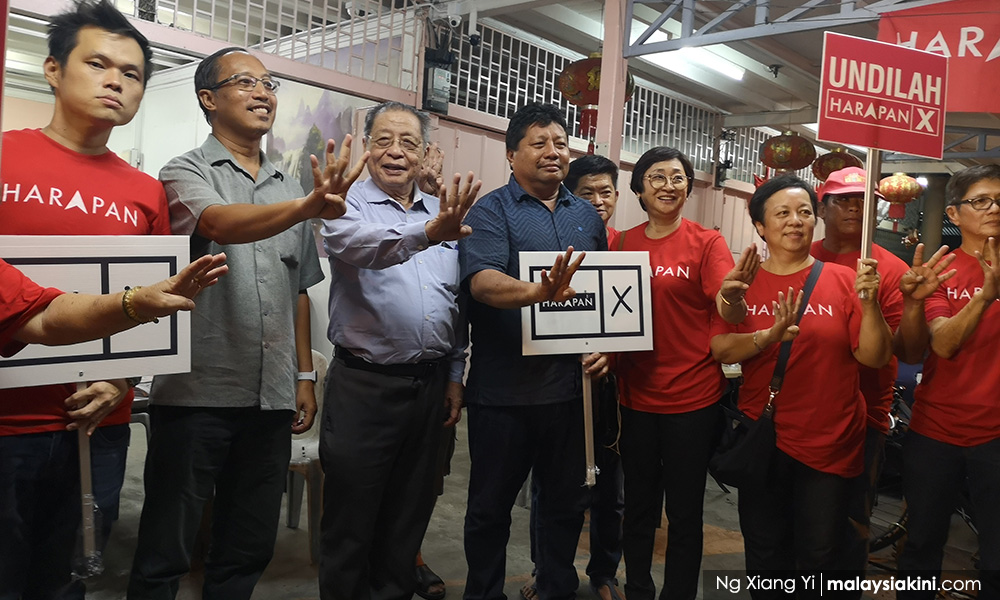 Less ceramahs
On the eve of nomination day for the Tanjung Piai polls last week, DAP secretary-general Lim Guan Eng openly highlighted the concerns of DAP leaders against recent events.
This, he said, was perceived by many in the party as attempts by authorities, or "deep state" to target DAP for links to a defunct terrorist group, and for allegedly spreading communist propaganda.
Dissatisfaction within the party also reportedly compelled its leadership to urge all its lawmakers to put a united front for the sake of the coalition, at least until the end of the by-election.
And indeed the party bigwigs have been playing their part. Lim, his father and DAP supremo Kit Siang as well as deputy minister and Johor DAP chief Liew Chin Tong's appearances on Nov 2, lent credence to the image of a united front.
Yet, the past six days of campaigning has seen less ceramahs being organised by DAP as expected.
This is especially as ceramahs are seen as the most common and effective election strategy adopted by DAP in past polls.
Only DAP Pekan Nenas state assemblyperson Yeo Tung Siong and several grassroots members were seen accompanying Karmaine in his campaign trail over the past few days.
It was only on Wednesday night that Kit Siang himself spoke for the first time in a ceramah at Penerok, a BN stronghold that also comprises a small group of staunch DAP members. Hundreds turned up for the ceramah.
Following this, DAP minister Yeo Bee Yin, deputy minister Teo Nie Ching, Jelutong MP RSN Rayer and Bukit Gelugor MP Ramkarpal Singh are scheduled to campaign for Karmaine and speak at ceramahs.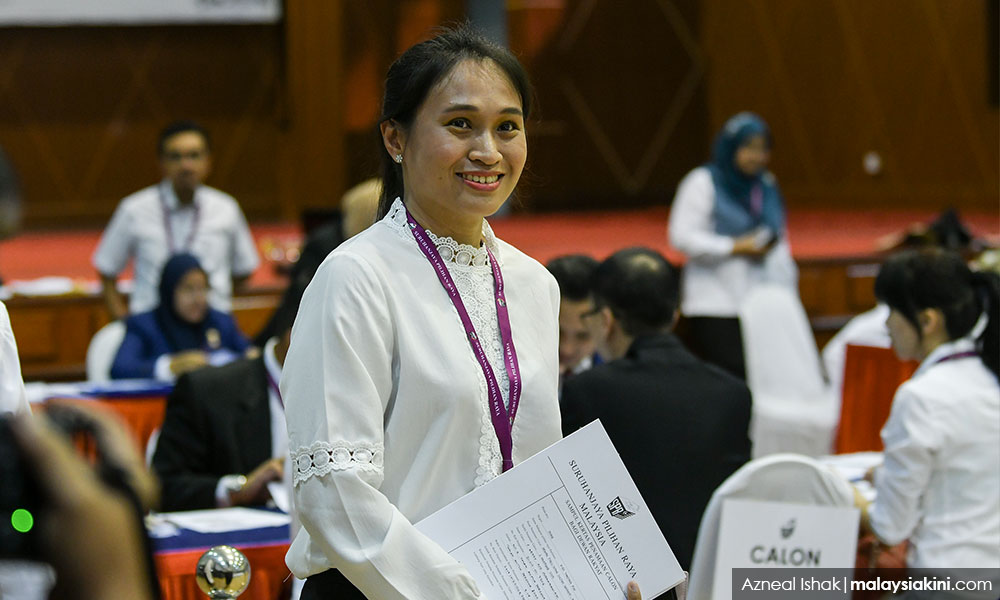 Wendy Subramaniam - Gerakan
Grassroot frustrations
But aside from party leadership, the DAP campaign team is finding it harder to persuade grassroots members to campaign for the Harapan candidate.
Party insiders told Malaysiakini grassroots from other divisions were unwilling to campaign for Karmaine because they were unhappy over the LTTE and comic issues.
Yet some sources have said some decided to come out to campaign for Harapan after taking into consideration the overall interest of the coalition.
A Kukup DAP branch member said some were unwilling to see voters swing back to BN after they voted for a change in government last year.
"Yes, we are not happy (with Bersatu). But Harapan is a family. Are we going to break apart because siblings quarrelled?" said the source.
The party insider also felt that even if BN wins in the Nov 16 polls, its candidate Wee would no longer have access to many resources or provide as much handouts to constituents as when he was MP during BN's administration.
"What we want is a backbencher who can keep the government in check. Can you look at how much he (Wee) spoke at Parliament (before?), what he uttered was only 'yes, correct'," the party member added.
Tung Seong has admitted that DAP members were discontent, not just with Bersatu but also other allies.
"(They are questioning) Why no other parties voice out support for us, only PKR president Anwar Ibrahim," he said.
Acknowledging the importance of the by-election, Tung Seong believed party leadership are able to persuade members to join the campaign machinery.
This is as he pointed out a defeat for Harapan in Tanjung Piai will only strengthen the "deep state" concern highlighted by Lim, as hands working against the coalition will only think of Harapan as a one-term government.
"Many of the grassroots leaders listened and understood this is an important battle and decided to join the campaign machinery," he said.
Currently, about 30 party campaigners go to the ground with the assistance of central leaders and state leaders to speak to the grassroots.
Public support
Meanwhile, DAP Skudai assemblyperson Tan Hong Pin also admitted that recent issues have affected sentiments of the grassroots.
Yet, he downplayed its seriousness and claimed the grassroots are able to rise above it.
"Definitely, it is frustrating...But we all know the meaning of the polls, (and) they are willing to set aside (their discontent) until the battle is over. Then, we will talk about other issues," he said.
He advised party members to adhere to party discipline guidelines and train their guns at the "other side" instead of resorting to sabotage.
Tan said the DAP campaign machinery did not just rely on party members but contributions of funds and resources from the public.
"This is the first time ever Johor DAP took part (in an election) as a government party, so we need to adjust our campaign operations. I still believe the participation of the public is very important, as without them, (it would appear) as though we are losing the support of the public," he added.
Dr.Badrulhisham b Abdul Aziz - Berjasa
Even so, public participation in the campaign was still low, but better than expected, he claimed.
Besides the need to stem the loss of Chinese support, Tan said Harapan needed to attract the support of young Malay voters in order to retain the seat.
The Tanjung Piai by-election was called following the death of Farid, 42, on Sept 21 from heart complications.
Aside from Karmaine and Wee, four other candidates have thrown their hats into the ring.
The six-cornered battle also features Gerakan deputy secretary-general Wendy Subramaniam, Berjasa president Badhrulhisham Abdul Aziz and independents Ang Chuan Lock and Faridah Aryani Abdul Ghaffar. - mk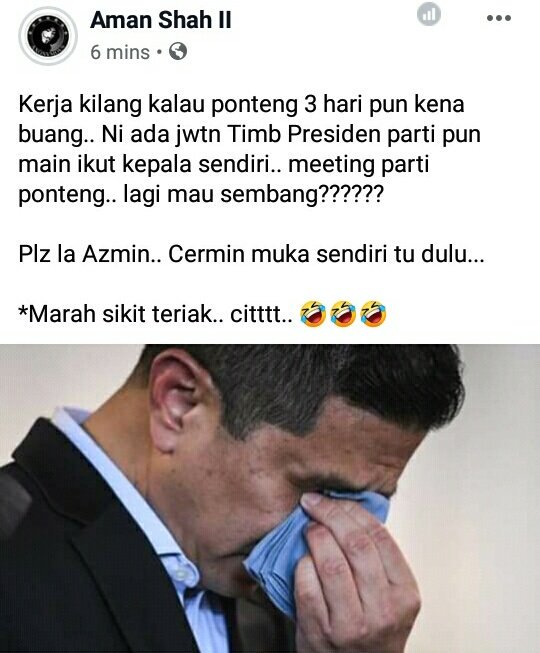 cheers.