Tuan Ibrahim ni kalau Jahil takpe.. Tapi Jangan jadi Jahat dari UMNO nak kait dengan agenda Komunis dalam isu Abu Chin peng.... Nak main isu Chin Peng pun, Tengok kiri kanan.. yang sokong Abu mayat Chin peng dibawa balik ni rakan taawwun depa jugak MCA..
Apa masalah dengan Bani Melayu ni.. Dengan Abu mayat pun takut.. ?Lantak depa lah nak tabur mana pun, nak tabur dalam sungai depan rumah aku pun..aku bagi.. No hal lah... Takda kena mengena dengan Agenda Komunis..
Masa Kerajaan UMNO Abadikan nama Henrey Gurney pada nama Bagunan, Hotel,Mercu tanda, Sekolah, Jalan takda pulak kita bising.. Sedangkan dalam Sejarah Henry Gurney lah arkitek kewujudan negara Zionis Israel di Palestin..
Sapa yang Bunuh Henry Gurney..? yg bunuh tu Chin peng(PKM)..patutnya terima kasih lah kat dia sama sebab bunuh Arkitek negara Haram Zionis Israel..Sebab jasa Henry Gurney lah , sampai hari ini Rakyat Palestine menjadi mangsa kekejaman tentera Zionis Israel..
PAS tiap tahun sambut hari "Nakbah" kononnya mengenangkan peristiwa pembunuhan beramai ramai Dier yasin.. selepas peristiwa Nakbah tahun 1948, Selepas itu.. Henry Gurney dihantar ke Tanah Melayu, Dia dilantik Pesuruhjaya British ke Tanah Melayu..
Bukan calang calang, PesuruhJaya British yang dihantar ke Tanah melayu, orang yang sebelumnya berjaya menubuhkan Negara haram yahudi.. entah entah kalau Chin Peng tak bunuh Henry Gurney.. Singapura hari ni dah jadi mcm Israel lah kut..
Kami pun tak suruh kita buang nama Henry Gurney kat Pulau Pinang tu , Tak suruh hina pun.. sama lah mcm kisah Chin Peng..Depa ni sebahagian dari Sejarah, Ada yang kita setuju dan tak setuju dengan perjuangan depa.. namapun Sejarah.. Depa ini sama sama memperjuangkan Kemerdekaan dulu..
Cuma kita tak sama Idealogi..sama mcm kat Syria hari ini, Dalam Perjuangan membebaskan Syria..Ada yg pro basyar Russia, ada Jihadist Pro US yang angkat Senjata menentang basyar.. yg berbeza mazhab dan Idealogi Politik pada waktu itu..
Bukan hanya Chin Peng pemimpin haluan Kiri, Dulu Hizbul Muslimin,PKMM adalah kelompok haluan kiri.. Bukan hanya Chin Peng, Rashid Maidin, Shamseah Fakeh antara pemimpin berhaluan kiri.. Sejarah hanya tafsiran.. Ada yg kata British Penjajah, jepun Penjajah..Sebelum ini kita melaksanakan dasar pandang ke timur( Jepun), Habis Jepun dan British tak bunuh pemimpin dan orang Melayu ?
Sudah sudah lah berpolitik.. Jangan jadi seperti kelompok Ghuluw dalam kelompok rafidhah Syiah.. Kebencian dan dendam mereka atas kematian dan pembunuhan Saidina Hussin, Saidina Ali..akhirnya dibawa kebencian depa di dalam aliran agama dan Politik.. Sejarah tetap Sejarah, Tak perlu kita maki hamun Abdullah Bin Muljam, Atau Yazid Muawwiyah.. Itu adalah sejarah Politik Islam..
Contoh mudah kes Memali.. Samalah mcm PKM.. Taknak tunduk dan letak senjata kepada Kerajaan kerana depa percaya kononnya UMNO dan Kerajaan tunku dulu tali barut British.. Sama mcm Pengikut Ibrahim Libya..Taknak tunduk kepada penguasa untuk ditahan ISA, kerana depa dianggap Kerajaan UMNO Toghut,Penjajah Bristish, Perlembagaan kapir sebagaimana dalam Amanat Haji Hadi.. mereka ini juga Taksub dengan revolusi Iran..Ayatullah Khomeini pada ketika itu....
Dalam Sejarah Memali.. Ada yang puja dan sambut peristiwa Memali sebagai Hero, Mati Syahid..ada yang anggap Ibrahim libya itu pemberontak.. Apa kita ingat takda anggota Polis yang terluka akibat dibunuh pengikut Ibrahim Libya..tapi itu sejarah, tak perlu maki Ibrahim Libya dan pengikutnya..
Sudah sudah lah PAS menghasut.. Sekarang PAS lagi teruk dari UMNO mainkan sentimen kaum dan Agama.. Tapi tidak lah kita hairan, Ikut Sejarah penubuhan PAS, PAS ditubuhkan oleh Ulama UMNO sendiri.. PAS berbeza dengan Hizbul Muslimin.. Memang PAS lahir dari kelompok Ashabiyah.. dari Ashabiyah dia datang, Kepada Asahbiyah dia kembali.. - Ipohmali
still stirs strong emotions...
They say that if you want to destroy a nation, you mess around with the children's education. In Malaysia, we tinker with our history and leave out important bits, so that our children are ignorant about our past. Many historians have been made to toe the political line. This has prevented us from moving forwards, as many of us don't know our past history, origin and culture.
Two months ago, on Malaysia Day, 16 September, the ashes of the former secretary-general of the Communist Party of Malaya (CPM), Chin Peng, who died in exile, in Thailand, were returned to Malaysia, and scattered in the sea off Lumut, and in the jungles of the Titiwangsa mountain range.
Chin Peng was born in Sitiawan, Perak, in 1924, and was named Ong Boon Hua, by his parents. To many Malay nationalists, and leaders of the previous Umno-Baru regime, Chin Peng was a traitor who killed thousands of innocent civilians during the period known as 'The Emergency'. To Malaysians who are less ignorant about our history, Chin Peng was a patriot and a freedom-fighter, who sought to liberate Malaya from colonial rule.
However, when World War II broke out, the British made contact with Chin Peng, through their commandos in Force 136. They gathered intelligence behind enemy lines, and started a guerrilla war, to fight the Japanese who had conquered Malaya, Singapore and East Asia.
The Japanese army and their Kempeitai caused untold suffering to the residents of Malaya. Attractive girls were selected to become comfort women for the army and scores of thousands of able-bodied men were forced to build the infamous death railway to Burma. Very few returned.
After the war, King George VI, honoured Chin Peng with two campaign medals and an Order of the British Empire (OBE) for his services to the Crown in Japanese occupied Malaya. He refused to accept the honours, because he was aware that these enticements would have meant he would have to disband his fighters in the Malayan Peoples Anti-Japanese Army (MPAJA). Soon after the surrender of the Japanese, the British returned to re-establish their hold on the nation. The threat of civil unrest was real. There was terrible hardship in the land.
According to Chin Peng's account of 'The Emergency', in his book, "My Side of History", people were starving, they wanted jobs, they wanted rice to feed their families. Food supplies were running out and prices soared, because of corruption. He claimed that on 21 October 1945, British troops fired live rounds on tens of thousands of demonstrators in Sungai Siput, Ipoh, and Batu Gajah. This fuelled the simmering discontent of the local population against the returning British.
Instead of organising national resistance against the British, the CPM sought to influence the population using moderation and respect for order. They encouraged the formation of people's committees, clubs, unions and organisations for workers, including young women and youths.
Those who have some knowledge of our early history know that the Baling talks were held in 1956, between Chin Peng, Tunku Abdul Rahman, and David Marshall, in an effort to end the atrocities of 'The Emergency'.
The talks failed, because the surrender terms were not acceptable to Chin Peng. He wanted recognition for the CPM's efforts in fighting for independence and political recognition. The British wanted complete humiliation for the CPM, especially as trouble was brewing in the south of Vietnam, between Ho Chi Minh and the Americans. So, will Malay nationalists, demand that the friends and colleagues who brought Chin Peng's ashes back home, be punished?
How will they justify this, especially as the majority of Malaysians, are furiously against the repatriation of ISIS fighters? Some of the al-Qaeda and ISIS inspired Malaysian terrorists are chemical engineers and explosive experts, who will bomb nightclubs to kill and maim innocent civilians. They intend to kidnap tourists or westerners and decapitate them. Others want to use anthrax, to kill people.
After a peace treaty was brokered by the Thai government, and signed by the Malaysian government, the Thai authorities and the CPM in Hadyai, in 1987, the former CPM guerillas were allowed to return to Malaysia, given Malaysian citizenship and reintegrated into society; however, Chin Peng was forbidden from entering Malaysia.
When he died at 88, in Bangkok, on 16 September 2013, Chin Peng's funeral was attended by retired generals of the Thai army and a former Thai prime minister, but his ashes were not allowed to be interred in his ancestral grave, in Sitiawan. Some Umno-Baru politicians claimed that he had left a trail of bloodshed, and they did not want people to make his tomb a shrine.
How do some nationalists justify the memorial which was built in Kedah, in March 2019, to honour the "Japanese heroes", who invaded Malaya? In the Japanese Imperial conquest of Malaya, Borneo and the Far East in WWII, millions died, and 200,000 civilians perished in the Nanking Massacre.
History, as it is taught in our schools, needs a revamp. Education Minister, Dr Maszlee Malik must present our children with both sides of the story and let them figure out why things happened. Chin Peng went from liberator, to public enemy. - Mariam Mokhtar
Finally Najib got screwed. AG Thomas has got the British Courts to acknowledge
the plunder of 1MDB by Najib! Now Malaysia can stop paying IPIC the loan!!!
Balik Lambat,Tidoq Lewat "Ahli Parlimen Mengadu Penat"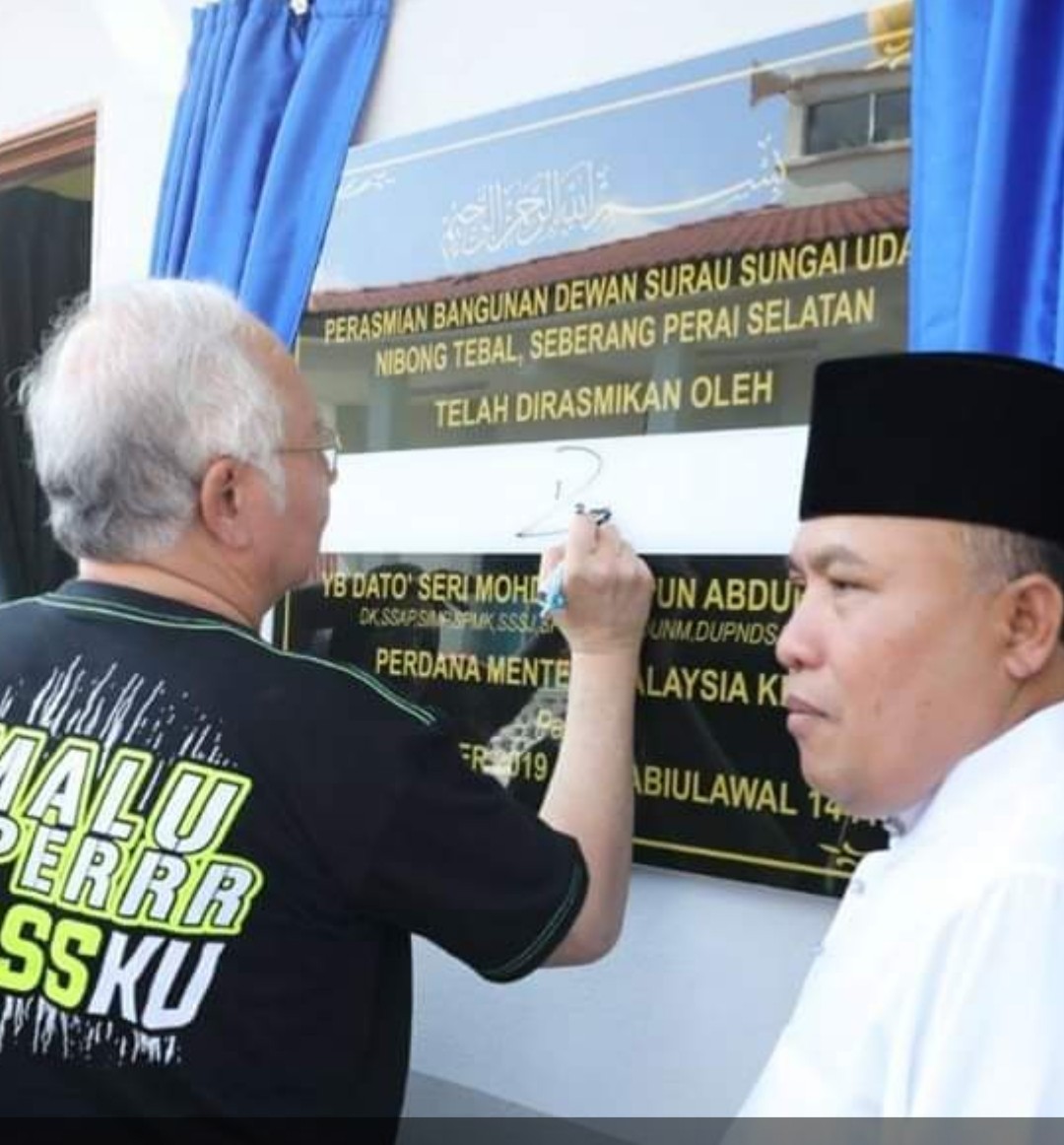 Rasmi surau dgn pakaian yg tak sopan langsung.
cheers.