Sejak semalam bila Viral isu visual Bendera tu, Pembangkang PAS dan UMNO cuba berpolitik kaitkan dengan kerajaan PH, orang salah pasang bendera terbalik kaitkan dengan PH..Visual bendera salahpun salahkan PH..
Walhal jelas Presiden MABA Luo Choon Hann itu Pemimpin MCA, Jelas penyokong kuat MCA, Agaknya sebab dia pemimpin MCA, tu takda buat report polis.. kalau Presiden MABA tu DAP..mahu seluruh cawangan, Parlimen diarah buat Report Polis.. mahu disuruh dibuang kewarganegaraan..
Walaupun Presiden MABA tu pemimpin MCA.. aku cuba berfikir lebih rasional.. Bagi aku jelas Program tu dimulakan dengan penghormatan lagu Negara ku..Bagi aku program tu baik, takda niat menghina..Takda yang salah..Yang salah visual tu..Bagi aku ini kes terlepas Pandangan.
Luo Choon Hann Pengerusi MCA Kelantan
Selalu nya Footage Mockup Flag ni, ni kalau kutip dari Youtube pun bersepah bendera yang betul.. dah pasti yang salah ni pengurus Event ni..Budak yang urus Visual tu.. Nak kata depa tak kenal bendera Malaysia, Malang sungguh lah jadi rakyat Malaysia.. dan takkan pula sengaja.. Apapun, Biar pihak berkuasa ambil tindakan..
Masalah kat Malaysia ni..Asal yang buat salah tu Cina, Mula mainkan sentimen Perkauman.. Ini cara nak jajah Malaysia lah.. Cina kurang ajar lah...Halau dari Malaysia lah.. Mcm Kes Hina Nabi lah.. biaq Pihak berkuasa siasat..kalau salah,dakwa.. Cuba kalau buat tu Melayu... Pakat Husnu Dzan pulak.. sampai dulu perempuan Melayu beraksi Lucah dulu pakai Bendera Malaysia, masuk majalah lagi dulu.. takda lah main sentimen akum..
Mcm kes kat Kelantan dulu lah..Sampai Pompuan Melayu pijak Quran, Boleh sangka Baik ,Kita pun taknak pompuan melayu tu kena hukum.. Tak kisah lah sangka baik tu, Tapi biar tindakan dan cara berfikir kita sama, Adil.. sapa yang salah,Serah pada pihak berkuasa, Apa pun kes kat Malaysia ni, Mesti nak mainkan sentimen kaum, Ashabiyah.. Makin busuk pemikiran rakyat Malaysia ni.. semua benda nak kait soal kaum...
Kita berharap, Disigner, Orang yg buat Editing visual tu bukan orang tempatan lah.. teruk sangat tak kenal bendera Malaysia.. Jahil betul.. Tapi kita nak marah pun tak boleh, Ada Ulama hat buat video Merdeka, Dia pun tak faham makna dan maksud jalur gemilang.. dia kata jalur gemilang tu membawa maksud kaum kaum di Malaysia..tapi takpe lah..Kita sangka baik.. mungkin salah penulis skrip..nak berpolitik buat apa..- Ipohmali
Penghinaan Jalur Gemilang oleh MABA smlm adalah provokasi keterlaluan. Mentang2 Presiden MABA, Datuk Lua Choon Han adalah Setiausaha Perhubungan MCA Kelantan, maka juak2 khadam MCA terpaksa mengunci mulut... Semua diam membisu..terkancing gigi habih...demi MCA....bukan setakat hina jalur gemilang....hina hukum Quran pun khadam wajib kena diam.
Utk pengetahuan walaun serta olamak, Presiden MABA tu pimpinan MCA Kelantan..bukan pimpinan DAP. Walaun macai bila tau perkara sebenar terus senyap sunyi masuk gua ka? Baru ada dua kerusi dah berani ubah bendera. - f/bk
Mengapa bila Haziq dipecat cara
yang sama,mereka diam membisu...
Apabila Jawatankuasa Disiplin Parti Keadilan mengambil tindakan memecat Ketua AMK Sentubung, Sdr Haziq kerana membuat tuduhan terbuka terhadap Azmin berkaitan isu rasuah, tiada seorang pun yang mempersoalkan tindakan parti?
Parti memecat Sdr Haziq mengikut kaedah yang sama seperti parti memecat Ketua Cabang Bera, Sdr Zakaria. Semua tahu Sdr Haziq dari tim Azmin namun tindakan tetap diambil kerana tidak adil Haziq membuat tuduhan tanpa asas terhadap Azmin. Parti tidak memecat Haziq kerana isu semburit yang beliau akui beliau bersama Azmin di dalam bilik di hotel Sandakan itu. Isu semburit biar pihak Polis tentukan terlebih dahulu.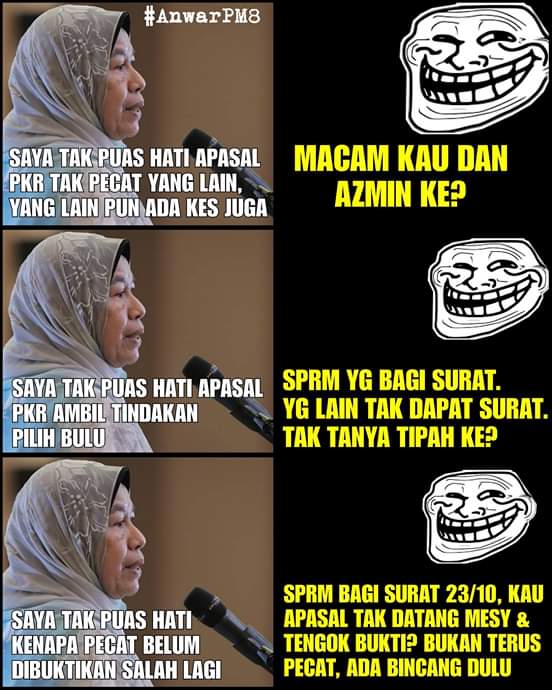 Sdr Zakaria dipecat kerana ada laporan dan surat dari pihak SPRM. Meskipun SPRM akhirnya mengaku silap kerana tidak wajar menghantar surat itu kepada parti, namun sehingga kini SPRM masih mengekalkan isi kandungan dan fakta di dalam surat tersebut. Maka, parti bertindak di atas kandungan dan laporan pihak SPRM itu.
Persoalannya, mengapa apabila Haziq dipecat, mereka yang kononnya menuntut keadilan untuk Sdr Zakaria sekarang membisu? Adakah kerana mereka seronok Haziq dipecat sebab Haziq menuduh bos mereka? Mengapa apabila proses yang sama dilakukan terhadap Sdr Zakaria, baru mereka bersuara tentang keadilan?
Jelas, parti telah bertindak dengan betul. Sekarang kita tunggu apakah SPRM akan membuat 'U-Turn"? Saya yakin Latheefa Koya seorang yang berintegriti. - wfauzdin ns
Azmin Is Screwed - The New "Malay-Only" Coalition Government Fizzles Out...
Azmin Ali has dug a hole so deep that it's hard to see how he could survive. Not only is he trapped in the hole, his buddy-turn-nemesis Anwar Ibrahim has thrown a rope for him to hang himself. But he has only himself to blame. He becomes an arrogant scumbag upon being promoted as the Minister of Economic Affairs, a portfolio specially created by Prime Minister Mahathir.
It's true what PKR president Anwar said at the Reformist Convention 2019 – that Azmin, his deputy, had forgotten his roots after securing the position of the senior ministership. Even though his rapid rise to stardom was designed by Mr. Mahathir to split the PKR party and to contain the influence of Mr. Anwar, the disillusioned Azmin still believes he is being groomed as the next premier.
The economic affairs minister became more arrogant when the prime minister continues to protect him, despite the explosive gay sex video of himself with another man in the Four Points Sheraton Hotel room in Sandakan, Sabah on May 11, 2019. Azmin felt invincible and untouchable. As his hostility to Anwar grows, Azmin increasingly depends on Mahathir to survive.
The Tanjung Piai by-election on 16 November was the turning point. Despite spending two days in the constituency campaigning for his own party, Mahathir lost spectacularly. As expected, the premier refused to admit his racial and religious extremism was one of the reasons his party lost by a whopping 15,000 votes. He can't lose face, let alone dignity.
But it doesn't matter who or what he blames. As mentioned numerous times, today is not 1980s or 1990s where the maverick used government-controlled news media to shape the people's mind. Everyone knows that not only the minorities Chinese and Indians had voted the opposition to teach the old horse a lesson, but even the Malays had decided to give the old man a bloody nose.
Hence, the silly poker game of inviting about 22 MPs (Member of Parliaments) – 17 from opposition UMNO and 5 from PKR – to attend a dinner hosted by Azmin at his residence after the incredible defeat. UMNO warlord Hishammuddin Hussein, the cousin of former Prime Minister Najib Razak, also braved heavy rain to attend the co-called "secret dinner meeting."
Azmin Ali with Hishammuddin Hussein
The economic affairs minister didn't have the number for his political master to continue as the prime minister. Still, he tried his luck, using reverse psychology to deceive his enemy, prime minister-in-waiting Anwar, into thinking that Mahathir's camp has at least 112 MPs to form a simple majority government in the 222-seat Parliament. Now, it's as clear as crystal that they don't have the number.
The despicable Azmin hoped to become the next prime minister using the same trick he had deployed to become the Menteri Besar (Chief Minister) of Selangor. PKR, with support from ally DAP, nominated Wan Azizah (wife of Anwar) in 2014 to replace Khalid Ibrahim as the state's chief minister. But thanks to PAS Islamist party's support, Azmin became the CEO of the state instead.
Yes, as a result of "secret meeting" with PAS, Azmin was crowned the chief executive of Selangor. As the kingmaker who won 15 seats in the Selangor State Legislative Assembly in the 2013 General Election, PAS agreed to support Azmin (although he was vehemently opposed by PKR and DAP). PAS was rewarded with 3 EXCO, and the bizarre arrangement remained even after PAS eventually exit the coalition.
Amusingly, after Mahathir lost the Tanjung Piai parliamentary seat about 10 days ago, PAS made a sudden U-turn. Abdul Hadi Awang, the fake holy man of the Islamist party, claimed his party had received offers to form a backdoor government. However, the PAS president who was bribed RM90 million by crooked Najib Razak, said he rejected such approach.
Mr. Hadi said – "We will enter through the front even though the backdoor is open. We do not want to enter through the back." Seriously? A man whose party had legitimised "lies" as "Shariah-compliant" now talks about forming a new government the right way? The only reason a "Prime Minister Wannabe" like Hadi isn't interested is that there isn't any backdoor government to begin with.
Of course, there could be a hidden message behind Hadi's naughty statement. After it was exposed that Azmin had sex with another man, it would be hard for the Islamist party leader to justify to his boys that having a future prime minister who engaged in homosexual acts is "Shariah-compliant". Hadi's refusal to enter through backdoor could be a message that he can't accept homosexuality.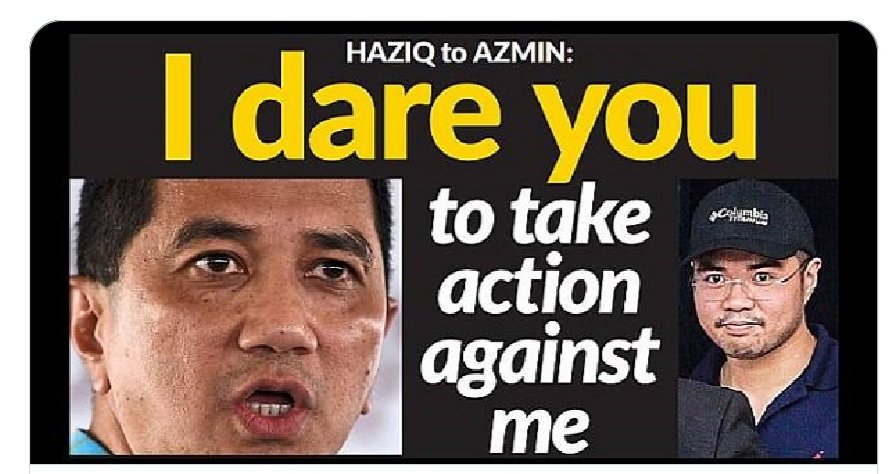 This further proves that Azmin Ali does not have the number to form a new "Malay-only" government with Mahathir's PPBM (Bersatu), Hadi's PAS, some UMNO desperados like Hishammuddin Hussein and Azmin's own faction in PKR. Unlike the Selangor chief minister fiasco in 2014, it appears PAS has chosen to abandon Azmin's ambition this time.
The grand plan to create a new coalition government has been crushed. To make matters worse, Mahathir, Azmin and UMNO could not even get their stories right as far as the secret dinner meeting is concerned. Mahathir said the reason 17 UMNO MPs met with Azmin over candlelight dinner was to whine, moan and bitch that the party has lost its direction.
Mahathir told journalists on November 22 – "They don't know what they should do (next). So they asked if they should join another party or not." It was absolutely hilarious that despite winning Tanjung Piai with an incredible 15,000 majority votes, the 17 UMNO MPs were so demoralised and depressed that they had sought advice from Azmin, as if the minister was some sort of psychiatrist.
Malay Dignity Congress - Azmin Ali, Hadi Awang, Mahathir Mohamad and Annuar Musa
But the fun didn't stop there. The UMNO MPs who had met Azmin, however, have rubbished Mahathir's claims of losing faith in the party. Contradicting the premier's account, the opposition Member of Parliaments, including former Defence Minister Hishammuddin said they have absolutely zero intention of leaving UMNO, let alone to join Mahathir's party.
As Mahathir's reputation and integrity take a hit, Gerik Member of Parliament Hasbullah Osman said Azmin had actually told the UMNO MPs to stay in their respective parties during the dinner, instead of jumping ship – clearly contradicting the prime minister's statement. Has Azmin been played or fooled by UMNO in his desperate game to stay relevant?
Interestingly, Mahathir has not disputed UMNO's version of the story. Azmin's silence has raised eyebrows. Did Azmin lie to Mahathir, cooking a wild cock and bull story which has backfired and embarrassed the old man? Or did Mahathir lie to divert the public's attention from his plunging popularity? Perhaps the UMNO MPs lied after realising Azmin didn't have the number after all.
Perhaps everyone who eagerly wanted to kick out Anwar Ibrahim, DAP and Amanah has no choice but to lie now because the grand plan fizzles out. That explains why PAS president Hadi Awang talks about not wanting to form a backdoor government. That also explains why Mahathir agreed with Anwar that anyone who wants to be the next prime minister must use the right channel.
More importantly, Prime Minister Mahathir said PKR president Anwar agreed that the transition of power should be conducted without causing too much strain to the country – suggesting that both leaders are agreeable to a proper hand over of leadership without resorting to bringing down the present government and forming a new government with the opposition.
But if PAS is no longer interested in forming a backdoor government with Mahathir, and at the same time UMNO rebellious MPs are also not interested to leave their party for Mahathir's PPBM (Bersatu), it means Azmin Ali is screwed up big time. Does the economic affairs minister still have the support of 15 PKR MPs now that there will be no political realignment?
There's a reason why Mahathir keeps Azmin as his pet. But when an errand boy or a lapdog is no longer useful, there's only one way to get rid of it. Azmin's failure to show he has the number to keep Mahathir as prime minister also means Anwar's power base will increase significantly. Azmin's so-called 15 MPs, if they indeed existed in the first place, know which side bread is buttered. - FT
Tersepit teluq Najib dan Hadi kerana mereka berdua..
Najib terkepit dgn Salwani..Hadi terkucil dgn Clare.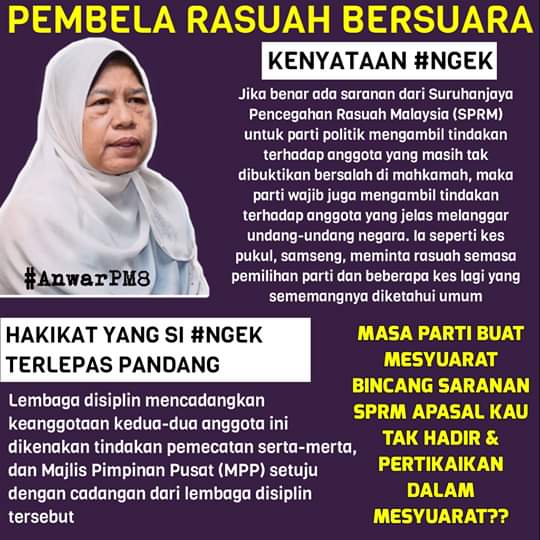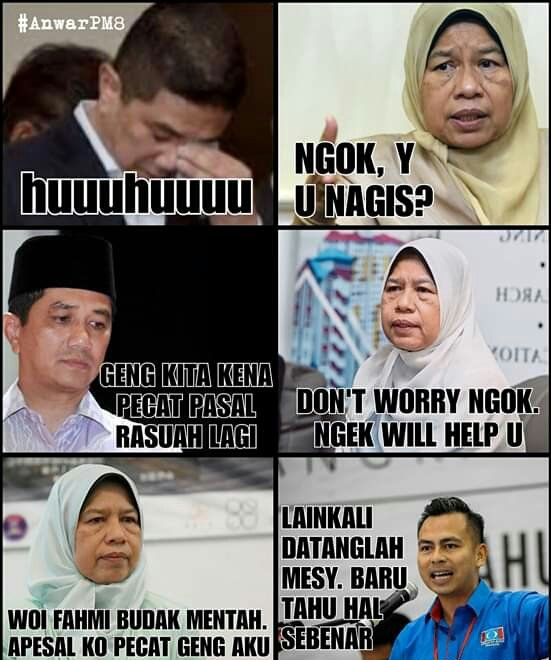 cheers.