Ini dalam Islam di namakan mengadu domba. Dengan kawan yang sana dia cucuk kata DAP di belakang. Yang kawan di sini kata di sokong. Politik makan keliling ini tak lama, yang di kata sokong bawa rebah. Di Tanjung Piai ada ke mereka mengundi untuk PH?
Sebab tu saya malas nak dengar cerita tahyul kata H20 (Hishammudin Hussein) boleh bentuk backdoor government dengan Azmin. He simply does not have the numbers. Dan dalam UMNO sendiri ada fraksi yang tak puas hati dengan tindakan H20. Tengok semalam berkicap H20 kena rembat dengan penyokong UMNO sebab cuba buat back door deal dengan Azmin.
Yang menulis kata semua MP UMNO akan backup H20 is basically writing on steroid. Kalau separuh aje MP UMNO yang sokong H20, dan paling banyak 5 MP PKR kartel dan lets say 5 MP Bersatu. Baru 35 orang. 35 orang MP nak buat solat Jumaat pun tak cukup rukunlah, lagi sembang nak tubuh kerajaan. 18 seat pas tu tak payah masuk dalam equation la, yang kat Lorong Haji Taib pun maruah depa lagi tinggi dari 18 MP yang boleh di cagar beli.
Siapa yang mahir dengan psywar tahu, ura-ura nak buat undi tak percaya ini mainan pembangkang mengadu domba. Mereka nak suruh PH bersangka buruk antara satu sama lain. Memang cliche penyakit Melayu. Family sendiri dah porak poranda, depa nak porak porandakan family PH pula.
Kalu plan ini jadi realiti sapa yg akan jadi PM?
Kalau Anwar buat undi tak percaya, fikirlah apa sentiment pengundi PH? Mesti kata Anwar gelojoh, tak sabar etc. Macam nama awak dah dalam geran tanahlah, nak risau apa lambat laun harta tu akan jatuh kepada awak kalau Allah izinkan. Kalau Allah tak izinkan, berdoa lah keluar air mata darah di stadium pun tetap tak dapat jadi Perdana Menteri.
Lepas tu tak fikir ker, kalaula hipotetikal depa geng2 Azmin dan H2O dapat juga tubuh kerajaan dengan 112 kerusi, nanti PRU 15 depa nak bertanding atas ticket apa? Ingat rakyat nak vote ke mereka semula lepas mereka khianat kem PH dan BN?
Azmin tak payah nak ceritalah, dia insyallah akan ke dalam kalau Perdana Menteri bertukar. Yang lain2 ini mereka pasti akan jaga survival politik mereka, dan tak sewenang2nya khianat parti. Semua langkah dalam politik adalah risiko yang telah di congak, kecualilah langkah sumbang tersepit kes hotel Sandakan dan kes Rm90 juta. - Mohd Mukhlis Mohd Sharif
Azmin memang mahu dipecat dan jadi hero...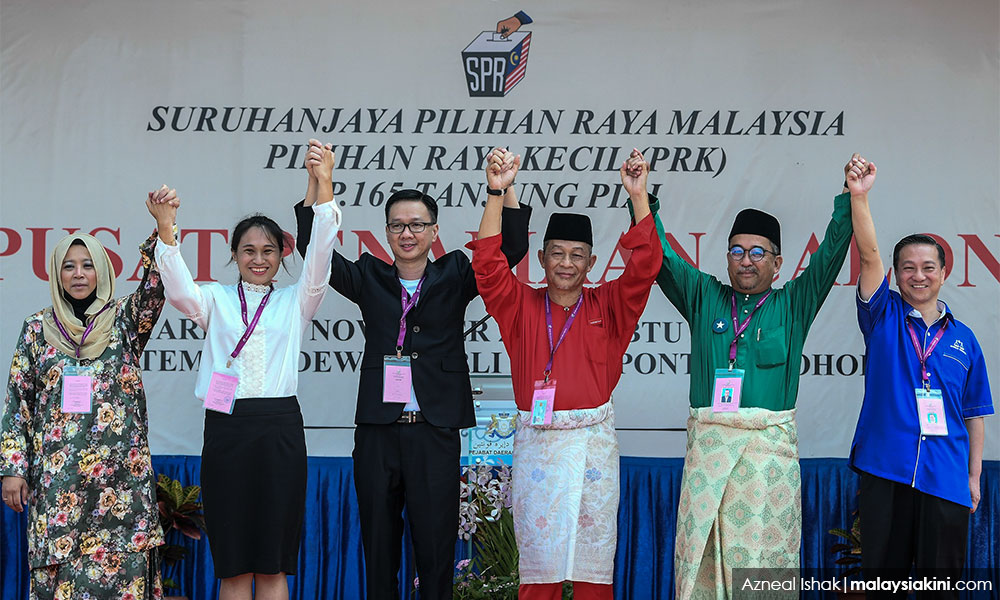 5 jenis gembira di Tanjong Piai...
1. Gembira Jeck Seng.
Gembira sebab dapat elaun MP RM 17,000 ++ sebulan, tanpa perlu buat kerja dan susah payah pikir masalah rakyat. Semua yg rakyat Tg Piai minta, dia akan jwb, sya tak ada peruntukan. Dia dgn mudah akan bg tau pengundi Tg Piai, kita pembangkang, nak minta, kena minta kat kerajaan PH. Jeck Seng boleh senyum sambil cuci tangan.
2. Gembira Najib.
Najib gembira sebab hasrat dia utk melihat rakyat Tg Piai diperbodohkan ternyata berjaya. Tapi gembira Najib hanya di luar shj,.. jauh di lubuk hati, limpa dan hempedu Najib...Najib sedang menderita. Jiwa Najib amat tertekan dgn kes SRC yg beliau kena bela diri. Dia tahu..esok, lusa..tulat...tungin...dia akan ke mahkamah lagi. Dlm gembira, Najib sedar, pintu penjara Sg Buloh sdg terbuka menanti kedatangannya...
3. Gembira ahli UMNO.
Org kampung ahli UMNO melayu, gembira sebab calon BN menang lawan calon PH. Tp disebalik kegembiraan, mereka sedar, dgn menangnya Jeck Seng dlm majoriti yg besar...kerusi Tg Piai akan kekal menjadi kerusi MCA sampai kiamat. Bermimpi lah UMNO utk mendapatkan kembali kerusi tersebut buat selama2nya. Menyalaklah Datuk Jeffrydin, Ketua Bhg UMNO Tg Piai...kerusi itu tak akan dilepaskan lagi oleh MCA. UMNO sebenarnya gembira dlm kecewa.
4. Gembira Lebai.
Gembira Lebai hanya utk sehari dua..Bila balik ke kampung halaman masing2, mereka akan pening mengenangkan beberapa prinsip yg telah digadaikan di Tg Piai...Yg paling besar, Hudud, diikuti hukum wajib undi cina, dan kempen BMF.. Kegembiraan sementara mereka bersorak sorai bersama MCA di Tg Piai, terpaksa dibayar dgn harga yg teramat mahal.
Ibarat kata, mereka balik dari Tg Piai menuju ke kampung halaman dlm keadaan 'bertelanjang bogel' dek semua pakaian agama yg selama ini dipakai, dilondeh dan ditinggalkan di Tg Piai...
5. Gembira Walaunbodo.
Yg ni pak aji tak ulas pun korang dah tahu. Walaunbodo ni, bukan setakat Najib kencing atas ubun2 kepala depa, depa gembira,...Hatta ke tahap Najib gagau tek bini depa pun sekalipun, depa tetap akan 'gembira'...Kalau tak, org tak panggil lah depa 'walaunbodo'... - Muhammad Yahaya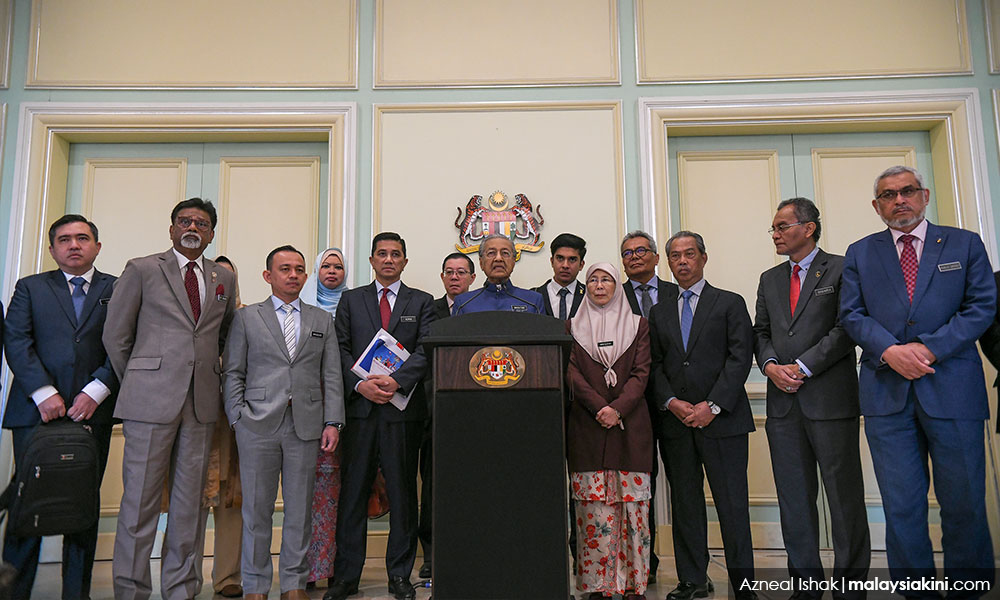 Azmin's late night meeting and
'Save Mahathir' operation...
The late night meeting between Azmin Ali and about a score of Umno MPs was meant to firm up the foundation of Tun Mahathir, whose status has become shaky after the Tanjung Piai defeat, in hope of stabilising PH's post-tremor slanting structure.
The 1989 winter marked the gloomiest winter for the late British prime minister Margaret Thatcher after she came to power. She was publicly censured for her unpopular and deemed obsolete anti-EU stance which would hamper the further development of the country's economy.
Thatcher was unmoved and in the end, her Conservative Party lost to the opposition Labour Party in the European Parliament elections. The community charge which she strongly advocated and stubbornly imposed met with powerful resistance from the Britons, culminating in a massive protest by some 200,000 people at London's Trafalgar Square.
Michael Heseltine and Thatcher
Into 1990, Conservative Party's approval rating sank to a low, faring a full 20 percentage points behind Labour. Pessimism ruled within Conservative but no one was able to change the mind of the Iron Lady who insisted she was right and who had faith only in herself.
Senior Conservative leaders, including her ministers, would be replaced if they dared to challenge her decisions. Geoffrey Howe, a veteran party leader, quit as deputy prime minister and foreign secretary in protest.
Many Conservative lawmakers were aware of the fact that the party would lose the next general elections three years afterwards if Thatcher were to remain in power. So they plotted an operation to throw her out and supported Michael Heseltine's bid to challenge her for top party post, which if she lost, she would have to relinquish her PM post.
Thatcher won by a thin majority in the first round of voting, and she knew very well that she might not make it in the second round. So she pulled out of the race and turned to support her confidant John Major, who later became Britain's least experienced prime minister in history.
Back to Malaysia, the ruling PH coalition only managed to get 26.7% of all the votes cast in the Tanjung Piai by-election. The humiliating defeat has shaken the morale of the coalition. It is next to impossible for a ruling coalition that has under-30% approval rating to ever win the next general elections!
It will be too late now to change the governance direction or fulfil election pledges. Moreover, is Mahathir ready to do that in the first place? And will Lim Guan Eng -- who claimed UEC and UTAR were not reasons for the defeat -- ever change?
Like the Conservative leaders in UK, many PH top guns are well aware that their future is bleak, unless the commander-in-chief steps down. Anwar's team predicted a 7,000-vote loss for PPBM, good enough to get Mahathir to step down. With PPBM now defeated by more than 15k votes, such a call has come more than justifiable.
PKR veteran leader Syed Husin Ali wanted to hold Mahathir responsible for the defeat, and the operation to unseat the PM is well under way at this moment.
And then suddenly Azmin Ali had a secretive late night meeting with Umno and PKR MPs, offering attractive perks to get them to support Mahathir to complete his full term of five years. Azmin's one and only motive is to ensure Mahathir is safely in power.
The late night meeting was held at Azmin's official residence, and he intentionally leaked out the news to the media with the hope of conveying an important message to Anwar's camp that they should not attempt to do anything funny. The thing is, the meeting did not produce any result or substantial plan; nor did it imply that all the attendants would lean towards Tun M.
Only 19 Umno/BN and five PKR MPs were at the meeting, and this shows how far Azmin's influence has reached. What is of interest is that both Thatcher and Heseltine lost in their rivalry to a John Major popping out of the blue.
Will there be another John Major in the Mahathir-Anwar fight? Possible, but I seriously don't think it is Azmin. - sinchewdaily
Orang agama kalau tak tajjasus memang tak sah. Dalam Malaysia ni DAP jadi kambing hitam walaupun kat mahkamah yang turun naik rakan muafakat nasional.
Agaknya ini wahyu pertama yang baru dapat lepas tunai pilgrimage di Iran. Ponteng sidang parlimen sebab nak taqrib Sunni dan Syiah; yang saya Sunni di Malaysia habis di kafir kan dari pru14, sampai sekarang belum di Islamkan lagi oleh pentaksub PAS sebab mufarakah dari parti.
Gajah depan mata buat-buat tak nampak, tapi kuman seberang lautan bukan main cakna.
Semua orang tahu PM kena Melayu Muslim, tak payah nak bermain sentimen lah tuan guru, rakyat bukannya semua pewala. Tak lama pun kes 90 juta tu akan di singkap hijabnya, waktu itu saya sendiri akan jadi saksi Tuan Guru minta nyawa pada Anwar.
Ingat apa aje yang Tuan Guru tak kata pada Tun M sebelum Pru14 dan macam mana tuan guru melutut minta nyawa sokong sampai habis penggal? - f/bk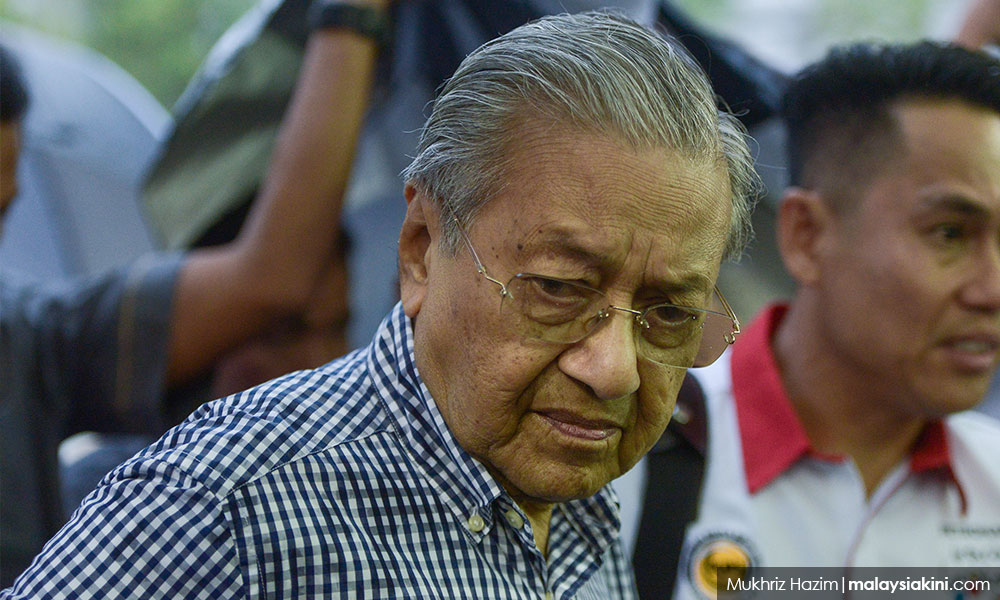 Dr.M-Harapan can sack me if they want...
Responding to calls for him to immediately step down and hand over the baton to Anwar Ibrahim, Prime Minister Dr Mahathir Mohamad today said Pakatan Harapan can sack him if they want.
The 94-year-old Bersatu chairperson told this to a press conference at the party's headquarters this evening when asked if a quick transition between him and Anwar would be able to solve leadership issues in the Harapan coalition.
"Well, it is up to the party.
"They (Harapan presidential council) can sack me if they want to," said Mahathir.
Following Harapan's loss in the Tanjung Piai by-election last week, there have been growing calls for Mahathir to speed up the power transition to Anwar, who had been agreed upon by the Harapan presidential council to be the next prime minister.
However, according to Mahathir today, such transition would create problems if it was made "midstream". While it is not important what happens to him, he added, the impact on the country and government is very important.
"The thing is that if you have changes midstream, it is very confusing. It creates a lot of problems.
"But of course if I'm sacked I don't know. But I think I need to be serious about this thing.
"What happens to me is not something important. But what happens to the government and the country is really important," he said.
Asked on Anwar's statement today that there would not be an attempt to move a vote of no confidence against him at the parliament, Mahathir sarcastically said "Thank you."
However, he added later that anyone can make such a move as Malaysia is a democratic country.
"You can do whatever you want. We are democratic party, democratic nation.
"You can move a vote of non-confidence, or you can move a vote of confidence," he said.
Asked for his comments on the level of support he commands in Harapan today, Mahathir said he believed there are still those who liked him.
"So far nobody punched me in the nose yet," he quipped.
Leadership issues in the governing coalition appeared to be more apparent this week, with the latest being Economic Affairs Minister Azmin Ali, who is known to favour Mahathir over Anwar, reportedly holding a meeting with opposition Umno MPs on Monday evening. - mk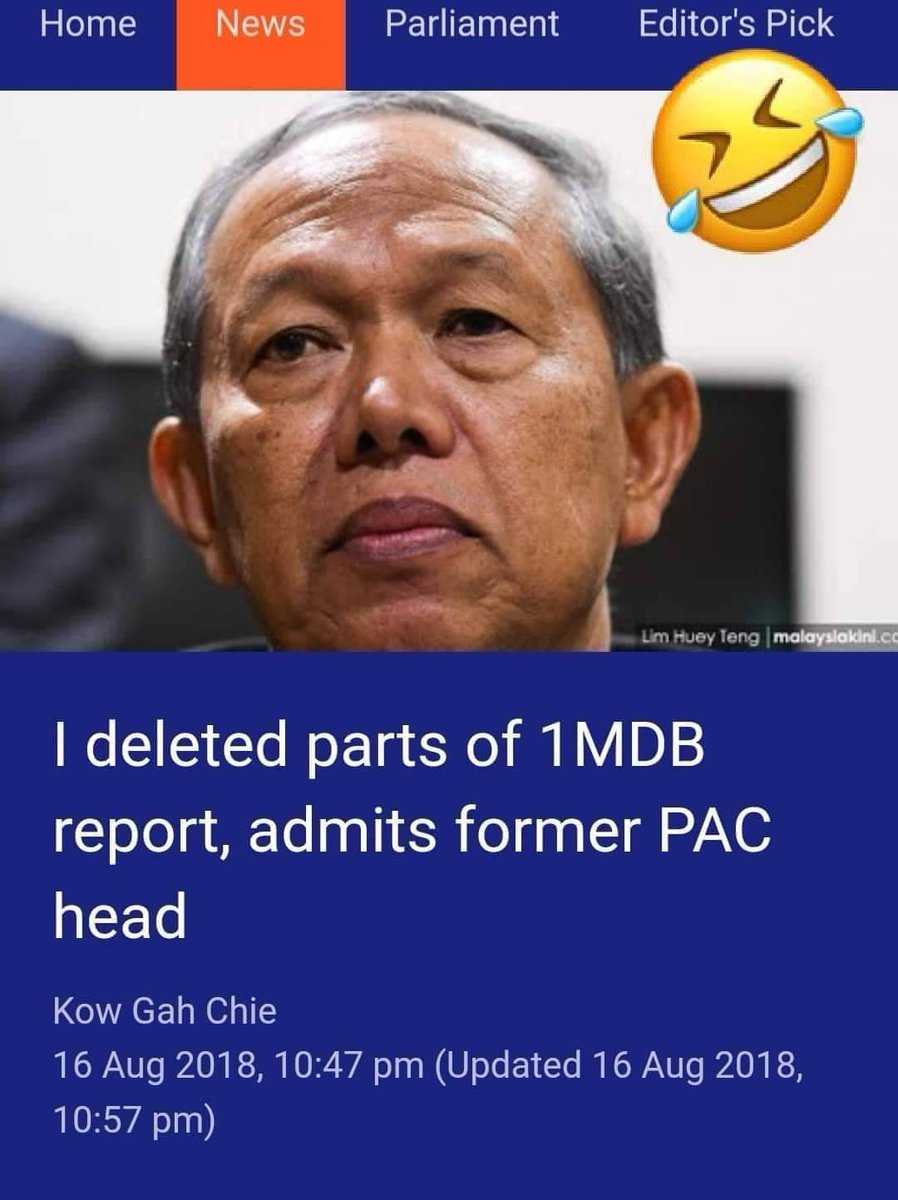 cheers