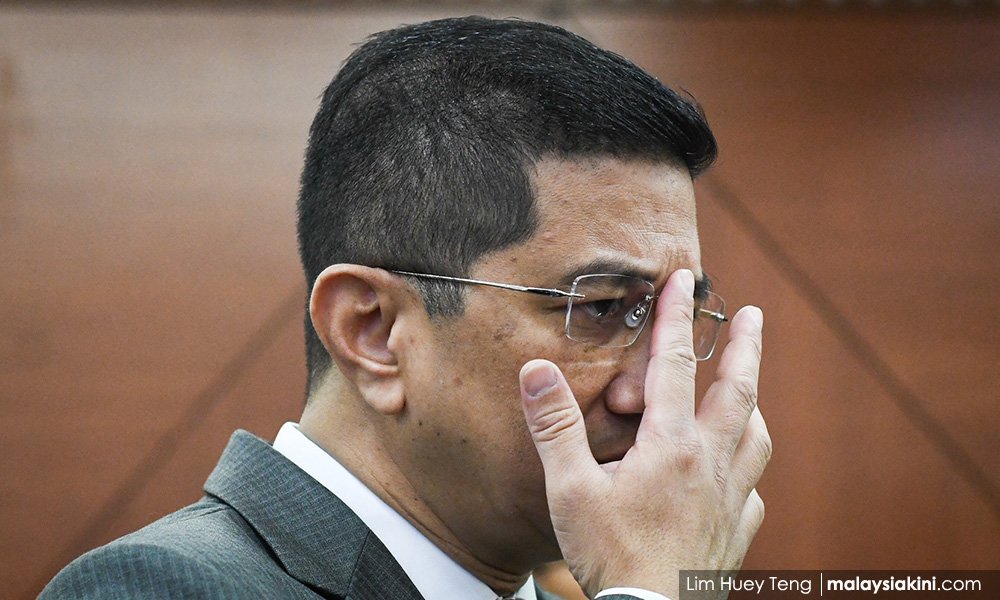 Baru-baru ini persada politik negara heboh dengan pertemuan Azmin Ali bersama 17 orang Ahli Parlimen Umno dan beberapa orang dari kalangan Parti Keadilan Rakyat sendiri di rumahnya di Putrajaya. Apa yang saya boleh katakan, Azmin telah memulakan gerak-langkahnya, gerak langkah yang sangat berani. Jika Azmin meneruskan strateginya, ia adalah strategi "do or die." Memandangkan ia sudah terbuka, strategi itu hari ini memang bersifat begitu, menang atau mati!
Dalam siri penganjuran #KonvensyenKeadilan2019 di setiap negeri termasuk di Sarawak hari ini, ia memang boleh menunjukkan sokongan majoriti anggota Parti Keadilan Rakyat masih terhadap Anwar Ibrahim. Tetapi kalau penanda ini mahu digunakan bagi memperleceh gerakan Azmin, ia tidak berguna, sebab matlamatnya berbeza. Matlamat Azmin bukan pembentukan kepimpinan parti, tetapi pembentukan kabinet kerajaan, sekurang-kurangnya untuk jangka masa pendek ini. Jadi buat masa ini, bagi Azmin sokongan anggota parti kurang penting, yang lebih dan paling penting adalah sokongan Ahli Parlimen, dari kiblat politik mana sekalipun.
Bayangkan senario ini. Keadilan sekarang mempunyai 50 kerusi parlimen, Umno mempunyai 37 kerusi parlimen. Andai kata Azmin, katakan dengan kerjasama Hishammuddin Hussein seperti diwar-warkan berjaya memperoleh sokongan sama 22 kerusi dari Keadilan dan Umno, ia sudah menjadi 44 kerusi, dan ini akan menjadikan Keadilan hanya punya 28 kerusi! Dengan 44 kerusi ia pastinya memberi Azmin keberanian yang cukup bagi mengatur langkah seterusnya, membentuk parti baru atau mengambil-alih parti politik sedia ada. Kemudiannya melalui parti baru ini akan memohon kepada Dr. Mahathir bin Mohamad selaku Pengerusi Pakatan Harapan untuk bersama-sama dengan Pakatan Harapan sama ada sebagai ahli atau sekutu.
Jika cara ini berjaya, Azmin bukan sekadar boleh mengekalkan jawatannya, tetapi juga akan memberinya lebih kuasa tawar-menawar. Ketika itu Keadilan sudah tidak cukup kuat untuk membantah, sebab akan dihadapkan dengan dua pilihan sahaja, kekal kerajaan sedia ada atau tumbang di tengah jalan (bahkan kalau Keadilan mahu berundur dari Pakatan Harapan, Azmin masih ada PAS dan GPS yang boleh dipujuk bersama).
Kalau Azmin berjaya dengan cara ini, masa depan politik beliau akan cerah. Itu kalau berjayalah... kalau gagal seperti saya katakan Azmin berisiko menuju jalan mati. Kalau tidak menang karier politik Azmin berkemungkinan mati terus.
Kenapa dalam kemelut ini, Tun Dr Mahathir Mohamad seperti endah tak endah? Paling tidak pun beliau menjawab itu masalah PKR! Memang Azmin bukan dari Parti Pribumi BERSATU Malaysia, tetapi Azmin juga adalah pemimpin Pakatan Harapan yang Tun adalah pengerusinya. Sebabnya mudah, darihal pertelingkahan dalaman Keadilan ini, sama ada kesudahannya Azmin menang atau kalah, ia tetap memberi kelebihan kepada Mahathir.
Mahathir sengaja membiar, melihat sahaja percakaran berlaku, paling kurang ia akan merosakkan nama baik Anwar di mata rakyat, mencalar kewibawaan kepimpinan Anwar, membina keraguan akan keupayaan Anwar untuk memimpin dalam skala yang lebih besar, memimpin negara sebagai Perdana Menteri. Akhirnya ia memberi Mahathir kemampuan untuk membeli lebih masa bagi menduduki kerusi nombor satu negara dalam tempoh yang lebih lama.
Azmin mengambil langkah memulakan gerakan berani, menang atau mati! Azmin secara politiknya berkemungkinan mati. Tetapi kalau Azmin tidak mati, Anwar pastinya dalam zon bahaya... - Zukri Aksyah
Can Mahathir and Anwar get
Pakatan Harapan back on track...
Since his return to politics last year, Malaysia's Anwar Ibrahim has made it a habit to post pictures on social media of his meetings with Prime Minister Mahathir Mohamad, a former arch-enemy whom he now hopes to succeed. For the most part, commentators see the gestures as a way for the 70-year-old politician to show his supporters all is well – and that the pact between the duo for Anwar to become the country's next leader will go ahead as planned.
But after an outbreak of finger-pointing within Pakatan Harapan following its spectacular by-election defeat in the federal seat of Tanjung Piai on November 16, the photo Anwar posted on Thursday of the coalition's two leaders smiling during a 30-minute tete-a-tete was particularly striking. It was a clear message to the country: there is no need to worry, at least for now, about a repeat of their 1990s duel that eventually saw Anwar abruptly cut as deputy prime minister, jailed for sodomy and corruption, and banished to the sidelines of power for a decade. Still, some political commentators and even Pakatan Harapan insiders say they are having premonitions of such a rematch as the bloc comes under severe strain.
Tanjung Piai was Pakatan Harapan's fourth defeat in the nine by-elections held since it stunned the world by defeating the long-ruling Barisan Nasional alliance in last May's polls. Along with that tepid electoral record, Mahathir's government has seen falling approval ratings amid an upswing in racial tensions, rising costs of living, and slower-than-expected reforms.
Following the Tanjung Piai by-election, won by Barisan Nasional, the reflexive reaction from Anwar's backers has been that the drubbing is the clearest indication Mahathir must immediately hand over power to Anwar. These calls are not new, but anxieties have heightened in recent weeks – especially during the hustings for the bypoll – as the opposition harped on the Mahathir administration's lack of concrete achievements despite having run on a platform that promised sweeping reforms.
Uncertainty about the ruling coalition has been compounded by speculation that others, such as Economic Affairs Minister Azmin Ali, have their eyes on the top political job – as an alternative to Anwar, and with Mahathir's blessings. Also in the mix is Hishammuddin Hussein, a Barisan Nasional stalwart who maintains close ties with Azmin. Mahathir has so far demurred on when he will step down, while Anwar maintains that the deal he cut with the elder statesman stipulates he should take over some time next year.
Over the past 18 months, Mahathir has had various responses upon being asked when and if he will stand aside. While he maintains he is a "temporary prime minister" and has promised to hand power to Anwar at some point, the 94-year-old has also offered different replies to the question of how long he will stay – sometimes changing his answer in a span of days.
In Anwar's camp, the consensus view is that Mahathir must stand down next year. In his social media post on Thursday, the prime minister-in-waiting sought to telegraph that he had no intentions, at least for now, to press for an answer and herald the kind of political strife in which he and Mahathir mired the country during the 1990s. Anwar wrote that he and Mahathir agreed the "power transition must be carried out in a peaceful and orderly manner, in a reasonable time frame and with mutual understanding".
Later, Mahathir also struck a cordial note, telling reporters the meeting saw both leaders agree that temperatures should be cooled. "[Anwar] said he understands the problems Pakatan Harapan faces, and there should not be too much tension by people making all kinds of suggestions, like the date of the transition," the prime minister said.
Political analysts say forcing a transition will not stop the alliance's popularity slide, even though the uncertainty surrounding it is a significant factor. Confusion over who will lead Malaysia next, and when, is just one of several reasons Pakatan Harapan's fortunes are faltering, according to the likes of political scientist Wong Chin Huat.
Another factor seen as holding it back is the knotty issue of racial politics, which continues to be wielded by the Barisan Nasional opposition that had held power for 61 uninterrupted years until the 2018 election. Mahathir's government has a far more multiracial composition and outlook compared to the ousted bloc. Wong, a Sunway University researcher, said the administration was feeling the pain of being "moderate", compared to its "communal rivals".
"Being moderate in a divided society like Malaysia is like low-fat milk, decaf coffee, Diet Coke and non-alcoholic beer – healthier but lacking authenticity," Wong told This Week in Asia. "In other words, being moderate is electorally unappealing."
Wong Chen, a trained lawyer in Anwar's Parti Keadilan Rakyat (PKR) – a Pakatan Harapan component party – said the ruling alliance was stumbling over its lack of reforms.
"After 18 months of Pakatan Harapan government, it is frustrating to note that there has been no systemic reforms of parliament. There is also no reduction of the prime minister's excessive powers," he said.
"Fundamentally, we have yet to implement proper separation of powers, which is the basis of any genuine democracy. The economy is in a rut, humming along on consumer spending. Investors have money and intentions to invest but are holding back since there is no clear succession timeline." The MP, who is close to Anwar, pointedly suggested Mahathir "should consider fully embracing reforms or risk leading us to more defeats".
On his part, Mahathir this week said he was mulling over a cabinet reshuffle – in part to address concerns that the poor performances of some of his ministers are dragging down the government's approval ratings. He ruled out major changes, however, citing the need for stability as the country prepares to be the host of year-long Asia-Pacific Economic Cooperation (Apec) meetings in 2020. One MP from PKR, who spoke on condition of anonymity, retorted that a "succession plan would be better than a reshuffle".
"The Tanjung Piai by-election should have been a huge wake-up call – we lost in all but one polling stream, cutting across race, age, gender and income. This is no longer a case of voters choosing along racial lines, but sending us a message," the MP said.
Recent surveys have shown that concern about the economy has weighed heaviest on voters over the past 12 months.
Mahathir's administration has said it faces an uphill task in boosting the economy because of the debts it inherited from Barisan Nasional – including those linked to the multibillion-ringgit 1MDB financial scandal – are simply too vast to remedy quickly. The PKR MP countered this notion, saying the government's malaise was evident in how it had not made good on the promises made in its election manifesto.
"They can still fulfil the promises that don't cost anything, like repealing draconian laws such as the Sedition Act," he said. Mahathir's backers say such gripes are a fig leaf for the critics' real intention – to install Anwar as prime minister as soon as possible.
"It hasn't even been two years, why are they making a fuss? Mahathir has already indicated that he'll hand over power when he is satisfied that everything is stable," a person close to the prime minister told This Week in Asia.
"Mahathir wants to set Pakatan Harapan up in a good position before handing over so it can go to the next elections without him," the person said. "But now [the parties within] Pakatan Harapan are not giving him the sign that they will be united when he leaves. They have to show they can perform as a government instead of attacking one another."
Others in the coalition say it is critical the focus is on governing, rather than constant politicking. One gripe is that some ministers, such as Azmin, have those priorities reversed. The economic affairs minister set tongues wagging this week after local media reported that MPs from Barisan Nasional and PKR – Azmin is deputy leader of the latter party – had gathered at his house.
The rumour mill went into overdrive with suggestions he was seeking the opposition's help to encumber Anwar's succession. Azmin and Anwar – who once were staunch allies – are widely believed to have been at loggerheads since shortly after last year's general election over a tussle to control PKR. Said one minister's aide: "The prime minister likes those who do their job. The perception is that Azmin is trying to win back favour after the sex-tape incident, but the best thing to do is just do your job."
Azmin has denied accusations that he was one of two men in a sex video that went viral in June. A PKR member has since said he and Azmin were the two people in the video. The case remains under police investigation, and police chief Abdul Hamid Bador has said the leader of a political party was behind the release of the video. With such goings-on in PKR – Pakatan Harapan's biggest party – large sections of the coalition continue to back Mahathir to remain in power as a discipline master of sorts.
"Even if he steps down as premier, he should stay on as a senior adviser or minister," a cabinet minister said. "We need the 'M factor', especially in elections – and we need PKR to sort out its infighting. With this Azmin-Anwar brawl, it's quite clear that Anwar is ready to be premier but the country may not be ready for him. And Azmin, a first-time minister, he is not ready at all."
One group that sees plenty of upside from Pakatan Harapan's woes is the United Malays National Organisation (Umno) – the linchpin party of the Barisan Nasional opposition. Umno stalwart Nazri Aziz, a former tourism minister, dismissed concerns about the so-called clandestine meeting and plots involving Azmin and some Umno MPs.
"I wasn't invited to any secret meetings and so I don't know what's going on," he said, adding that it was ultimately up to Pakatan Harapan to fix its own house and "honour their manifesto".
"If Mahathir made a promise then [the onus] is on him to honour it. When Umno changed the prime minister in 2003, we didn't need to discuss the matter with the opposition. When we changed [the prime minister] again in 2009, we did not need to discuss it with the opposition. So this is not our business." - scmp
cheers.