Seorang pemimpin DAP akar umbi menghantar permohonan ke Jabatan Pendidikan kerana mahu mengadakan pertandingan "DAP dan Pulau Pinang" di semua sekolah rendah di negeri itu tahun depan, bagi meraikan ulangtahun ke-10 pentadbiran kerajaan negeri oleh parti itu.
Seorang pemimpin Pemuda DAP, Joshua Woo Sze Zeng berkata, cadangan itu ialah usul peribadi sekumpulan warga Pulau Pinang termasuk dirinya dan 7 individu lain, dan bukan daripada DAP.
Beliau selaku warga Pulau Pinang yang berbangga dengan sejarah negerinya mendapat ilham daripada acara "Umno dan Kemerdekaan #Negaraku" yang diadakan di sebuah sekolah rendah di Putrajaya.
Beliau berkata pertandingan itu akan membantu murid-murid memaham sejarah Pulau Pinang secara mendalam dan parti itu, yang memainkan peranan besar dalam kemajuan negeri sejak 10 tahun lalu.
Woo percaya acara di Pulau Pinang itu akan dipersetujui selepas terbaca jawapan Persatuan Sejarah Malaysia Kuala Lumpur, yang bersetuju dengan penganjuran acara bertemakan Umno di sekolah rendah di Putrajaya baru-baru ini.
"Kami mengutus surat kepada persatuan meminta mereka bekerjasama dengan kita dalam program ini. Kami masih menunggu jawapan mereka.
"Walaupun kami ahli DAP, kami tidak menganjurkan program itu di bawah naungan parti kerana matlamat kami ialah sejarah Pulau Pinang, bukannya politik."
Woo menghantar cadangan itu ke Jabatan Pendidikan Pulau Pinang di Jalan Bukit Gambir hari ini. Woo berkata antara acara dalam program itu nanti ialah pementasan drama pendek, menghias bilik darjah, pertandingan menyanyi dan kuiz sejarah. Beliau berkata bendera DAP akan dikibarkan di sekolah terpilih "buat sementara waktu" sepanjang program berjalan.
"Murid-murid akan diberi bendera DAP dan diminta menyanyikan lagu DAP. Kita mesti tekankan yang ini bagi mengiktiraf kemajuan yang parti bawa ke Pulau Pinang sejak 2008, dan perkara itu sebahagian daripada sejarah," katanya.
Woo berkata para murid dan guru tidak akan dipaksa menyertai DAP selepas acara itu.
"Murid-murid sekolah rendah tidak boleh mengundi atau jadi ahli parti. Bagi guru pula, kita tidak boleh paksa mereka," katanya.
"Jabatan Pendidikan tidak perlu bimbang kerana tidak melibatkan politik. Acara ini semata-mata mengenai sejarah Pulau Pinang yang kita banggakan ini demi manfaat murid-murid kita."
Woo berharap permohonan untuk menganjurkan acara itu mendapat persetujuan sepertimana kebenaran diberikan kepada acara bertemakan Umno di Putrajaya baru-baru ini. Beliau berkata oleh kerana pihak berkuasa berpendapat acara bertemakan Umno tidak melanggar mana-mana undang-undang, maka acara bertemakan DAP juga boleh dibenarkan.
"Kami harap Jabatan Pendidikan akan meluluskan rancangan kami dan tiada berat sebelah.
"Acara ini bertemakan sejarah semata-mata, bukan acara indoktrinasi gaya diktator untuk murid-murid.
"Jiika permohonan kami selaku kumpulan sukarelawan tidak dapat dipertimbangkan, kami sedia memohon melalui entiti berdaftar atau badan bukan kerajaan."
Dilaporkan baru-baru ini ratusan guru dan murid-murid Sekolah Kebangsaan Putrajaya Presint 14(1) mengambil bahagian dalam pertandingan bertemakan "Umno dan Kemerdekaan #Negaraku".
Benda Umno kelihatan dalam kawasan sekolah, dan murid-murid mengibarkan bendera kecil dan menyanyikan lagu Umno. Pada satu tahap, menurut laporan itu, sepanduk "Hidup Umno, Hidup Melayu. Dulu, Kini dan Selamanya" dinaikkan di pentas. - fmt
Group wants 'Penang and DAP' event in schools next year...
A DAP grassroots leader has applied to the Education Department here to hold a "Penang and DAP" contest in all primary schools in the state next year, to celebrate the 10th anniversary of the opposition party's governance in the state.
Joshua Woo Sze Zeng, a DAP Socialist Youth leader, stressed that the proposal was by a voluntary private citizens group comprising himself and seven others, and not the DAP. He said as a proud Penangite, he was inspired by the "Umno and Merdeka" function at a primary school in Putrajaya and wanted to carry out a similar function in Penang.
Woo said the competition would allow primary school pupils to gain a better understanding of Penang's history and the party, which had a big hand in the state's progress in the last 10 years. Woo said he was sure the event in Penang would be approved after reading the reply by the Malaysian Historical Society (MHS) Kuala Lumpur, that showed its agreement with the Umno event held at a Putrajaya primary school recently.
"We have sent the MHS a letter requesting the society to collaborate with us on this programme. We are still waiting for its reply.
"Although we are DAP members, we are not organising the programme under the auspices of our party as the objective is to impart Penang's history, not politics."
Woo handed over the proposal to the Penang Education Department on Jalan Bukit Gambir today. Woo said among the events at the proposed programme would be the staging of short dramas, decorating of classrooms, a singing contest and history quizzes. He also said the DAP would affix its flags around the selected school "temporarily", while the programme was ongoing.
"Pupils will be given DAP flags and told to sing the DAP anthem. We must stress this is to give recognition to the progress that the party has brought to Penang since 2008, as it is part of history," he said.
Woo said there would be no compulsion for pupils or teachers to join the DAP after the function.
"Primary school pupils cannot vote or become party members. As for teachers, we cannot force them to do so," he said.
"The state Education Department need not worry as it does not involve politics. It is purely about the history of our great Penang state for the benefit of our fellow pupils."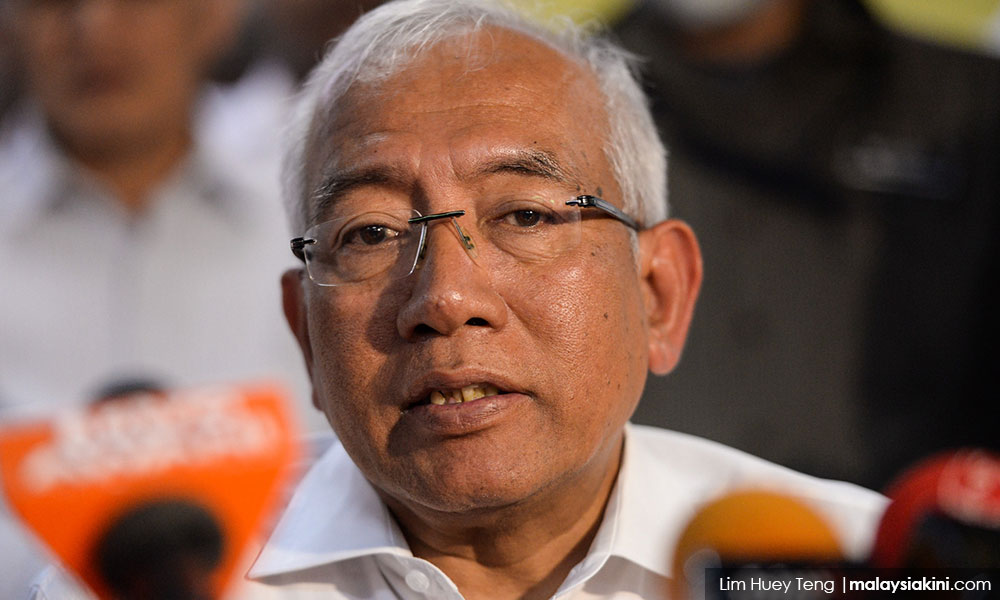 Woo said he hoped the application to hold the event would be approved just as an Umno-themed event in Putrajaya was allowed to take place recently. He said since the authorities were of the opinion that the Umno event had not flouted any law, the DAP event should be allowed in Penang.
"We hope the Education Department will approve our plan and will not be biased.
"This is purely a historical-themed event, not a dictator-style indoctrination-type event for the pupils.
"If our application as a voluntary group cannot be considered, we are ready to apply through a registered entity or non-governmental organisation."
It was reported recently that hundreds of teachers and students of Sekolah Kebangsaan Putrajaya Presint 14(1) took part in a class decoration and performance competition which carried the theme "Umno and independence #Negaraku".
Umno flags were visible in the school compound, while students waved small flags and sang the Umno song. At one point, according to the report, a banner with the words "Hidup Umno, Hidup Melayu. Dulu, Kini dan Selamanya" (Long live Umno, long live the Malays. Then, now and forever) was displayed on stage. - fmt
Prominent Datuk accused of raping
12 year old girl in budget hotel...
An 82-year-old prominent businessman in the oil and gas industry here claimed trial in the Sessions Court to two charges of raping an underage girl.
For the first offence, Datuk Ibrahim Ahmad Darvesh Mohd Deen, or better known as Ibrahim Din, was accused of raping a 12-year-old girl in a room at a budget hotel located at Taman Jade Manis here at about 12.40am on Aug 31, 2017.
He was charged under section 376(2)(D) of the Penal Code, which carries a maximum jail term of 30 years and whipping upon conviction.
For the second offence, he was accused of raping the girl in a room at a budget hotel in Jalan Masjid here at about 8pm on Sept 11, 2017.
He was charged under section 376(1) of the same Code that provides an imprisonment up to 20 years and whipping upon conviction.
The accused appeared calm when the charges were read before Session Court judge Steve Ritikos, who set Oct 19 for case management and March 5 to 9 next year for the trial.
He also allowed the accused to be released on RM15,000 bail with two local sureties.
The deputy public prosecutor was Wan Mohd Izzat Wan Abdullah while the accused was represented by counsel Ranbir Singh.– Bernama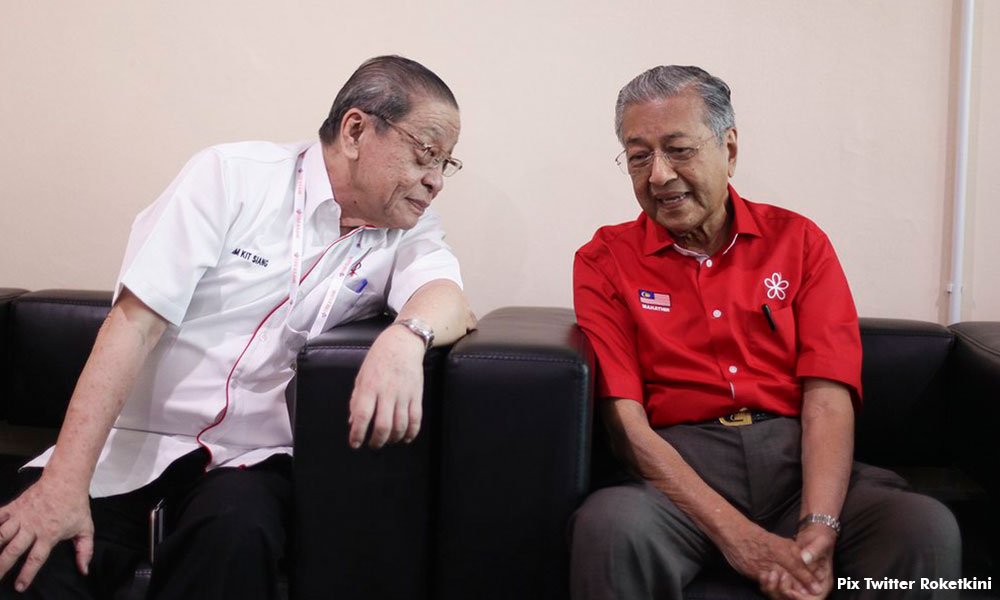 Only the insane will think I have RM1billion...
Dr Mahathir Mohamad has dismissed the allegation that he paid DAP veteran Lim Kit Siang RM1 billion, claiming only the insane would believe he had such a fortune at his disposal.
"Apparently, I paid Lim RM1 billion in order to become Pakatan Harapan chairperson.
"Only a kurang siuman (mad) person would think that I have RM1 billion," he said in a video clip posted on Parti Pribumi Bersatu Malaysia's (Bersatu) Facebook page today.
Mahathir, who was prime minister for more than two decades, said he lives in a house that is smaller than those belonging to "normal" cabinet ministers, because he lived within his means.
The allegation first surfaced on the Malaysia Today website, which is operated by Raja Petra Kamaruddin.
Mahathir said he believes that Raja Petra is not sane, and that if he was, he should show proof of his allegation.
Harapan decided to make Mahathir its "top dog" in July and he has been regularly chairing the coalition's weekly leadership meetings.
Yesterday, Lim said he would sue local media organisations which repeated claims that he was involved in the RM1 billion payment.
Among others, the allegation was also published in the Umno-owned daily Utusan Malaysia.
Mahathir's critics have always accused him of enriching his cronies and helping his children amass billions during his tenure as prime minister. He has denied this allegation, claiming that his sons were self-made successful corporate figures.
Some of his fiercest critics, who raised this issue in the past, are now allies of Mahathir in Harapan. - mk
Saya mahu jumpa ibu dan bapa kandung...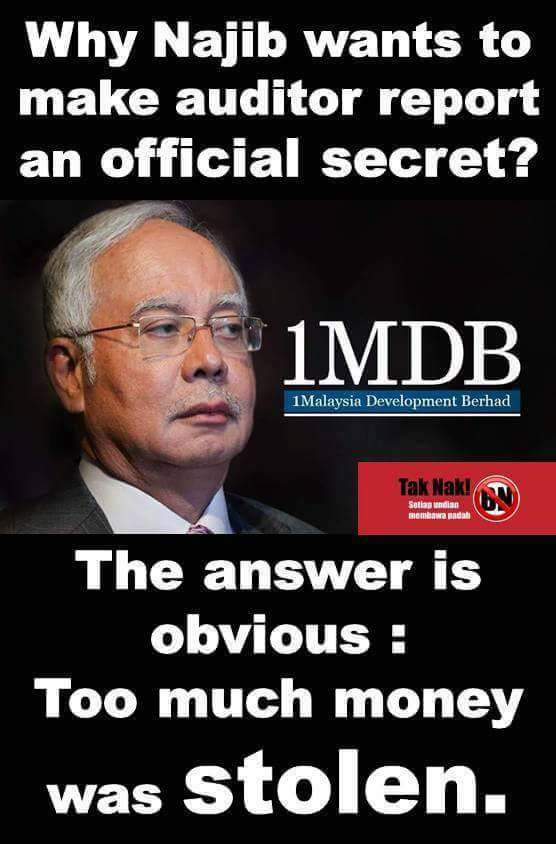 Bila Penyata Kewangan dirahsiakan
maknanya ada duit yg kena curi...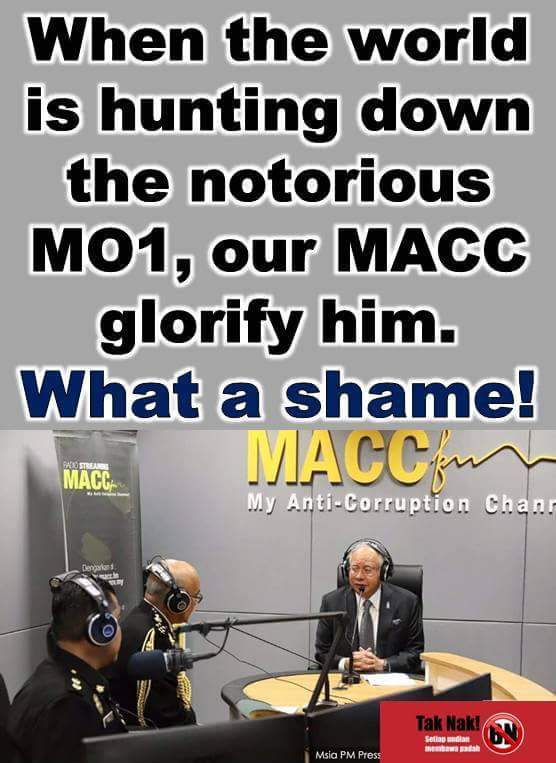 cheers.