Viral video seorang lelaki yang tidak puas hati dengan tayar keretanya dikunci penguatkuasa yang telah mengunci tayar keretanya yang diletakkan di zon larangan.
Dalam kejadian yang berlaku di Leisure Mall Cheras itu, lelaki terbabit berang tayar keretanya, Perodua Myvi dikunci sedangkan dia hanya meletakkan keretanya di tepi jalan itu lima minit sahaja.
Lelaki itu kemudian melemparkan kata-kata kesat terhadap anggota penguatkuasa yang bertugas dan cuba memprovokasi anggota terbabit untuk menyerangnya.
Malah dalam video berdurasi empat minit itu juga menunjukkan lelaki itu turut mencabar anggota berkenaan membuka pakaian seragamnya untuk bertumbuk di lokasi kejadian.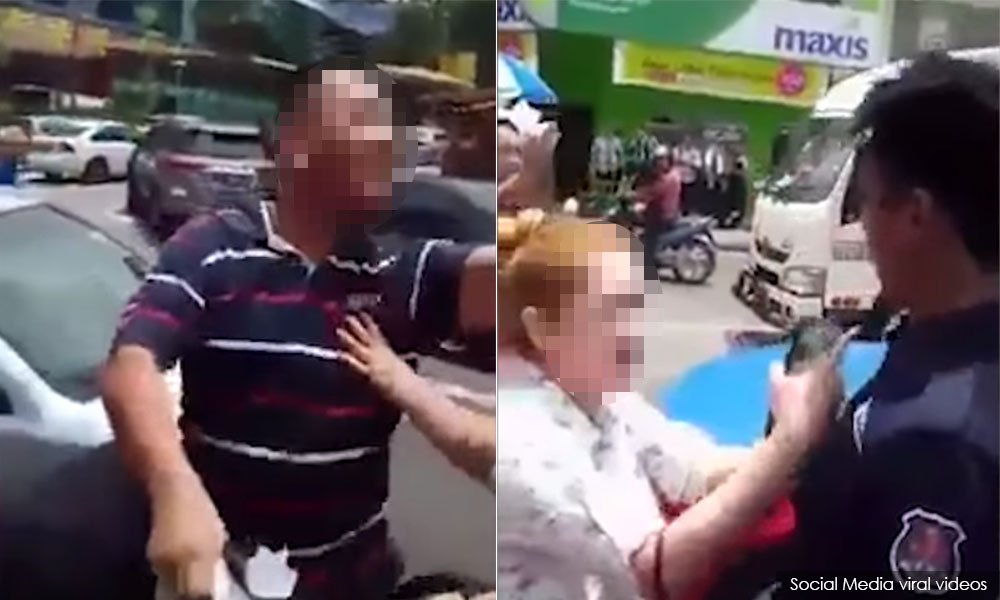 "Lima minit pun tak boleh bertolak ansur," kata lelaki berkenaan yang mula tenang.
Dua orang wanita yang dipercayai anak dan isterinya cuba menenangkan lelaki itu dan memintanya tidak bertindak sebarangan yang boleh memudaratkan kedua-dua pihak.
Bagaimanapun keadaan kembali kecoh selepas seorang lelaki yang memakai baju berwarna kelabu mula masuk campur dan menimbulkan kemarahan lelaki itu yang kemudian mengambil sebatang kayu di dalam keretanya untuk mengertak anggota penguatkuasa yang dimarahinya itu.
Dalam video itu juga kedengaran suara yang meminta lelaki itu memukul anggota terbabit, namun dia tidak berbuat demikian.
Beberapa orang awam cuba menenangkan kedua-dua pihak dan meleraikan mereka dari terus menimbulkan kekecohan sebelum lelaki itu akhirnya mengalah dan masuk ke dalam kereta meninggalkan tempat itu selepas kunci tayarnya dibuka.
Sementara itu di media sosial, ada ramai netizen yang tidak menyalah pemandu Myvi itu bertindak biadab dan kurang ajar. Tidak kurang juga netizen menyelar tindakan segelintir orang awam yang masuk campur dalam kejadian itu yang mengeruhkan lagi keadaan.
Bagaimanapun, netizen dinasihatkan tidak memuat naik komen-komen yang berunsurkan perkauman yang boleh menjejaskan keharmonian dan perpaduan kaum. Tambahan, masalah yang timbul adalah sikap individu berkenaan sahaja dan bukannya mewakili semua kaum berkenaan. -thereporter
Driver who quarrelled with DBKL enforcers arrested
Hobi Najib adalah membohong...
Dalam majlis MIC di PWTC, di hadapan masyarakat India, Najib buat sekian kalinya MEMBOHONG.
Kali ini Najib berbohong berkenaan GST di NEGARA INDIA dengan mengatakan GST di India adalah sebanyak 28%.
Maka bertepuklah perwakilan masyarakat India di dalam majlis MIC itu sambil mengangguk-anggukkan kepala.
Makcik JR, Pak Naib, Ketua Cawangan UMNO, penjilat pungk_k Najib dua kali laju angguknya dari perwakilan India di dalam majlis MIC itu apabila mendengar PEMBOHONGAN NAJIB itu.
Dah tidak terkira berapa banyak NAJIB BERBOHONG kepada rakyat negara ini.
Buka mulut sahaja, anak Tun Razak itu pasti BERBOHONG.
Kepada PEMBOHONG PALING BESAR DALAM MALAYSIA INI SAYA NAK BAGITAU , GST 28% itu dikenakan untuk PEMBELIAN AIR CONDITION DAN PETI SEJUK.
GST untuk rakyat MARHAEN (DI INDIA) ADALAH SEBANYAK 5% sahaja.
Manakala bahan-bahan asas keperluan rakyat negara India tidak di kenakan cukai pun.
Dan bagi cukai perkhidmatan pula, INDIA tidak mengenakan cukai atas :
- PELAJARAN
- KESIHATAN
- PERUMAHAN
- HOTEL YANG BERHARGA DI BAWAH INR 1000 ATAU RM 64.
Manakala 5% cukai dikenakan atas :
- Tiket keretapi (selain dari coach tidur)
- Penerbangan kelas ekonomi
- Teksi
- Ruang pengiklanan.
Manakala GST perkhidmatan 28% di kenakan atas :
- Tiket wayang
- Judi dan pertaruhan
- Hotel di atas tarif INR7500 atau RM485.00
Untuk pengetahuan Najib dan makcik JR angka 28% itu untuk golongan menengah ke atas.
Bukan seperti di Malaysia dari golongan OKU, Miskin, Miskin Tegar di pukul rata sama sahaja.
Kenapa ada perbezaan antara GST Malaysia dan India.

JAWAPANNYA :
DI MALAYSIA ADA TANGGUNGAN HUTANG YANG DI BUAT OLEH 1MDB YANG MEMAKSA RAKYAT MEMBAYARNYA WALAUPUN MISKIN.
MANAKALA DI INDIA GST DI KUTIP MENGIKUT PERBEZAAN TARAF HIDUP DAN YANG PASTINYA DI INDIA TIADA 1MDB.
Tapi nak buat macam mana Najib sendiri tidak tahu dan tidak pandai mengira kerana 25-9=14.
Walaupun Najib BERBOHONG , PEMBOHONGAN NAJIB itu pasti akan di "back up" oleh Puad Zakarshi , Aziz Kaprawi , Ahmad Maslan , Annuar Musa , Idris Haron , Noh Omar , Azalina Othman , dan makcik-makcik JR serta cybertrooper dan penjilat pungk_k Najib.
Rakyat Malaysia WAJIB MENOLAK KERAJAAN KLEPTOKRASI INI DI DALAM PRU AKAN DATANG.- Shukur Mohamad


The past few weeks MO1 has been making a real fool of himself again and again. That 'major announcement at 4:45 pm' was a major bungle.




You know it was a bungle because none of the media even bothered to report that just two days after the event, Mike Tyson has been sucked up by aliens ! Just kidding. Meaning he has become a non issue again.




The other major PR bungle was MO1 pledging to Donald Trump "to invest" RM100 Billion in the USA (had to revise the figure upwards) in just 5 minutes and 58 seconds! Boy that was stupid.




He pledged for MAS to buy Boeing when MAS has just ordered more Airbuses. Maybe he thinks Trump is another village idiot like him.




Then he told the Indians that he is the father of 'pembangunan kaum India' or some crap like that. I received the following (its gone viral) written by someone called Shukur Mohamad (dont know if it is a real person or not.)


The point is it is so easy to make MO1 look so stupid. Obviously either the people around him are stupid dimwits who are making the boss look so stupid OR the people around him are NOT stupid dimwits who are making the boss look so stupid !!


You can read Shukur Mohamad's rebuttal and see how easy it is to debunk MO1.

- ostb
My Chinese looks,chubbiness perhaps
led law firm to look for Jho Low...
PKR vice-president Rafizi Ramli has penned a sarcasm-laden letter to National Feedlot Corporation (NFC) chairperson Mohamad Salleh Ismail, which also roped in the central figure in the 1MDB scandal, businessperson Jho Low, whose whereabouts remain unknown.
This was in response to a Berita Harian report which quoted Salleh as saying that as of 7pm yesterday, neither Rafizi nor his lawyer had contacted him or his lawyers regarding the payment of damages and costs amounting to RM306,999.17.
Over the weekend, a bankruptcy notice was served on the PKR leader over his failure to settle the sum related to a defamation suit involving the NFC.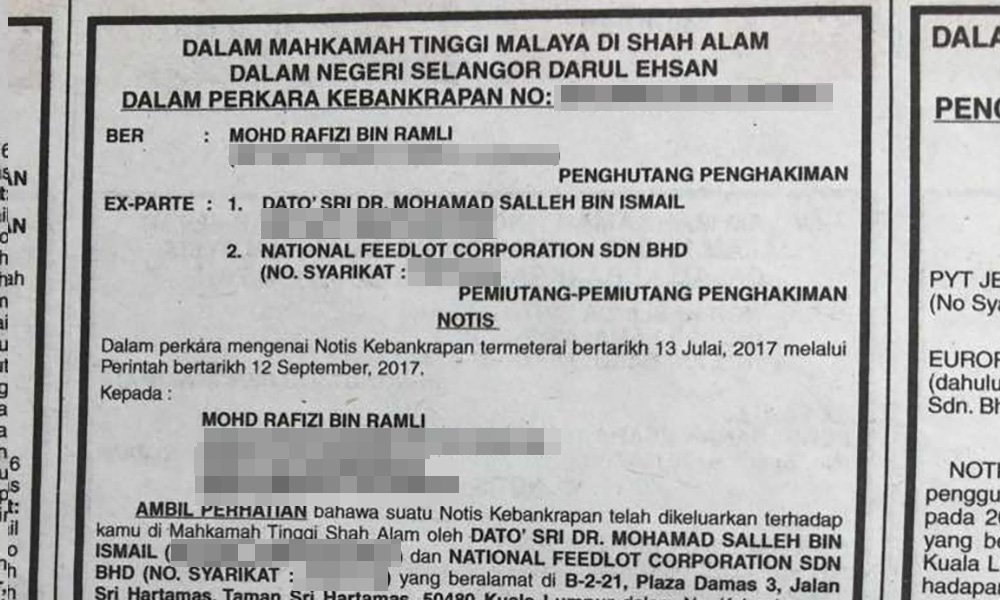 In his letter today, Rafizi apologised for the "several hours delay which troubled Mohamad to the point of contacting Berita Harian."
The Pandan lawmaker said the news report also mentioned that his lawyer Razlan Hadri confirmed that he (Rafizi) had passed the cheque to him and that Razlan would hand it to Mohamad's lawyer the next day.
"When my lawyer and I were discussing to whom the cheque should be addressed to, I was advised to address it to your lawyer, who apparently could not locate me for months.
"This is despite the fact that I carried out live sessions on Facebook and my service centre is open throughout the week. Your lawyer failed to locate me like how the authorities failed to locate Jho Low (photo).
"Perhaps because I look Chinese and am chubby, the clerk at the law firm was looking for Jho Low by mistake," he added.
Initially, Rafizi claimed that he wanted to make the full payment to Mohamad out of sympathy since the latter always appeared crestfallen when the pair met in court.
The PKR leader said he did not blame Mohamad for feeling the blues due to the ballooning cost of living.
"I am certain that you too are feeling the effects of GST," he added.
He also called on Mohamad (photo) to be patient since as long as the government is not changed, Malaysians would need to pay GST.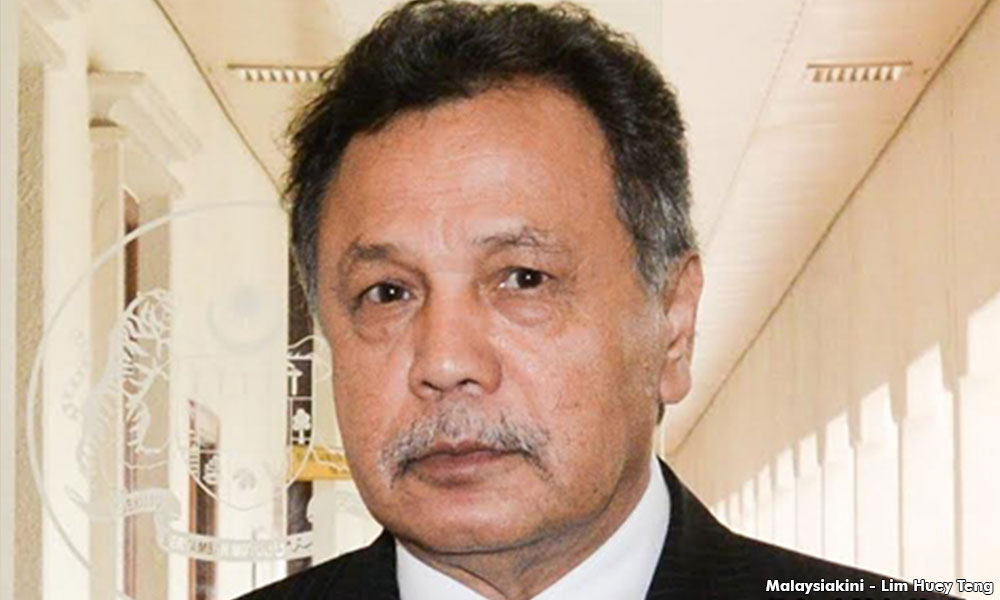 Rafizi then explained that he addressed the cheque to Mohamad's lawyer after he was informed by his lawyer that not all of the RM306,999.17 belonged to the businessman.
"According to the court notice which your lawyer pasted on my front door this week, only RM150,000 has to be paid to you (with interest).
"Another RM50,000 (with interest) is to be paid to NFC...The remaining RM100,000 is to be paid to your lawyers. I know your lawyers did not take up this case for free unlike mine," he said.
Rafizi ended his letter by asking Mohamad to convey his best wishes to his wife, former minister and current Wanita Umno chief Shahrizat Abdul Jalil (photo) and the couple's children.
The PKR leader also joked that if he wins the appeal, he would plaster a huge notice of demand on Mohamad's front door, asking him to return the RM306,999.18 he paid, which incidentally is one sen more than the quantum ordered to be paid. - mk

Janji RM2.6 bilion,tapi RM433 juta dibelanjakan...
cheers.