Seorang guru sekolah menengah ditahan kerana didakwa merogol seorang pelajar dan telah direman selama tujuh hari bermula hari ini.
Pihak polis telah menerima kebenaran reman terhadap guru berusia 51 tahun itu selepas suspek dibawa ke Mahkamah majistret pagi ini.
Majistret Zulhairil Sulaiman memerintahkan suspek ditahan reman bagi membolehkan siasatan dijalankan ke atasnya.
Guru tersebut dilaporkan telah ditahan di rumahnya di Tapah, Siburan selepas satu aduan polis dibuat oleh ibu mangsa kira-kira jam 5 petang semalam.
Mangsa seorang pelajar tingkatan 2, dikatakan telah mendedahkan kejadian itu kepada guru kaunseling sekolah yang kemudiannya memaklumkan kepada ibu bapa remaja berkenaan.
Mangsa mendakwa telah dirogol sebanyak dua kali oleh guru tersebut. Kedua-dua kejadian berlaku dalam kereta suspek, yang diparkir di lokasi terpencil di kawasan Siburan, pada bulan Ogos dan September.
Kes tersebut kini disiasat dibawah seksyen 376 Kanun Keseksaan kerana merogol, yang memperuntukkan hukuman penjara sehingga 30 tahun dan sebatan jika sabit kesalahan. — EdisiRakyat
Pegawai JPJ Melayu fasih Mandarin dipuji...
Satu posting video menunjukkan seorang pegawai Jabatan Pengangkutan Jalan (JPJ) berbangsa Melayu viral di laman sosial kerana kemampuannya membantu menerangkan proses mengambil cukai jalan serta insuran kepada 2 pelajar dari negara China.
Video yang dikongsi oleh pengguna Facebook bernama Syamsul Amir menunjukkan seorang pegawai wanita JPJ bernama Nur Syafiqah Azaman fasih berbahasa Mandarin menerangkan proses tersebut kepada 2 pelajar dari China yang datang berurusan di JPJ Perlis.
"Alkisah hari ni. Datang student dari negara China ni untuk urusan di JPJ Perlis, boleh komunikasi dalam bahasa Cina ja.. English langsung tak faham sepatah pun, lucky we have a great staff Nur Syafiqah Azaman yang memang fasih berbahasa Cina kat kaunter depan JPJ Perlis."
Demikian status yang dikongsi bersama posting video itu. Menariknya video yang dikongsi semalam ditonton lebih 40,000 kali dan sedang hangat dikongsi di laman sosial.
Netizen memuji kebolehan Syafiqah yang bukan sahaja fasih berbahasa Mandarin malah bijak menggunakannya dalam waktu genting.
Ada juga yang berkata Syafiqah fasih kerana tidak ramai yang bijak mengolah perkataan membabitkan insurans dan cukai dan bahasa Mandarin dengan betul apatah lagi memberi penjelasan kepada pelajar dari negara Cina itu sendiri.
Suan Poh Tan misalnya menyifatkan gadis ini sebagai penjawat awam yang berkualiti kerana menguasai lebih bahasa dan memudahkan urusan harian.
"Tak nampak bangang di mata masyarakat mahu pun dunia! Ada orang luar negara tau kita anak Malaysia digelar pakar bahasa! Sekurang-kurangnya 3 bahasa Melayu, Mandarin, Tamil, English atau Arab dan lain-lain!" tulisnya.
Roderick Richard pula berkata, "Thumb up! Aku sekolah cina juga dulu tapi nak tahu orang tu fasih ke tak Mandarin, kena tengok penguasaan suku kata Mandarin dia.
Pegawai ni dia tau insuran dalam mandarin, kalo tanya mana-mana bumiputera yang study mandarin, tak semua orang tahu translate insurans dalam Mandarin.
Kebanyakan hanya guna Mandarin rojak bercampur English."
Seorang lagi pengguna, Hidayat Yahaya menyimpulkan adalah bagus sekiranya semua sekolah mewajibkan pelajar mempelajari bahasa Melayu, Cina dan Tamil untuk semua bangsa. - f/bk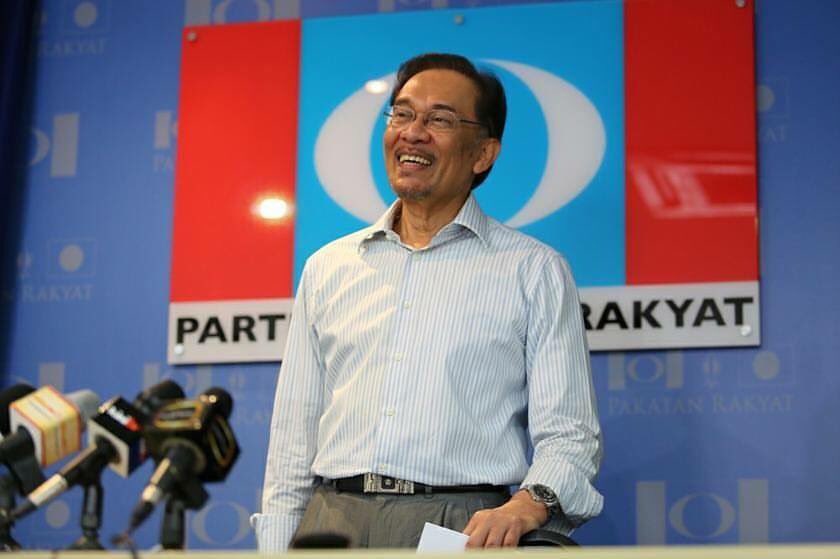 Is PM Najib Cracking Up?...
During the past week, Prime Minister Najib may have just single-handedly lost the coming 14th general election for UMNO and Barisan Nasional.
This is due to three crucial errors that he made in this short space of time.

Shaking Trump's Hand
Firstly, there was his much ballyhooed trip to the US to meet with President Trump. Despite our ever ready to angkat and ampu (flatter) national mass media trying to put a positive spin on it, the visit was a public relations disaster.
He went to show the world and Malaysia that Trump is his good friend. He was probably hoping to get a lot of election mileage with photos of him shaking Trump's hand or standing by his side amidst glowing reports of how Malaysia is now a respected nation.
To ensure a good response from the United States and Trump, he also went with lots of cash to spend. This is very typical UMNO and Barisan strategy to win support. Take out the cheque book and goodies and throw them at the target group. We have seen it so many times in our national politics.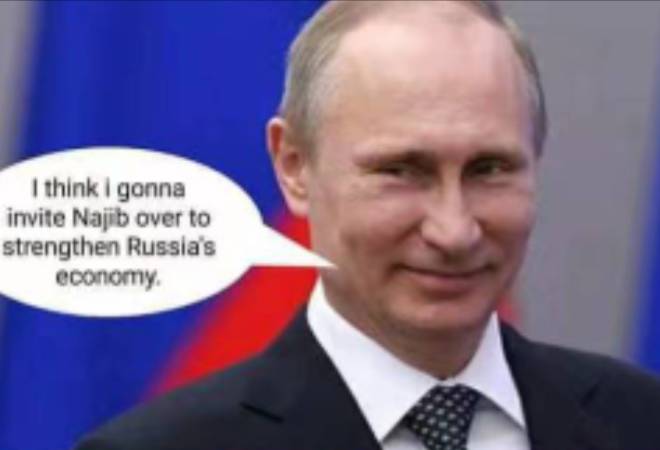 But this strategy does not work in the US. Money does not buy approval so easily there.
Instead of giving the Malaysian PM due respect and face, most of the major newspapers either ignored his visit or in the case of some of the most respected ones – Washington Post, New York Times and Wall Street Journal – wrote nasty pieces about our scandal-ridden leader.
Najib actually received such a blasting that it is difficult to see how he can ever dare to hold an international press conference with no-holds barred questioning by foreign journalists.
Killing Off MCA and UMNO
The second mistake was his performance at the recent Malaysian Chinese Patriotic Rally organized by the MCA to curry favour with Najib and UMNO.
According to reports, in his speech the Prime Minister noted that his was a "moderate government" and "committed to the peace and harmony" and "mutual respect". That's arguable but few will lose their cool over this claim.
But his further remark must win the prize for political insensitivity if not idiocy.
The PM emphasized that "If there is no peace in our country, what will happen? The Chinese will be the first to be targeted if there is no peace in this country."
Now what exactly was the point that the PM was trying to make if this statement on the Chinese being the first to be targeted in the event of a breakdown of peace was not meant as a crude threat to the Chinese audience in the rally and nation-wide.
Of course, everyone knows that the Chinese, Indian and foreign businesses are the first targets of religious and racial extremists in the country. This has been the case since May 1969 and continues to be the case even today, after nearly 50 years of UMNO and BN rule.
But surely this point needs clarification.
What the PM should be saying is that although the Chinese are the first to be targeted, in fact it is all Malaysians and residents – including Malays – who are the targets and victims of racial and religious terrorists.
It is not just the Chinese alone who will suffer from the absence of peace, Mr. Prime Minister and MCA.
Was it a slip of the tongue by the PM or was it his intention to frighten the Chinese in the country to vote for the MCA and BN?
Whatever it was, it was a stupid turn of phrase and it will turn the average Chinese voter, and other voters, against the BN.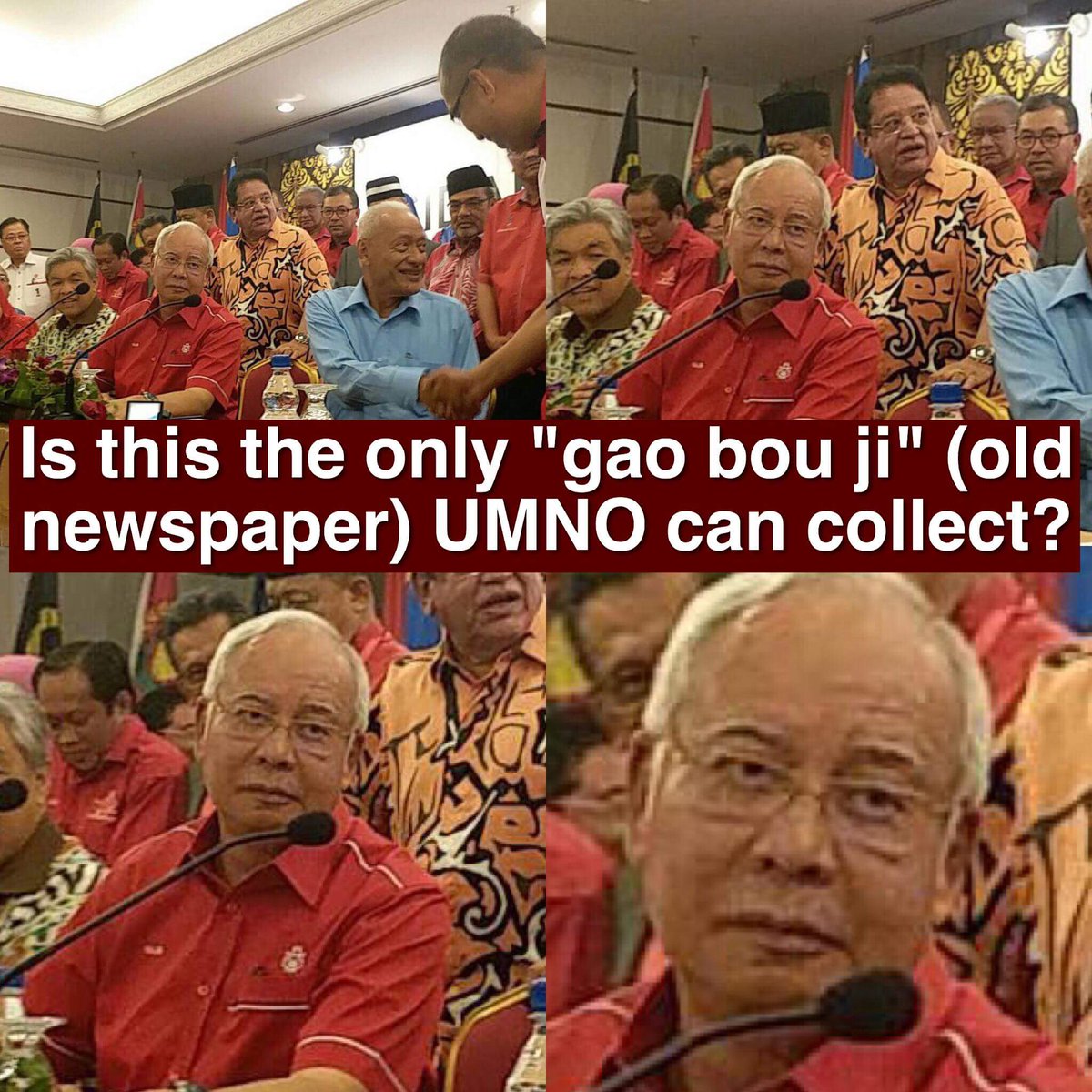 The Return of Super Frog, Mat Talib
The third error is probably the most serious of the lot. This was the story or fake news on the dissolution of parliament which was rumoured to be the reason for his special press conference at UMNO HQ, Putra World Trade Center.
All UMNO supreme council members and other UMNO big guns were asked to drop whatever they were involved with to turn up for this meeting.
Another rumour which also went viral was that he was to announce the crossover of Selangor ADUN to the Barisan side, thus topping the Harapan state government under MB Azmin Ali.
What was actually announced – the return of super frog, Mat Talib, aka Mike Tyson to UMNO - was not just an anti climax.
What prompted the PM to provide so much importance to one of the most notorious politicians whose alleged money laundering and other scandals has been the subject of coffee shop talk for many years is a complete mystery. Whatever the reason, it has made Najib a laughing stock even within UMNO.
Following this announcement, one commentator has even gone so far as to say this:
this period of the last 3-4 years has been the most embarrassing to be identified as MELAYU-MUSLIM-MALAYSIAN, period!
Why has the PM blundered so badly in these three events? Why is he cracking up?
There are three possible reasons:
The first is that the pressure from the 1 MDB and the huge sums of money in his personal account has got to him. He must especially be having nightmares over whether Jho Low may announce a deal with the US Department of Justice and may spill the beans on Najib's possible involvement in the money laundering and other alleged criminal activities under investigation.
It is also possible that he is facing pressure from within UMNO to resign so that UMNO can present a cleaner image for the coming election. Many of the top UMNO leaders – including possibly the Deputy Prime Minister – realize that if Najib leads the party and BN into the 14th GE, the chances are that BN rule will be finally over and they will lose all the privileges, perks and positions of power.
A third reason is the pressure exerted by Dr. Mahathir. If we analyze what Najib has been doing, we can see that he has been trying to follow Dr. M's footsteps in looking for international and national publicity. At the back of his mind must be the thought: anything the old man can do, I can do better! Well, in these episodes, we can see that they have backfired on Najib.
Finally, it has been rumoured that these 'successes' of Najib in getting into the international and national spotlight have been planned by his high powered back room boys comprised of expensive consultants and lobbyists.
I am sure that there must be some Harapan and opposition special agents in this group who have advised Najib on these 'coup' which have left egg on his face.- Koon Yew Yin
He is already a cracko.
Never before in the history of mankind has there been such a stupid and unintelligent leader leading a following who are more stupid and unintelligent than him.
There have always been stupid and unintelligent followers but they have been led by leaders with some intelligence.
This round the double whammy is complete. An unintelligent and stupid group of followers have hoisted upon their shoulders a really stupid and unintelligent leader.- ostb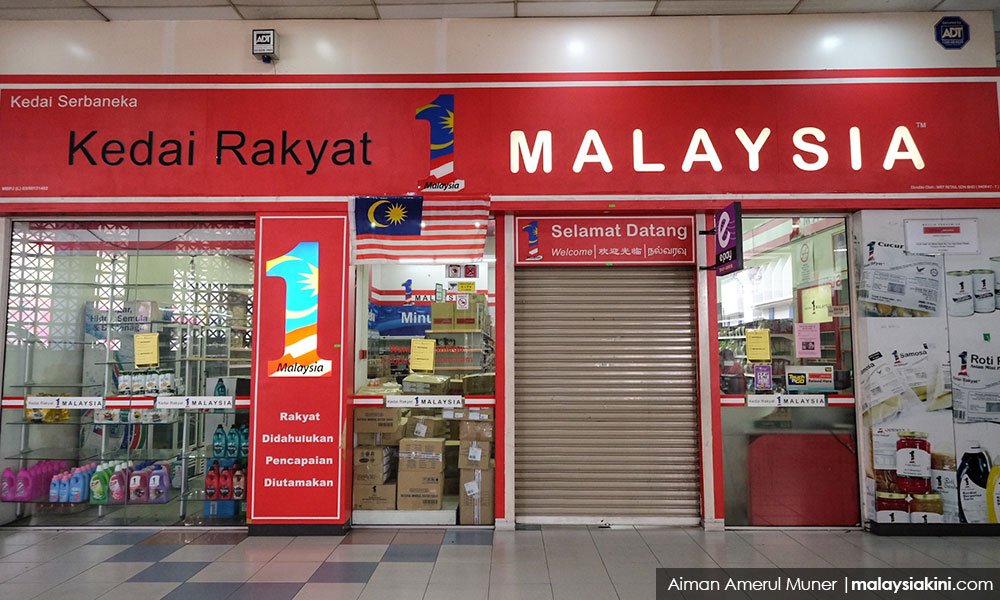 The Kedai Rakyat 1Malaysia (KR1M), which was set up to provide basic necessities at affordable prices, will no longer be open to the public, albeit "temporarily".
A check by Malaysiakini at multiple KR1Ms in Kuala Lumpur, Petaling Jaya and Kelantan, found that all were shuttered down, with notices informing of the closure, attached.
"This store will be temporarily closed, until further notice. Sorry for any inconvenience caused," it read here...
One by one they are shutting down. The morons do not understand - the GST is killing the economy. What the GST has done is it has chopped off at least 15% of the Malay / bumiputra purchasing power. And the non Malays as well.
Through the multiple price increases (after subsidies were cut and then 6% GST was imposed) the actual cash buying power of the Malays / bumiputras has been reduced by at least 15%.
If a person was taking home RM1000 per month, their actual purchasing power is RM850 only. Because 15% has been sucked up by GST induced price increases. Their salaries are NOT increasing.
So they are dipping into their savings, assets reserves to make ends meet. Sales at retail stores are dropping like bricks.So the Kedai Rakyat 1 Malaysia has now shut down.
Temporarily? Ok lets see how temporary is temporary. - ostb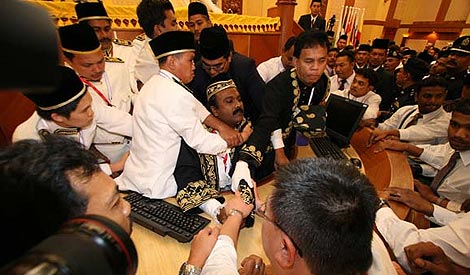 DOJ siasat satu lagi kes rasuah...
Story kat
SINI
dan
SINI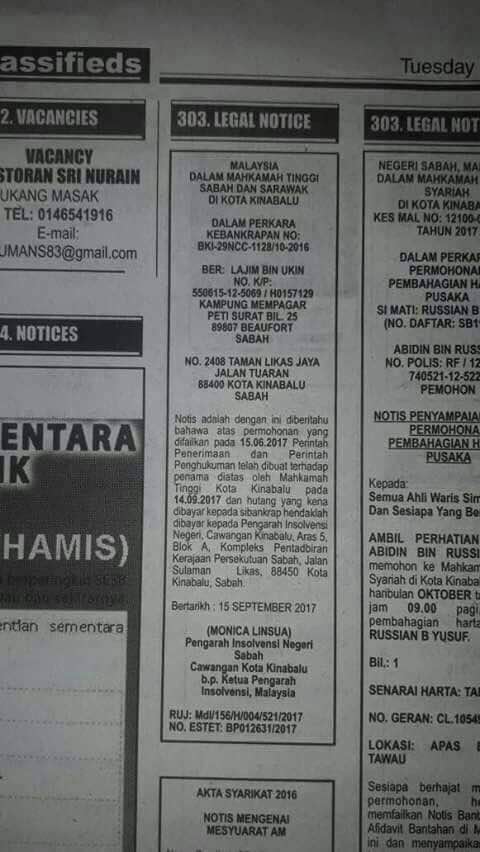 ADUN PKR muflis...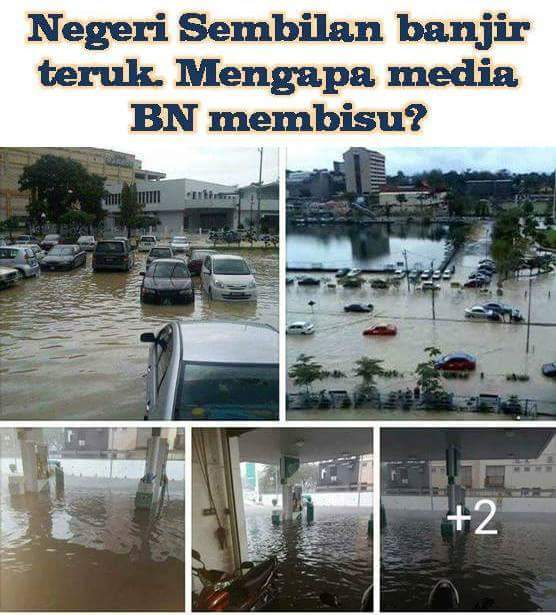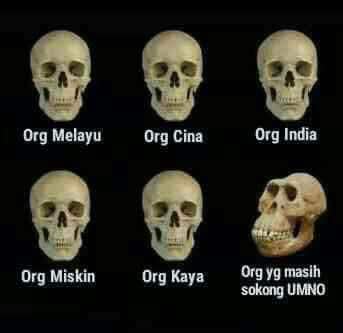 cheers.