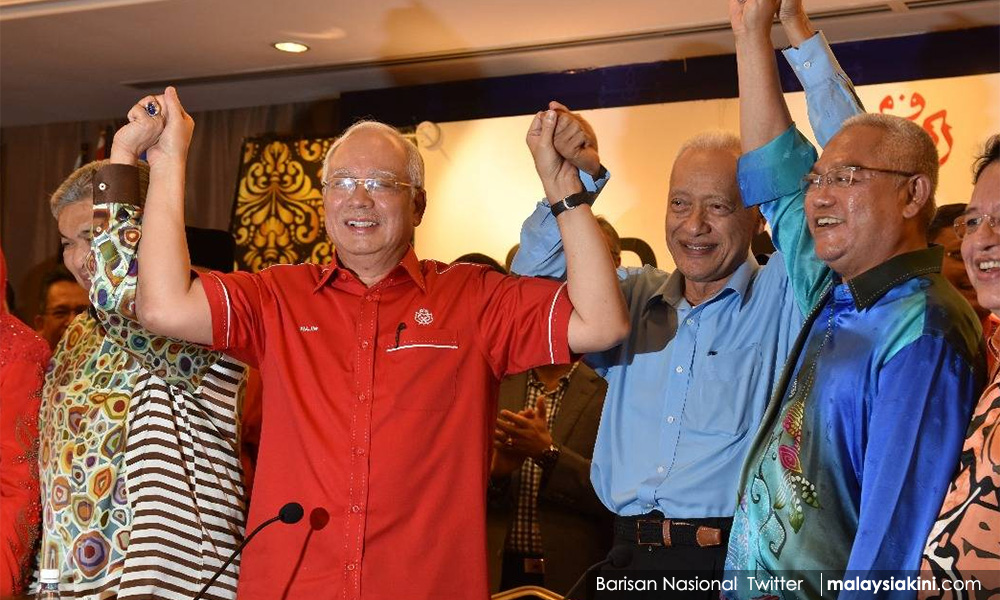 Mat Tyson patah balik untuk ulangi episod Perak...
Ia sepatutnya lebih daripada sekadar Muhammad Muhammad Taib masuk Umno semula semalam. Beliau sepatutnya membawa bersamanya lapan ahli dewan undangan negeri (Adun) dan menyebabkan pentadbiran Mohamed Azmin Ali tumbang.
Namun kerana ada campur tangan daripada pihak berkepentingan yang berkuasa di Selangor, akhirnya, Presiden Umno Najib Razak hanya ada Muhammad seorang untuk muncul pada sidang media yang digembar-geburkan pada pukul 5 petang di Kuala Lumpur.
Sumber memberitahu The Malaysian Insight rundingan untuk membawa Muhammad, 72, pulang ke pangkuan Umno dan menarik masuk lapan yang yang lain itu diuruskan oleh orang tengah dan bukannya perdana menteri sendiri.
"Najib dimaklumkan semuanya lancar tetapi apabila beliau tiba, hanya Mat Tyson ada di situ," kata seorang sumber parti kepada The Malaysian Insight, dengan menggunakan nama gelaran popular bekas Menteri Besar Selangor itu.
"Rundingan terbantut kerana ia tersekat di peringkat tertinggi apabila didapati Mat Tyson termasuk dalam rundingan itu," kata seorang sumber lain kepada The Malaysian Insight.
Perkembangan itu membawa kepada pengumuman yang pendek dan hambar semalam Muhammad kembali ke pangkuan Umno, biarpun kehadiran hampir semua anggota Majlis Tertinggi Umno hadir sama mencetuskan desas-desus serta spekulasi peralihan sebuah kerajaan negeri atau rombakan dalam parti menjelang pilihan raya umum yang harus diadakan sebelum Ogos 2018.
Difahamkan percaturan politik penyertaan semula Muhammad ke dalam Umno melibatkan 8 Adun PKR bergabung bersama 12 Adun Umno dan 13 Adun PAS serta bekas Menteri Besar Selangor Khalid Ibrahim untuk membentuk barisan 34 Adun yang sudah cukup untuk membentuk sebuah kerajaan di Selangor. DUN Selangor mempunyai 56 kerusi.
Kenapa lapan Adun PKR itu mahu meninggalkan parti mereka tidak didedahkan, kata sumber Umno yang mengetahui percaturan tersebut.
Pemerhati politik berkata langkah membawa Muhammad dan lapan Adun mengulangi episod yang berlaku di Perak pada 2009 ketika mana tiga Adun Pakatan Rakyat (PR) melompat keluar daripada kerajaan yang memerintah dan menyokong Barisan Nasional di DUN Perak yang mempunyai 59 kerusi.
Ia menyebabkan kerajaan PR yang mempunyai 28 wakil rakyat tumbang. Sultan Perak kemudian mempelawa BN yang mempunyai 28 Adun untuk membentuk kerajaan negeri setelah ia mempunyai majoriti tipis susulan tindakan tiga Adun yang lompat parti itu.
Pemerhati juga berkata langkah Muhammad semalam membayangkan hasrat Najib dan Umno untuk mengguna pakai jalan yang sama seperti di Perak untuk mengalahkan seteru politiknya di Selangor.
Andai kata semalam BN berjaya rampas Selangor, dalam keadaan negeri itu kini rezab simpanannya sudah lebih RM3 bilion, seronoknya perompak dan penyamun dapat dana pilihanraya.
Muhammad empat penggal menjadi wakil rakyat Batang Kali (1982-1999) dan Menteri Besar Selangor antara 1986 hingga 1997 apabila beliau letak jawatan berhubung kes mata wang di Australia.
Beliau keluar Umno untuk menyertai PAS pada 2013, empat tahun selepas tidak tersenarai dalam Kabinet Najib pada 2009. Beliau meninggalkan PAS selepas dua tahun dan menyertai PKR pada 2015.
Muhammad berbalah dengan Istana Selangor apabila berkahwin secara sulit dengan adinda kepada Sultan sekarang pada 1987 di Thailand. Beliau dan puteri Selangor itu, Tengku Puteri Zahariah Sultan Abdul Aziz Shah, kini sudah bercerai.
Dalam satu wawancara dengan Utusan Malaysia dua tahun lalu, Sultan Selangor, Sultan Sharafuddin Idris Shah menyentuh tentang beberapa menteri besar negeri itu tetapi membuat kenyataan yang keras tentang Muhammad.
"Yang banyak tukar adat ini ialah Muhammad Muhammad Taib. Macam penganugerahan darjah kebesaran tidak lagi melalui Dewan Diraja, tetapi Exco sahaja luluskan terus, bagi darjah kebesaran.
"Terus terang, saya tidak hormat pada Muhammad Taib. Dia buat kekayaan ketika berada dalam Umno, kemudian masuk PAS. Kemudian apabila PAS kelam kabut, dia keluar dan masuk PKR. Kalau dia masuk mana sekalipun, macam mana hendak hormat sebab dia banyak melompat.
"Kalau orang tidak ada prinsip jadi pemimpin, memang goyanglah. Kita mesti teguh. Kalau kepercayaan kita betul, periksa dan ulang periksa dan jangan berganjak bila sudah buat keputusan," titah baginda. – malaysianinsight.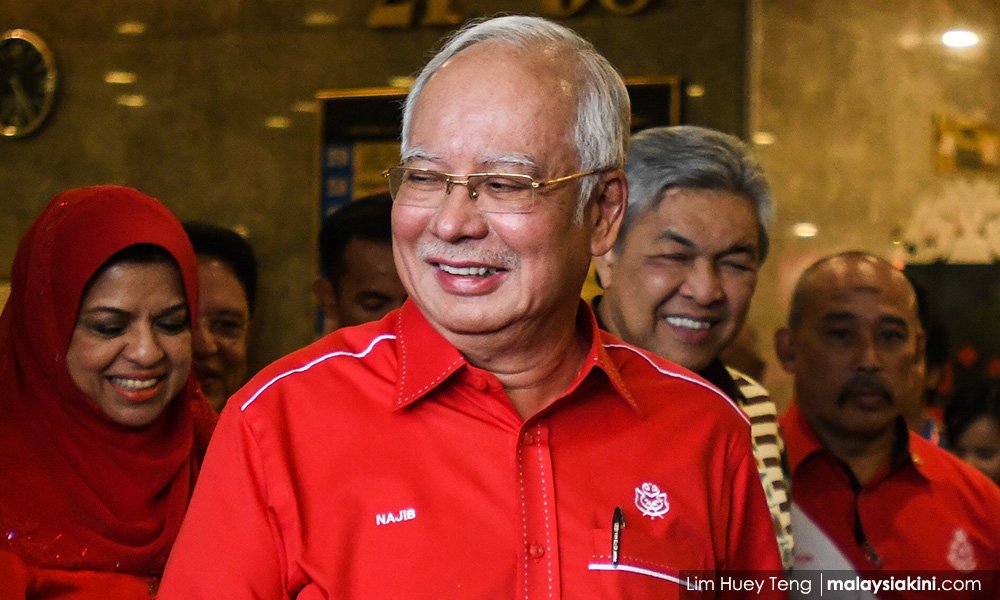 Najib's announcement–coup attempt
that did not follow the script?
Just before taking over the leadership reins, Prime Minister Najib Abdul Razak had orchestrated a coup that saw the collapse of the opposition-led Perak government in 2009.
Amanah Youth believes something similar was supposed to have unravelled yesterday evening, when Najib had the entire nation glued for his much-hyped announcement.
Umno leaders were summoned to the party headquarters, which even saw Deputy Prime Minister Ahmad Zahid Hamidi cutting his trip to Perlis short and returning to Kuala Lumpur.
However, Najib drew flak and ridicule when the announcement centred around the return of former Selangor menteri besar Muhammad Muhammad Taib to Umno.
Detractors claimed that a spent political powerhouse such as Muhammad did not deserve such high-level drama.
Amanah Youth vice-chief Shazni Munir Mohd Ithnin begged to differ.
"To believe that the Umno president (Najib) held a press conference just to celebrate the return of Muhammad is naive," he said.
Shazni added that Amanah Youth believes what transpired yesterday was the postponement of a coup, similar to the one that occurred in Perak, after three opposition assemblypersons quit their parties to become pro-BN independent representatives.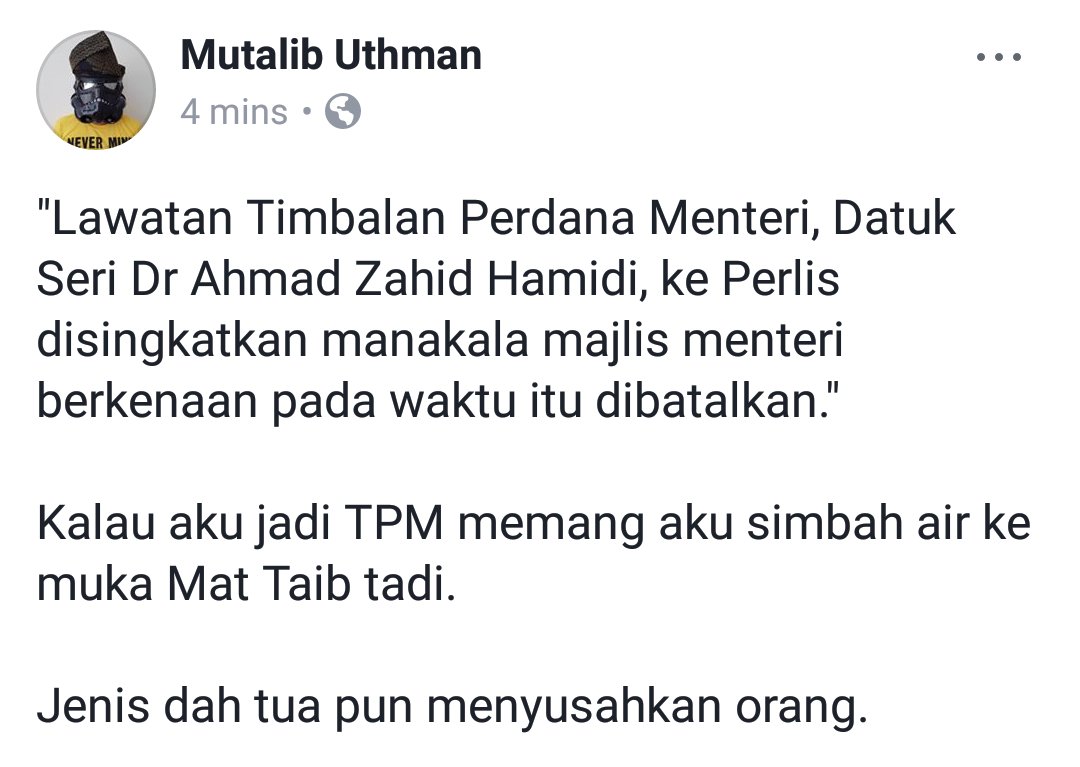 "The more important question is what was the reason for the postponement and who are the characters working towards bringing a group of elected representatives to be with Najib.
"To those who are working hard to bring support for Najib, Amanah Youth is confident that the coup attempt would not get the blessings of the people," he added in a statement.
Shazni cautioned against attempts to derail the people's mandate in the 2013 general election and to avoid actions that could bring peril to the future of the nation.
According to The Malaysian Insight, Muhammad was supposed to bring along eight Selangor state government assemblypersons with him to trigger the collapse of the current state government. However, this failed to materialise.
PKR lawmaker and the party's strategy director Sim Tze Sin dismissed this claim.
"Why would eight ADUN (the Malay acronym for state assemblypersons) join a sinking Umno ship?
"Cerita dongeng (fairy tale) just to cover Najib's humiliating PC (press conference) last night," Sim said on Facebook.- mk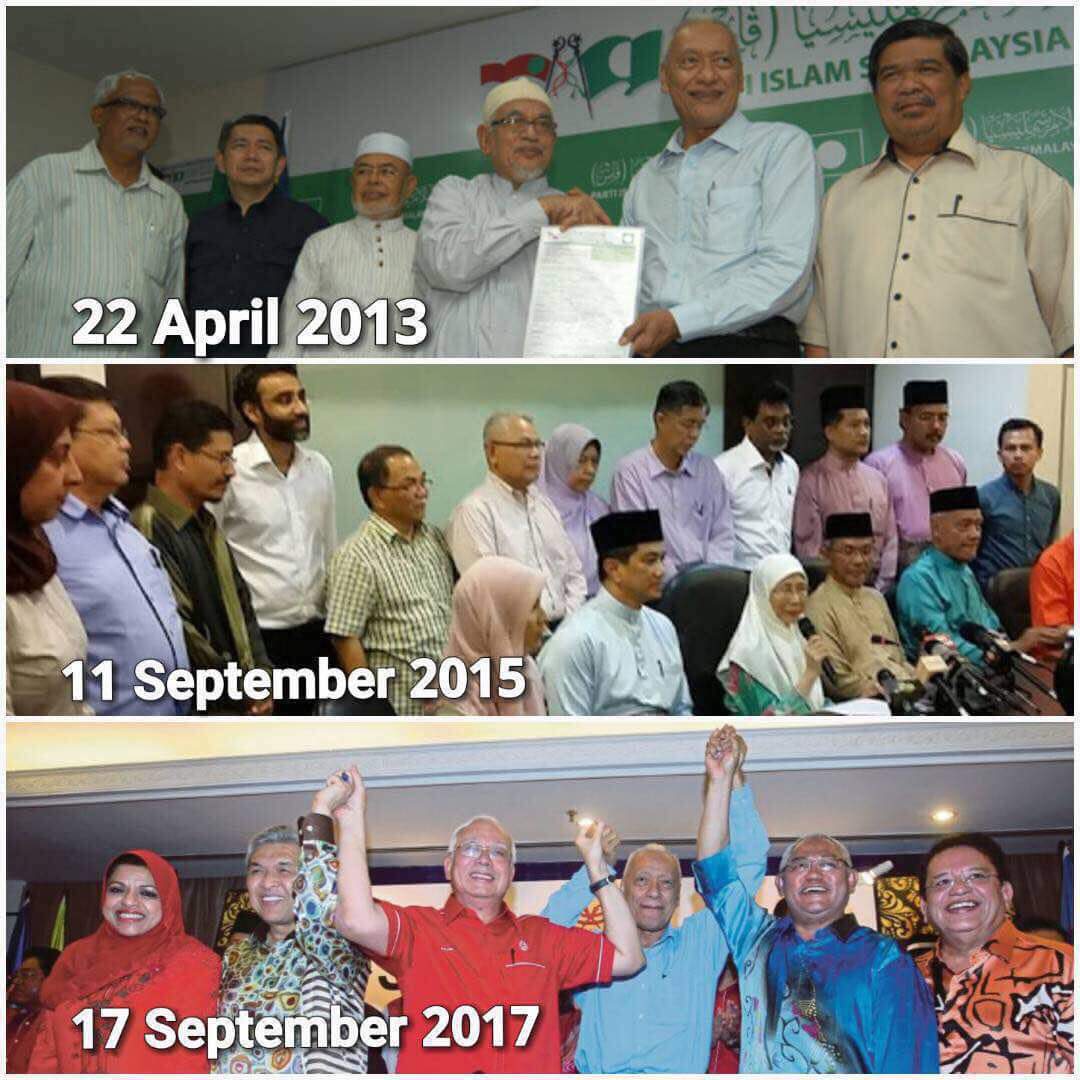 2 tahun sekali dia lompat,2019 nanti masuk MIC kot...
"Goa bou ji"...sulat kabar lama...
Tindakan Tan Sri Muhammad Muhd Taib kembali ke pangkuan Umno langsung tidak merugikan pembangkang, kata setiausaha politik menteri besar Selangor.
Ini kerana, kata Mat Suhaimi Shafie, Muhammad tidak memberi sebarang sumbangan besar kepada parti ketika beliau bersama PKR.
"Saya tidak mendabik dada, namun kehilangannya tidak diratapi, malah adapun tidak menambah, pergipun tidak terasa. Saya hanya ucap selamat kepadanya," katanya ketika dihubungi FMT.
Beliau mengulas sidang media tergempar yang diadakan Perdana Menteri, Datuk Seri Najib Razak petang tadi untuk mengumumkan penyertaan Muhammad dalam Umno semula.
"Saya buat keputusan ini setelah 5 tahun kerana melihat keadaan di sebelah sana. Saya rasa perjuangan saya sia-sia sahaja," kata Muhammad yang juga bekas naib presiden Umno.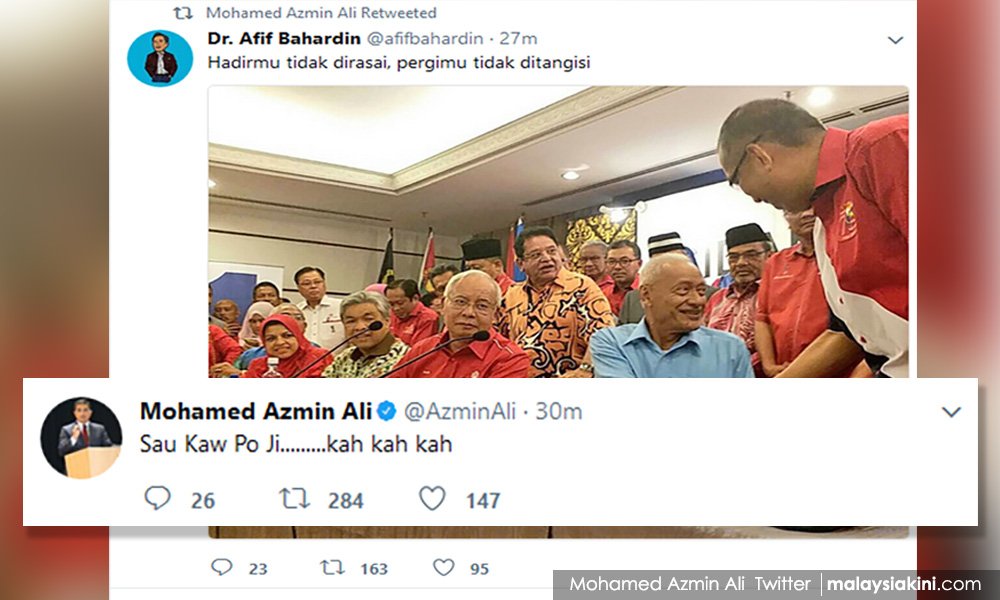 Muhammad bersama Umno dan BN sejak 1964, sebelum menyertai PAS pada April 2013 dan melompat ke PKR pada September 2015.
Beliau pernah dilantik sebagai menteri besar Selangor serta menteri kemajuan luar bandar dan wilayah.
Mengulas lanjut, Suhaimi simpati dengan Najib yang terpengaruh dengan Muhammad sehingga mengadakan sidang media tergempar semata-mata untuk mengumumkan penyertaan bekas naib presiden Umno itu.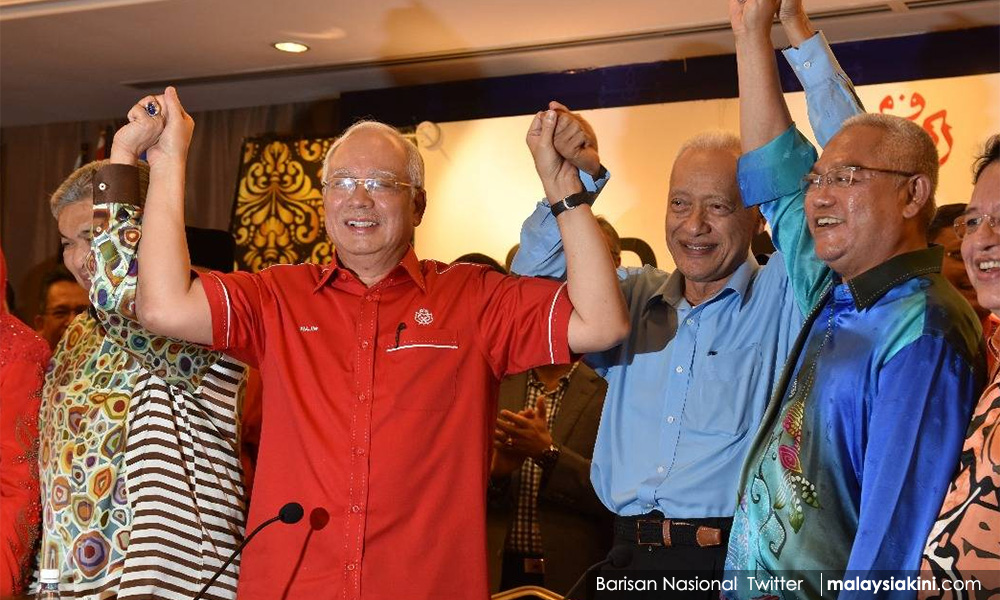 "Saya sangat simpati, apapun kemampuannya (Muhammad) kembali kepada Umno dengan mengaburi mata Najib dan pimpinan Umno sesuatu yang perlu diiktiraf," katanya sambil menambah kemasukan Muhammad ke Umno tidak membimbangkan kerajaan negeri Selangor pimpinan Pakatan Harapan dan PAS.
Beliau berkata, perkembangan terbaru itu juga menggambarkan betapa terdesaknya Umno mahu menawan Selangor pada pilihan raya umum akan datang.
"Surat khabar lama pun ada kalanya bila sesak dan terdesak, bernilai juga kan?
"Boleh jual pukal," sindirnya. - fmt
Mat Taib 3 kali janda diraikan macam gadis jelita...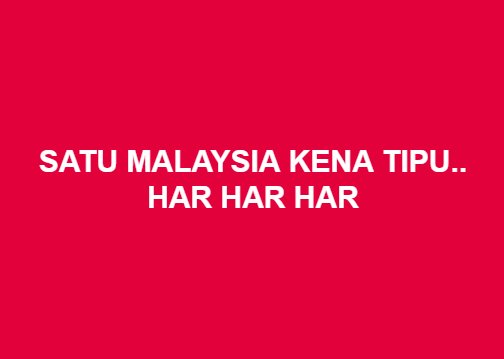 Anti-climax extraordinaire..this no-spekking politician, who embarassed Malaysians with the millions of ringgits in his suitcase in Australia is long past his sell-by date.
Shows Najib's desperation.
Also,his deputy may not be too happy, that there is another who no spekking de inglis...
Is this news is this why you summoned all your UMNO big wigs to KL for this announcement.
This Mat Temberang Tyson, excels at leap-frogging.
He quit UMNO to join Pas, then quit Pas to join PKR, now he returns to UMNO.
He rejoin UMNO-after schooling on morality by PAS and basic written & spoken English by PKR- he is now a future national leader
He is now an ulamak, a reformist and is now filled with experience to be the next PM.
No wonder UMNO sent its President, its Deputy President, its Vice Presidents, its Secretary, its Treasurer, its Information Chief, and the entire Supreme Council.
Were they welcoming their new President if the President?
Well done Najib,gather them up now, so we can see who can and cannot be trusted better you invite them now, then us having to deal with the leap frogging and causing chaos after GE. - f/bk
Sultan Reveals What He Thinks Of S'gor
MBs,Says He Has No Respect For Mat Taib...
In a frank interview granted on the occasion of his 70th birthday earlier this month, DYMM Sultan of Selangor Sultan Sharafuddin Idris Shah spoke in length and offered insight on how he really regards his state's highest elected official.
In the two-hour interview with Utusan Malaysia, the Sultan of Selangor spoke passionately about the need for political polemics to stop and for the Malays in his state to unite for the sake of Islam.
However, he reserved his most frank comments for the elected officials who he has to deal with, in particular the string of Selangor MBs that have served in office during his reign so far.
Sultan Sharafuddin's comments about his current and former MBs, the newly-minted Datuk Seri Azmin Ali and Tan Sri Khalid Ibrahim, showed he accorded each individual with a measure of respect.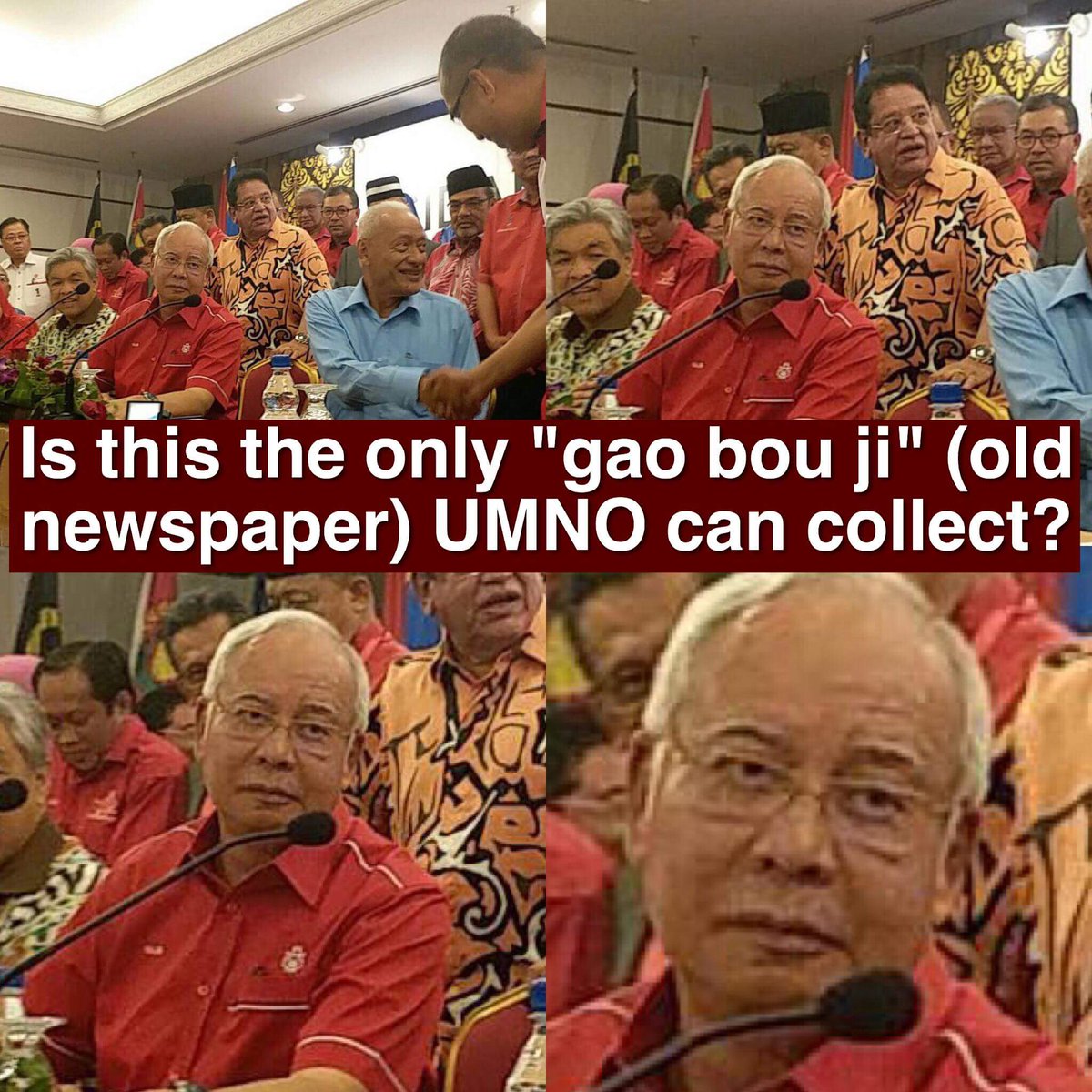 "From what I've seen, Khalid had its his own way, but he is not a political master, while Azmin understands politics. We shall see who is better at bringing development and progress to this state."
He also used the analogy of another ex-MB, Dr Mohamad Khir Toyo, who is now serving jail time about how the great power and authority that the Selangor MB post entails can seduce and bring about a person's downfall if he does not have strong principles.
However, he did not mince his words when he flatly stated that he had no respect for ex-Selangor MB Tan Sri Muhammad Muhammad Taib, more popularly referred to as 'Mat Taib'.
"Muhammad changed many customs, such as the granting of royal honors; so the process bypassed the Royal Council and went straight through the State Exco.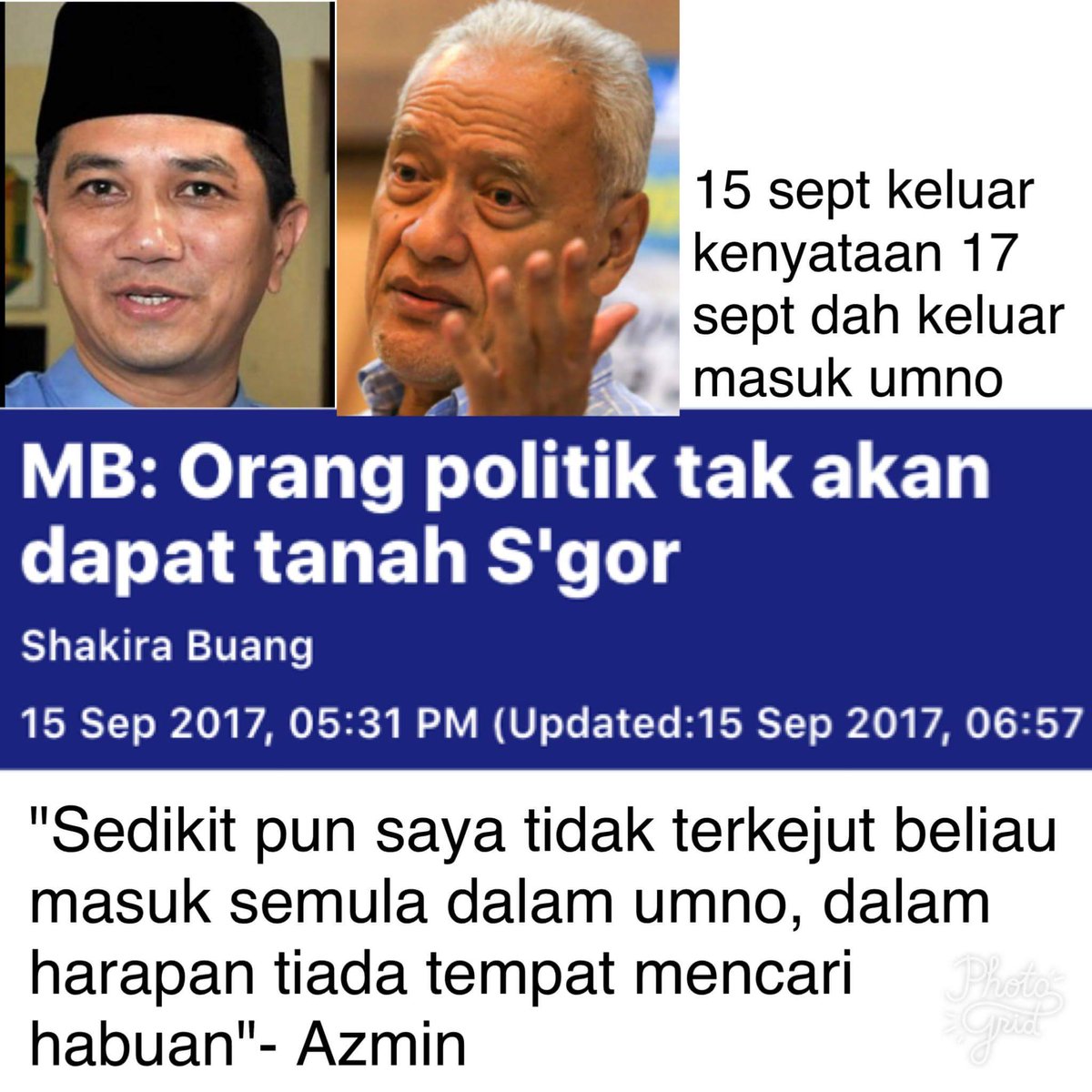 "He amassed wealth when he was in Umno and then he joined PAS. Then just as things were turning south for PAS, he left it to join PKR. Whichever party he joins, it is hard to have respect for him for his tendency to jump ship.
"If someone with no principles assumes the helm, everything is bound to fall apart. We must hold on to our principles. If our faith is in the right place, we can weather every test, analyse each problem that arises properly and do not falter after we have made a decision."
His Royal Highness' displeasure could also be due to more than just Mat Taib's conduct in office as the ex-MB had eloped with the Sultan's sister Tengku Puteri Zaharia Sultan Abdul Aziz Shah to Thailand in 1987 where they married. Taib and Tengku Zaharia later divorced but he was then embroiled in a currency scandal, was charged in Australia but later acquitted. - mD
Vote for me or I will 'keris' you tactics
No leader should ever threaten the people to gain votes; by singling out the Chinese community, Prime Minister Najib Razak and MCA leaders were just making more people angry at Barisan Nasional, DAP's Liew Chin Tong said.
The Kluang MP said Najib had "marred" the Hari Malaysia celebration yesterday with a speech that contained "elements of threatening Chinese Malaysian voters in the lead up to the coming general election".
Najib is reported to have said that "the Chinese community would be targeted should Malaysia ever descend into chaos…If there is no peace in our country, what will happen? The Chinese will be the first to be targeted if there is no peace in this country."
The BN chairman was speaking at the MCA-organised Malaysian Chinese Patriotic Rally at the Putra World Trade Centre (PWTC) yesterday.
"Najib's remarks will only anger most Malaysians as no one likes to be threatened with violence, veiled or otherwise.
"This is yet another reason for us to reject Najib, MCA and BN in the coming general election," Liew, who is DAP political education director, said today at a Pakatan Harapan coffee shop forum and community cycling event in Johor Baru this morning.
At the PWTC, Najib urged the Chinese in Malaysia not to waste time on the opposition, saying the BN government needed strong Chinese backing. He reminded the Chinese business community that the government had helped them in their businesses.
Najib pledged to build more Chinese primary schools in return.
Liew reminded Najib that BN lost the trust of ethnic Chinese and Indian voters when former Umno Youth chief Hishammuddin Hussein was seen brandishing the keris at every Umno general assembly from 2005 to 2007.
"The waving of the keris was perceived as a not-very-subtle threat of violence against those who did not agree with Umno," he said.
Liew also slammed MCA, saying he would not be surprised if it was the Chinese-based BN component party that had advised Najib to make the remarks.
"At the moment, MCA is obsessed with its '30% strategy' to win 30% of ethnic Chinese votes by threatening violence and advocating spoiled votes.
"In the 2013 general election, the then Pakatan Rakyat received 85% of ethnic Chinese votes across the board on the peninsula.
"What MCA is hoping for is that by exploiting some problems within Pakatan and fear among Chinese voters, it could double the seats it won by winning 30% Chinese support while keeping the same level of ethnic Malay votes," he said.
Liew said it would be "foolish" of MCA to assume that Malay voters were safely with Umno, when it was now "visible and clear that many Malays are prepared to jump from Najib's sinking ship".
"It is also wishful thinking by Najib and MCA to assume that Malay voters would not feel angry at the waste and plundering of Malaysia's resources by Najib, his family and associates.
"Malaysians must teach Najib and MCA a hard lesson so that they learn to respect voters and democracy regardless of ethnic background." - themalaysianinsight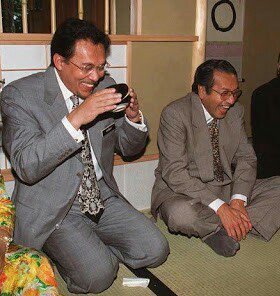 Dr.M and Anwar reacting at the big announcement.
This sums it up today's episode...
cheers.