Selepas dicabar untuk bertanding di Parlimen Pekan, Tun Dr Mahathir Mohamad hari ini mencabar Naib Presiden UMNO, Datuk Seri Hishammuddin Hussein supaya mencuba nasib di Langkawi.
Beliau secara sinis melahirkan rasa hairan terhadap kawasan pilihan raya yang diwakili Perdana Menteri Datuk Seri Najib Razak itu ekoran keadaan pengundi yang kerap berubah dalam jumlah yang besar.
"Pekan pelik sikit. Ada masa jumlah pengundi dia 35,000 orang dan Najib menang 225 undi.
"Lepas itu bila pilihan raya sekali lagi, pengundi dia meningkat sebanyak 80,000. Tak tahu dari mana datang, dia pun menang banyak ribu.
"Itu bukan kawasan pilihan raya, itu kawasan hantu raya," katanya kepada media selepas mempengerusikan Mesyuarat Majlis Presiden Pakatan Harapan (HARAPAN).
Terlebih dahulu Tun Mahathir mengumumkan bahawa deraf perlembagaan HARAPAN telahpun dihantar kepada Jabatan Pendaftaran Pertubuhan (ROS) untuk diteliti dan diluluskan.
"Hari ini, kita (semua komponen HARAPAN) sudah setuju perlembagaan kita. Harap tak ada masalahlah," ujar beliau.
Majlis Presiden HARAPAN bersetuju untuk melantik Naib Presiden HARAPAN, Tan Sri Muhyiddin Yassin sebagai Pengerusi Jawatankuasa Pilihan Raya.
"Kita telah tubuhkan jawatankuasa pilihan raya yang terdiri dari ketua-ketua pilihan raya (parti) masing-masing dan dipengerusikan oleh Tan Sri Muhyiddin Yassin.
"Wakil-wakil parti (komponen HARAPAN) akan dilantik sebagai timbalan pengerusi jawatankuasa dan akan diumum kemudian," katanya lagi.
Mesyuarat Majlis Presiden HARAPAN hari ini turut mengumumkan Himpunan 'Rakyat Sayangi Malaysia Hapuskan Kleptokrasi' yang akan diadakan di Padang Timur, Majlis Bandaraya Petaling Jaya pada 14 Oktober hadapan bermula jam 4 petang. – Roketkini.com
Mai cerita kat Parlimen,
j
angan cakap dalam kelambu...
No to 1MDB and Parliament now
used to 'cover n hide' Najib's wrongdoings...
Intrigue over alleged payments from Prime Minister Najib Abdul Razak to the country's military spy chief deepened after Parliament rejected a question on the matter.
Alor Setar MP Gooi Hsiao Leung, who asked the rejected question, claimed there is a parliamentary cover-up on the matter, as well as on 1MDB.
"What we are witnessing in Parliament is a complete cover-up.
"All questions pertaining to 1MDB and the PM are disallowed – a blanket ban.
"The House is no longer a people's House, but a House used to cover-up and hide wrongdoings by the government," Gooi told Malaysiakini.
Gooi had wanted to ask Defence Minister Hishammuddin Hussein (photo) whether the allegation by Sarawak Report that Najib paid RM7 million to the director-general of the Defence Staff Intelligence Division in April 2013 was true or false.
If false, Gooi's question added, what action the minister would take to protect the integrity of the security forces from being tarnished.
However, his question was rejected under Standing Order 23(1)(c), which states that "a question shall not contain any argument, interference, opinion, imputation, epithet or misleading, ironical or offensive expression, nor shall a question be frivolous or be asked seeking information on trivial matters".
Hishammuddin had previously said he had nothing to hide over the matter and was willing to be investigated.
At the time of the alleged payment, the defence minister was Ahmad Zahid Hamidi.
Sarawak Report claimed that the payment was one in a series of transactions Najib made using money allegedly transferred to him from former 1MDB subsidiary SRC International Sdn Bhd.
Speaker rejects 1MDB questions
Other related questions also rejected. Other questions on these series of payments had also been rejected by Parliament.
This included a question from opposition leader Dr Wan Azizah Wan Ismail, who asked the prime minister if the Malaysian Anti-Corruption Commission had initiated a probe into lawyer Shafee Abdullah.
Najib is alleged to have paid Shafee RM9.5 million with SRC-linked funds, at around the time the Shafee took the role of prosecutor in Anwar Ibrahim's Sodomy II trial.
Najib has consistently denied abusing public funds, while attorney-general Mohamed Apandi Ali had last year cleared the prime minister of any wrongdoing regarding SRC International.
Opposition MPs claim Parliament today rejected 30 questions that touched on 1MDB and SRC.
Gooi had also asked what form of cooperation the government had given to overseas authorities probing 1MDB.
However, his question too was rejected under Standing Order 23(1)(c) and (f), which states that "a question shall not seek information about any matter which is of its nature secret".
Using both these Standing Orders to reject his question baffled the PKR lawmaker.
"How can it be an assumption and secret at the same time? Ridiculous and absurd reasoning," Gooi said.
Meanwhile, Minister in the Prime Minister's Department Azalina Othman Said today described the latest accusations levelled by the opposition that the government was trying to cover up the 1MDB scandal as "utterly baseless".
If it's so baseless why doing everything to class it as classified material and shutting all avenues to let public having access to investigation done? MACC and AG changed bcause of this. PAC investigation quickly closed and many more..- middle path
In a statement, Azalina, who is in charge of parliamentary affairs, said allegations that none of the 1MDB-related questions was answered in Dewan Rakyat today, were untrue.
Azalina, you are so pathetic. Guess you must be blind, deaf and real dumb. Could you really sleep peacefully every night knowing that your Chicken boss dare not even sue those who allegedly defame him? - Anonymous_1400076912
"In the first day of the fifth Parliamentary sitting, there were four questions about 1MDB, from Petaling Jaya Utara, Kelana Jaya, Seremban and Segambut (lawmakers), which were listed on the Order Paper.
"The questions which were not listed on the Order Paper may be under the jurisdiction of the court, or against the Dewan Rakyat's Standing Orders. The act of the opposition to blow up this issue only shows they have run out of ideas to voice out in the Parliament. The opposition should, by right, give precedence to issues that concern people under their respective constituencies, and not recycle the same old issues," she said.
Parliament is the avenue to debat issues of national interest! If you cannot understand this fundamental rights of MP you really are a bloody fool... - Anonymous 2439101477311390
"Therefore, I hope all MPs, especially from the opposition, will make use of the 12 days of sitting and abide by the Dewan's Standing Orders."
Don't hide under sub- judice reason, just answer those questions if you are really nothing to hide and care about Malaysia - Bornean
Azalina was responding to the frustration voiced by opposition MPs en masse, earlier this morning, after more than 30 questions related to the 1MDB scandal were rejected in Parliament.- mk
The fish rots from the head and we have these gaji-buta Minister in the PM Dept. who boldly claimed that the 1MDB cover-ups are mere allegation.Does this lawyer know that 1MDB are not mere allegations when across the causeway,Singapore has charged and jailed 4 private,wealth managers and suspended the banking license of 2 foreign banks over money laundering of 1MDB funds.Does Azalina think that Yeo Jiawie, who was given another 5 years imprisonment over the 1MDB scams,admitted to his crime just over some allegations.Any UMNO leaders who try defending MO1 over the 1MDB financial scandals are just opening themselves to be ridiculed as stupid or boot-lickers, without a damn for their own integrity or birds of the same feather.
- Dont just talk -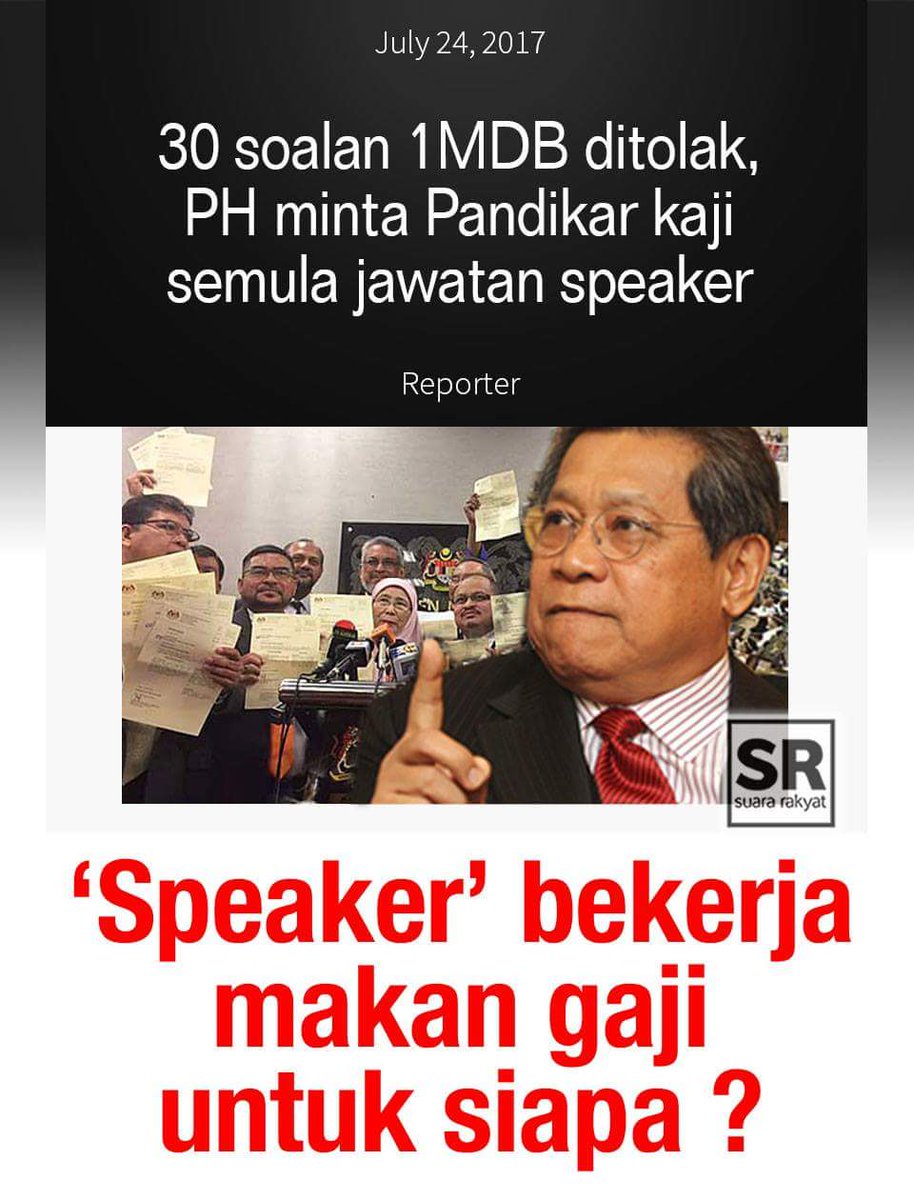 Forgive him Father for he knows not what a lie is...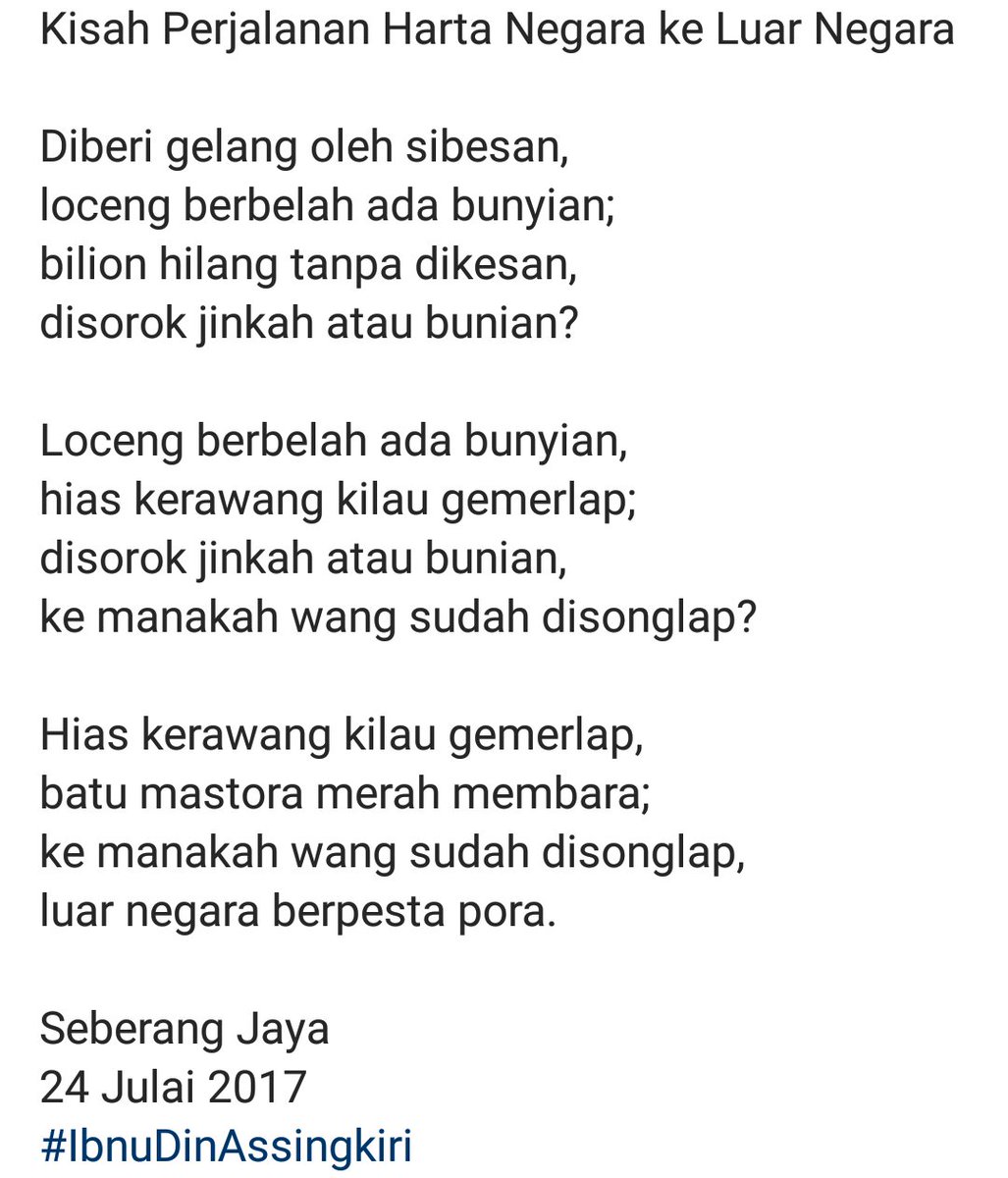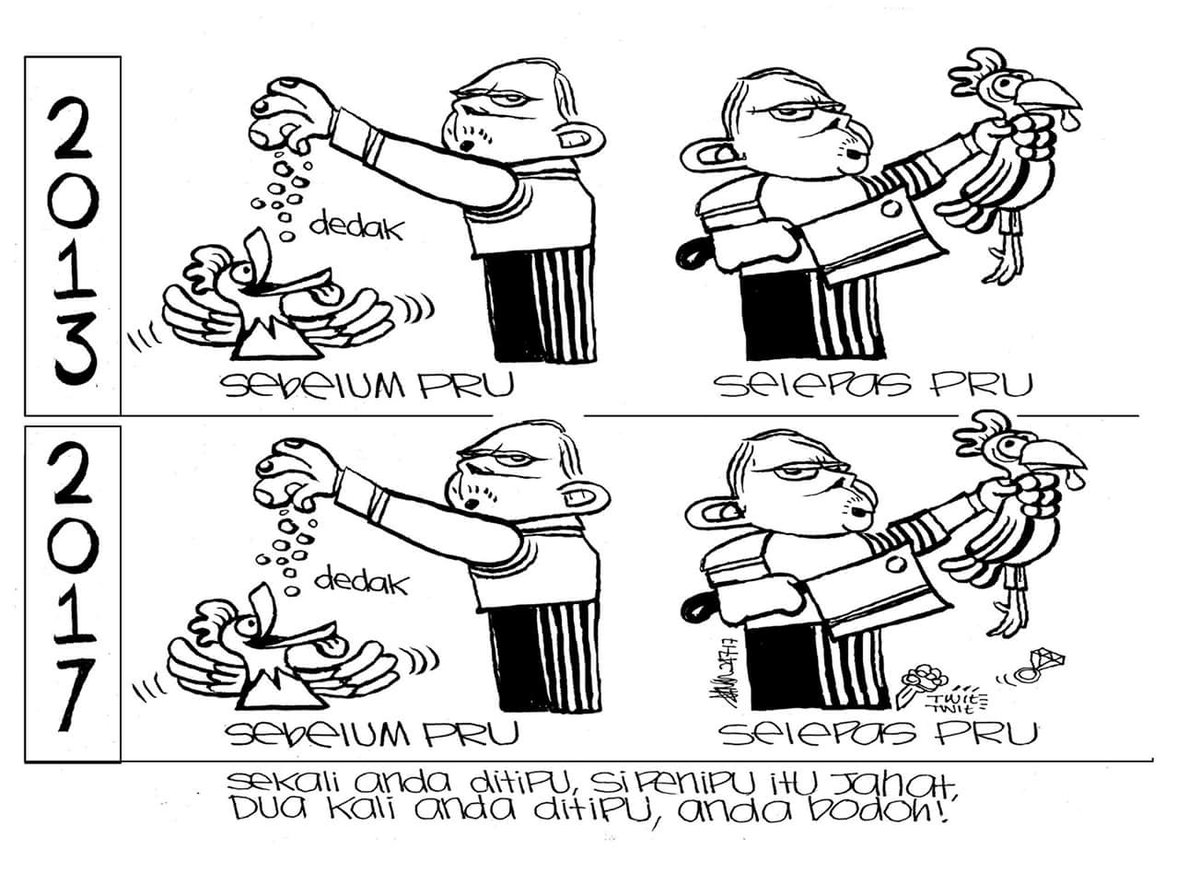 Jawatan2 bakal disandang calon2
cheers.