Barisan Nasional (BN) mengaku akan kalah di beberapa kerusi bandar, termasuk kerusi Bukit Bintang dan Seputeh di Kuala Lumpur yang merupakan kubu kuat DAP, kata Datuk Seri Ahmad Zahid Hamidi.
Naib Presiden parti berkata walaupun Umno meletakkan setiausaha agungnya, Datuk Seri Tengku Adnan Tengku Mansor, menentang Teresa Kok, di Seputeh, ianya tetap akan kalah.
"Sekalipun kami meletakkan Ku Nan di Seputeh tetapi yang akan menang ialah Teresa Kok. Tetapi sekarang beliau adalah Menteri Wilayah Persekutuan kerana dia masih mempunyai kerusi di kawasan bandar, "kata Zahid ketika berucap semasa merasmikan pertemuan Umno Bukit Bintang hari ini.
Timbalan Perdana Menteri menjelaskan bahawa kerusi Wilayah Persekutuan seperti Bukit Bintang dan Seputeh adalah pangkalan pengundi majoriti Cina bandar yang sukar untuk ditembusi oleh Umno.
"Seperti di Bukit Bintang, ia adalah kerusi majoriti Cina,pembangunan perbandaran berlaku di sini, "kata Ahmad Zahid.
Ahli Parlimen Bagan Datoh menambah bahawa walaupun kerusi seperti Seputeh dan Bukit Bintang tidak boleh dimenangi oleh Umno pada pilihan raya umum akan datang, jentera parti masih harus menyokong calon Barisan Nasional (BN) masing-masing.
"Pihak-pihak harus menyokong sesiapa yang mewakili Barisan Nasional. Malah di Bukit Bintang, walaupun tidak ada masa depan,yang penting kerusi itu akan dimenangi oleh orang lain, "tambah Zahid.
Beliau juga menegaskan bahawa BN hanya memenangi lima kerusi bandar di seluruh negara, termasuk Johor Baru, Setiawangsa, Titiwangsa, Wangsa Maju dan Putrajaya.
Tengku Adnan adalah penyandang kerusi parlimen Putrajaya.
Kerusi Seputeh dan Bukit Bintang secara tradisinya dipertandingkan oleh calon-calon dari MCA parti komponen BN.
Kok mengekalkan kerusi Seputehnya dalam pilihan raya umum ke-13 dengan majoriti 51,552 undi, manakala DAP Fong Kui Lun mengekalkan Bukit Bintang dengan majoriti 19,399 undi.- Malay Mail
Sejak 2012 lagi, Perdana Menteri Najib Razak terus menipu para peneroka kononnya wang ganjaran sebanyak RM15 ribu setiap keluarga adalah hasil daripada penyenaraian saham Felda Global Ventures (FGV) di Bursa Malaysia.
Sedangkan hakikatnya, Najib meminjam sebanyak RM6 bilion dari Kumpulan Wang Simpanan Pekerja (KWSP) khusus ditabur kepada para peneroka tanpa pengetahuan para pencarum KWSP sendiri.
Jadi ke manakah wang hasil daripada penyenaraian FGV yang kononnya gah sebagai penyenaraian jumlah saham kedua terbesar di dunia selepas Facebook?
Dan hari ini enam lagi 'insentif tambahan' yang sebenarnya gula-gula pilihanraya menyerang peneroka kononnya hasil kerja keras mereka yang setia dengan Felda.
Padahal sekali lagi wang rakyat bakal dihanguskan Najib entah berapa bilion pula yang kena semata-mata mahu memancing peneroka menjelang pilihanraya.
Janji Rafizi Ramli dalam sidang Parlimen esok sudah pasti akan menyerang Najib sama ada dia berani menjawab dari manakah datangnya wang untuk membayar kesemua enam insentif berkenaan.
Kita saksikan bersama esok apakah Najib sekali lagi kantoi dengan pendedahan Rafizi di Dewan Rakyat dan boleh terlepas dengan fakta serta angka yang sukar disangkal hatta Noh Omar sekalipun! - f/bk zulimran.n
I received this picture. Folks say MO1 had been campaigning on Tioman Island. As usual the idiot is super happy that he gets to meet more and more Malays who are poor.
Here he "gave away" rakyat termiskin houses to even more Malay rakyat termiskin. Looks like under the idiot's leadership every other Malay has become a rakyat termiskin.
But you have to pay attention to the numbers he is mentioning. Quite unbelievable. Obviously more stealing is happening.
The picture below is MO1's own tweet (I believe so, it has his picture and name on the tweet) .
First of all he says that the 'PPR' (Projek Perumahan Rakyat) was 92% subsidised ! ! ! Fuiyyo ! !
A 92% SUBSIDY ! ! !
He says the house has a 'harga asal RM403,000' per unit but it has been given to the rakyat termiskin at RM35,000 only ! ! ! So the gomen must do this for all other "rakyat termiskin Melayu dan bukan Melayu" all around the country.
What is so special about 'rakyat termiskin' in Pulau Tioman? Rakyat termiskin is rakyat termiskin. The gomen must give a 92% subsidy for PPR houses in Kedah, Johor, Sabah, Terengganu, Kelantan, Selangor etc.
But look at the house. The construction is so shoddy. This is 3rd class construction. Rumah Kelas Tiga. The roof is glavanised iron sheets. In Malay galvanised iron is "rumah atap zinc" or "bumbung zinc". Look at the picture above. I have outlined in red colour.
Then look at the flooring.The flooring is plain cement render No ceramic tiles or concrete stamping for the car porch or apron. I have outlined in blue. Some crony built this "rumah atap zinc" for RM403,000 ! ! They are just stealing.
This house is hardly 1000 square feet in size. Assuming it is 1000 sf in size, then the cost per square foot is RM403,000 / 1000 sf = RM403 per square foot ! ! ! Construction cost RM403 psf ! ! This is an insane price.
Ajaib tapi benar!Lain kali kalu nak buat contractor UMNO kaya pon...buat diam diamlah! Jangan pergi heboh seluruh Malaysia!
Folks look at this villa. It was built near Bangi.(pic.below)
Built up area just over 5000 square feet. 5 spacious bedrooms with 5 attached bathrooms, living area, dining area, dry and wet kitchen, maids rooms with bathroom, back terrace, covered courtyard etc. With 40 foot swimming pool, solar heated hot water in all rooms etc. Floor to ceiling tiles in all bathrooms, 14 foot high ceilings, quality wooden flooring inside, heavy duty anti slip ceramic tiles outside.
Outside the house the swimming pool, pool deck and covered courtyard is another 3000 square feet.Total livable space is 8000 sf. The total construction cost was RM800,000. (Does not include land cost). Not joking. I know because I was involved in this project.
But in Tioman they have built 1000 square foot size 'rumah setinggan atap zinc' for RM403,000 a piece. They are stealing. My estimation is the construction cost of those Tioman houses will hardly exceed RM100 psf.
So 1000 sf x RM100 = RM100,000 only (inclusive of developers profit). Even if my estimate is 50% mistaken, just add another RM50,000. It is still only RM150,000.
I doubt the land cost is more than RM25 psf in Tioman. Lets just put the land cost at TWICE the amount, say RM50,000. The cost of this 'rumah bumbung zinc' should not exceed RM200,000 per unit (including developers profit). But Najib says the houses cost RM403,000 ! ! !
What is happening is the thieves are making money at the expense of the rakyat. Including the taxpayers, the ordinary citizens and the poor people.
First they find poor people. Then they build 3rd class 1000 sf 'squatter houses with galvanised iron roofs'. Then they tell the poor people, 'This is a GIFT for you'. We have subsidised 92% of the price. You only pay RM35,000.
This means the gomen pays the contractor RM403k - RM35k = RM368k. Kroni untung. That is our money. Taxpayers money. Whoever the developer / contractor is has made a ton of money. We the taxpayers get suckered because they use our money to overpay for bumbung zinc squatter house type dwellings.
Then they tell the poor people to pay RM35,000 for these houses and tell tem 'This is a gift for you'. The poor do not know how to calculate or figure things out. That is why it is best to keep them poor. Then you can cheat them.- ostb
Could Return As PM Again...
Najib son of Razak tries to put on a brave face. Initially, he tried but couldn't. It would take hours for the PR team at Putrajaya to "train" the Malaysian prime minister – psychologically and mentally – not to look nervous and panic. They found that the best way is for Mr. Najib to smile – a lot – so that the UMNO warlords would not see how worry their big boss really is.
So from now onwards, expect to see tons of smiles from Najib Razak, as if he was on heavy makeup like a clown would normally put. In reality, Prime Minister Najib Razak is fabulously panicked and terrified. He hadn't seen this coming. His greatest enemies – opposition de-facto leader Anwar Ibrahim and mentor-turned-enemy Mahathir Mohamad have joined forces – for real!
True, in politics there are no permanent friends or enemies, only permanent interests. Still, the "bad blood" between Mr. Anwar and Mr. Mahathir was so thick that not even Taylor Swift's song could melt it. After all, it was then Prime Minister Mahathir who accused and declared his Deputy Prime Minister Anwar guilty of sodomy and homosexual acts, essentially thrown him in jail.
For Anwar and Mahathir to kiss and become a tag-team (again) since 1998, it speaks volumes about a bigger and nastier enemy – Najib Razak. But were Anwar and Mahathir saints in the first place? Let's call a spade a space. Both individuals practiced corruption, nepotism, cronyism and even racism when they were on the throne of powers.
However, at least when Anwar and Mahathir plunder the national coffers, they made sure for every dollar they took, the country could generate two dollars. On the contrary, Najib and Auntie Rosie will take two dollars for every dollar their regime could generate. That's why the country's foreign debt is approaching RM1-trillion. But that's not the worst part.
The worst part is despite abolishing subsidies for petrol, diesel, sugar, cooking oil, electricity tariffs, water and whatnot, Najib regime somehow still couldn't find the money to run the government efficiently. The son of Razak practically steals rice from a beggar's bowl when he introduced 6% GST (goods and services tax) on 1 April 2015.
By jailing Anwar Ibrahim (for the second time for the same crime of sodomy), and bribed the so-called God-fearing PAS (Pan-Malaysian Islamic Party) with RM90 million, Najib thought the opposition was toast. Now with the emergence of Mahathir driving a new opposition coalition – Pakatan Harapan (Hope's Pact) – Najib regime has plunged into panic and disarray.
How can you tell that Najib's Barisan Nasional (National Front) coalition is running out of panic buttons to push? It's simple: look at the reaction of the prime minister's bootlickers. When Mahathir finally revealed (over the weekend) the opposition coalition's new logo, flag and leadership structure, Najib's top bootlicker Salleh Said Keruak went ballistic babbling about DAP not holding any top positions.
Like it or not, the 92-year-old old fox Mahathir has demonstrated his awesome political skills once again. It was by design that DAP was deliberately not included in the top three positions in Pakatan Harapan's new line-up. Anwar would probably put a Malay from PKR, an Islamic spiritual leader from PAS and a Chinese from DAP, just to satisfy everyone.
As a former prime minister who had ruled for 22 years, Mahathir knew the next 14th general election, which will have to happen on or before 24 August 2018, will be fought based on racial cards. Najib will run a campaign so racist that it would make Donald Trump looks like he was a long lost brother of King Salman. Therefore, rural ethnic-Malay voters cannot be spooked by Chinese in the line-up.
That explains why Mr. Salleh Said Keruak was so upset that no Chinese DAP was in the line-up. Mahathir was named as chairman while Anwar was declared de-facto leader. Anwar's wife, Wan Azizah, was proclaimed president of the opposition coalition. All three are Malay-Muslims to convince the folks in Malay villages that the coming election is a fight among Malay-Muslims.
By putting DAP at backstage, retired Mahathir could lead an easier charge against super-corrupt Najib without having to worry about allegations that ethnic-Chinese is taking over the country. After all, how could a Chinese becomes prime minister when the top three positions in Pakatan Harapan's new line-up are made up of Malay-Muslims?
The clearest sign pointing to Najib's panic mode was when the prime minister himself, supposedly very confident of winning big in the 14th nationwide election, had to travel hundreds of kilometres away at night to Sembrong in the state of Johor practically begging and bribing for votes. He brought along heavyweights like Hishammuddin Hussein and Deputy PM Ahmad Zahid Hamidi.
It would be just an ordinary Hari Raya open house if not for the fact that Sembrong is the parliamentary seat of Najib's cousin Hishammuddin. The defence minister won the seat in 2013 with a majority of 10,631 votes or 63.7% of total votes. It has been UMNO's traditional stronghold. Using his favourite "you help me, I help you" tactic to fish for votes, was Najib signalling that even Sembrong could fall?
The battle has actually begun, even before Mr. Najib could call for a snap election. While Mahathir has declared that the highly unpopular GST would be scrapped, Najib's shining star Khairy Jamaluddin (Youth and Sports Minister) plays with another racist topic – provoking the sensitive issue of abolishing vernacular school – hoping it would start a Malay-vs-Chinese war.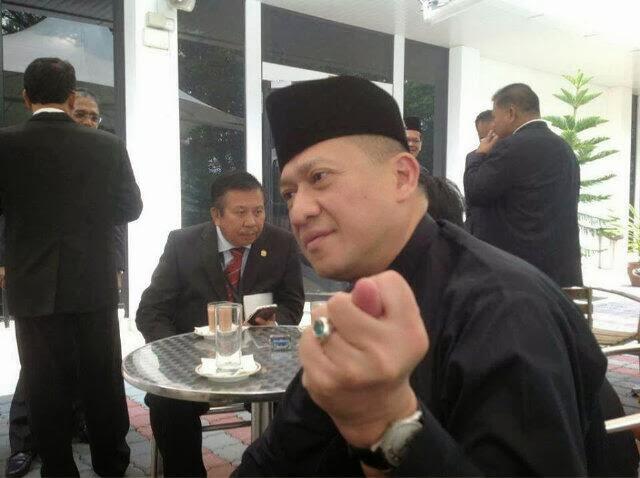 Nazri Aziz, the badass who was the most racist minister under previous Mahathir administration, also went bonkers by suggesting both Mahathir and Anwar would kill each other. When even Nazri was speechless that both enemies could become best friends again, you don't need a rocket scientist to tell how terrified and panicked Najib and his boys are.
Heck, Mr. Nazri was so worry with the latest development that he actually suggested Jamal Yunos, a gangster who tried to terrorize Chinatown but was stopped by China's ambassador to Malaysia Huang Huikang, should be made UMNO Youth Chief. Has UMNO run out of talents or was Nazri running Najib's errand of preparing for racial riots, in case they lose?
PM Najib had the cheek to shamelessly declare that the MRT (Mass Rapid Transit) is a gift to the people, when in fact the mega project was built using taxpayers' money. He should instead prove that Saudi Arabia had indeed "gifted" him with US$700 million cash. Likewise, his wife should prove that she hadn't purchased a RM117 million 22-carat pink diamond necklace using money siphoned from 1MDB.
Anwar Ibrahim had his opportunity but failed to capture the federal government in 2013. Now, Mahathir is the only person left who could charm the simple-minded Malay folks. With Chinese votes basically in the bag, the battle is for Malay support. UMNO insiders were so panicked that the party has started the racial rhetoric last weekend, right after the revelation of Pakatan Harapan's new leadership structure.
It would be hard for Najib to justify that Mahathir is on a mission to destroy the Malays. However, it would be quite easy for Mahathir to justify that Najib has stolen billions of dollars of Malays' money. Thanks to 1MDB and Felda scandals, not to mention GST and rising cost of living, Mahathir might be able to convince the Malays that Thief-in-Chief Najib should not even be allowed to own fish as pets. - ft.com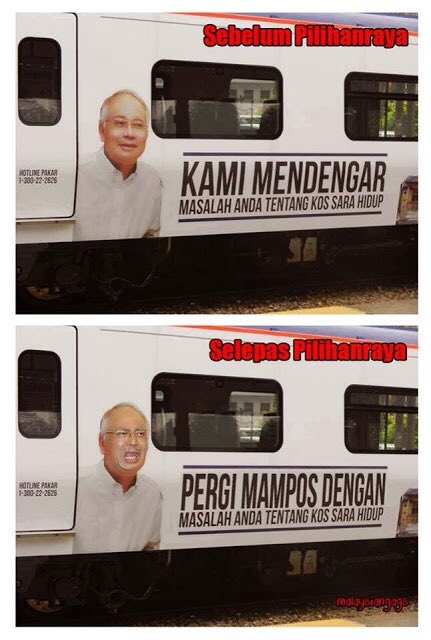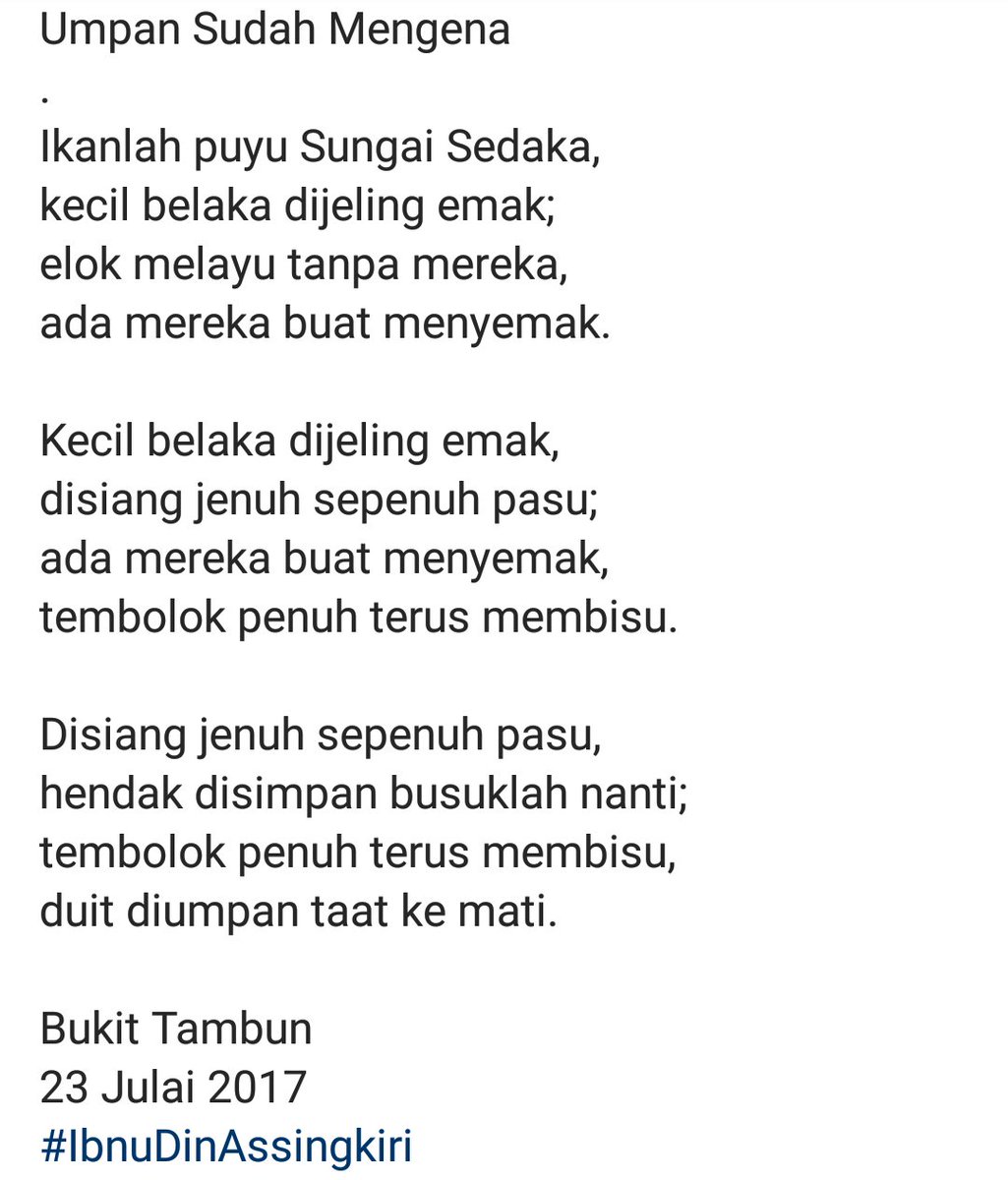 Sapa cakap laki banyak duit...
cheers.